HELOC
One of the greatest advantages of homeownership is having the ability to tap into the equity. A HELOC gives you greater access to cash and can serve as an alternative to personal loans or credit card debt. Understanding what a HELOC is, how to qualify and weighing the pros and cons are important steps to determining if a HELOC is right for you.

What Is a Home Equity Line of Credit?
A HELOC, also known as a home equity line of credit, is a type of loan that leverages your home's equity to allow you to withdraw money and repay it later — similar to a personal credit line. HELOCs have lower interest rates when compared to credit cards and other types of unsecured loans and can be used to pay for home renovations, outstanding debts, education costs and more.
HELOCs can prove to be beneficial for those who own residential real estate since it offers tax advantages and the potential to save on interest charges if you keep your withdrawals to a minimum. Many lenders have requirements for HELOCs, so it is best to research associated closing costs and fees or the initial minimum withdrawal amount required.
How Does a HELOC Work?
Once you build up enough equity in your home, you may decide to open a home equity line of credit to borrow against your available equity. The lender agrees to the credit limit on the HELOC based on a percentage of the loan-to-value (LTV) amount on your equity and other deciding qualifiers.
A HELOC allows you to borrow when you need, and as much as you need, throughout your draw period but only up to the credit limit. The amount of available credit is then replenished once you repay your outstanding balance.
During the draw period, which typically lasts 10 years, you're only required to make interest payments, but you may pay towards the principal at any time.
After the draw period, you must make payments for both interest and principal for the remaining 20 years — this is called the repayment period.
The interest rate on a HELOC usually varies and adjusts based on the prime rate indexes.
What Are the Differences Between a HELOC and a Home Equity Loan?
Many people often confuse HELOCs and home equity loans as the same thing, however, both have differing characteristics. With a home equity loan, you receive the money you are borrowing in a lump sum payment, and you usually have a fixed interest rate.
With a HELOC, you can borrow or draw money multiples times from an available maximum amount. The interest rate on a HELOC is generally lower than on a home equity loan.
A HELOC essentially serves as a revolving line of credit as opposed to a home equity loan, which is an installment loan or second mortgage. However, your home is considered collateral on both a HELOC and home equity loan, so if you borrow and fail to make payments, then you could risk losing your home.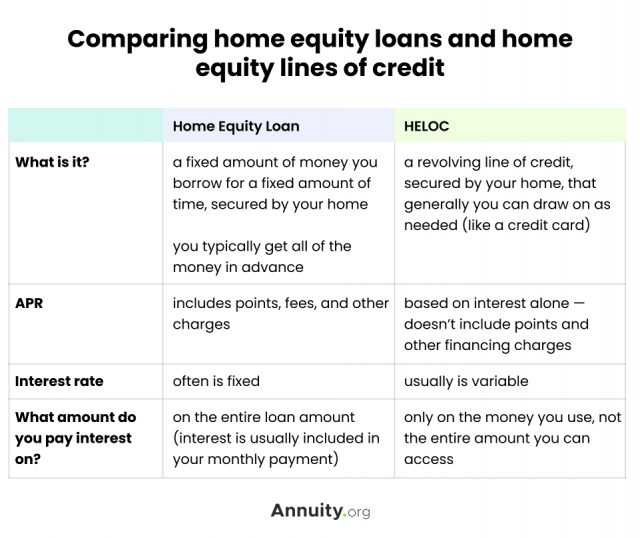 Pros and Cons of a HELOC
Before applying for a HELOC, you should consider the pros and cons to determine if it's a right fit for your financial needs.
Pros
Offers the flexibility to borrow as much or as little money needed for your project and expenses up to the credit limit
Interest may be tax-deductible if the funds are used to buy, build or substantially improve the home that secures the loan
Access to your line of credit remains open until its term ends
Pay interest only on the amount of your draw rather than the total credit line amount
Cons
Interest rates are variable, so as interest rates rise, the minimum payment could also rise, which makes it difficult to predict the overall cost of a HELOC
The lender can lower the HELOC credit line amount or close it if your home's market value declines or your financial situation worsens
Since a HELOC is secured by an asset — your house — you could lose your home if you fail to make payments
During the draw period, interest-only payments are required, then during the repayment period, the payment increases to both principal and interest payments
Is a HELOC Right for Me?
A HELOC is a good option if you are not quite sure how much money you'll need to borrow or when exactly you'll need it. It gives you flexibility and the option to access cash for a set period based on your needs. A big advantage of HELOCs is that the interest rate tends to be lower than those on credit cards and personal loans.
However, if you desire a loan with a fixed monthly payment amount, then a HELOC may not be your best choice as interest rates vary. Also note that the monthly payment increases after the draw period to include both principal and interest.
On the other hand, if your financial situation is stable and you qualify for a HELOC, then tapping into your home's equity to meet your financial needs may prove to be a valuable option. Overall, the goal is to choose the most cost-effective solution to meet your needs, while minimizing risks.
What Are the Best HELOC Lenders?
The best HELOC lenders vary per year and depend on what you are looking for in a lender. While some lenders, such as U.S. Bank, are highly rated for their low interest rates, other lenders, such as Flagstar Bank, are top-rated for their minimal fees.
It's best to conduct research on various HELOC lenders to find the one that's right for your budget. Be sure to take certain factors into account, such as interest rates, terms and fees.
Alternatives to a HELOC
A HELOC is not the only option available when you need extra money to finance home improvement projects or pay off other expenses. Consider the alternative financing plans if a HELOC isn't right for you.
HELOC Alternatives
Home equity loan

This is a second mortgage taken out on your home that lets you tap into equity and gives you cash in a lump sum. You repay the loan with a fixed interest rate over a predetermined time.

Cash-out re-fi

This option allows you to borrow money while refinancing your current home loan into a new, larger mortgage. When you take out the new home loan for more money than what you owe on your current home loan, the difference is received in cash.

Personal loan

A popular alternative that allows you to borrow a certain amount of money from the bank for your personal needs. You repay the loan based on an agreement to a fixed interest rate, set term, and monthly payment amount.
Frequently Asked Questions About HELOCs
Please seek the advice of a qualified professional before making financial decisions.
Last Modified: June 20, 2022
Share This Page: