Financial Wellness
Financial wellness is your ability to live a healthy financial life. It is the power to take control of your financial health now and into the future. You can enhance your financial wellness by improving various aspects of your personal finances.

What Is Financial Wellness?
Financial wellness is a state of financial well-being in which you can pay your debts, provide for current needs, weather unexpected financial emergencies and plan for long-term financial goals such as building college funds and saving for retirement.
The U.S. Consumer Financial Protection Bureau defines financial wellness — also known as financial well-being — as "the feeling of having financial security and financial freedom of choice, in the present and when considering the future."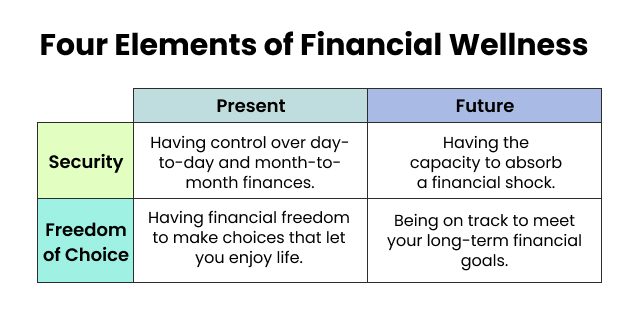 Your overall wellness depends on several factors including mental, physical and financial health.
Financial wellness is important because it improves your overall health and well-being. It allows you to reduce financial-related stress now and for the future.
The principles of financial wellness consist of overlapping areas of your personal finances. While these can affect one another, you can achieve greater results by bringing each under control.
4 Principles of Financial Wellness
1. Budgeting

Creating and sticking to a budget lays a foundation to build your financial well-being. It provides a roadmap to manage day-to-day finances, prepare for financial emergencies and plan for your future.

2. Debt

Managing long-term debt — and eliminating consumer debt — can reduce barriers to saving, investing and long-term financial planning. Knowing how to carefully manage credit can also build your credit score — giving you access to better borrowing rates for mortgages, auto loans and other large purchases.

3. Savings and Investments

Long-term savings and investments can provide financial security and peace of mind for retirement planning. Short-term savings can leave you with cash on hand to cover home repairs, vacations or other planned expenses without having to increase your debt.

4. Protection and Insurance

Insurance or emergency funds can protect you financially from unexpected emergencies. Insurance can cover losses due to fires, floods or health emergencies. An emergency fund, on the other hand, covers other crises. Both can help prevent you from using long-term savings or going into debt.
Financial Wellness vs. Financial Literacy
Financial wellness is not the same as financial literacy. While financial literacy can help you build your financial wellness, they are two very different concepts and should not be used interchangeably.
Difference Between Financial Wellness and Financial Literacy
Financial Wellness

Financial wellness is a state of being in which you can fully meet your current and future financial obligations while feeling secure in your financial future and making choices that allow you to enjoy life, according to the U.S. Consumer Financial Protection Bureau.

Financial Literacy

Financial literacy is the knowledge and training needed to manage your personal finances — such as learning how to create and manage a household budget, investing money for retirement, or participating in one-on-one coaching and counseling to determine how to buy a house or start a business, according to the National Council of State Legislatures.
In short, financial literacy is a set of skills, knowledge and tools you can use to achieve financial wellness.
How Do You Improve Your Financial Wellness?
It is possible to take a step-by-step approach to improving your financial wellness. Each step will give you an opportunity to understand different aspects of your personal finance.
The more understanding you have, the better suited you will be to feel more secure about your financial situation.
6 Steps Toward Financial Wellness
Create a Budget

You'll need to know where you're spending your money each month. Creating a budget will help you live within your means and set realistic financial goals for your future. You should factor in necessary expenses, leisure spending and savings. Being able to track your regular income and expenses will give you a framework to build all other aspects of your financial life.

Build an Emergency Fund

Part of your savings should immediately go toward an emergency fund equal to three to six months of household income. This can help cover expenses should you lose your job or if an unexpected expense occurs. You should also define what constitutes an emergency for you or your household ahead of time so you can properly prepare.

Protect Your Assets

While the emergency fund provides you with some protection, insurance provides more security in other situations. Auto, home and health insurance can offset large, sudden and unexpected expenses and losses.

Reduce or Eliminate Debt

Understand how much debt you can manage. The more debt you have, the less you can put into savings or investments to grow your wealth. Pay off debt to improve your credit score so you can comfortably borrow money for large purchases like a house or car.

Save and Invest

Putting aside money for savings from each paycheck can add up. Consider different short-term savings options such as traditional savings accounts, money market funds and certificates of deposit. If your company has a 401(k) or other retirement savings plan, contribute to it. If your employer matches a portion of your contributions, it's free money toward your future.

Plan for Retirement or Other Long-Term Goals

The sooner you start saving toward retirement, the more money you'll have when you get there. Familiarize yourself with other retirement savings options — such as IRAs and annuities. Understand how different types of retirement resources — Social Security, retirement savings, annuities and others — can work together to provide you with income in retirement.
Financial Wellness at the Organizational Level
Your financial wellness may also be important to your employer. Financial wellness programs have become increasingly popular as a form of employee benefit offerings since 2011, according to a 2021 survey by Bank of America.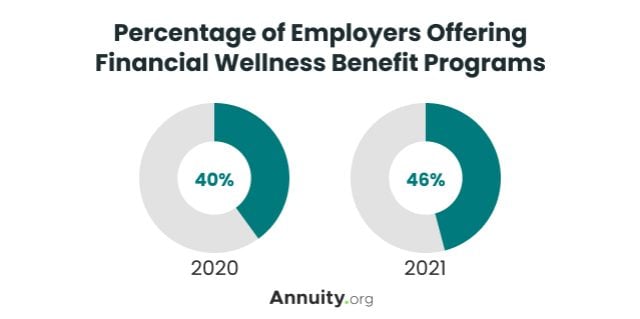 More than eight in 10 employers surveyed believed that workplace-based financial wellness programs resulted in:
greater employee productivity
more engaged employees
more satisfied employees
more loyal employees
There is a perception that the workplace benefits increase as workers' financial stress decreases through financial wellness.
A solid majority of workers in the United States report they feel stressed when they think about their financial situation, according to the Bank of America survey. The numbers are highest among younger workers.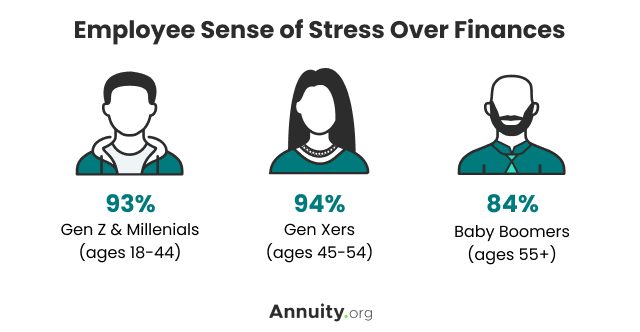 The survey also found that 95 percent of employers feel "a sense of responsibility for the financial wellness of their employees" — with 56 percent saying they feel "an extreme sense of responsibility." That was the highest level ever recorded for this question in the past 11 years.
Please seek the advice of a qualified professional before making financial decisions.
Last Modified: March 3, 2022
Share This Page:
15 Cited Research Articles
Annuity.org writers adhere to strict sourcing guidelines and use only credible sources of information, including authoritative financial publications, academic organizations, peer-reviewed journals, highly regarded nonprofit organizations, government reports, court records and interviews with qualified experts. You can read more about our commitment to accuracy, fairness and transparency in our editorial guidelines.