Variable Annuity
A variable annuity is a type of annuity whose value is tied to the performance of an investment portfolio. Payments from variable annuities can increase if the portfolio performs well and decrease if it loses money. Although variable annuities carry the potential of higher returns than fixed annuities, they don't offer a guaranteed payout.
Fact-Checked
Annuity.org partners with outside experts to ensure we are providing accurate financial content.
These reviewers are industry leaders and professional writers who regularly contribute to reputable publications such as the Wall Street Journal and The New York Times.
Our expert reviewers review our articles and recommend changes to ensure we are upholding our high standards for accuracy and professionalism.
Our expert reviewers hold advanced degrees and certifications and have years of experience with personal finances, retirement planning and investments.
How to Cite Annuity.org's Article
APA Silvestrini, E. (2021, November 8). Variable Annuity. Annuity.org. Retrieved January 10, 2022, from https://www.annuity.org/annuities/types/variable/
MLA Silvestrini, Elaine. "Variable Annuity." Annuity.org, 8 Nov 2021, https://www.annuity.org/annuities/types/variable/.
Chicago Silvestrini, Elaine. "Variable Annuity." Annuity.org. Last modified November 8, 2021. https://www.annuity.org/annuities/types/variable/.
Why You Can Trust Annuity.org
Annuity.org has been providing reliable, accurate financial information to consumers since 2013. We adhere to ethical journalism practices, including presenting honest, unbiased information that follows Associated Press style guidelines and reporting facts from reliable, attributed sources. Our objective is to deliver the most comprehensive explanation of annuities and financial literacy topics using plain, straightforward language.


Our Partnerships, Vision and Goals

We partner with Senior Market Sales (SMS), a market leader with over 30 years of experience in the insurance industry, to offer personalized retirement solutions for consumers across the country. Our relationship with SMS (and Insuractive, the company's consumer-facing branch) allows us to facilitate the sale of annuities and other retirement-oriented financial products to consumers who are looking to purchase a safe, reliable solution to fill gaps in their retirement income. When we produce legitimate inquiries, we get compensated, in turn, making Annuity.org stronger for our audience. Readers are in no way obligated to use our partners' services to access Annuity.org resources for free.

SMS and Annuity.org share a common goal of educating consumers and helping them select the most appropriate product for their unique financial and lifestyle goals. Our network of advisors will never recommend products that are not right for the consumer nor will Annuity.org. Additionally, Annuity.org operates independently of its partners and has complete editorial control over the information we publish.

Our vision is to provide users with the highest quality information possible about their financial options and empower them to make informed decisions based on their unique needs.
What Is a Variable Annuity and How Does It Work?
A variable annuity is a contract between you and an annuity provider — usually an insurance company — in which you purchase the ability to receive a stream of income for your life or a set period.
When you purchase a variable annuity, the money you pay is allocated to an investment portfolio. You will have several options for investing the funds in your portfolio. These options, or subaccounts, can include stocks, bonds, money market funds, stable income value mutual funds and other investments.
The amount of income you receive will rise or fall, depending on the performance of the portfolio.
PRO-TIP
You may be able to transfer your money among subaccounts. However, the annuity provider may charge a transfer fee.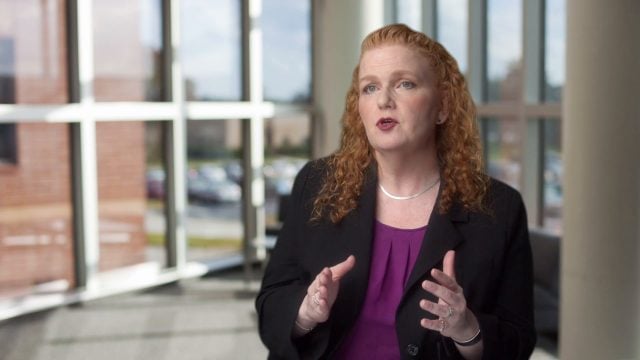 Along with mutual funds and other investments, you may be able to invest part of your money into a fixed account, which earns a fixed rate of interest and isn't tied to the stock market.
Usually, the annuity company guarantees return of premium (ROP), which means that you won't lose your initial investment. But if your portfolio doesn't perform well, you may not earn any growth. On the other hand, if your portfolio performs well, you have the potential for greater gains.
This scenario differs from a fixed annuity, which features a pre-set interest rate that doesn't depend on the performance of investments.
Case Study Example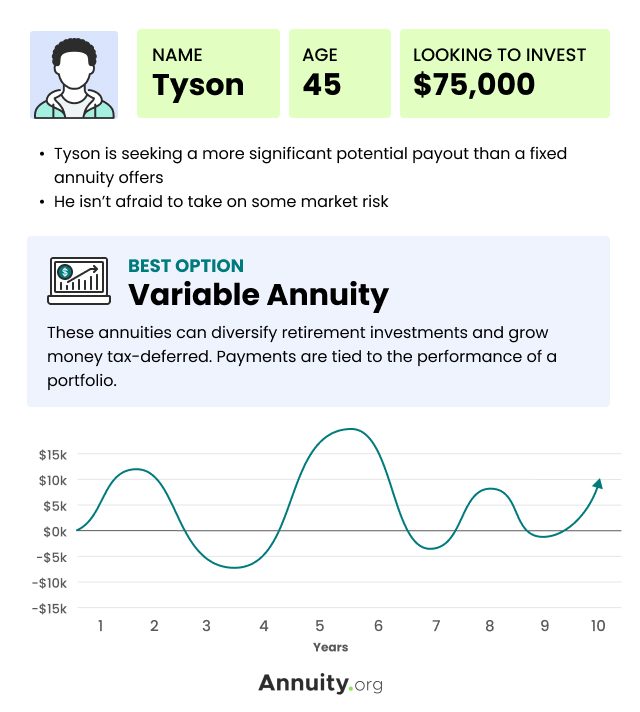 Who Should Choose a Variable Annuity?
Variable annuities are a good fit for people like Tyson, who is seeking a more significant potential payout than a fixed annuity offers — and who isn't afraid to take on some market risk.
Variable annuities can help diversify Tyson's retirement investments and grow his money tax deferred. It can be an excellent option if he's already maxed out his yearly 401(k) contributions.
This type of annuity is usually recommended for younger investors with longer time horizons and higher risk tolerances.
Variable annuities may also be attractive if you want more control over your investments because you can pick and choose your underlying stocks and bonds.
Accumulation and Payout Phases
With a deferred variable annuity, there will be two phases: An accumulation phase and a payout phase.
With deferred annuities, you begin receiving income payments at a later date. If your variable annuity is structured as an immediate annuity, there is no accumulation phase.
During the accumulation phase, your contract can increase in value. You make an initial deposit or contribution to purchase the annuity. You can specify how you would like to invest your funds. Before deciding how to invest your money, you should carefully examine the prospectuses to explore your options.
With some variable annuities, you also have a choice of investing your money in a fixed-interest account. That interest rate may change, but you typically will have a guaranteed minimum interest rate.
The following example shows how funds could be distributed among various investment subaccounts within a variable annuity.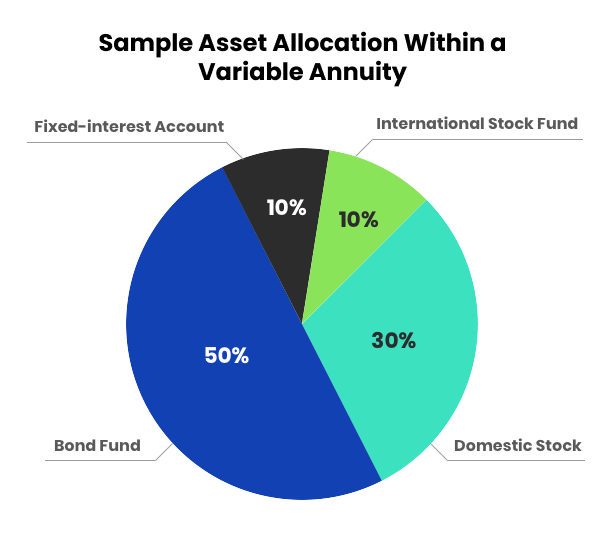 Over time, your money will increase or decrease according to the performance of the funds in which it is invested. During the accumulation phase, you may be able to transfer funds between accounts without tax consequences. But the annuity company may charge you to make transfers.
Pro Tip
If your contract allows, your survivors will receive all or some of your annuity's value if you die during the accumulation period.
During the payout phase, also known as the distribution phase, you may receive your funds and any gains either as a lump-sum or as a stream of payments. You can designate how long the payments will last. They may be for a period of years or an indefinite period, such as your life or the lives of you and your spouse or beneficiary.
Depending on your contract, you may also be able to select fixed payments or adjustable payments that will change, depending on the performance of your investment portfolio.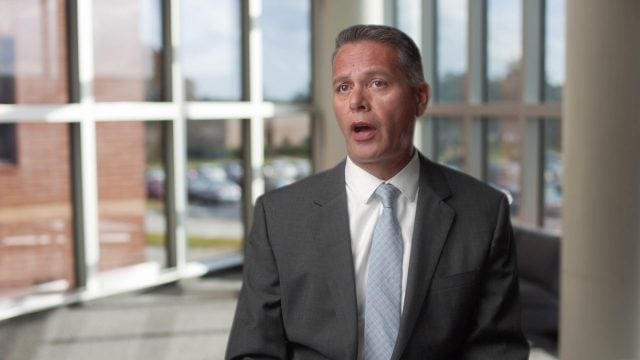 Variable Annuity Pros and Cons
As with any investment, the benefits and risks of variable annuities should be weighed when considering whether to invest.
These annuities carry the promise of higher returns than fixed annuities. But, according to the Financial Industry Regulatory Authority, they also come with risks that warrant caution.
Pros
Possible Inflation hedge – If your investment portfolio performs well, you have the potential to see an increase in your payments, enabling you to better keep up with inflation.
Tax deferral – You don't pay taxes on earnings until you take the money out of the annuity.
Initial investment protection – Usually the annuity company will guarantee you will have access to the money you invested, even if you make no interest if your portfolio does poorly.
Death benefit – If you die before you start receiving payments, your beneficiary will receive a payout from the annuity company.
Payments for life – You have the option of receiving payments for the rest of your life, even if your portfolio performs poorly and you exhaust your principal investment. You may have to pay extra for this option.
Cons
No guaranteed return – Unlike fixed and indexed annuities, there is no guarantee that you will earn interest on your investment. If your investment portfolio performs poorly, it will affect the value of your annuity.
Taxed as income – When you withdraw your money, the earnings are taxed as income, not at the more favorable capital-gains rate.
Complexity – Because they can be complicated, some investors may become confused about the provisions of variable annuities. This has led to what regulators say are questionable sales practices making variable annuities a leading source of investor complaints to the (FINRA).
Surrender charge – If you take some or all of your money out of your annuity earlier than the contract allows, you will have to pay a surrender or withdrawal charge. This charge can be as high as 10 percent early in the contract. Some annuities allow you to withdraw small amounts – typically 10 percent or less – annually.
Mortality and expense risk charge – This is the charge to cover guaranteed death benefits, guaranteed income for life or guaranteed caps on administrative charges. These fees can be 1.2 percent or more a year.
Administrative Fees – These cover record keeping and other administrative costs.
Sales commission – The agent who sold you the annuity may receive compensation for the sale.
Underlying fund expenses – These cover expenses of the subaccounts in which your money is invested. This can be more than 1 percent a year.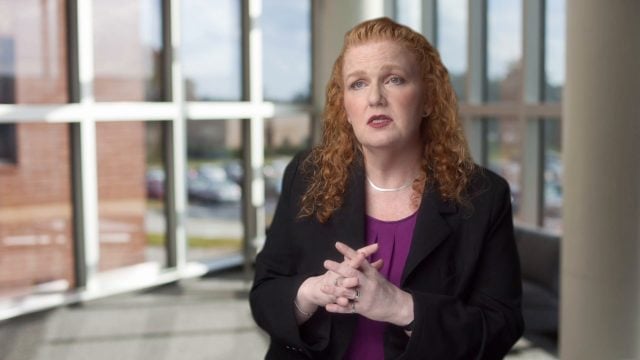 Death Benefits
All variable annuities include a death benefit.
If the contract has not been annuitized, the insurer will make a death benefit payment to the beneficiary named on the contract after the annuity owner or annuitant dies.
The death benefit beneficiary is guaranteed to receive the premium or current value of the contract, whichever is greater, minus any withdrawals and fees.
The standard death benefit is available at no cost above the contract's mortality and expense charge. It allows your beneficiary to receive the current value of the contract.
Many insurers have created new death benefits with additional guarantees. These options can include locking in investment performance at a specific time or guaranteeing a minimum periodic increase in the death benefit.
According to a consumer bulletin from the U.S. Securities and Exchange Commission: "The purpose of a stepped-up death benefit is to 'lock in' your investment performance and prevent a later decline in the value of your account from eroding the amount that you expect to leave to your heirs."
Any enhanced annuity death benefit is optional, carries slightly higher fees than the standard death benefit and may have age restrictions. For example, insurers may not sell you a stepped-up or enhanced death benefit if you're over age 69 or 75.
Keep in mind that the beneficiary of your annuity will also inherit your obligation to pay income tax on the difference between what you paid for your annuity and what it's worth when you pass away.
Free Look Period
Most variable annuity contracts have a "free look" period. It's a test run on the annuity for you to determine if it's right for your situation.
This is a time of 10 or more days in which you can cancel your contract without paying surrender fees.
If you decide to terminate the contract, your premium will be returned to you. The amount may be affected by the performance of your investments during the free look period.
Comparing Variable and Fixed Annuities
Predictability and risk are the biggest differences between variable and fixed annuities.
Fixed annuities share similarities with bank certificates of deposit (CDs). You deposit a sum of money, and the insurer agrees to pay a certain interest rate over a specified period. Because of their predictable nature, fixed annuities are considered less risky than variable annuities.
Unlike variable annuities, money in a traditional fixed annuity grows at an interest rate set by the insurance company. It doesn't expose an investor to the stock market.
Fixed index annuities — which track a broad market index like the S&P 500 — offer some market exposure.
In contrast, a variable annuity functions more like a mutual fund. You invest in one or more subaccounts, which hold stocks, bonds, or a combination of both.
Variable annuities come with greater short-term volatility. Your money fluctuates with the broader markets, and your returns can vary.
Unlike a fixed annuity, variable annuities don't offer any guaranteed return on your principal investment. But some investors are willing to take on this risk for greater potential returns.
A variable annuity may be a good option if you have a longer time horizon and higher risk tolerance.
Keep in mind that variable annuities often come with higher expenses and fees than fixed annuities. Make sure you understand the limitations and penalties of any annuity before signing a contract.
Questions About Variable Annuities
Please seek the advice of a qualified professional before making financial decisions.
Last Modified: November 8, 2021
Share This Page:
8 Cited Research Articles
Annuity.org writers adhere to strict sourcing guidelines and use only credible sources of information, including authoritative financial publications, academic organizations, peer-reviewed journals, highly regarded nonprofit organizations, government reports, court records and interviews with qualified experts. You can read more about our commitment to accuracy, fairness and transparency in our editorial guidelines.