Certificate of Deposit (CD)
A certificate of deposit (CD) is a savings account offered by banks and credit unions to their customers. Generally, this product offers a relatively high rate of interest compared to traditional savings vehicles, but it entails a lockup period during which an investor is unable to access or trade their money.
Written By

Thomas J. Brock, CFA®, CPA

Thomas J. Brock, CFA®, CPA

Expert Contributor

Thomas Brock, CFA®, CPA, is a financial professional with over 20 years of experience in investments, corporate finance and accounting. He currently oversees the investment operation for a $4 billion super-regional insurance carrier.

Read More

Edited By

Emily Miller

Emily Miller

Managing Editor

Managing editor Emily Miller is an award-winning journalist with more than 10 years of experience as a researcher, writer and editor. Throughout her professional career, Emily has covered education, government, health care, crime and breaking news for media organizations in Florida, Washington, D.C. and Texas. She joined the Annuity.org team in 2016.

Read More

Financially Reviewed By

Rubina K. Hossain, CFP®

Rubina K. Hossain, CFP®

Certified Financial Planner™ Professional

Certified Financial Planner Rubina K. Hossain is chair of the CFP Board's Council of Examinations and past president of the Financial Planning Association. She specializes in preparing and presenting sound holistic financial plans to ensure her clients achieve their goals.

Read More

Updated: October 12, 2022
18 min read time
This page features 3 Cited Research Articles
What Is a Certificate of Deposit?
How Does a CD Work?
How Are CD Rates Calculated?


What Are the Different Terms for CDs?
What Happens to Your CD at Maturity?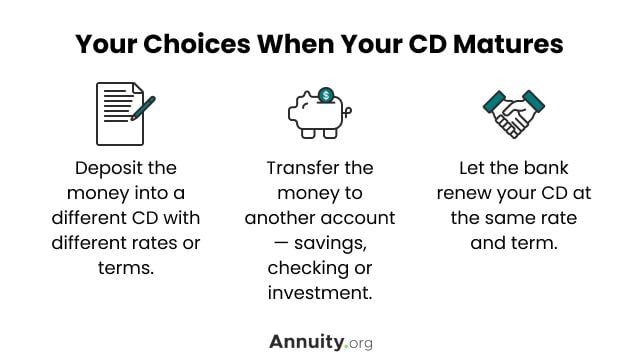 What Are the Types of CDs?
What Are the Pros and Cons of CDs?
Are CDs Safe?
Are CDs FDIC Insured?
Inflation Risk Exposure
Liquidity Risk
Is a CD Right for Me?
Investing for Beginners
When Does a CD Make Sense?
When Doesn't a CD Make Sense?
What Is a Dividend?
Is a CD Sensible for Retirement?
Other Important Considerations
Taxation
Federal Tax Brackets
Automatic Renewal
Where Can You Get a CD?
CDs vs. Other Types of Savings Accounts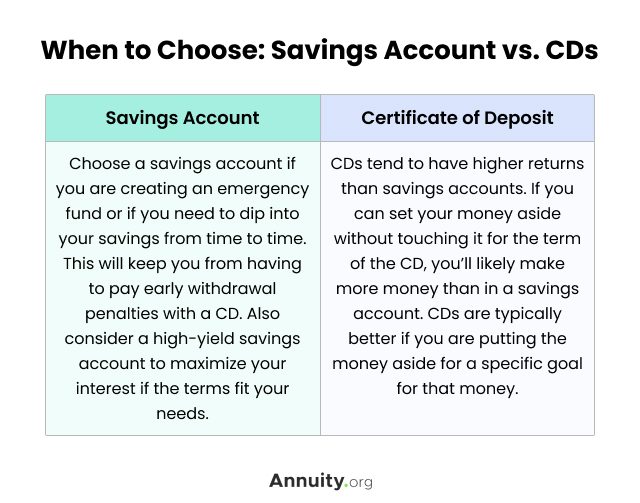 Alternatives to CDs
CDs vs. Annuities
CDs vs. Other Investments
CD Strategies
CD Ladder Strategy
CD Bullet Strategy
CD Barbell Strategy
How Are CDs Taxed?
Advertisement
Connect With a Financial Advisor Instantly
Our free tool can help you find an advisor who serves your needs. Get matched with a financial advisor who fits your unique criteria. Once you've been matched, consult for free with no obligation.
Please seek the advice of a qualified professional before making financial decisions.
Last Modified: October 12, 2022
Share This Page:
Your web browser is no longer supported by Microsoft. Update your browser for more security, speed and compatibility.
If you are interested in learning more about buying or selling annuities, call us at 855-995-1277