Personal finance incorporates how you manage all aspects of you or your family's finances – both short-term and long-term. The term is also used to describe an entire industry devoted to the services and products designed to help individuals manage their finances and take advantage of investment opportunities.
Why Is Personal Finance Important?
Personal finance is a vital part of not only managing your day-to-day financial needs but also planning your financial future. The sooner you get a grip on personal finance, the better your long-term financial prospects will be for things like investing or planning for retirement.
By understanding the elements of personal finance, you can better understand opportunities to improve your finances. This understanding can help you budget for current needs while planning for long-term financial goals.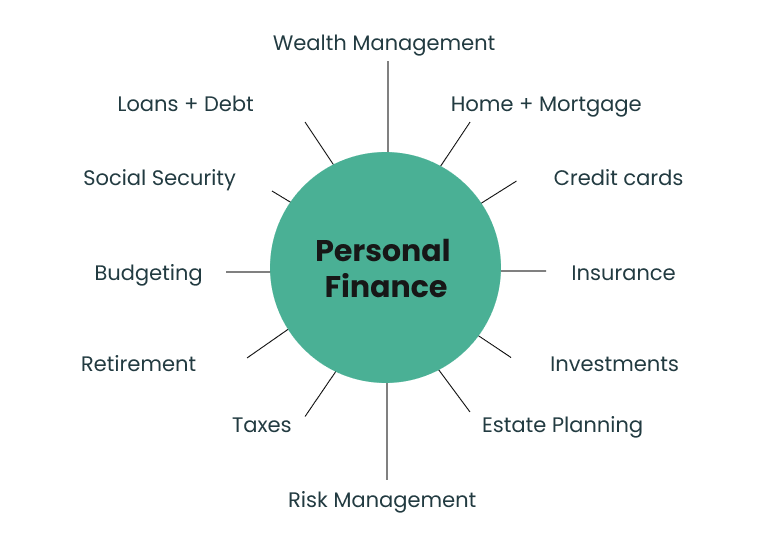 What Are the Five Areas of Personal Finance?
Though there are several aspects to personal finance, they easily fit into one of five categories: income, spending, savings, investing and protection. These five areas are critical to shaping your personal financial planning.
Five Aspects of Personal Finance

Income
Income is the foundation of your personal finances and includes all parts of your cash flow – the money you take in from all sources. It includes your salary, pension or Social Security, income from rental properties or investments.

Spending
Spending includes the money for any expenses you have. Controlling the amount of money you spend can allow you to set aside money to grow your financial future.

Savings
Savings includes any money from your income that you do not spend but set aside for the future. It is necessary to provide for potential expenses – planned or unplanned.

Investing
Investing is different from savings. While savings are what's left over from your income, investments are purchases that allow you to earn future income or savings. Investments may include purchases of mutual fundsMutual FundMutual funds are pooled investment products that you can buy shares of., stocks, bondsBondA debt security issued by borrowers to raise money from investors.or real estate that you expect to give you a good rate of return. But investments come with risk.

Protection
Protection from financial risks can be handled through a variety of financial products including annuities, property/casualty insurance, life insurance and health insurance. These can provide financial security or protection from unexpected financial costs.
What Are the Fundamental Principles of Personal Finance?
There are 12 basic principles of successful personal finance, according to the Jump$tart Coalition for Financial Literacy, a nonprofit organization that promotes financial literacy education in U.S. public schools.
Though designed to teach school kids the basics of financial literacy and responsibility, the principles have been used for more than two decades to guide adults toward better personal finance practices as well. And they hold up at any stage of life.
The 12 Principles of Personal Finance

Know your take home pay
Be aware of your income before you commit to any significant spending such as credit card debt, car loans or a mortgage.

Pay yourself first
Set aside money from each paycheck for unexpected emergencies and long-term goals before paying your bills.

Start saving now
Ideally, you should start saving for your future while you're still young. The longer you save, the more interest your savings will earn.

Compare interest rates
Whether it's saving for your future or looking for the right credit card, look for the best interest rates first to earn more interest on savings and pay less interest on debt.

Remember the "Rule of 72"
To figure out how many years it will take your savings to double, divide 72 by the interest rate of your savings.

Never borrow what you can't repay
Make sure you can pay off what you owe. This will improve your credit overall and keep your debt manageable.

Create a budget
Set up an annual budget of income and known expenses. Use this as a roadmap to build your savings while living within your income.

Remember that high returns mean high risks
High return on investment typically means you are going to have to take higher risks. Diversifying your investments can spread that risk around, protecting your investments.

Don't expect something for nothing
Be wary of get-rich quick schemes. If they were real, everyone would already be doing them. If it sounds too good to be true, it probably is.

Plan your financial future
Take time to write down your financial goals – both short-term and long-term. Then work out a realistic roadmap to get you to those goals.

Your credit past determines your credit future
Your credit record is kept for years by credit bureaus. If you have trouble paying loans or credit card debt, that record will hurt your chances of getting credit in the future.

Buy insurance
Health, auto, home and life insurance can protect you and your loved ones from financial hardship in the event of accidents or illness.
Let's Talk About Your Financial Goals.
Take our free 3-minute quiz to match with a financial advisor instantly. Recommendations tailored to your goals.
How to Become Better Educated at Personal Finance
There is a wealth of resources available online, from nonprofit organizations and state and local governments for people who want to learn more about personal finance.
In addition, there are online and in-person classes available – often for a fee – from for-profit organizations and educational institutions.
Resources for Learning About Personal Finance
Check with your state education department or agency about personal finance classes near you.
Contact your local community college, university or continuing education program.
The U.S. Consumer Financial Protection Bureau offers tools and other resources ranging from credit cards to debt collection if you have specific questions about personal finance topics.
Check your local library or bookstore for books on personal finance topics.
Check with your employer's human resources department about resources that may be available through your job or benefits programs.
Talk to a licensed financial advisorFinancial Advisor

Financial advisors work with clients to develop a comprehensive financial plan.

or other professional about resources and financial products that can help you with personal finance.
Careers in the Personal Finance Industry
There were more than 275,000 personal financial advisors in the U.S. in 2020, according to the U.S. Bureau of Labor Statistics. That number is expected to grow by about five percent by 2030 and create 12,600 new roles.
Personal financial advisors focus on helping people manage their personal finances and plan their financial futures. They provide guidance on decisions about insurance or annuitiesAnnuityAn insurance product that earns interest and generates periodic payments over a specified period of time, typically with the purpose of providing income in retirement., what types of investments to pursue and how tax laws affect their finances.
Many sell financial products to clients.
Products Financial Advisors Sell
Bonds
Life insurance
Mutual funds
Stocks
Source: U.S. Bureau of Labor Statistics
Those that sell financial products must have a combination of licenses based on the particular type of product or investment advice they provide. They may be regulated by the state where they do business as well as the Securities and Exchange Commission (SEC) – depending on the product.
A personal financial advisor typically has a bachelor's degree, though some may have a higher degree. Many positions may require professional certification or continuing education. Education, training and salaries are similar to several other financial professions.
Jobs Similar to Personal Financial Advisors
Budget analysts who focus on public and private organizations with financial planning.
Financial analysts who help businesses and individuals plan spending to maximize profits.
Financial managers create reports, develop plans, guide investment decisions and set long-term financial goals for their organization.
Insurance agents sell clients one or more types of insurance.
Insurance underwriters evaluate insurance applications, estimate risk and decide if a policy should be approved for a client or under what terms.
Real estate brokers and agents help clients buy, sell or rent real estate property.
Securities, commodities and financial services agents sell these financial products and provide financial services for buyers and sellers in different financial markets.
Source: U.S. Bureau of Labor Statistics
Private bankers and wealth managers are closely related to personal financial advisors, but their clients tend to have much larger amounts of money to invest and manage. Their clients may be closer in financial scale to companies or large organizations than to the amount of money most people have.
Join Thousands of Other Personal Finance Enthusiasts
Get personal finance tips, expert advice and trending money topics in our free newsletter.