Financial Literacy
To be financially literate is to know how to manage your money. This means learning how to pay your bills, how to borrow and save money responsibly, and how and why to invest and plan for retirement.
Take the initiative to self-educate and grow your financial knowledge, by beginning with the basics of money management and maturing into a smart spender. Putting time into your financial development improves saving and investing decisions. By leveraging resources—like age, talent, money and the ability to establish good habits—you can build a long-lasting nest egg.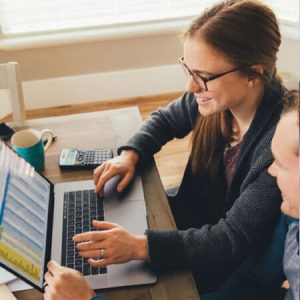 Written By

Alanna Ritchie

Alanna Ritchie

Staff Writer

Alanna Ritchie is a content writer for Annuity.org where her primary focus is on personal wealth management.

Read More

Edited By

Emily Miller

Emily Miller

Managing Editor

Managing editor Emily Miller is an award-winning journalist with more than 10 years of experience as a researcher, writer and editor. Throughout her professional career, Emily has covered education, government, health care, crime and breaking news for media organizations in Florida, Washington, D.C. and Texas. She joined the Annuity.org team in 2016.

Read More

Financially Reviewed By

Rubina K. Hossain, CFP®

Rubina K. Hossain, CFP®

Certified Financial Planner™ Professional

Certified Financial Planner Rubina K. Hossain is chair of the CFP Board's Council of Examinations and past president of the Financial Planning Association. She specializes in preparing and presenting sound holistic financial plans to ensure her clients achieve their goals.

Read More

Updated: March 20, 2023
28 min read time
This page features 22 Cited Research Articles

What Is Financial Literacy?

How to Manage Your Money

Money in the Bank

Budgeting

Financial Literacy & Personal Finance Basics

Credit or Debit?

Saving

Debt

Credit Scores

Using Credit Responsibly

Choosing the Right Card

Making a Game Plan for Credit Use

Paying Off Credit Card Debt

Student Loans

Paying Attention to Loans While You're Still in School

Staying in Control When You Leave or Graduate

When Repayment Isn't an Option

Real Estate

Foreclosures and Short Sales

Business Finance

Startups & Small Business

Venture Capital

Retirement

Annuities and Retirement

View our glossary of key annuity terms

Getting Started

Current Assets

Looking into the Future

Please seek the advice of a qualified professional before making financial decisions.

Last Modified: March 20, 2023

Share This Page:

22 Cited Research Articles

Annuity.org writers adhere to strict sourcing guidelines and use only credible sources of information, including authoritative financial publications, academic organizations, peer-reviewed journals, highly regarded nonprofit organizations, government reports, court records and interviews with qualified experts. You can read more about our commitment to accuracy, fairness and transparency in our editorial guidelines.
Your web browser is no longer supported by Microsoft. Update your browser for more security, speed and compatibility.
If you are interested in learning more about buying or selling annuities, call us at 866-528-4784