Why Is Financial Literacy Important?
Whatever your career and life goals may be — from finding a cure for cancer to starting a family — you will need money to achieve them. Without a sufficient level of financial literacy, making, keeping and growing your money will be a challenge, and your goals will remain out of reach.
Attending a university, college or trade school is a wise choice because an investment in your professional skills will make you competitive in your field and give you the opportunity to earn more money and accomplish your dreams. But for many Americans, college is our first lesson in financial literacy, and it isn't always a pleasant one.
Finding the right resources is the first step in becoming financially literate.
Students entering college have many choices, including which school to attend, which scholarships to apply for and how much student loan debt to take on.
This student guide to financial literacy was created to help new students navigate the world of higher education.
View our glossary of key financial terms
Need-Based Scholarships
Applying for need-based scholarships starts with submitting the Free Application for Federal Student Aid, or FAFSA. The FAFSA determines the amount of aid you're eligible to receive from the government and is a requirement for applying for many non-federal scholarships.
When Should I Fill Out My FAFSA?
In the United States, the academic year begins in late August or early September. According to the U.S. Department of Education's office of Federal Student Aid, the FAFSA form is typically available on Oct. 1 for the following academic year. The government office encourages students to fill out the form as soon as possible on or after Oct. 1 to meet FAFSA deadlines.
For the 2023–24 academic year, the online FAFSA form is available until June 30, 2024. Corrections or updates must be submitted by Sept. 14, 2024.
However, each state and college will have its own deadline for the FAFSA. Most deadlines are around June, with some even as soon as January, so check with the schools to which you apply. Clarify whether the application deadline is the date your FAFSA form is processed or the date the college receives the processed FAFSA data.
Is the 2024-25 FAFSA Available?
The 2024-25 FAFSA will not be available until December 2023, at the earliest, due to an overhaul of the form. This revamp is in response to the FAFSA Simplification Act, passed in 2022, which called for an update to the form's formulas, definitions and IRS compatibility. To stay up to date regarding these changes, see the 2024-25 FAFSA Roadmap.
Do I Need My Parents' Information?
You don't need your parents' information if you are considered an independent student. Your dependence status for the relevant award year is determined using your age and a number of other factors.
You are considered independent if one or more of the following statements are true for you:
You are 24 years old or older.
You plan to enroll as a graduate, law or medical student.
You are a veteran of the U.S. Armed Forces.
You are serving on active duty in the U.S. Armed Forces for purposes other than training.
You are an emancipated minor.
You have dependents to whom you will contribute half of their support.
You are married.
You were deemed self-supporting and homeless or at risk of homelessness by your high school homeless liaison or a director of a homeless shelter or transitional housing program.
Let's Talk About Your Financial Goals.
Take our free 3-minute quiz to match with a financial advisor instantly. Recommendations tailored to your goals.
Merit-Based Scholarships
Merit-based scholarships are offered to students for outstanding academic, athletic or artistic achievements.
Some scholarships will require letters of recommendation from teachers, coaches or organization leaders who can speak to your best qualities. When asking someone to write a recommendation for you, always give them plenty of time and make sure they have the correct address and deadline for submitting the letter.
Most scholarships must be renewed each year. Save yourself a lot of stress and money by staying on top of any requirements, such as GPA and class completions, and reapply by the deadline.
Academics
Great grades and standardized test scores can earn you scholarship dollars. Check whether your school or state offers a program to help subsidize the cost of college as a reward for academic achievement.
Sports
The NCAA awards more than 180,000 athletic scholarships annually. Division III schools also award academic grants or need-based scholarships to more than 150,000 student athletes. However, athletic scholarships rarely cover the full cost of attendance. For instance, in the 2020-2021 school year, the NCAA issued an average scholarship of $18,000 to each athlete, but the average cost of attendance was higher.
The Arts
Some schools offer scholarships for music and the performing arts. Verify the audition deadline to ensure your application is accepted.
Writing
Many organizations grant scholarships for writing an essay around a topic critical to its cause. If you've got a way with words, this could be a great way to earn free money towards your education.
How Student Loans Work
Federal Student Loans vs. Private Student Loans by the Numbers
Take these two students, Mike and Brian. Both attended the same school and accepted loans for $37,584 each, the average amount borrowed by students in 2020.
Fact:
7 out of 10 college students will graduate with student loan debt — and that debt can have a long-term impact.
Mike took out a loan with the average interest rate offered by Federal Stafford Loans, 4.53%, and deferred interest until graduation. After college, it will take him 10 years of making monthly payments of $390.06 to pay off the total amount of the loan. In the end, Mike will have paid $9,222.95 in interest. Mappingyourfuture.org estimates that he will need an annual salary of at least $58,508.75 to comfortably afford those loan payments.
Now let's take Brian. He's paying an interest rate of 10.57%, a rate that's on the high end for private loans but not unheard of. It will take him 10 years of making monthly payments of $508.61 to pay off the total amount of the loan. In sum, Brian will have paid $23,450.04 in interest — more than double what Mike paid.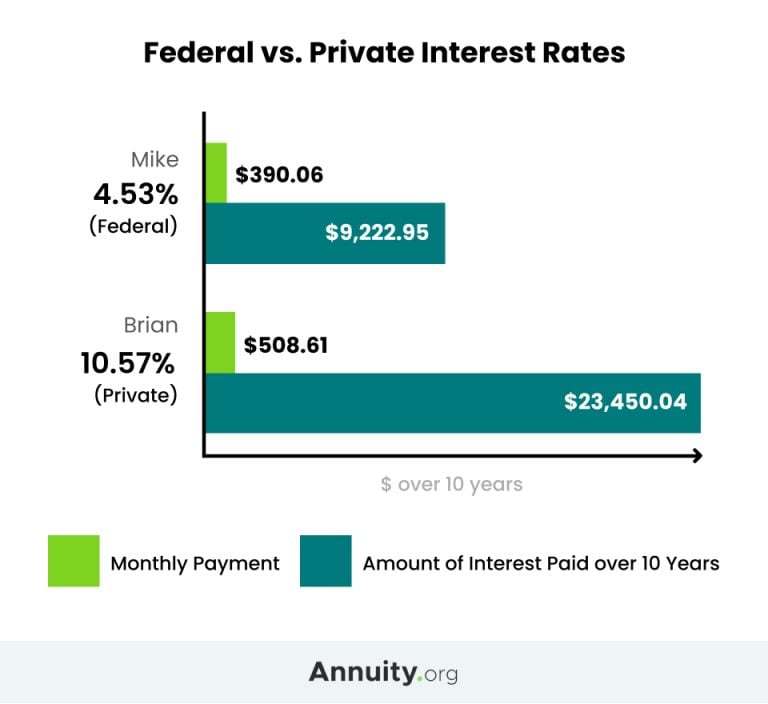 And there's more bad news for Brian. Finaid.org estimations say that Brian would need to make at least $76,292.09 per year to comfortably make those payments — and the average starting salary for a 2023 college graduate is $55,260.
Choosing Your College Wisely
Nothing affects the cost of college more than your choice of school. Public universities tend to be significantly less costly than private universities. For example, according to U.S. News, tuition for the 2022–23 academic year averaged $10,423 for in-state students attending public colleges, $22,953 for out-of-state students attending public colleges and $39,723 for students attending private colleges.
These numbers reflect a significant increase from tuition averages for the preceding school year.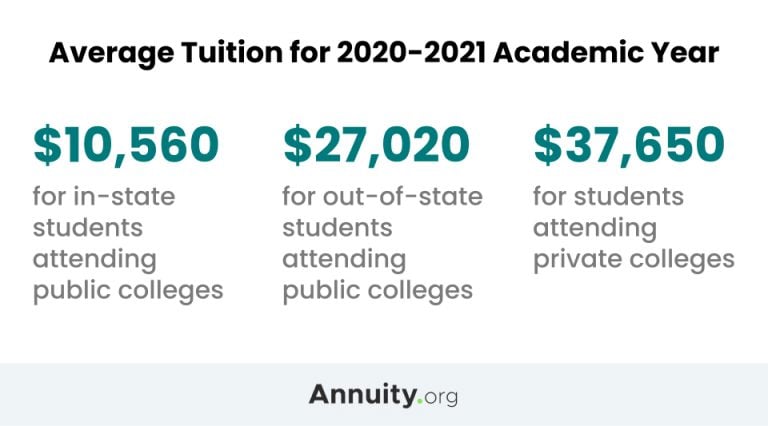 Two-year schools, known also as state colleges, community colleges or junior colleges, are also a great way to reduce your overall cost for college. Sometimes called a 2 + 2 plan, community colleges often work with four-year universities to ensure that all credits earned at a two-year school transfer and apply toward a bachelor's program at a university. According to the Chronicle of Higher Education, this route could save you anywhere from $6,800 to $35,000.
In order to ensure you're making the smartest investment possible with your time and tuition dollars, here are several factors to consider:

Cost of Attendance

Some schools come with a higher price tag. Schools that accept financial aid all publish "Cost of Attendance" figures that estimate the total cost of attendance, including tuition, books, housing, food and personal expenses.

Average Graduation Rates

The National Center for Education Statistics reports that only 62% of full-time bachelor's degree-seeking students at post-secondary institutions complete their degree in six years.

Your School's Program Offerings

It's okay to be unsure of your major on day one. Still, make sure the college you select has a range of programs that interest you and that could develop into a career path.

In-State Tuition for Out-of-State Colleges

Have your sights set on a school in another state? Don't assume it will be financially out of reach. Some schools allow top performers to apply during their sophomore year with a waiver that grants them in-state tuition. Plus, programs such as the New England Regional Student Program offer in-state tuition for students from neighboring states.
Sticking to a Budget
Tuition isn't the only college expense. You'll also have living expenses. For many students, the college years are their introduction to paying their own rent, utilities such as electricity and water, and even their cell phone bills, car loans and insurance.
The cost of college can take students by surprise. In the United States, average room and board costs exceed $10,000 annually. Even if their parents pay for housing and meals, many students won't have extra spending money once all the necessary expenses are covered.

One way to save yourself and your parents some money is by picking an affordable place to live. Dorm rooms may be more expensive than apartments, but they offer security and convenience in terms of getting to class on time every day. An off-campus apartment may seem like it's less expensive, but don't forget to tack on extra costs for parking, groceries and utilities, such as gas and water.
This is where making a budget comes in handy. By keeping a budget, or list of income and expenses, you can estimate how much money you'll need each month to keep the lights on and how much extra you'll have to spend on the fun stuff.
Your fixed expenses — such as rent, Netflix subscriptions and fraternity dues — stay the same each month. Flexible expenses, on the other hand, may vary from month to month. Examples of flexible expenses include electricity bills and groceries. All of these expenses must be accounted for in your budget. An allowance from your parents, paychecks from your part-time job or the few dollars you earned from your garage sale are all sources of income.
Making a budget is an excellent way to increase your financial literacy. A budget will help you set and attain your goals, both academic and financial, and will be a tool you'll use for the rest of your life.
Pro Tip
"Room and board" is the traditional term for the cost of housing and a meal plan at college. According to Educationdata.org, room and board in the United States cost an average of $11,451 at public universities and $12,682 at private universities.
Getting the Most out of Your Meal Plan
Some colleges require you to purchase a meal plan if you live on campus. Still, you should be able to select the plan that meets your needs. Make sure you monitor your credits, and don't pay for more than you need. At the end of the semester, students often find they have lost unused credits for meals.
Consider making meals at home, and calculate your price-per-meal to see how the cost of off-campus dining compares with the cost of your plan. Simply divide the total cost of your meal plan by the number of meals you get with your plan. This will give you a good idea of how much your meal plan actually costs.
Credit Cards for Students
College is the first time many people will receive an offer for a credit card in the mail, promising "free money" and an array of benefits.
Credit card companies report late payments to the credit bureau, which can negatively impact your credit before you even begin your career.
Missed or late credit card payments can influence the interest rates you are able to qualify for on major purchases, such as a car or home, later in life.
Credit cards are key to building credit, but they can also lead to costly mistakes. Credit card companies charge a type of interest called APR, or annual percentage rate. According to U.S. News and World Report, the average APR for student credit cards is 15.27%. That means if you charge $1,000, you'll end up spending $152.70 in interest if you carry that balance for the whole year.

On the flip side, building your credit early can pay off. As much as 15% of your credit score comes from the length of your credit history. A good way to manage your card is to charge a few things a month — for example, your Netflix and Spotify subscriptions — and set up autopay to ensure that you pay off the balance each month.
You can use apps such as HomeBudget and Mint to establish and stick to your budget.
Planning for the Future
If you're lucky enough to have a head start in planning for your future, be careful not to squander it. You may have a connection who can give you a leg up when applying for a job, or perhaps you were the beneficiary of an annuity or other financial windfall. Such advantages could have a big impact on your success.
Finding a Job or Internship
Having a part time job or internship is a great way to gain experience in your field and increase your chances of getting a job when you graduate. The 2020 Internship and Co-op Survey Report revealed that the offer rate for internships was 68% at the time of the data collection from Nov. 6, 2019, to Feb. 7, 2020. At that time, intern hiring was projected to increase by 2.8% in 2020, but the survey responses were recorded prior to the pandemic and don't "reflect the changes employers made to their programs to account for travel bans, social distancing, economic fallout, and others factors that affected operations."
Pro Tip
Internships are typically one-time work or service experiences related to the student's major or career goal.
Paid internships offer unique benefits beyond the paycheck. A separate report from NACE revealed that "66.4% of Class of 2019 graduates who had a paid internship received a job offer. On the other hand, just 43.7% of unpaid interns were offered a job."
Although co-ops are less popular, NACE studies also show they correlate to job opportunities for participants. Unlike an internship, which often occurs part-time or during semester breaks, co-ops require that students replace classroom learning with participation in a cooperative education program for anywhere from 3 to 12 months. Instead of completing coursework, co-op students are expected to complete significant work projects on the job. Virtually all co-op positions are paid, averaging $19.76 hourly in 2020.
Starting Your Career
Your university's career resource center can help you polish your resume and interview skills. They also can provide you with a list of employers who are hiring recent college graduates in your field.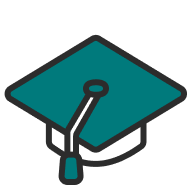 Your school's alumni association and alumni groups on professional websites such as LinkedIn curate and post job listings for new graduates. Alumni networks exist so people who had similar experiences at your alma mater can connect and help one another professionally. As a new graduate, you may be able to join the alumni association for free or at a reduced membership rate. Plan to attend networking events, and bring plenty of business cards.
In the best case scenario, you will graduate with a job offer in place. Create a financial plan for this possibility because relocating to start your career can be expensive. The average move will cost between $1,000 and $3,000, and you will likely have to pay your landlord or apartment community a deposit in addition to your first month's rent.
Securing Your Financial Future
You can start saving for retirement as soon as you receive your first paycheck. By contributing to a tax-favored retirement plan when you're young, you will maximize your earnings through tax-deferred compound interest.
Retirement Savings Options for College Graduates in Their 20s:
If your job offers a 401(k), make sure you're contributing to it on day one. A good rule of thumb is for every annual raise you get, put half of the raise towards your 401(k). That way you'll never miss the money.
Depending on your personal goals, you may choose to purchase an annuity to secure your income in retirement. Although the majority of annuity buyers are older, a variable annuity could offer you retirement income as well as the opportunity to grow your money.
Roth IRAs are another good option if the company you work for doesn't offer an employer-sponsored retirement plan.