Average Retirement Income: Where Do You Stand?
Knowing the average retirement income in the United States can help you see how you compare to the national average. If you're unsure how much you'll need for retirement, these numbers can also give you a baseline when planning for this phase of life.
Edited By

Emily Miller

Emily Miller

Managing Editor

Managing editor Emily Miller is an award-winning journalist with more than 10 years of experience as a researcher, writer and editor. Throughout her professional career, Emily has covered education, government, health care, crime and breaking news for media organizations in Florida, Washington, D.C. and Texas. She joined the Annuity.org team in 2016.

Read More

Updated: December 22, 2022
13 min read time
This page features 15 Cited Research Articles
Do you know how you'll pay for retirement? Or how much you'll need to live comfortably in those years? According to a three-part survey conducted by CNBC, over 70 percent of Americans received a serious financial wake-up call during the COVID-19 pandemic. Because of this, many are now paying closer attention to their long-term financial goals and progress, including retirement planning.
Reviewing the average retirement income can give you a sense of where to start preparing. After looking over the numbers, you can also gauge the health of your finances — and if they need a thorough check-up.
Average Retirement Income in 2021
According to U.S. Census Bureau data, the median average retirement income for retirees 65 and older is $47,357. The average mean retirement income is $73,228.
These numbers are broken down into median and mean to more fully understand the average retirement income. The most recent data available is from 2019. While this data doesn't reflect the intricacies of the economy in 2020 or 2021, it portrays a close reality for households in the U.S.
| | Median | Mean |
| --- | --- | --- |
| Total average retirement income per year for those over the age of 65: | $47,357 | $73,288 |
| Average retirement income per year for those 65 to 74 years old: | $56,632 | $84,153 |
| Average retirement income per year for those 75+ years old: | $37,335 | $58,684 |
Understanding Median and Mean
The numbers for median and mean hold different weights when considering which is more relevant for retirement planning. Let's take a look at what each one really represents.
The median number refers to the number placed in the exact middle of a set. If you were finding the median of 13 retirees' incomes, you would organize the values from smallest to greatest. Whatever number falls in the 7th place is the median retirement income within this set of retirees.
The mean number is found by adding all of the values together and then averaging them out by the number of values you have. If you're trying to find the mean of 10 retirees' incomes, you'll add all of the values together and then divide by 10.
Because retirees with higher incomes tend to skew the mean retirement income, the median income is a more accurate measure of the national average.
What Is a Good Retirement Income?
According to AARP, a good retirement income is about 80 percent of your pre-tax income prior to leaving the workforce. This is because when you're no longer working, you won't be paying income tax or other job-related expenses. However, this number can change based on a variety of factors, including your:
To get a more accurate idea of what a good retirement income looks like for you, start by determining your answers to the above points.
Average Retirement Income Broken Down by Age
| Age Range | Median Household Income | Mean Household Income |
| --- | --- | --- |
| 55-59 | $81,512 | $118,061 |
| 60-64 | $70,031 | $100,842 |
| 65-69 | $60,324 | $88,291 |
| 70-74 | $53,327 | $79,344 |
| 75+ | $37,335 | $58,684 |
Source: The United States Census Bureau
Statistically speaking, your income slowly decreases as you age, as shown in the chart above. This is due to several factors — one being that most people aren't making money during this period, but rather spending their life savings.
Another prevalent factor for the decrease in retirement income is the long list of retirement risks that aren't considered when planning for this phase of life. This includes taking into account a longer lifespan, costs of healthcare, long-term care and inflation.
So although it makes sense that your income would slowly decrease if you weren't making money, you're likely to need more money as you age and as your health declines. This is something to consider when you begin withdrawing retirement funds and as you make plans for your retirement years.
Average Retirement Income by State
Data released by the U.S. Census Bureau shows the average retirement income in every state. We've listed the averages for each state based on region. To get a better look at retirement income in the U.S., we also broke down which states have the highest average retirement income and the lowest.
Northeast:
Connecticut: $32,403
Maine: $24,487
Massachusetts: $31,838
New Hampshire: $26,376
New Jersey: $30,906
New York: $30,839
Pennsylvania: $24,257
Rhode Island: $27,027
Vermont: $24,962
Midwest:
Illinois: $30,950
Indiana: $20,521
Iowa: $22,198
Kansas: $22,998
Michigan: $24,609
Minnesota: $27,087
Missouri: $24,321
Nebraska: $23,519
North Dakota: $24,769
Ohio: $25,972
South Dakota: $23,101
Wisconsin: $25,100
South:
Alabama: $25,004
Arkansas: $23,031
Delaware: $32,289
District of Columbia: $43,601
Florida: $29,582
Georgia: $28,560
Kentucky: $24,222
Louisiana: $25,947
Maryland: $35,065
Mississippi: $22,851
North Carolina: $25,778
Oklahoma: $23,793
South Carolina: $26,536
Tennessee: $23,053
Texas: $27,836
Virginia: $33,431
West Virginia: $21,874
West:
Alaska: $39,214
Arizona: $28,743
California: $34,693
Colorado: $33,229
Hawaii: $32,108
Idaho: $24,676
Montana: $25,805
Nevada: $31,499
New Mexico: $28,716
Oregon: $28,425
Utah: $27,830
Washington: $29,541
Wyoming: $28,399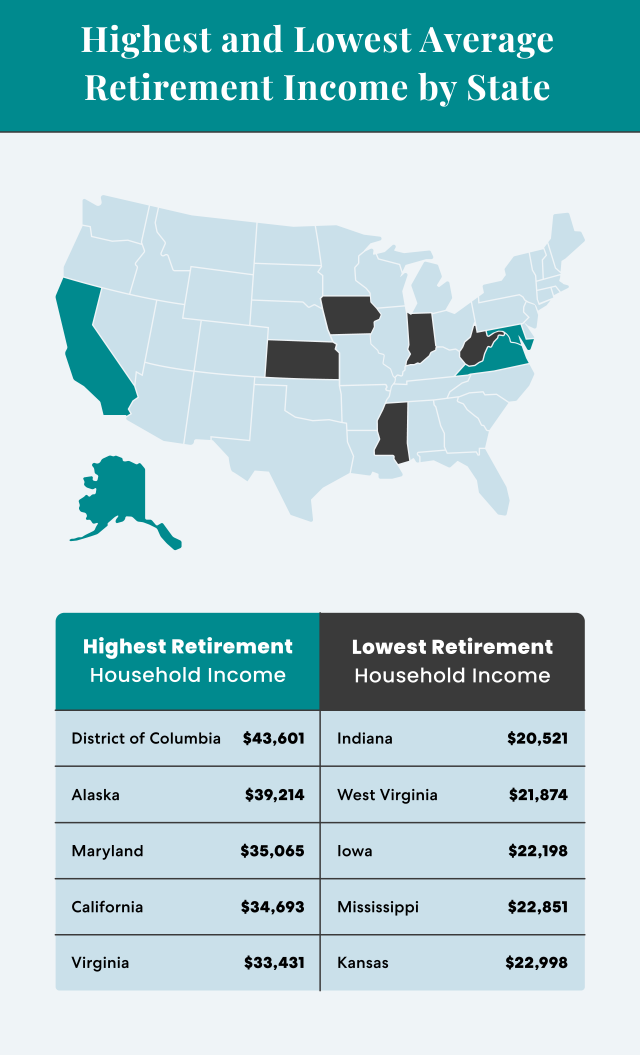 States With the Highest Average Retirement Income
The five states with the highest retirement income range from 54 percent above average to roughly 17 percent above average. The District of Columbia has the highest average income for retirees at 54 percent above average.
District of Columbia: $43,601
Alaska: $39,214
Maryland: $35,065
California: $34,693
Virginia: $33,431
States With the Lowest Average Retirement Income
The state with the lowest average retirement income is Indiana with an average of $20,521 per year. This is 28 percent below the national average. The states with the lowest average retirement income by household are:
Indiana: $20,521
West Virginia: $21,874
Iowa: $22,198
Mississippi: $22,851
Kansas: $22,998
Join Thousands of Other Personal Finance Enthusiasts
Because missing out on important news and updates could cost you.
Where Does Retirement Income Come From?
Many people have various sources of retirement income. These can include investment accounts to protect against inflation, benefits from government programs or continuing paychecks. Generally speaking, it's best to have several of these income sources to ensure you have enough to live comfortably.
When considering where your retirement income will come from, one important aspect to think about is the diversification of your portfolio. This can help to alleviate risks in the market and protect your future or current income.
Continued Employment
How To Maximize This Income:
Start a freelance consulting business with skills you learned in your career
Get a part-time job
Utilize gig-economy employment
Social Security Benefits
Every time someone gets paid, a 6.2 percent Social Security tax is withdrawn from the gross amount. For the self-employed, this percentage doubles to 12.4 percent. Social Security then pays a portion of your retirement income with this money. The amount you receive is based on how much you earned during your working years.
Fun Fact:
A study conducted by the National Institute on Retirement Security shows that 40 percent of Americans rely solely on Social Security benefits to fund their retirement.
According to the Social Security Administration, the maximum Social Security benefit you can receive each month in 2021 is $3,148 for those at full retirement age. The average Social Security income per month in 2021 is $1,543 after being adjusted for the cost of living at 1.3 percent.
How To Maximize This Income: Delay receiving these benefits until full retirement age, or age 67. Social Security will reduce your benefit amount if you begin receiving payouts before full retirement age.
The amount you receive is based on the 35 years you earned the most. If you don't work 35 full years, zeros will be factored in which will lower your monthly benefit. Working for at least 35 years will guarantee you a slightly higher payout.
Pensions
According to the Pension Rights Center, only 31 percent of Americans are now retiring with some form of a defined benefit retirement plan. This is greatly due to the steady decline in pension plans over the years. The United States Department of Labor data shows that there were 113,062 pension plans in 1990, but only 46,869 in 2018.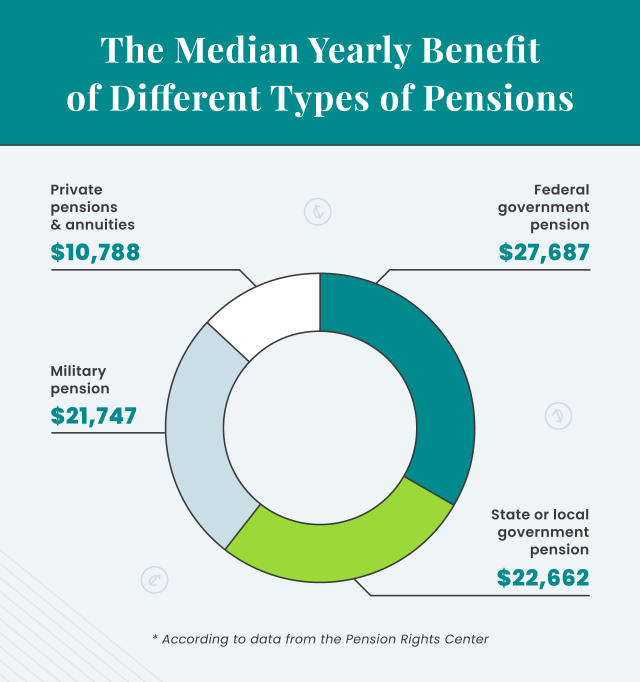 The average private pension in the United States today is about $10,788, according to data from the Pension Rights Center. Other types of pensions, such as government and military defined benefit plans, have a higher average per year.
How To Maximize This Income: By maintaining a long period of employment with the company offering the plan, you'll be able to increase your benefit. Likewise, you can also set up a personal pension plan which is similar to an annuity.
Personal Financial Assets
Personal assets can include a broad range of investments and accounts, including:
Annuities
401(k) account(s)
Real estate
Stock market investments
According to the Transamerica Center for Retirement Studies, 48 percent of American workers expect their main form of retirement income to be from personal financial assets. If this is the case for your situation, be aware of ways to protect your assets against inflation. You can do this by putting your earnings in a retirement account or by annuitizing your funds.
How To Maximize This Income:
Purchase an annuity to protect your savings and grow your money tax-deferred
Obtain passive income-producing assets such as real estate, dividend-focused stock investments, etc.
Invest the maximum amount into your retirement accounts each year
4 Withdrawal Strategies for Retirement Income
Being strategic about the way you withdraw retirement funds can protect your hard-earned savings. Without a solid plan, you may spend too much at the start of your retirement and not have enough money to support your lifestyle as you age. Here are a few different withdrawal strategies you can use to ensure this doesn't happen:
Annuities: An annuity is a financial product that lets your money grow tax-free while you receive regular income payments. When purchasing an annuity, you'll pay an insurance company a lump sum and sign a contract stating when you would like your periodic payments.
The 4 percent rule: This rule states that, in order to avoid outliving your retirement funds, you should withdraw 4 percent of your retirement portfolio in the first year of retirement and adjust for inflation in the years after. This percentage has since increased to 4.5 percent.
Fixed-percentage or fixed-dollar withdrawals: With this method, you'll choose a specific percentage or amount you'll withdraw periodically.
The Bucket Method: With this system, you'll divide your money into different buckets (or categories) that serve specific purposes. Some of your assets will remain in a liquid bank account while others will continue to work for you in investments until you need to liquidate a portion to refill your bank account.
Knowing the average retirement income can help you gauge how healthy your finances are and if you need to reevaluate your plans. It can also help you determine solid goals for your retirement savings and roughly how much you'll want to distribute regularly.
Once you know how much to distribute, you'll then be able to focus on how you'll do so, whether it be by purchasing an annuity, implementing the bucket method or following another system. If you're unsure what's best for you, talk with a trusted financial advisor who can help you make a plan.

As a baby boomer approaching retirement age, I find myself doing general research to reaffirm some strategies that we have worked on since our early thirties. We feel comfortable that, at this time, my income streams will support the lifestyle and projected health care costs for me and my spouse. That is with the full understanding that we cannot plan for every contingency — but confident and reassured in the plan we've made. Informative article indeed, thanks.
Advertisement
Connect With a Financial Advisor Instantly
Our free tool can help you find an advisor who serves your needs. Get matched with a financial advisor who fits your unique criteria. Once you've been matched, consult for free with no obligation.
Please seek the advice of a qualified professional before making financial decisions.
Last Modified: December 22, 2022
Share This Page:
15 Cited Research Articles
Annuity.org writers adhere to strict sourcing guidelines and use only credible sources of information, including authoritative financial publications, academic organizations, peer-reviewed journals, highly regarded nonprofit organizations, government reports, court records and interviews with qualified experts. You can read more about our commitment to accuracy, fairness and transparency in our editorial guidelines.
Konish, L. (2021, June 14). One-Third of Americans plan to retire later due to Covid-19, study finds. Retrieved from: https://www.cnbc.com/2021/06/14/a-third-of-americans-plan-to-retire-later-due-to-covid-19-study-finds.html
Schroders. (2021, March 18). Just 26% of Americans Near or at Retirement Age Have Enough Saved for Retirement. Retrieved from: https://www.schroders.com/en/us/private-investor/media-centre/retirement-survey-2021/
Waggoner, J. (2021, January 6). How Much Money Do You Need to Retire? Retrieved from: https://www.aarp.org/retirement/planning-for-retirement/info-2020/how-much-money-do-you-need-to-retire.html
United States Department of Labor. (2021, January). Private Pension Plan Bulletin Historical Tables and Graphs 1975–2018. Retrieved from: https://www.dol.gov/sites/dolgov/files/ebsa/researchers/statistics/retirement-bulletins/private-pension-plan-bulletin-historical-tables-and-graphs.pdf
Social Security. (2021). Fact Sheet. Retrieved from: https://www.ssa.gov/news/press/factsheets/colafacts2021.pdf
Social Security. (2021). Understanding the Benefits. Retrieved from: https://www.ssa.gov/pubs/EN-05-10024.pdf
Bond, T., Porell, F. (2020, January). Examining the Nest Egg: The Sources of Retirement Income for Older Americans. Retrieved from: https://www.nirsonline.org/reports/examining-the-nest-egg/
United States Census Bureau. (2020). HINC-02. Age of Householder-Households, by Total Money Income, Type of Household, Race and Hispanic Origin of Householder. Retrieved from: https://www.census.gov/data/tables/time-series/demo/income-poverty/cps-hinc/hinc-02.html#par_textimage_10
Brandon, E. (2019, February 12). 10 Ways to Increase Your Social Security Payments. Retrieved from: https://money.usnews.com/money/retirement/social-security/slideshows/ways-to-increase-your-social-security-payments?slide=2
Transamerica Center for Retirement Studies. (2019). 19th Annual Transamerica Retirement Survey. Retrieved from: https://www.transamericacenter.org/docs/default-source/retirement-survey-of-workers/tcrs2019_sr_19th-annual_worker_compendium.pdf
Pension Rights Center. (n.d.). Income from Pensions. Retrieved from: http://www.pensionrights.org/publications/statistic/income-pensions
Pension Rights Center. (n.d.). Sources of Income for Older Adults. Retrieved from: http://www.pensionrights.org/publications/statistic/sources-income-older-adults
Social Security. (n.d.). How is Social Security financed? Retrieved from: https://www.ssa.gov/news/press/factsheets/HowAreSocialSecurity.htm
United States Census Bureau. (n.d.). Census Regions and Divisions of the United States. Retrieved from: