50 Essential Retirement Statistics for 2020
Fact-Checked
Annuity.org partners with outside experts to ensure we are providing accurate financial content.
These reviewers are industry leaders and professional writers who regularly contribute to reputable publications such as the Wall Street Journal and The New York Times.
Our expert reviewers review our articles and recommend changes to ensure we are upholding our high standards for accuracy and professionalism.
Our expert reviewers hold advanced degrees and certifications and have years of experience with personal finances, retirement planning and investments.
Three-quarters of Americans agree the country is facing a retirement crisis, making research around the topic more relevant than ever. We dug into the data on every angle of retirement and compiled the most important statistics below. Read on to learn about what today's retirees face, from financial challenges to lifestyle decisions and more.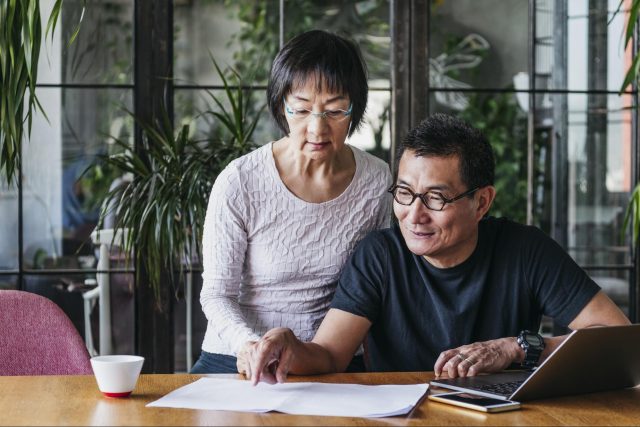 Retirement Demographics

Retirement Age
In 2016, the average retirement age in the United States was 65 for men and 63 for women. The official retirement age is 67 for those born after 1959.
A 2018 Gallup poll of 1,015 employed people found that the average predicted retirement age was 66.
The retirement age is lowest in Alabama, Arkansas, Kentucky, Michigan, Missouri, South Carolina and West Virginia, where people retire at 62 on average.
The retirement age is highest in Connecticut, Kansas, Massachusetts, Nebraska, New Hampshire, New Jersey, North Dakota, Utah, Vermont and Wyoming, where people retire at 65 on average.
The United Arab Emirates has the lowest average retirement age in the world at 49, which is both the official retirement age and the average actual retirement age for both men and women.
Norway has the highest average retirement age in the world at 67 for both men and women.
Global Retirement Statistics
| Country | Average Retirement Age | Official Retirement Age |
| --- | --- | --- |
| United States | 66.85 | 67 |
| United Kingdom | 64.5 | 65 |
| Canada | 64.75 | 65 |
| France | 60.55 | 62 |
| Greece | 60.7 | 67 |
| Italy | 61.7 | 66.58 (men)/65.58 (women) |
| Netherlands | 63.25 | 66 |
| China | 64 | 60 (men)/50 (women) |
| Israel | 67.8 | 67 (men)/62 (women) |
| New Zealand | 68.4 | 65 |
| Mexico | 69 | 65 |
| Japan | 69.95 | 62 |
Women and Retirement
Women's average total retirement savings is just $23,000, whereas men's average total retirement savings is $76,000.
The amount of women who have more than $250,000 saved (16 percent) is just over half the amount of men with the same amount (30 percent).
Nearly a third (31 percent) of women have $10,000 or less saved for retirement, compared to 20 percent of men in the same savings category.
Over half of women (54 percent) are determining the amount they believe they need saved for retirement by guessing. Just 9 percent use a calculator or worksheet, and a mere 3 percent use a financial advisor.
More than 4 in 10 (43 percent) of women have no retirement strategy. Of those women who do have a retirement strategy, just 15 percent have it written down.
Fewer than half of women (49 percent) cite saving for retirement as a priority, compared with 62 percent of men.
Retirement and Race
Only 61 percent of Hispanic Americans and 64 percent of Black Americans have some retirement savings, compared to 80 percent of white Americans.
Just 22 percent of Hispanic Americans and 29 percent of Black Americans report that their retirement savings are on track, versus 43 percent of white Americans that report the same.
Just 30 percent of Hispanic families and 34 percent of Black families have individual or employee-sponsored retirement accounts, compared to 60 percent of white families.
About 46 percent of Black and Hispanic families own their primary residence, versus 73 percent of white families.
In addition, white families' housing equity averages $215,800 whereas Hispanic and Black families' net housing wealth averages $129,800 and $94,400, respectively.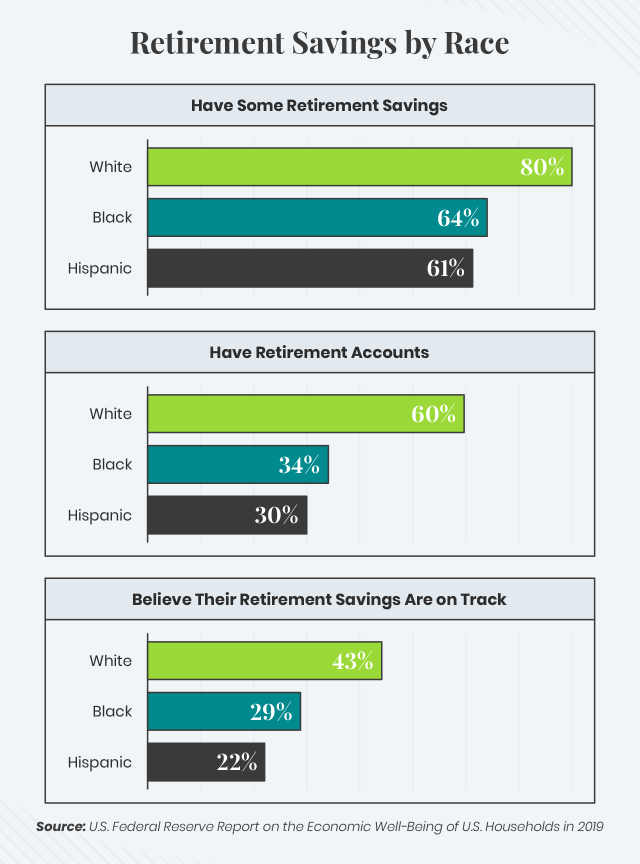 Retirement Finances
Savings
According to the Transamerica Center for Retirement Studies, the median total household retirement savings across all workers is approximately $50,000.
Median total household retirement savings is approximately $57,000 among full-time workers, $23,000 among part-time workers and $71,000 among the self-employed.
The average American started saving for retirement at age 27.
Twenty-two percent of Americans have less than $5,000 saved for retirement, and 15 percent have no retirement savings whatsoever.
In a 2020 survey by TD Ameritrade, 58 percent of Americans said they would grade the adequacy of their retirement savings at a C or lower.
Seventy percent of millennials are stressed and anxious about saving for retirement.
Nearly half of millennials (43 percent) say they fear outliving their savings and investments.
Forty-three percent of millennials say they are afraid of being unable to meet their family's basic financial needs after retirement.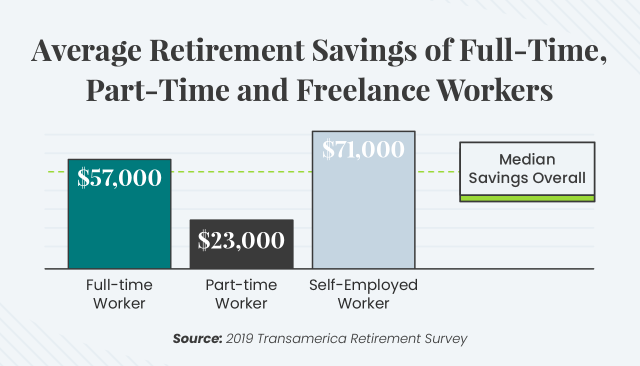 In 2019, only 56 percent of workers were enrolled in a workplace retirement plan. Twenty-one percent of workers had a pension plan, and 43 percent of workers had a retirement savings plan.
Seventy-seven percent of Americans say employers should be contributing more to workers' retirement plans.
Seventy-one percent of people enrolled in 401(k)s think there are no fees.
According to Fidelity, in Q1 2020, the average 401(k) balance was $91,400 and the average IRA balance was $98,900.
One study by AAG found that 25 percent of people believe they need at least $1,000,000 to retire.
According to AAG, 46 percent of people would retire immediately if they won the lottery.
Social Security
The number of retired workers receiving Social Security benefits was 45.1 million in 2019, up from 33.5 million in 2009.
In 2018, 70 percent of Social Security beneficiaries were retired workers. Fourteen percent were disabled workers, 9 percent were survivors of deceased workers and 7 percent were spouses and children of retired or disabled workers.
In 2018, the average monthly Social Security benefit for retired workers was $1,461.
Sixty-five percent of SSI recipients aged 65 or older are women.
Washington, D.C. contributes the most per capita to Social Security, at $6,900.12 per resident. Montana contributes the least per capita, at $3,986.33 per resident.
Among non-retirees, 42 percent doubt they will receive any Social Security benefits by the time they retire.
Life in Retirement

Fifty-three percent of men say they plan to golf at least a few times a year in retirement, compared to just 33 percent of women. Sixty-four percent of women, on the other hand, say they plan to volunteer in retirement (compared to 47 percent of men).
Work
More than half of workers (55 percent) plan to work in retirement.
Of those who plan to work in retirement, 35 percent list lack of retirement savings as a cause.
Seventy-two percent of listed reasons for working in retirement were "healthy-aging reasons," including staying active (47 percent), keeping the brain alert (39 percent), maintaining a sense of purpose (34 percent) and maintaining social connections (21 percent).
Fourteen percent plan to rely on working in retirement as their primary source of income.
Spending
In 2018, average annual spending by Americans aged 55–64 was $66,212. Spending for those 65–74 was $56,268, and average spending for those 75 and older was $43,181.
Average annual spending by retirees in 2018 was $49,441, compared to $65,834 spent by workers.
On average, retirees in 2018 spent $16,681 on housing, compared to $21,339 spent by workers.
Average healthcare spending in 2018 was $6,801 for retirees and $4,516 for workers.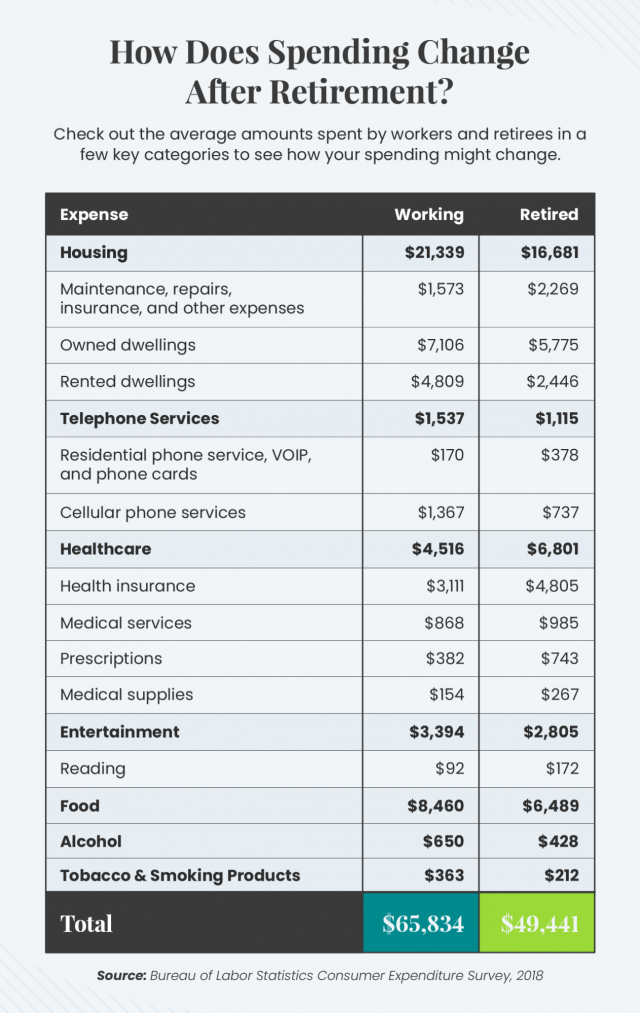 Housing
According to the 2010 census, just 3.1 percent of seniors live in nursing homes.
In 2018, about 930,000 people over the age of 60 moved across state lines. The top destination states were Florida, Arizona, North Carolina, Texas and South Carolina.
The top cities where people 60 and over are moving are Mesa, Arizona; Spring Valley, Nevada; Scottsdale, Arizona; Lakeland, Florida and Corpus Christi, TX.
In a 2018 AARP study, 77 percent said they would like to remain in their current community for as long as possible, and 76 percent said they wanted to remain in their current home for as long as possible.
Please seek the advice of a qualified professional before making financial decisions.
Last Modified: September 30, 2021
Share This Page:
24 Cited Research Articles
Annuity.org writers adhere to strict sourcing guidelines and use only credible sources of information, including authoritative financial publications, academic organizations, peer-reviewed journals, highly regarded nonprofit organizations, government reports, court records and interviews with qualified experts. You can read more about our commitment to accuracy, fairness and transparency in our editorial guidelines.