Multi-Year Guaranteed Annuity (MYGA)
A multi-year guaranteed annuity, or MYGA, is a type of fixed annuity that offers a guaranteed fixed interest rate for a certain period, usually from three to 10 years. A MYGA is appropriate for someone who is closer to retirement, and prefers tax deferral and a guarantee of investment return.

Written By

Rubina K. Hossain, CFP®

Rubina K. Hossain, CFP®

Certified Financial Planner™ Professional

Certified Financial Planner Rubina K. Hossain is chair of the CFP Board's Council of Examinations and past president of the Financial Planning Association. She specializes in preparing and presenting sound holistic financial plans to ensure her clients achieve their goals.

Read More

Edited By

Kim Borwick

Kim Borwick

Financial Editor

Kim Borwick is a writer and editor who studies financial literacy and retirement annuities. She has extensive experience with editing educational content and financial topics for Annuity.org.

Read More

Financially Reviewed By

Thomas J. Brock, CFA®, CPA

Thomas J. Brock, CFA®, CPA

Expert Contributor

Thomas Brock, CFA®, CPA, is a financial professional with over 20 years of experience in investments, corporate finance and accounting. He currently oversees the investment operation for a $4 billion super-regional insurance carrier.

Read More

Updated: January 23, 2023
11 min read time
This page features 5 Cited Research Articles
Buying a MYGA is one strategy for generating added income in retirement to supplement investment accounts and Social Security benefits.
MYGAs offer a potentially safer way to grow your money, and you won't owe taxes on the growth until you start taking payments.
They are also known as CD-type annuities because they share some of the benefits of certificates of deposit, such as time horizon for the investment and a guaranteed fixed interest rate.
How Do MYGAs Work?
With a MYGA, you sign a contract with an insurance company in which you pay the insurance company a premium in exchange for a guaranteed fixed interest rate on the contribution for a specified period of time. The term can be three years, five years, 10 years or any number of years in between.
A MYGA works by tying up a lump sum of money to allow it to accumulate interest. If you need to withdraw money from an annuity before the accumulation period is over, you may have to pay fees called surrender charges. Depending on the annuity provider, your contract may include penalty-free withdrawal provisions that allow you to make partial withdrawals before the surrender period ends without incurring fees.
At the end of the accumulation period, you can receive the premium and interest earned, or you may be able to renew the contract. If you choose to renew the contract, the interest rate may differ from the one you had originally agreed to.
Another option is to transfer the funds into a different type of annuity. You can do so without facing a tax penalty by using a 1035 exchange.
Because interest rates are set by insurance companies that sell annuities, it's important to do your research before signing a contract.
The first step is to consult a financial advisor and determine how much you would like to invest in an annuity. Then, it's time for comparison shopping: Look at various highly rated insurance companies to see the MYGA rates they offer.
Pros of a MYGA
Safety - MYGAs are not subject to market volatility.
Flexibility – Many providers offer provisions that allow partial withdrawals yearly without a penalty.
Tax Benefits - You don't incur any tax until money is taken out.
Case Study Example
To better understand how an individual nearing retirement might benefit from a MYGA, let's look at a case study example.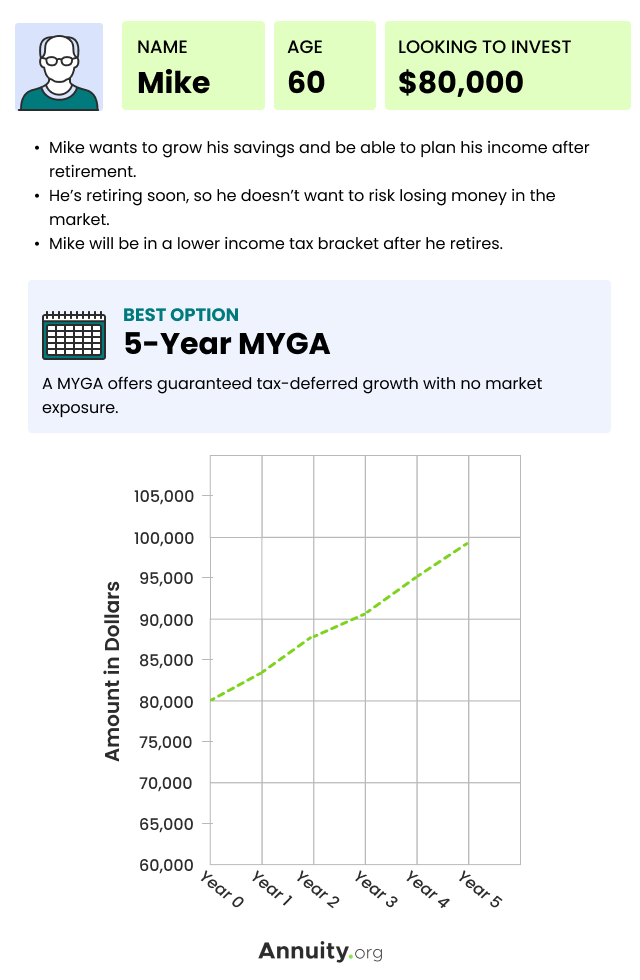 People who purchase MYGAs are usually looking for a risk-free way to grow their savings in preparation for retirement. These individuals "may be pre-retirement or bridging the gap across retirement," according to Annuity.org expert contributor Stephen Kates, CFP®.
Kates, who is a Certified Financial Planner™, said that a typical MYGA customer is someone who doesn't want to risk exposing their savings to the market as they are very close to retirement, but still wants to grow their savings to provide more income after they retire. MYGAs are also well suited to planning exactly how much income you'll receive, as the interest rate is constant throughout the annuity's term.
MYGA Rates
Current MYGA rates change daily and vary slightly from carrier to carrier. In early-September 2022, the best rate for a MYGA with a 10-year surrender period was 4.50%, and the best rate for a MYGA with a seven-year surrender period was 4.60%. The best rates were 4.40% and 3.9% for MYGAs with five-year and three-year surrender periods, respectively.
MYGA rates are usually higher than CD rates, and they also compound each year. A contract with more limiting withdrawal provisions may have higher rates.
Withdrawal Provisions
MYGAs are subject to surrender charges, which means annuity holders may be obligated to pay fees if they want to take money from an annuity before the term is up.
Many annuity providers offer penalty-free withdrawal provisions that allow you to withdraw some of the money from an annuity before the surrender period ends without having to pay fees. Some contracts, for example, allow you to withdraw up to 10 percent starting in the first year.
Withdrawal provisions for MYGAs depend upon the terms of each contract. But you can generally take out a specified portion of funds during the term without any penalties. Details are spelled out in the annuity contract.
Your contract may also allow you to take money out for emergencies. For example, if you need money to pay a hospital bill, you may be able to take it out of your MYGA. This may be better than getting a 401(k) loan or withdrawing funds from an IRA.
But before pulling money out of a MYGA early, consider that one of the major benefits of a MYGA is that they grow tax-deferred.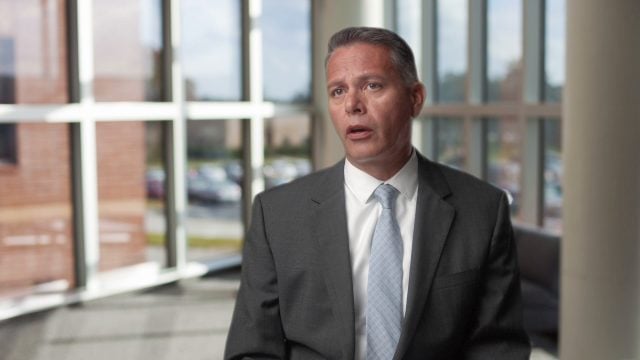 Taxes
A MYGA offers tax deferral of interest that is compounded on an annual basis. This can create additional wealth exponentially because the tax occurs only when you take the money out. It's like investing in an IRA or 401(k) but without the contribution limits.
The tax rules change slightly depending on the type of funds you use to purchase the annuity. If you purchase a MYGA with qualified funds, such through an IRA or other tax-advantaged account, you pay income tax on the principal and interest when you take out money, according to CNN Money. If you purchase a MYGA with nonqualified funds, you pay taxes only on the interest.
This tax benefit is not unique to MYGAs. It exists with traditional fixed annuities as well.
What Is a Fixed Annuity?
MYGAs vs. Traditional Fixed Annuities
MYGAs are a type of fixed annuity. The main difference between traditional fixed annuities and MYGAs is the period of time that the contracts guarantee the fixed interest rate.
MYGAs guarantee the interest rate for the entire duration of the contract, which could be, for example, 10 years. Traditional fixed annuities may guarantee the interest rate only for a portion of the term of the contract. So, you may buy an annuity with a seven-year term but the rate may be guaranteed only for the first three years.
When people speak of MYGAs, they usually liken them to CDs.
What Is a Fixed Index Annuity?
MYGAs vs. CDs
Both MYGAs and CDs offer guaranteed rate of return and a guaranty on the principal.
An MYGA works very similarly to a CD — you deposit a lump sum of cash and receive a fixed interest rate for a specific period of time on both a MYGA and a CD. Compared to investments like stocks, CDs and MYGAs are safer but the rate of return is lower.
They do have their differences, however.
5 Differences Between MYGAs and CDs
A CD is issued by a bank or a broker; a MYGA is a contract with an insurance company.
A CD is FDIC-insured; a MYGA is not insured by the federal government, but insurance companies must belong to their state's guaranty association.
A CD typically imposes a penalty for withdrawing money prior to maturity; a MYGA may allow you to take out some of the money annually without incurring fees.
A CD may have a lower interest rate than a MYGA; a MYGA may have more fees than a CD.
A CD's interest rate is taxed each year; a MYGA offers tax-deferred growth.
You could use a MYGA as a substitute for a CD, or you could incorporate both into your financial plan.
What Is a Variable Annuity?
Is a MYGA Right for You?
As with any financial product, you need to see what your financial goals are prior to purchasing a MYGA.
Given the conservative nature of MYGAs, they might be more appropriate for consumers closer to retirement or those who prefer not to be subjected to market volatility. While potentially suitable for a highly risk averse investor, a MYGA may not be suitable for a younger investor interested in growth.
For those who are looking to outpace inflation, a MYGA might not be the best financial strategy to meet that objective.
If you are looking for a solution to replace your income upon retirement, other types of annuities may make more sense for your financial goals. Moreover, other types of annuities have the potential for higher reward, but the risk is higher, too.
Bottom line is you need to look at what is most important for your financial objectives.
Please seek the advice of a qualified professional before making financial decisions.
Last Modified: January 23, 2023
Share This Page:
5 Cited Research Articles
Annuity.org writers adhere to strict sourcing guidelines and use only credible sources of information, including authoritative financial publications, academic organizations, peer-reviewed journals, highly regarded nonprofit organizations, government reports, court records and interviews with qualified experts. You can read more about our commitment to accuracy, fairness and transparency in our editorial guidelines.
Brown, J. (2018, January 5). Fixed Annuities Are an Option Over CDs. Retrieved from  https://money.usnews.com/banking/articles/fixed-annuities-are-an-option-over-cds
Financial Industry Regulatory Authority. (n.d.). Should You Exchange Your Life Insurance Policy? Retrieved from https://www.finra.org/investors/alerts/should-you-exchange-your-life-insurance-policy
Nuss, K. (2022, February 20). Laddering Fixed-Rate Annuities Offers Rates That Beat Bank CDs, Plus Flexibility. Retrieved from https://www.kiplinger.com/retirement/annuities/604235/laddering-fixed-rate-annuities-offers-rates-that-beat-bank-cds-plus
Nuss, K. (2017, December 7). Annuities Beat CDs by Offering Higher Guaranteed Rates and Tax Savings. Retrieved from  https://www.mdmag.com/physicians-money-digest/personal-finance/annuities-beat-cds-by-offering-higher-guaranteed-rates-and-tax-savings
Sahadi, J. (2018, May 11). Before choosing an annuity, know the tax implications. Retrieved from  https://money.cnn.com/2018/05/11/pf/taxes/annuities-taxes/index.html
Who Am I Calling?
Calling this number connects you to Senior Market Sales (SMS), a trusted partner of Annuity.org.
If you're interested in buying an annuity, a representative will provide you with a free, no-obligation quote.
SMS is committed to excellent customer service. The company can help you find the right insurance agent for your unique financial objectives.
877-918-7024
Your web browser is no longer supported by Microsoft. Update your browser for more security, speed and compatibility.
If you are interested in learning more about buying or selling annuities, call us at 877-918-7024