Deferred Annuity
A deferred annuity is an insurance contract that promises to pay the annuity owner either a lump sum or a regular income at some future date. People frequently buy a deferred annuity to supplement Social Security benefits and other income when they retire.

What Is a Deferred Annuity and How Does It Work?
When you purchase an annuity, if you decide to start receiving payments within a year, you have an immediate annuity. Should you decide to wait to collect payments, you have a deferred annuity.
Deferred annuities allow your principal to increase before you begin to receive the stream of payments. Typically, annuities, such as qualified longevity annuity contracts, are bought for future retirement income.
You can pursue a strategy combining the advantages of immediate and deferred annuities by getting a split-funded annuity.
According to the LIMRA Secure Retirement Institute, deferred annuities are forecast to have the largest growth rates over the coming years.
Pro Tip
Deferred annuities offer short-term solutions to people seeking to protect their savings.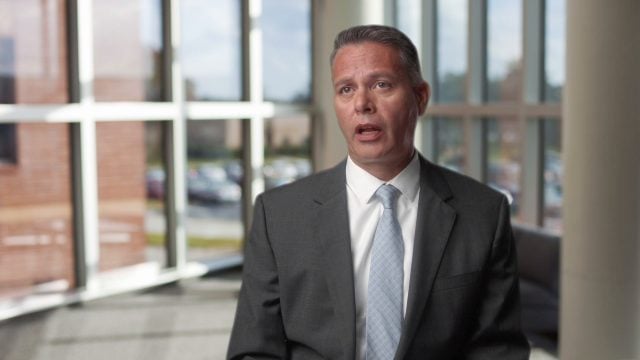 Deferred annuities are also classified according to how you pay for them. You can make one payment or several. And if you make several payments, they can be structured in different ways.
Single Premium Deferred Annuity
Single premium deferred annuities are purchased with one sum of money.
There are advantages and disadvantages with single premium deferred annuities. For example, a single premium deferred annuity might tie up more of your money than you ultimately could afford to put into it, which could wind up costing you a surrender fee.
Pros
Guaranteed rate of return
Principal protection
Cons
Potential surrender charges
Lack of capital for investments (opportunity cost)
Flexible Premium Deferred Annuity
A flexible premium annuity is a type of deferred annuity that is purchased with a series of payments. These payments can be scheduled as specific amounts — known as scheduled premium deferred annuities — or they can change according to your plans or ability to pay.
A deferred annuity that allows you to adjust your payments in this way is known as a flexible premium deferred annuity.
Pros
Less capital tied up
More time to pay for the product best suited to you
Cons
Rate of return not guaranteed
Potential contribution limits
Accumulation Phase of a Deferred Annuity
There are two phases to a deferred annuity: The accumulation phase and the payout phase.
During the accumulation phase, you are making payments and your annuity is accumulating interest on a tax-deferred basis. How this accumulation occurs varies depending on the annuity type.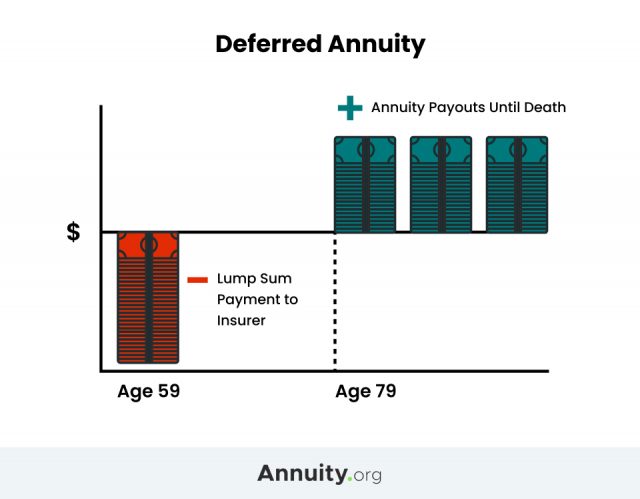 Accumulation Based on Type of Rate
Fixed rate deferred annuity

If you have a contract for a fixed annuity, your financial investment will accrue interest at a fixed rate that will not drop below a minimum, guaranteed by the issuing company.

Variable rate deferred annuity

Variable annuity contracts allow insurers to invest your premiums in mutual funds that comprise stocks, bonds and other short-term money market products called "subaccounts." Your rate of return depends on the performance of your subaccounts.

Indexed rate deferred annuity

Indexed annuities are tied to the performance of stock-market measurements, including Standard & Poor's index of 500 stocks, commonly known as the S&P 500. Your contract guarantees a minimum interest rate — even if the performance of the stock market index declines.
Regardless of the type of accumulation your deferred annuity uses, you don't pay taxes on those earnings during the accumulation phase. Taxes are not due until you reach the payout phase. This is true for federal income taxes and any applicable state premium taxes.
Payout Options for a Deferred Annuity
Once an annuitant reaches the distribution phase of their contract, which typically begins when they reach the age of 59 and a half, they can receive payouts from the annuity in one of three ways.
Deferred Annuity Payout Options
Lump sum

In a lump-sum disbursement, an annuity is distributed as a one-time, taxable single payment.

Systematic withdrawals

When funds are dispersed via systematic withdrawal, the annuity can be withdrawn or disbursed through periodic taxable payments. Any remaining money continues to earn interest until the account has been depleted.

Annuitization

Under an annuitization distribution plan, an annuitant receives monthly, quarterly or yearly payments for a designated amount of time, until the annuitant's death or until the annuitant's spouse dies.
Death Benefits
If you die during the accumulation period, a deferred annuity includes a basic death benefit that pays some or all of the value of the annuity to your beneficiaries. If you die during the payout phase, your beneficiaries may not receive anything unless you have a specific provision in your annuity contract providing for your beneficiaries to be paid.
How Do You Compare to Other Americans on the Financial Wellness Scale?
About 70% of Americans have a budget, but what percentage actually follow a detailed budget?
An estimated 38% of Americans have a written financial plan, but what percentage of plans were created by financial professionals?
Over three-quarters of Americans — 78% — have an emergency fund. But how many of those people can cover six months of expenses in an emergency?
What percentage of Americans tapped into their emergency funds during the pandemic?
What percentage of Americans reexamined their financial situation because of the pandemic?
What percentage of Americans put a greater priority on retirement savings and planning because of the pandemic?
What percentage of Americans give themselves high marks for financial wellness?
Pros and Cons of a Deferred Annuity
As with any investment, deferred annuities carry several benefits and risks.
Pros:
Tax-Deferred Investment

Owners do not pay taxes during the accumulation phase. Taxes apply once the distribution phase begins and the owner starts to receive payments.

Guarantees Against Loss

Most deferred annuity contracts have built-in guarantees against loss of principal or offer guaranteed rates of return.

Lifetime Benefits

If you annuitize your contract, insurance companies guarantee lifetime payments for you or your spouse until your deaths.

Death Benefits

Deferred annuity contracts include a death benefit component. This ensures that any surviving heirs receive any remaining assets if you die before the end of the annuity contract.

No Contribution Limits

Unlike with IRAs and 401ks, the IRS places no limits on the principal amount you can contribute to a deferred annuity.
Cons:
Lack of Liquidity

Annuitants are unable to withdraw any money from their annuity during the contract's first several years unless they pay a surrender charge for withdrawals. In addition, you'll pay a penalty to the IRS for any withdrawal you make before you are at least 59 and a half.

High Tax Rates on Earnings

Because annuity contracts grow on a tax-deferred basis, the IRS taxes annuity earnings at the ordinary income rate, which may be higher than the capital gains rate applied to stocks, mutual funds and exchange traded funds.

Additional Expenses

Maintaining a deferred annuity contract can be expensive due to administrative fees, funding expenses, charges for special features and riders, and commissions.
Is a Deferred Annuity Right for Me?
A deferred annuity makes sense for people nearing retirement or for younger investors who have maxed out their retirement plans but still want to put money into tax-deferred retirement income.
Typically, annuity buyers are in their 60s. They've accumulated a significant amount of retirement savings and can roll that money over into an annuity without suffering a financial penalty.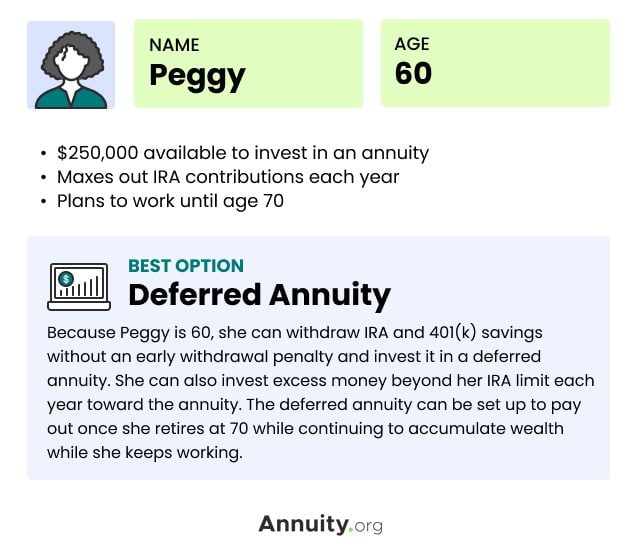 A deferred annuity allows you to continue working while money accumulates in the annuity, providing a guaranteed lifetime income stream when you finally retire.
At the same time, a deferred annuity limits your ability to repurpose your retirement savings — and can be difficult to reverse if you change your mind. You will have to wait for your annuity income with a deferred annuity. If you want or need the income from your annuity within a year, you may want to consider an immediate annuity instead.
Interested in Buying a Deferred Annuity?
Learn more about deferred annuities and find out if they're right for you.
Please seek the advice of a qualified professional before making financial decisions.
Last Modified: June 9, 2022
Share This Page:
8 Cited Research Articles
Annuity.org writers adhere to strict sourcing guidelines and use only credible sources of information, including authoritative financial publications, academic organizations, peer-reviewed journals, highly regarded nonprofit organizations, government reports, court records and interviews with qualified experts. You can read more about our commitment to accuracy, fairness and transparency in our editorial guidelines.