Key Takeaways
California, Colorado, Maine, Nevada, South Dakota, West Virginia and Wyoming charge premium taxes on life insurance and annuity contracts.
In many of these states, the tax is not charged until the annuity contract has been annuitized.
The tax may be absorbed by the insurance company or passed on to the annuity purchaser.
State premium taxes can be high, so it's important to know how they may affect you before purchasing an annuity.
State premium taxes are sales taxes assessed on insurance premiums for policies issued in that state. Because annuities are insurance products, they are regulated by the insurance commissions in each state. Much of that regulation is relatively uniform, but there are subtle differences. The most significant difference is the tax that each state levies on insurance premiums.
State premium taxes can reduce the value of your annuity if they're charged at the time of purchase, so be aware of how the premium tax might affect you if you're considering buying an annuity.
How States Tax Insurance Companies
Except for Illinois and Michigan, states generally don't tax insurance companies the same way they tax other businesses. While states tax other businesses on their corporate income, they tax insurance companies on the value of the premiums for the policies they write within their state.
Each state is free to tax any aspect of an insurance company's premiums. That includes premiums they receive from the sale of annuities. In some states, insurance companies can pass on the tax to their customers when they purchase an annuity.
While annuities can serve as a great way to supplement your financial needs through a steady stream of income in retirement, understanding their true cost and benefit will help determine if one makes good financial sense. Along with the many fees and charges attached to an annuity, there may be a premium tax due. Keep in mind that the goal is to choose investments that have less of an impact on your tax liability while maximizing your savings income.
When Are Premium Taxes Due?
When you'll have to pay premium taxes on your annuity depends on which state you live in and what type of annuity you buy.
If you buy an immediate annuity, you will pay the premium tax upfront. The tax won't be added to your out-of-pocket premium payment. Instead, it will be deducted from the initial value of the annuity contract.
Most states won't charge a premium tax on a deferred annuity until income payments begin, otherwise known as the annuitization period. In that case, the premium tax will be deducted from the first payment.
According to the Institute for Business and Finance, two states follow different protocol for taxing deferred annuity premiums. South Dakota and West Virginia impose premium taxes when the deferred annuity contract is first issued.
How soon are you retiring?
What is your goal for purchasing an annuity?
Select all that apply
Which States Charge a Premium Tax?
Only a handful of states charge premium taxes on annuity contracts, including California, Colorado, Maine, Nevada, South Dakota West Virginia and Wyoming.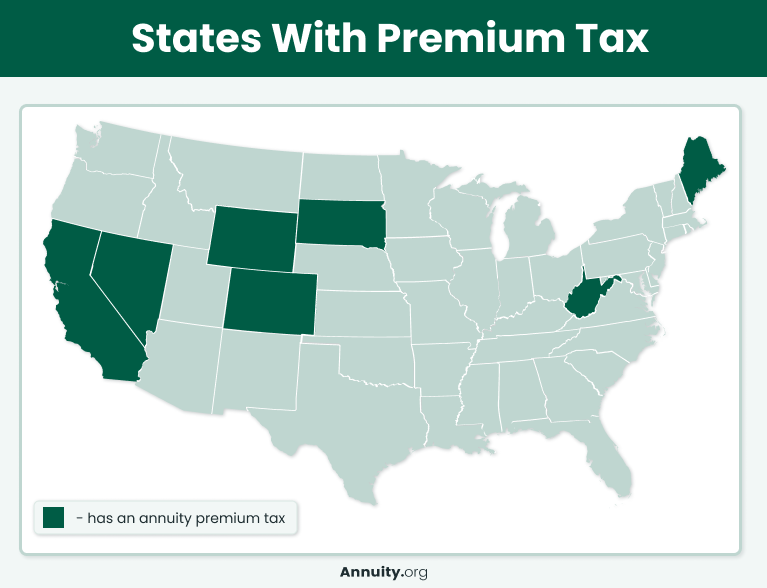 Each state taxes annuity premiums differently. Notably, many of the states that do charge a premium tax on annuities waive it when they are purchased inside a qualified plan, such as a traditional IRA, 401(k) or other type of employer-sponsored retirement plan.
| | | | |
| --- | --- | --- | --- |
| State | Qualified Annuity Premium Tax Rate | Nonqualified Annuity Premium Tax Rate | Additional Notes |
| California | 0.50% | 2.35% | |
| Colorado | 0% | 2.00% | |
| Maine | 0% | 2.00% | No tax on certain historical annuities, retirement annuities issued by certain nonprofit companies, or annuities issued in connection with deferred compensation plans or certain retirement accounts qualified or exempt under federal law. |
| Nevada | 0% | 3.50% | |
| South Dakota | 0% | 1.25% | For unqualified annuities, a 1.25% tax on the first $500,000 and a 0.08% tax on everything above $500,000 applies. |
| West Virginia | 1.00% | 1.00% | |
| Wyoming | 0% | 1.00% | |
Source: Institute for Business & Finance
What Kind of Planning Can Be Done To Avoid a Premium Tax?
Depending on their situation, consumers who live in one of the states that charge the tax should consider a few options before purchasing an annuity.
Those already preparing to move to a state that doesn't charge the tax should consider holding off on buying an annuity until after the move is completed.
Those who have a residence in two different states — where one is a high-tax state and the other is a low- or no-tax state — should seek the advice of their financial and legal advisors to determine if purchasing an annuity when in the low-tax state is possible.
Lock In Fixed Annuity Rates as High as 6.4%
Connect with an annuity specialist.
Frequently Asked Questions About State Premium Tax
Are state premium taxes deductible for insurance companies?
In most cases, premium taxes are deductible when calculating net business income.
Do all states in the U.S. impose state premium taxes?
Only California, Colorado, Maine, Nevada, South Dakota, West Virginia and Wyoming have state premium taxes that annuity customers must pay.
How do insurance companies determine the amount of state premium taxes they owe?
Insurance companies file a premium tax return in each state that requires it. The tax return walks the insurer through the calculation using that state or territory's tax rate. 
Are there any exemptions or deductions available for annuity providers when calculating state premium taxes?
Some states charge a lower tax rate on premiums for qualified annuities than they do for nonqualified annuities. Some states also allow deductions for money returned to policyholders prior to the start of annuity payments, as well as dividends paid or credited to policyholders. A few states provide other types of tax credits, such as for salaries paid in the state and charitable contributions.
Can annuity providers pass on the cost of state premium taxes to annuity holders?
In most states, annuity providers can pass on the cost of state premium taxes to annuity holders. Most states also allow the provider to choose whether to pass on the taxes at the time of purchase or at the time annuity payments begin.