Annuity Companies & Providers
People looking to make an investment in their financial future can purchase an annuity from insurance companies, banks, independent brokers and other reputable financial groups.
Fact-Checked
Annuity.org partners with outside experts to ensure we are providing accurate financial content.
These reviewers are industry leaders and professional writers who regularly contribute to reputable publications such as the Wall Street Journal and The New York Times.
Our expert reviewers review our articles and recommend changes to ensure we are upholding our high standards for accuracy and professionalism.
Our expert reviewers hold advanced degrees and certifications and have years of experience with personal finances, retirement planning and investments.
Purchasing an Annuity
Although you can purchase an annuity at any time in your life, most annuity purchasers are those nearing retirement or people in their mid-career planning for retirement who wish to protect their assets. Annuities are built to protect your money and secure future income for when you'll need it most, so it's important to purchase your annuity from a reputable provider.
Pro Tip
Annuity providers include insurance companies, independent brokers, banks and other financial groups. There are many reputable companies that sell annuities, but always do your research before investing your money.
While many types of financial companies can sell annuities, only an insurance company can issue an annuity because annuities are insurance products. The same large corporations that sell life, home, automobile and other types of insurance in the United States also sell the majority of annuity contracts.
While there are hundreds of annuity issuers in America, the country's major firms account for about 90 percent of all annuities sold each year.
Generally, each company sells one of the basic types of annuities:
Each type of annuity can be further tailored to meet the purchaser's needs with different variations, such as indexed and flexible premium annuities.
Interested in Buying an Annuity?
Learn about the different types of annuities and find out which one is right for you.
Where to Buy Annuities
Although insurance companies must issue an annuity, not all annuity contracts are sold to the public directly via the issuing company's own agents.
In fact, the majority of annuities in America are purchased from:
Annuity distributors, including large brokerage firms known as wirehouses, such as Merrill Lynch and Morgan Stanley
Independent broker-dealers, like Raymond James
Large banks, such as Bank of America
Mutual fund companies like Vanguard and T. Rowe Price, which are considered some of the most competitive companies because they offer lower fees
Thousands of independent agents, brokers and financial advisors across the country
If you purchase an annuity from one of these middlemen, normally you will continue to work with them directly as you manage your contract, even though you will also receive information from the insurance company from time to time.
For example, if you own a variable-rate annuity, you will receive quarterly statements from the insurance company regarding the contract's underlying accounts. If you want to make changes to those accounts, though, you might do it through the agent or company who sold you the contract.
Selecting Annuity Companies
Unlike the checking, savings and money market accounts at your bank or credit union, annuities are not guaranteed by the FDIC or SIPC. Instead, the insurance company that issues the annuity backs the asset. Therefore, you should do considerable research about the company before choosing a purchaser.
Some factors to consider include:
Rating from an independent ratings company like Standard & Poor's, Fitch, AM Best, Moody's, and TheStreet.com
Death benefits
Surrender fees, should you choose to withdraw the funds early
Yearly fees and other administrative fees
Minimum guaranteed return
The provider's financial health
Online reviews
You may also solicit help from an expert who is independent of the annuity sales process when choosing which company to purchase from. Called an independent fiduciary, these experts will help you understand the entire annuity process and listen to your goals before recommending which insurance company to work with and what type of annuity to purchase. This type of professional advice may be valuable to someone new to the annuity market because independent fiduciaries are not salespeople for the insurance companies or banks and will put your needs first.
What Are The Best Annuity Companies?
Here is an alphabetical list of some of the main annuity issuers with the highest ratings in the $2.7 trillion annuity industry.
American Equity Investment Life Holding Company
American Equity is an industry leader in the development and sale of fixed-index and fixed-rate annuity products. It is licensed to sell in all 50 states and Washington, D.C. The company's primary focus is annuities, but it also manages investment spreads and risk to earn predictable returns.
American National Insurance Company
Texas-based American National was founded in 1905. A major provider of insurance and annuities, its products are distributed through career agents, independent marketing organizations and multiple line exclusive agents, as well as direct distribution channels.
AIG Life
AIG was founded in 1919. Its products and services include life and travel insurance, mutual funds, structured settlements and annuities.
John Hancock
Founded in 1862, John Hancock operates today as a subsidiary of Canadian-based Manulife Financial. Its products include life insurance, mutual funds, 401(k) plans, long-term-care insurance and annuities. The company sells these products primarily through licensed financial advisors and a national network of independent firms.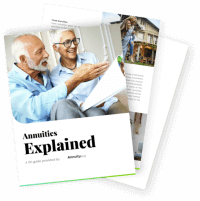 Get Your Free Guide to Annuities
Learn from the experts and get our 101-level guide, Annuities Explained, delivered to your inbox for free.
Lincoln Financial Group
Lincoln Financial offers a diverse range of financial services including life insurance, retirement plans and annuities – fixed, and fixed and variable-indexed. The company is based in Philadelphia. Lincoln Financial sold $11.76 billion in annuities in 2016.
MetLife
MetLife is among the world's largest providers of insurance, annuities and employee benefit programs, with 90 million customers in more than 60 countries. It was founded in 1868 and is based in New York City. In 2016, MetLife sold $6.8 billion in annuities.
Midland National Life Insurance Company
Founded as the Dakota Mutual Life Insurance Company in 1906, Midland National now services more than 1 million life and annuity policies. It also has an A+ rating from Standard & Poor's.
Mutual of Omaha
Founded in 1909 and made famous by its long-time sponsorship of a popular Wild Kingdom television show, Mutual of Omaha offers deferred and immediate annuities.
Nationwide
Nationwide has more than 85 years of experience with retirement planning. The popular insurer now offers a new next-generation fixed indexed annuity with a guaranteed return of purchase payments, uncapped growth potential, and daily tracking of the Balanced Allocation Value.
New York Life
New York Life is one of the largest life insurance companies in the world and one of only three life insurers to hold the highest ratings from all four rating companies. Founded in 1845 as the Nautilus Insurance Company, New York Life sells annuities, long-term-care insurance and mutual funds through its subsidiary NYLIFE Securities, a registered broker-dealer. In 2016, New York Life sold $8.08 billion in annuities.
North American Company for Life and Health Insurance (North American)
With a superior A+ rating from AM Best, North American offers a holistic portfolio of annuity and life insurance products to meet a range of needs among diverse policyholders.
Pacific Life
California-based Pacific Life was founded in 1868. In 1955, it became the first company west of the Mississippi River to computerize its operations. Pacific Life sells fixed and variable annuities.
Prudential
Prudential sells life insurance, mutual funds, group insurance, retirement services, investment management services and variable annuities. The company was founded in 1876 and is based in New Jersey. In 2016, Prudential sold $8.01 billion in annuities.
TIAA-CREF
The New York State Legislature created the Teachers Insurance and Annuity Association – College Retirement Equities Fund in 1918 to provide retirement income for college professors. Today, TIAA-CREF is the chief retirement vendor for people in the academic, medical and cultural professions. The company serves 3.7 million active and retired employees. In 2016, TIAA-CREF sold $9.38 billion in annuities.
Please seek the advice of a qualified professional before making financial decisions.
Last Modified: April 12, 2021
Share This Page:
5 Cited Research Articles
Annuity.org writers adhere to strict sourcing guidelines and use only credible sources of information, including authoritative financial publications, academic organizations, peer-reviewed journals, highly regarded nonprofit organizations, government reports, court records and interviews with qualified experts. You can read more about our commitment to accuracy, fairness and transparency in our editorial guidelines.