Key Takeaways
People aged 45 to 70 are usually best positioned to buy annuities, but the reasons to do so vary by age group.
Most annuities are purchased by people nearing retirement or newly retired.
Legally, you must be 18 to buy an annuity. Most annuity providers have a maximum age limit of somewhere between 75 and 95 years old.
Annuities provide a fixed monthly income which can give you a steady stream of lifetime payments or payments throughout a set period of time.
The amount of money you receive from this monthly income over your lifetime is determined by the age at which you buy an annuity and your life expectancy. Deciding on the ideal age to buy an annuity depends on your personal lifestyle, financial situation and goals.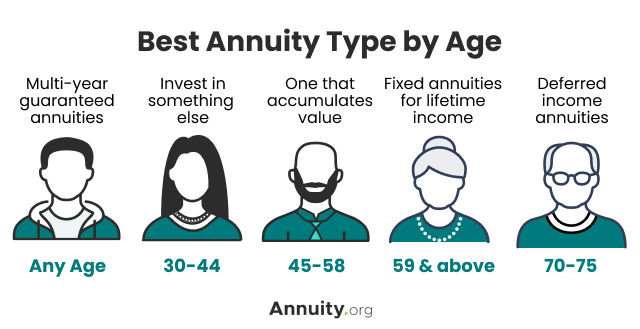 Is There an Optimal Time To Purchase an Annuity?
When it comes to buying an annuity, your age can play a role in the type of annuity you may want to consider. That said, the younger you are, the less likely annuities make sense and the more likely you should consider alternatives to annuities.
"It really kind of depends on the annuity investor, but I'd say that sweet spot is anywhere from 45 to 70 years old," Joe Liekweg, a licensed agent at Insuractive told Annuity.org.
But the reasons for buying an annuity may vary for different age groups within — and for people outside — that range.
Annuity Types To Consider at Different Ages

At Any Age

A multi-year guaranteed annuity (MYGA) may be an option for anyone at just about any age because these types of annuities guarantee interest. MYGAs "can beat the bank and give you a better return than letting the money sit in a savings account or CD," Liekweg said.

Ages 30 to 44

If you're on the younger end of the age spectrum, you may want to consider alternative financial products when planning your retirement. Consider that you will have limited access to your money once it's been used to purchase an annuity. If you are in your 30s or 40s, this is money that you might prefer to put into retirement investments with greater risk but potentially greater payoff.

Ages 45 to 58

People in this age group can benefit from an annuity buying strategy aimed at accumulating value before retirement. This is especially true if you are thinking about moving over qualified money — money that's never been taxed — such as from certain retirement accounts like 401(k)s and IRAs.

Ages 59 and Above

Because of withdrawal penalties that expire when you turn 59 years and 6 months old, buyers in this age group are likely to benefit from buying an annuity for lifetime income and tax deferment — especially if they are moving qualified money into an annuity.

Ages 70 to 75

Many financial advisors suggest age 70 to 75 may be the best time to start an income annuity. "The best age to buy an annuity is when you're in your 70s because that often allows you to maximize the payout," said Anthony Martin, founder and CEO of Choice Mutual Insurance Group. A deferred income annuity typically only requires 5% to 10% of your savings and it begins to pay out later in life. It's a hedge against outliving your retirement portfolio, providing you with guaranteed income later in life.
These are simply examples of different types of annuities to consider at different stages of life. "In some cases, it can make sense to buy an annuity in your 40s, while in other cases it can be a perfectly valid strategy to buy an annuity at 75 or even older," said Matt Frankel, a Certified Financial Planner™ professional. "It all depends on your situation, goals and risk tolerance, so the best move is to consult with a financial planner who can evaluate your options."
Interested in Buying an Annuity?
Learn about the different types of annuities and find out which one is right for you.
Are There Age Limits for Annuities?
Legally, to buy an annuity you must be at least 18 years old. However, many annuity providers have a minimum and/or maximum age that customers must fall between to purchase an annuity.
Some companies might not want to sell to customers younger than 50, according to Martin. "While there are annuity products that younger people can buy, it's best to look for alternatives to grow your money," Martin said.
Most annuity providers also set a maximum age to purchase annuity, usually between 75 and 95 years old. In most cases, you can wait until you're 95 years old before you must annuitize your contract. And if you start withdrawing from your annuity before you turn 59 ½, you may face a 10% early withdrawal penalty from the IRS.
What's a Better Investment if You're Under the Optimal Age Range?
Investors who are below the optimal age range for annuities have a wealth of other investment options to choose from. The optimal investments for you depend on your financial circumstances and priorities.
Linda Chavez, an independent life insurance agent, recommended investing in retirement accounts like a 401(k) or IRA. "These retirement accounts allow you to invest in a variety of different assets, including stocks, bonds and mutual funds," Chavez said.
If you have children, you might consider starting a 529 plan to begin saving for their education. "This is a tax-advantaged savings account that can be used to save for college expenses," said Chavez.
Another good alternative is a variable life insurance policy, according to Martin. "It's tied to investments, so there's an opportunity to grow your money, although there are some risks involved because of market fluctuations," Martin said.
Should You Buy an Annuity for Your Children?
Many financial experts recommend buying annuities for your children to safeguard their financial future.
"In my opinion, it is in your best interest to buy an annuity for your children," said investment analyst Sophia Jones. "Buying an annuity will provide your children with a steady stream of income throughout their lives that will increase over time as interest rates rise." Jones also pointed out that the tax-deferred growth of annuities can protect the money you leave for your children from the significant risk of inflation.
However, not all experts recommend purchasing annuities for children. "There are scenarios where annuity purchases for children make sense, but they aren't common," said Boris Castillo, a Chartered Financial Analyst and Certified Financial Planner™ professional. "Depending on the age of the child and the size of the estate making the annuity purchase, sometimes the formation of a trust might make more sense."
Questions To Consider Before Purchasing an Annuity
Annuities can provide guaranteed lifetime income, but they are not without risk. Anyone entertaining an annuity should carefully evaluate the risks and tradeoffs.
When buying an annuity, it's important to shop around. It's also important to understand what type of annuity is right for you.
Consider when you're buying and when you plan to use the income. For example, you may want a higher level of guaranteed income over your lifetime or you may want a deferred income annuity that kicks in as you get older, giving you a cushion, so you don't outlive your savings.
5 Questions To Ask Yourself Before Buying an Annuity

1. When Will You Need the Money?

Do you need the money now or can you afford having limited access for a period of time? Answering this for your situation will help you decide which type of annuity to buy. You can buy a single premium immediate annuity with a lump-sum payment and get a steady income right away, or you can choose to purchase a deferred annuity that will provide money later on.

2. How Much Will It Cost?

The type of annuity you choose will determine the cost. Add-ons and extras, called riders, will also affect the price. Make sure you ask about commissions and fees, which are usually included in the purchase price or reflected in the payments.

3. What's Your Life Expectancy?

How long you're expected to live factors into the return on your annuity. Consider your health and gender, and how they affect life expectancy. If you are healthy and your family has a history of living longer, you'll need to determine if the annuity's income stream will keep up with inflation over time. If your life expectancy is shorter — is the payout too little?

4. What Are Your Risks?

An annuity income stream that fails to keep up with inflation is one of the biggest risks to consider when choosing the right annuity for you. Also consider the fact that you will have limited access to your money and any potential growth you may have otherwise experienced in exchange for the income from an annuity.

5. Will the Annuity Work Well With Your Other Income?

Consider all your other retirement income sources like Social Security, government or private pensions, 401(k) plans, IRAs or other retirement savings plans. Before buying an annuity, think about how all these investments vehicles will work together to holistically address your retirement needs. If this sounds overwhelming, consult with a fiduciary financial advisor.
Immediate vs. Deferred Income
Annuities give you the option to choose immediate or deferred income; in essence, you choose whether you start receiving income right away or at a later date after you've built up your annuity's value over time.
Immediate vs. Deferred Income From Annuities

An immediate annuity requires one lump-sum payment, or premium. The premium is converted into guaranteed monthly income for a specified period of time — from a few years to the rest of your lifetime. You can start receiving the income within a year. Older annuity buyers, especially those nearing retirement and looking to defer taxes on retirement savings, may want to consider an immediate annuity.

Deferred annuities allow you to make a lump-sum payment or several payments over time to purchase the annuity. In exchange, you can start withdrawing money from the annuity starting anywhere from 13 months after the purchase date to years or even decades in the future. This is an option best suited for younger annuity buyers looking to add an annuity to their portfolio while still building up value over the years until their retirement.
Choosing between immediate and deferred income annuity options depends on your age when you buy the annuity, the age at which you retire and how you want to structure your premium payment or payments.
Considering all of the options can give you a clearer idea of what kind of annuity is best for you and talking with a professional financial advisor can help you narrow your options to the right fit for your financial situation.
Ready to Secure Your Financial Future?
Get guaranteed income for retirement by purchasing an annuity today.
FAQs: Best Ages To Buy an Annuity
At what age does an annuity make sense?
When to buy an annuity can depend on the type of annuity you're considering and your financial goals. Many financial professionals suggest the best time to start an income annuity is around the time or after you retire — typically 70 to 75 years old. This allows you to buy before the maximum age limit set by some annuities while maximizing your annuity payout.
When should you not buy an annuity?
You may want to consider an alternative to annuities if you already have a steady, guaranteed stream of income that covers your expenses, such as sufficient Social Security and pension benefits.
Should a retiree buy an annuity?
For most people, the reason for buying an annuity is to provide an income stream in retirement. By waiting until you retire, you can convert part of your retirement savings into an annuity at a point in your life that gives you the best payout from the annuity.