Pensions & Pension Annuities
A shrinking number of businesses, major corporations and governments still provide retirement security to workers via pensions. In some pension plans, workers can choose how to get their money – through a series of payments, in a lump sum or a combination of the two.

Written By

Alanna Ritchie

Alanna Ritchie

Staff Writer

Alanna Ritchie is a content writer for Annuity.org where her primary focus is on personal wealth management.

Read More

Edited By

Emily Miller

Emily Miller

Managing Editor

Managing editor Emily Miller is an award-winning journalist with more than 10 years of experience as a researcher, writer and editor. Throughout her professional career, Emily has covered education, government, health care, crime and breaking news for media organizations in Florida, Washington, D.C. and Texas. She joined the Annuity.org team in 2016.

Read More

Financially Reviewed By

Rubina K. Hossain, CFP®

Rubina K. Hossain, CFP®

Certified Financial Planner™ Professional

Certified Financial Planner Rubina K. Hossain is chair of the CFP Board's Council of Examinations and past president of the Financial Planning Association. She specializes in preparing and presenting sound holistic financial plans to ensure her clients achieve their goals.

Read More

Updated: September 9, 2022
10 min read time
This page features 6 Cited Research Articles
What Are Pensions?
Pensions are an employment benefit and a way for a company to help workers finance their retirement. Pension plans date back to ancient Rome, when soldiers received pensions after years of service. Pensions became popular in the United States when President Franklin Roosevelt introduced the world's largest defined benefit pension plan in 1935 with the Social Security Administration.
As the American middle class grew following World War II, many employers offered pensions as an employee benefit.
Employers who make monthly payments to former workers use pension funds that both the employer and employees paid into during the years the employee was working.
Pro Tip
In order to qualify for a pension, employees generally must have a minimum number of working years. The plans pay out benefits based on the recipient's age, health, experience and company resources.
Since the early 2000s, the number of workplace pension programs has dwindled; many companies found it difficult to fund pensions over a long period of time while also pleasing shareholders who wanted more profits and fewer long-term liabilities.
The bulk of employers today with pension plans are federal, state and local governments, and branches of the U.S military. Federal pensions serve 2.3 million active civilian employees. State and local pensions cover 14.8 million active participants. The government issues pensions in various forms, including defined benefit and defined contribution plans.
Some private companies and unions still offer pensions as a benefit, as well. Private sector pensions hold more than $2.2 trillion in assets and cover around 44 million working Americans.
Some employers use their money to fund and control pensions. Others work with insurance companies to set up third-party annuities for employees, which provide security and relieve the company of the long-term financial obligation. Companies that use pension annuities include Verizon, General Motors, Ford and Heinz.
Average Pension Benefits
Pension benefits vary widely, often based on the type of employer, industry and location. According to data from the Pension Rights Center, only 31% of U.S. seniors receive retirement income from a pension.
Median Annual Benefit
Federal government pensions

$27,687

Railroad pensions

$45,780 (Career rail employees) $36,540 (All rail employees)

Military pensions

$30,000 to $35,000 (Enlisted retiree) $60,000 to $70,000 (Officer retiree) $12,009 (Value of additional veterans benefits)

Local or state government pensions

$22,662

Private pensions and annuities

$9,376
Investment returns on pension funds have trended downward since the start of the century — from more than 12% in 2000 to about 7% in 2021. The decline was blamed on a shift in fund investments from bonds to the more volatile stocks, according to a 2020 issue brief from the Pew Foundation.
Annuities vs. Pensions
Along with Social Security benefits, retirees rely on pensions and annuities — both tax-deferred benefits — to afford living expenses once they stop working.
Pro Tip
Employers often set up pensions to be paid in a series of installments.
Similar to a life or longevity annuity, pension payouts begin close to or at retirement and usually last until the recipient's death. In some cases, the worker may name their spouse as a beneficiary of the pension in the case of their death.
Investment annuities are another type of financial product that pays in installments. Examples include single premium annuities or variable annuities. Unlike pensions, people purchase annuities independently, and they're not linked to an employer. People who have input all the money allowable into 401(k)s and IRAs and still have money they want to save for retirement typically purchase investment annuities. They contact a broker and buy investment annuities. Those annuities then grow, tax-free, until retirement.
The Secure Act has made it easier for employers to allow annuity options in 401(k) plans.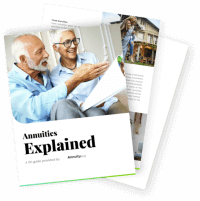 Get Your Free Guide to Annuities
Learn from the experts and get our 101-level guide, Annuities Explained, delivered to your inbox for free.
Defined Benefit vs. Defined Contribution Plans
The main difference between defined benefit (DB) plans and defined contribution (DC) plans are where the money comes from.
In a defined benefit plan, the employer contributes the money to the pension, which the employee receives on retiring. DBs are based on a fixed sum and are guaranteed to pay out to employees, regardless of how the business is performing financially. This is because the Pension Benefit Guarantee Corporation — a federal agency created following the Employee Retirement Income Security Act — helps protect pension funds.
In addition, the Employee Retirement Income Security Act of 1974 mandates qualified pre-retirement survivor annuity (QPSA) as protection to the spouse of a pension plan participant if the participant dies before he or she retires.
Companies often have difficulty maintaining DB plans because they carry the financial burden. If inflation occurs, the stock market drops or the company revenue is declining, they may have to pay for the pension with out-of-pocket funds.
Pro Tip
In 2014, DC assets increased by 12.8 percent, compared to DB assets that increased 6.4 percent, according to the nonprofit Pensions and Investments.
As a result, many employers are now choosing DC plans because they do not require as much of a financial investment from the company. In these plans, such as IRAs and 401(k)s, the employee is responsible for adding money to the account. In some cases, employers may offer a small matching program to incentivize employees to save for retirement. IRA and 401(k) plans are advantageous because they allow employees to earn tax-deferred growth on their savings.
Pension Payments and Lump Sums
Pension owners often hit a crossroads when they retire. Somewhere between ages 55 and 65, they'll have to decide whether they want a lump sum payout, a series of payments or a combination of the two. Most companies default to a series of pension payments, requiring the employee to opt out of the plan before retirement if they want to receive a lump sum. Those who elect a lump sum may receive a check for the full amount or roll the total into an eligible tax-free or tax-deferred plan, such as an IRA.
Pros and Cons of lump sum pension payouts
Pros
Access money for large purchases
Potential for putting cash toward high-yield investments
Prevent payments from losing value because of inflation
Cons
Money may not last long if spent all at once
Financial illiteracy may lead to poor investment of funds and loss of capital over time
Pros and Cons of pension annuity payments
Pros
Choosing an annuity provides security but less flexibility
Guaranteed income for life
Taxes spread out over time
Cons
Equal monthly payments may not account for an increased cost of living
Much of your pension is reliant on the financial health of your former employer's pension fund
Your investment may not be readily accessible because of surrender charges
Pros of combination of lump sum and payments
Balance immediate and future expenses
Access a large portion of pension for medical bills and other needs
Reliable income over time
By law, a pension plan must provide a lifetime annuity option that pays benefits until you die or until a surviving beneficiary passes away. Your plan may offer a lump sum option in lieu of, or in addition to, a life annuity.
Some questions to consider while deciding how to accept the pension include:
How long will my spouse live? A lump sum may not last long enough if the pension recipient or their spouse has a high life expectancy.
How much can I afford to lose? Those without other wealth may benefit the most from payments rather than lump sum.
Can I skillfully invest the money? If you or your spouse is a savvy investor, taking a lump sum and investing it wisely could result in more accumulated wealth in the long run.
Comparing Lifetime Payments and Lump Sum
Is my pension guaranteed?
Payments

Yes, on a regular basis through the end of your life.

Lump Sum

Yes, only once.
Is my pension protected from inflation?
Payments

Maybe. If your pension payments factor in cost-of-living adjustments, then yes. If your pension payments are fixed, then no

Lump Sum

Possibly, if invested in a conservative stock portfolio that grows over time to accommodate increased cost-of-living.
Is my pension protected from stock market changes?
Do I invest the pension?
Payments

No, the employer or insurance agency does this.

Lump Sum

Yes, if you choose to.
Can my spouse or children inherit my pension?
Payments

Yes, if you have a "joint and survivor" pension annuity.

Lump Sum

Yes, if your beneficiary makes a claim with your employer to receive the benefits.
Pensions for Teachers
Teachers of all grades, from kindergarten to law school and medical school, are a large group of American working professionals who usually are eligible to collect pensions after they retire. This mostly affects public school teachers who draw years of income through school systems that participate in county or state retirement systems. These pensions differ from state to state but are generally referred to as Public Employee Retirement Systems and Teachers Retirement Systems.
Some states automatically withhold a portion of a teacher's paycheck and then contribute another portion to a retirement fund. In other states, teachers must work at least 10 years before they're allowed to allocate pre-tax dollars to retirement plans. Teachers, school administrators, county and state admin, and executive staffers who work 25 to 30 years in a public school system gain the greatest benefit from these systems, which tend to reward same-school and same-system tenure.
Pro Tip
Changing schools, school districts and especially changing states can mean losing pension eligibility.
This is especially true for athletic coaches, some of whom tend to migrate from school to school and state to state over a long career. In some cases, the stringent requirements for attaining full pension benefits make private sector jobs more appealing. However, private-sector teaching jobs are more likely not to have DB pension plans. Instead, they offer DC pension options such as IRAs or 401(k)s.
While critics worry about the long-term sustainability of some state education pension systems, right now these payments are still a guaranteed benefit for educators. Teachers needing money from their pension savings can contact pension purchasers and sell payments in exchange for a cash advance.
Pensions for Veterans
Those who serve in the military and meet certain qualifications may qualify for the Veterans Pension, which is a monthly monetary benefit that is tax-free. The Veterans Pension is also need-based, meaning only those who meet a certain level of income qualify for the benefit.
Those minimum requirements include at least 90 days of active duty during a wartime period (WWI, WWII, Korean War, Vietnam War or the Gulf War) or at least 24 months if you entered active duty after Sept. 7, 1980.
Applicants also must be:
Age 65 or older, or
Completely and permanently disabled, or
A nursing home patient receiving skilled nursing care, or
Receiving Social Security Disability Insurance (SSDI), or
Receiving Social Security Income (SSI)
Also available to families of veterans is the Survivors Pension. This program is available for low-income, unmarried surviving spouses or unmarried children of deceased veterans. Veterans and survivors with additional needs, who require assistance or must remain at home, can apply for supplemental income such as Aid & Attendance (AA) and Housebound plans.
Selling Pension Payments & Lump Sum Advances
Pension recipients may be able to find buyers offering a lump sum in exchange for future payments, but the transfer is not as simple as selling single premium annuities or structured settlements.
Pro Tip
Many pension transfers are prohibited.
For example, federal law prohibits assigning of military and civil service pensions, and the IRS code prohibits the sale of some private pensions. Both the Securities and Exchange Commission and the Financial Industry Regulatory Authority have alerted pensioners to be wary about accepting cash buyouts.
However, a select amount of funding companies will purchase pension payments in exchange for a lump sum. Companies that buy pensions refer to the practice as factoring or setting up mirrored pensions, pension income programs, pension advance, pension loans or secondary-market annuities.
Please seek the advice of a qualified professional before making financial decisions.
Last Modified: September 9, 2022
Share This Page:
6 Cited Research Articles
Annuity.org writers adhere to strict sourcing guidelines and use only credible sources of information, including authoritative financial publications, academic organizations, peer-reviewed journals, highly regarded nonprofit organizations, government reports, court records and interviews with qualified experts. You can read more about our commitment to accuracy, fairness and transparency in our editorial guidelines.
Who Am I Calling?
Calling this number connects you to Senior Market Sales (SMS), a trusted partner of Annuity.org.
If you're interested in buying an annuity, a representative will provide you with a free, no-obligation quote.
SMS is committed to excellent customer service. The company can help you find the right insurance agent for your unique financial objectives.
877-918-7024
Your web browser is no longer supported by Microsoft. Update your browser for more security, speed and compatibility.
If you are interested in learning more about buying or selling annuities, call us at 877-918-7024