High-Yield Savings Accounts
When compared with traditional savings accounts, high-yield savings accounts allow you to earn significantly more interest on your money. High-yield savings accounts are especially favorable in times of low interest rates and they provide easy liquidity, but you may encounter drawbacks such as a limited number of monthly transactions and a less timely fund transfer process.

What Is a High-Yield Savings Account?
A high-yield savings account is much the same as a regular savings account, except that it earns interest at a considerably higher rate — as much as 20 to 25 times higher.
Annual Percentage Yield
The rate of return on a savings account is measured in annual percentage yield, or APY. It is expressed as a percentage of your deposit. The APY tells you the total you will earn on your deposit, including all compound interest, in one year.
According to the Federal Deposit Insurance Corporation, the average interest rate for all types of savings accounts in the U.S. was 0.06 percent APY as of late 2021.
For most traditional banks during recent years of low interest rates following the Great Recession and COVID-19 pandemic, the rate for a savings account was around 0.01 percent APY.
The rate for high-yield online savings accounts at the same time reached as high as 2.11 percent APY. High-yield interest rates can vary widely — from 0.5 percent to more than two percent APY — though most high-yield accounts pay 0.3 percent to 0.5 percent APY.
What Makes a High-Yield Savings Account Different From Other Savings Accounts?
The chief difference between a high-yield savings account and a more traditional savings account is the higher interest rate offered by the high-yield account.
As an example of the rate difference, compare the returns you can expect between a traditional savings account and a high-yield savings account: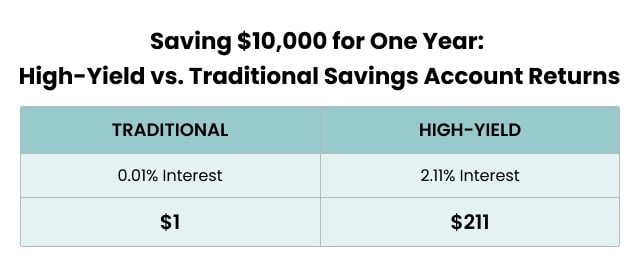 If you put $10,000 into a traditional savings account, after one year you'd have earned one dollar in interest.
But, if you put $10,000 into a high-yield savings account with 2.11 percent APY, you would have earned $211 in interest over the year.
Who Typically Offers High-Yield Savings Accounts?
You may be able to find a high-yield savings account where you conduct your traditional banking. Often, though, high-yield savings accounts are offered by internet-only banks.
People tend to set up savings accounts with the same financial institution where they have an existing checking account — typically out of convenience, since you can quickly and easily move money between accounts when needed.
But, you can still set up electronic transfers between your checking account with your regular bank and an online-only bank's high-yield savings account to simplify moving your money while taking advantage of the higher percentage yield of the high-yield savings account.
While the fund transfer process is as easy as it would be with a traditional bank, it may take longer for the money to be transferred from savings to checking since it is being moved between different institutions.
Does a High-Yield Savings Account Make Sense for You?
Deciding on whether a high-yield savings account is right for you depends on several factors, including how you plan to use it, how much money you plan to put into it and how liquid you want that money to be.
Uses for a High-Yield Savings Account
Emergency Fund

Having an emergency fund is a basic part of a personal finance plan. Many experts advise that the fund should be a cash reserve totaling three to six months of your income that you can tap into in case of a financial emergency, such as finding yourself unemployed. If the money is parked in a high-yield savings account, it will earn more interest than a traditional account but still remain readily available.

Saving for a Large Purchase

A high-yield savings account will provide extra money toward a long-term goal such as saving up to buy a house or car. The best bang for your buck is typically if you are saving for a purchase within the next five years. If you are saving for longer than that, you may want to consider a longer-term investment with a higher possible rate of return.

Saving Excess Income

If your checking account is filling up with money, you can put it to work at the end of the month by moving it to a high-yield savings account. This way, your extra income is earning extra interest with little extra effort on your part.
Qualities To Look For In a High-Yield Savings Account
Shop carefully for your high-yield savings account to make sure you are getting the best interest rate, but also look out for elements that can cost you money if you're not careful.
7 Things To Consider in a High-Yield Savings Account
Interest Rate

Interest rates fluctuate frequently, and the best rates may be for a limited time only. Be sure to check the terms and conditions to see if your rate will change dramatically — and know how soon it may happen.

Access to Your Money (Liquidity and Linking to Other Accounts)

Make sure you know how to withdraw your money when you want or need it, and know how long it may take. Also make sure that you can link your high-yield savings account with your checking or investment accounts so that you can easily transfer money between them when needed.

Compounding

Understand if your bank is compounding your interest daily, monthly, quarterly or annually. This can affect exactly how much your deposit will earn, with more frequent compounding possibly increasing your return. If you evaluate the APY instead of the interest rate, this will simplify the math regardless of how often the bank compounds your interest.

Fees

Banks can have fees if your account drops below a certain balance, you make too many withdrawals per month or for countless other reasons. Make sure you are aware of any fees applicable to your account and how you can avoid having to pay them. Online-only banks may offer better terms and fee structures than brick-and-mortar institutions.

Making Deposits

Know your options for making deposits to your account — you can usually make direct deposits, use phone apps, access online dashboards or set up automatic transfers from your checking account. Find the option that works best for you.

Minimum Balance

Fees for falling below a minimum balance can cause you to lose money on your deposit over time. Make sure you know the rules for any minimum balance requirements on your account.

Minimum Deposit

To get the best rates on a high-yield savings account, you may have to put down a minimum initial deposit. Make sure you take this into consideration and also see how that may work with any minimum balance requirements from your bank.
What Is a Certificate of Deposit?
Can You Lose Money in a High-Yield Savings Account?
You can lose money to inflation if the inflation rate is higher than the APY on your savings account — that's true whether you choose a traditional or high-yield savings account.
If you save with an internet-only bank, make sure your deposit is covered by the FDIC (or by the National Credit Union Administration if it's an online credit union).
If an FDIC- or NCUA-insured institution fails, your assets — up to a total of $250,000 in all accounts — are guaranteed. This is true whether your account is with a brick-and-mortar or an online-only institution.
Some companies, such as Credit Karma and Betterment, offer high-yield savings accounts by partnering with FDIC-insured banks to hold your money and provide you with FDIC insurance coverage on your deposits.
Investing for Beginners
What Are Some of the Best High-Yield Savings Accounts Available?
The best high-yield savings account APYs can change from month-to-month and are affected by several market conditions.
It helps to shop for the latest bargains or incentives when opening a high-yield savings account. For example, new customers are sometimes given a much higher rate if they agree to certain terms and conditions.
Examples of Past High-Interest Savings Account Rates
| FIRM | APY RATE | NOTES |
| --- | --- | --- |
| Vio Bank | 2.27% | At the time it was the highest rate available, but you had to maintain a $100 balance. |
| Ally | 2.2% | This online bank dropped its rates by 0.04 percentage points during the year. |
| Betterment | 2.04% | To qualify, you had to sign up for a waiting list to open a Betterment checking account. |
| Credit Karma | 2.03% | No fees and no minimum deposit required to open. |
In 2019, online banks and other financial businesses entering the high-yield savings marketplace regularly offered rates exceeding two percent APY. These past rates were much lower than current rates, as the Federal Reserve cut interest rate benchmarks during the COVID-19 pandemic. By late 2021, the high-yield savings account rates hovered from 0.35 percent to 0.6 percent.
Please seek the advice of a qualified professional before making financial decisions.
Last Modified: April 7, 2022
Share This Page:
10 Cited Research Articles
Annuity.org writers adhere to strict sourcing guidelines and use only credible sources of information, including authoritative financial publications, academic organizations, peer-reviewed journals, highly regarded nonprofit organizations, government reports, court records and interviews with qualified experts. You can read more about our commitment to accuracy, fairness and transparency in our editorial guidelines.