Annuity Riders & Contract Provisions
Fact-Checked
Annuity.org partners with outside experts to ensure we are providing accurate financial content.
These reviewers are industry leaders and professional writers who regularly contribute to reputable publications such as the Wall Street Journal and The New York Times.
Our expert reviewers review our articles and recommend changes to ensure we are upholding our high standards for accuracy and professionalism.
Our expert reviewers hold advanced degrees and certifications and have years of experience with personal finances, retirement planning and investments.
An annuity rider is a provision you can add to your annuity contract to ensure it meets your financial needs. The main categories of annuity income riders are guaranteed minimum living benefits and guaranteed minimum death benefits. The more riders you add to your contract, the more expensive your annuity will be.
In addition to a variety of annuity types, you can choose from a long list of contract additions, known as riders, that may help you ensure that your annuity contract is suited to your financial requirements, your comfort with risks and even your medical condition.
For example, you might want the option of leaving all or part of your annuity contract to a selected beneficiary. Or you might want your annuity payout to increase with inflation. Other options would provide extra income in the event that you require long-term health care.
Many of these riders are designed to offset some of the disadvantages you may see in owning an annuity. But they add to the complexity and the cost. This can make annuities seem overwhelming. Understanding your options can help you decide what's best for you.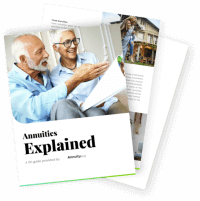 Get Your Free Guide to Annuities
Learn from the experts and get our 101-level guide, Annuities Explained, delivered to your inbox for free.
The Cost of Annuity Riders
You should exercise caution when choosing annuity riders because these additional features almost always come at a cost. That cost can be significant and recurring, and will likely reduce the amount of income you receive from your annuity in retirement. The more riders on your contract, the higher your costs and the lower the amount of your income stream.
Riders can be expensive, adding as much as 1 percent or more to the annual cost of the annuity. The actual percentage will depend on several variables, including the provisions of the rider and the company that provides it. Make sure you have a clear understanding of the ongoing costs of any riders or contract features you consider adding to your annuity.
To ensure that you are clear about any potential costs, write down your understanding of the contract and the costs and ask your agent to review it with you and sign what you both agree to.
Life and Death Benefits
The main categories of annuity riders are living and death benefits. Living benefits refer to income received by the original annuity purchaser. Death benefits refer to funds relayed to the estate or beneficiaries.
Guaranteed Minimum Living Benefits
These are typically provided with variable annuity and indexed annuity contracts to guarantee the level of benefits received by the purchaser, no matter how the annuity's investment portfolio or index performs. The point of this is to offset the risks inherent in types of annuities in which the payout amounts can rise or fall depending on these portfolios or indexes. According to LIMRA, sales of guaranteed living benefit riders totaled $10.4 billion in the first quarter of 2018 alone. When variable annuities are purchased through brokers and dealers, 85 percent of purchasers elect to add one of these riders.
The rider choices include:
Guaranteed lifetime withdrawal benefit or guaranteed minimum withdrawal benefit

This annuity income rider allows the annuity owner to withdraw a certain percentage of the principal each year until they have withdrawn the full amount. The amount of the investment that is still in the annuity will continue to grow. A similar rider, known as a commuted payout rider, provides for lump-sum withdrawals in the first few years for a percentage of the annuity spelled out in the contract.

Guaranteed minimum accumulation benefit

Purchased to protect against loss of value because of changes in financial markets, this rider guarantees that the annuity purchaser will receive payouts worth at least the dollar amount of the purchase or some percentage of the dollar amount after a specified number of years.

As the name suggests, this rider sets a floor on the dollar amounts of your annuity's payout during your lifetime. The annuity might pay more, but not less than the amount specified in the contract. According to the Insured Retirement Institute, these payments are based on the amount invested, credited with an interest rate. The annuity purchaser typically faces a holding period of seven to ten years before this provision can be exercised. There also may be age limits for this rider.

Standalone lifetime benefit

This rider is similar to the guaranteed lifetime withdrawal benefit, but it allows for flexibility regarding the types of assets that will be protected.
Guaranteed Minimum Death Benefit
Deferred annuity contracts will often include guaranteed minimum death benefits. This benefit comes into play if the annuity owner dies during the accumulation phase. If this happens, the guaranteed minimum death benefit rider may provide for a new annuitant to be named.
There are several types of enhanced guaranteed minimum death benefits:
Contract anniversary value or ratchet

According to the Insured Retirement Institute, this death benefit increases based on criteria described in the annuity contract. The enhanced death benefits equal the greatest dollar amount of one of the following: contract value at death, the premium payments minus prior withdrawals, or the contract value on a specified previous date. The date could be a prior contract anniversary date.

Initial purchase payment with interest or rising floor

The value of this benefit can be either the contract value at death or the premium payments with previous withdrawals subtracted, whichever is greater.

Enhanced earnings benefit

Enhanced earnings benefits offset federal income taxes on earnings payable at the time of death.
Interested in Buying an Annuity?
Learn about the different types of annuities and find out which one is right for you.
Riders to Meet Other Needs
A vast array of annuity riders can be added to tailor your contract to your needs, and your provider may offer some that are not included here. Most riders address health and financial needs.
You may also want to include a crisis waiver in your contract. These waivers allow for early withdrawals with no surrender charges for certain qualifying life events. Like riders, they let buyers customize their contracts and optimize their benefits.
Consider the following riders when deciding which provisions you would like included in your annuity contract.
Health
Disability income rider

Adding a disability rider ensures income if you develop a disability that results in a loss of income. The income from your annuity will be higher for a limited time, such as a year.

Impaired risk rider

Typically purchased by someone with a specific, documented health condition, or risk, that is likely to lead to a shorter life, the impaired risk rider increases the annuity payments to compensate for the projected shorter payout time. Unlike life insurance policies, which often require proof that a purchaser is healthy, these riders require proof that the purchaser is sick.

Long-term care rider

As the name suggests, this increasingly popular rider is to cover the cost of long-term care by increasing your payment should you require it. Typically this means your monthly payout will be a multiple of your normal benefit. These riders are available on both fixed and indexed annuities and may have limitations, such as a number of years of care that this benefit will cover.


Financial
Cost of living

This rider can increase the amount of your payments to adjust for inflation. This adjustment can be based on either the rate of inflation or a specified percentage noted in the annuity contract. Usually, the amount that the income can increase will be capped.

Return of premium

This rider returns the remaining principal — the original purchase price — to a specified beneficiary if the owner of the annuity dies before the entire principle has been distributed. For example, if someone purchases an annuity with a return of premium rider for $100,000 and dies after collecting $75,000, then an heir would receive $25,000. This rider guarantees that the initial investment will not be lost.
Please seek the advice of a qualified professional before making financial decisions.
Last Modified: February 3, 2021
Share This Page:
17 Cited Research Articles
Annuity.org writers adhere to strict sourcing guidelines and use only credible sources of information, including authoritative financial publications, academic organizations, peer-reviewed journals, highly regarded nonprofit organizations, government reports, court records and interviews with qualified experts. You can read more about our commitment to accuracy, fairness and transparency in our editorial guidelines.