Joint and Survivor Annuity
Fact-Checked
Annuity.org partners with outside experts to ensure we are providing accurate financial content.
These reviewers are industry leaders and professional writers who regularly contribute to reputable publications such as the Wall Street Journal and The New York Times.
Our expert reviewers review our articles and recommend changes to ensure we are upholding our high standards for accuracy and professionalism.
Our expert reviewers hold advanced degrees and certifications and have years of experience with personal finances, retirement planning and investments.
How to Cite Annuity.org's Article
APA Borwick, K. (2021, July 12). Joint and Survivor Annuity. Annuity.org. Retrieved January 15, 2022, from https://www.annuity.org/annuities/payout/joint-and-survivor-annuity/
MLA Borwick, Kim. "Joint and Survivor Annuity." Annuity.org, 12 Jul 2021, https://www.annuity.org/annuities/payout/joint-and-survivor-annuity/.
Chicago Borwick, Kim. "Joint and Survivor Annuity." Annuity.org. Last modified July 12, 2021. https://www.annuity.org/annuities/payout/joint-and-survivor-annuity/.
A joint and survivor annuity is an annuity contract that guarantees payments so long as the contract owner or a secondary annuitant lives. Payments are slightly lower, but they last longer. Provisions can be added for making payments to a third party should both annuitants die before payments exceed the principal.
Why You Can Trust Annuity.org
Annuity.org has been providing reliable, accurate financial information to consumers since 2013. We adhere to ethical journalism practices, including presenting honest, unbiased information that follows Associated Press style guidelines and reporting facts from reliable, attributed sources. Our objective is to deliver the most comprehensive explanation of annuities and financial literacy topics using plain, straightforward language.


Our Partnerships, Vision and Goals

We partner with Senior Market Sales (SMS), a market leader with over 30 years of experience in the insurance industry, to offer personalized retirement solutions for consumers across the country. Our relationship with SMS (and Insuractive, the company's consumer-facing branch) allows us to facilitate the sale of annuities and other retirement-oriented financial products to consumers who are looking to purchase a safe, reliable solution to fill gaps in their retirement income. When we produce legitimate inquiries, we get compensated, in turn, making Annuity.org stronger for our audience. Readers are in no way obligated to use our partners' services to access Annuity.org resources for free.

SMS and Annuity.org share a common goal of educating consumers and helping them select the most appropriate product for their unique financial and lifestyle goals. Our network of advisors will never recommend products that are not right for the consumer nor will Annuity.org. Additionally, Annuity.org operates independently of its partners and has complete editorial control over the information we publish.

Our vision is to provide users with the highest quality information possible about their financial options and empower them to make informed decisions based on their unique needs.
When we talk about annuities as flexible retirement savings tools, we may be referring to customizable payout schedules, an array of riders to ensure optimal benefits and performance, premium payment options, and a range of other versatile features.
Joint and survivor annuities offer flexibility in terms of payout.
What Is a Joint and Survivor Annuity?
A joint and survivor annuity is an annuity that pays out for the remainder of two people's lives.
Depending on the contract, the annuity may pay 100 percent of the payments upon the death of the first annuitant or a lower percentage — typically 50 or 75 percent.
A 50 percent joint and survivor annuity will pay the surviving annuitant half the payment amount that payees were receiving when both annuitants were alive. And a 75 percent joint and survivor annuity will pay three-quarters of that amount to the surviving annuitant.
The higher the percentage the surviving annuitant is guaranteed, the lower the initial payments will be. Payment amounts are guaranteed regardless of which person dies first.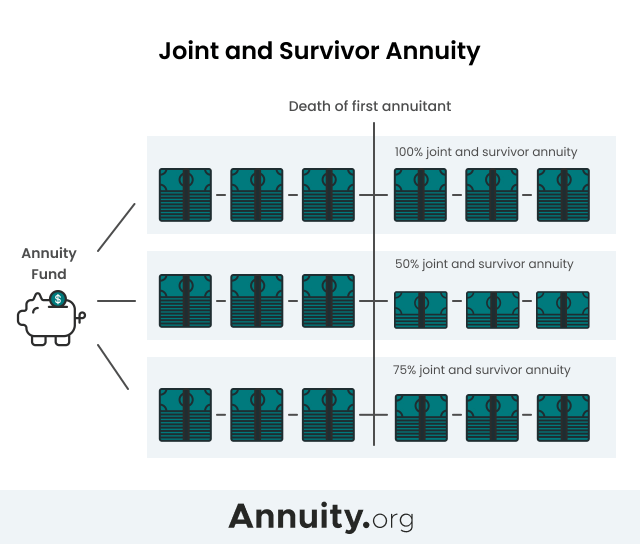 Joint and Survivor Annuity vs. Jointly Owned Annuity
A joint and survivor annuity is not the same thing as a jointly owned annuity, which is an annuity contract that includes two owners. When two people own an annuity with a death benefit, the death benefit will be triggered upon the death of one of the owners. This can be problematic if the owners intended the payments to the surviving annuitant to continue.
For this reason, it's important to make the distinction between a joint and survivor annuity and a jointly owned annuity.
Benefits
The primary benefit of owning a joint and survivor annuity is the guarantee that payments will last for the rest of the annuity owner's life and the life of another person.
Because the second person is an annuitant, as opposed to a beneficiary, the timeframe for the payment will most likely be longer, and therefore the tax liabilities will be spread over a longer period of time.
Joint and survivor annuities can give married retirees peace of mind, knowing that their spouse will have reliable income when they are gone. For many, this assurance outweighs any drawbacks of this payout structure.
Tax Treatment of Joint and Survivor Annuities
After the death of the first annuitant, the surviving annuitant will remain on the initial payment schedule.
This tax treatment is advantageous in that there is no obligation to pay taxes on money that the second person would have received as the beneficiary of a single-life annuity. In addition, the surviving annuitant won't have to worry about administrative actions and fees that typically accompany beneficiary payouts.
Disadvantages
In addition to the lower payments, joint and survivor annuities restrict the surviving spouse's ability to access a large sum of cash because, in contrast to the variety of payout options available to beneficiaries of single-life annuities, the only option with a joint and survivor annuity is to continue with the existing payment schedule.
Funeral and burial costs can be high, and without the ability to take a lump sum, the surviving spouse will need an alternative way to pay them.
When you crunch the numbers, you may find that a joint and survivor annuity just doesn't make mathematical sense. An article in CBS News consulted a group of actuaries to learn about their strategies regarding joint and survivor annuities. According to these mathematicians and longevity experts, depending on your life expectancy and the life expectancy of your partner, you may stand to lose more money in the reduced payments than your partner stands to gain after your death.
In addition, if your partner has other sources of retirement income, you may conclude that the extended payments from a joint and survivor annuity aren't necessary.
As with all financial decisions, if you're not sure which payout option best suits you and your personal circumstances, consult a professional. Financial advisors help people make these determinations all the time. Your financial security is worth the investment.
Please seek the advice of a qualified professional before making financial decisions.
Last Modified: July 12, 2021
Share This Page:
3 Cited Research Articles
Annuity.org writers adhere to strict sourcing guidelines and use only credible sources of information, including authoritative financial publications, academic organizations, peer-reviewed journals, highly regarded nonprofit organizations, government reports, court records and interviews with qualified experts. You can read more about our commitment to accuracy, fairness and transparency in our editorial guidelines.
Consumer Reports. (2014, March). Your best pension payout options. Retrieved from https://www.consumerreports.org/cro/2014/03/best-pension-payout-option/index.htm
Internal Revenue Service. (2020, January 19). Retirement Topics - Qualified Joint and Survivor Annuity. Retrieved from https://www.irs.gov/retirement-plans/plan-participant-employee/retirement-topics-qualified-joint-and-survivor-annuity
Vernon, S. (2016, June 1). Figuring your spouse into a key annuity equation. Retrieved from https://www.cbsnews.com/news/figuring-your-spouse-into-a-key-annuity-equation/