Key Takeaways
Court approval helps protect you from unethical structured settlement buyers and from making an uninformed financial decision.
You will need to bring several documents with you to your court date.
Prepare for the judge's potential questions in advance to improve your chances of approval.
Why Do I Need Court Approval To Sell My Settlement?
State and federal laws, known collectively as Structured Settlement Protection Acts, require court approval to protect structured settlement holders from predatory practices in the secondary structured settlement market.
The secondary market refers to those who purchase existing structured settlement payment rights. These factoring companies, or structured settlement buyers, offer a discounted lump sum in exchange for the rights to the seller's future payments.
The secondary market can be a great tool for structured settlement owners who want a large lump sum of cash quickly, as long as both parties are informed, transparent and trustworthy.
To ensure protection for sellers, state governments are introducing new bills to tighten down on structured settlement scams, according to a 2023 article from The Post and Courier. Some of the scam tactics include misleading advertisements or even giving recipients independent advice from a lawyer who was paid by the scammer's company.
The court approval requirement provides an extra layer of protection by keeping potentially corrupt structured settlement buyers in check, banning unethical strategies and deterring companies from abusive business practices.
The judge should always consider the best interest standard when investigating your case during the court approval process.
Regulations and the Best Interest Standard
The "best interest" standard refers to the judge's responsibility to protect the structured settlement seller.The National Council of Insurance Legislators' (NCOIL) model for state Structured Settlement Protection Acts declares that transfers of structured settlement payment rights may not be approved unless the court finds that "the transfer is in the best interest of the payee, taking into account the welfare and support of the payee's dependents."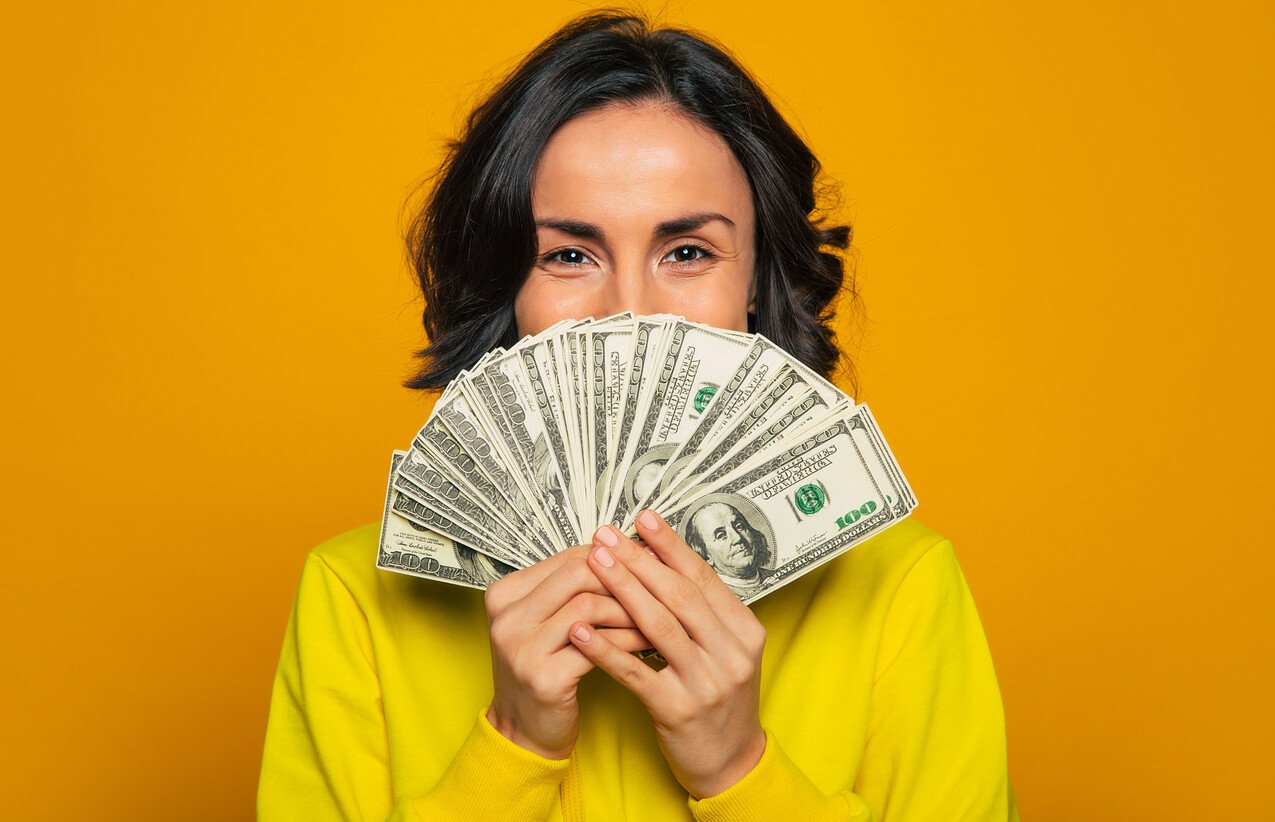 Need To Sell Your Structured Settlement for Cash Immediately?
Stop waiting for future payments. Sell your annuity or structured settlement for a lump sum now. Get a no-obligation quote today and explore your options.
Court Approval Process
A judge will approve or deny the sale of your structured settlement. You'll need to appear in court and present your case to them, providing context of why a lump sum is necessary instead of your scheduled payments.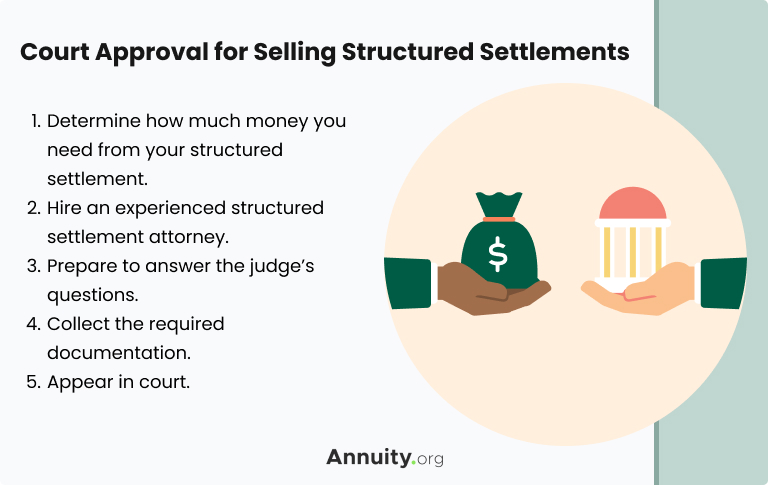 You'll need to prepare before setting up a court date. Determine how much money you need and hire an attorney to streamline the process. You may find that you don't need to sell all future structured settlement payments, and that a partial sale fits your needs instead.
After noting your needs with professional guidance, you should prepare to answer the judge's questions. They will ask what you plan to spend the funds on and if you have any other options.
You will need to bring several documents with you on your court date.
Copy of your structured settlement contract
Valid photo ID or driver's license
Proof of residency
Sale or transfer documents
Settlement and release agreements
Any other additional documentation related to your settlement
Having the required documentation on hand will not only prevent any delays with the sale, but it will also show the judge that you are competent and professional.
It can take up to one to two months to meet with a judge, according to Superior Notary Services. After a judge approves your case, it usually takes 45 to 90 days to receive your funds.
Selling a structured settlement is a viable way to generate liquidity. However, doing so can have significant financial and legal implications and should not be pursued unless you've thoroughly assessed your options. Legal and financial guidance is usually necessary.
How Can I Improve My Chances of Approval?
The judge is more likely to approve the sale of your structured settlement if you prove you have a valid reason for selling and that you understand the terms of your sale.
In addition to hiring a competent structured settlement attorney, come ready to answer questions about the transfer itself, any medical expenses you may incur and any dependents in your care.
Be prepared for the judge to ask the following questions:
Have you compared the quote from the factoring company to quotes from its competitors?
Are you confident in the buyer's reputation?
Are you aware that you will receive less money by selling now than you would if you waited for the installment payments?
Do you fully understand the transfer agreement?
Has the agreement been reviewed by an attorney or other professional advisor who is not working for the purchasing company?
Remember that the judge is looking out for your best interest. If you have any documentation that details your intent, present it to support your argument.
Read More: How Does a Structured Settlement Work?
Hiring a Structured Settlement Attorney
First and foremost, know that the factoring company's attorney at your hearing does not represent you or your interests. This is the buyer's lawyer, and their loyalty is to the factoring company — not you.
This is why the Structured Settlement Protection Act mandates that the factoring company's disclosure statement includes "that the payee has the right to seek and receive independent professional advice regarding the proposed transfer and should consider doing so before agreeing to transfer any structured settlement payment rights."
The "independent professional advice" should come from an attorney or licensed professional advisor who represents you exclusively.
While there will be extra costs when you bring in your own legal counsel, the cost of a lawyer with experience in structured settlement factoring transactions can be offset by the expertise and protection they bring to the table.
Questions to ask the attorney you plan to hire:
How long have you been practicing law?
What types of cases do you handle most often?
Are most of your clients individuals or businesses?
How do you charge for your services?
What will be my total costs for representation?
Can I pay my legal fees in installments?
Can you provide me with a written statement that itemizes and explains all fees?
Can I limit costs by gathering my own documentation?
Source: American Bar Association (ABA)
The ABA also recommends interviewing several lawyers and contacting your state lawyer licensing agency to confirm that the attorneys are licensed in the state and have had no disciplinary action taken against them.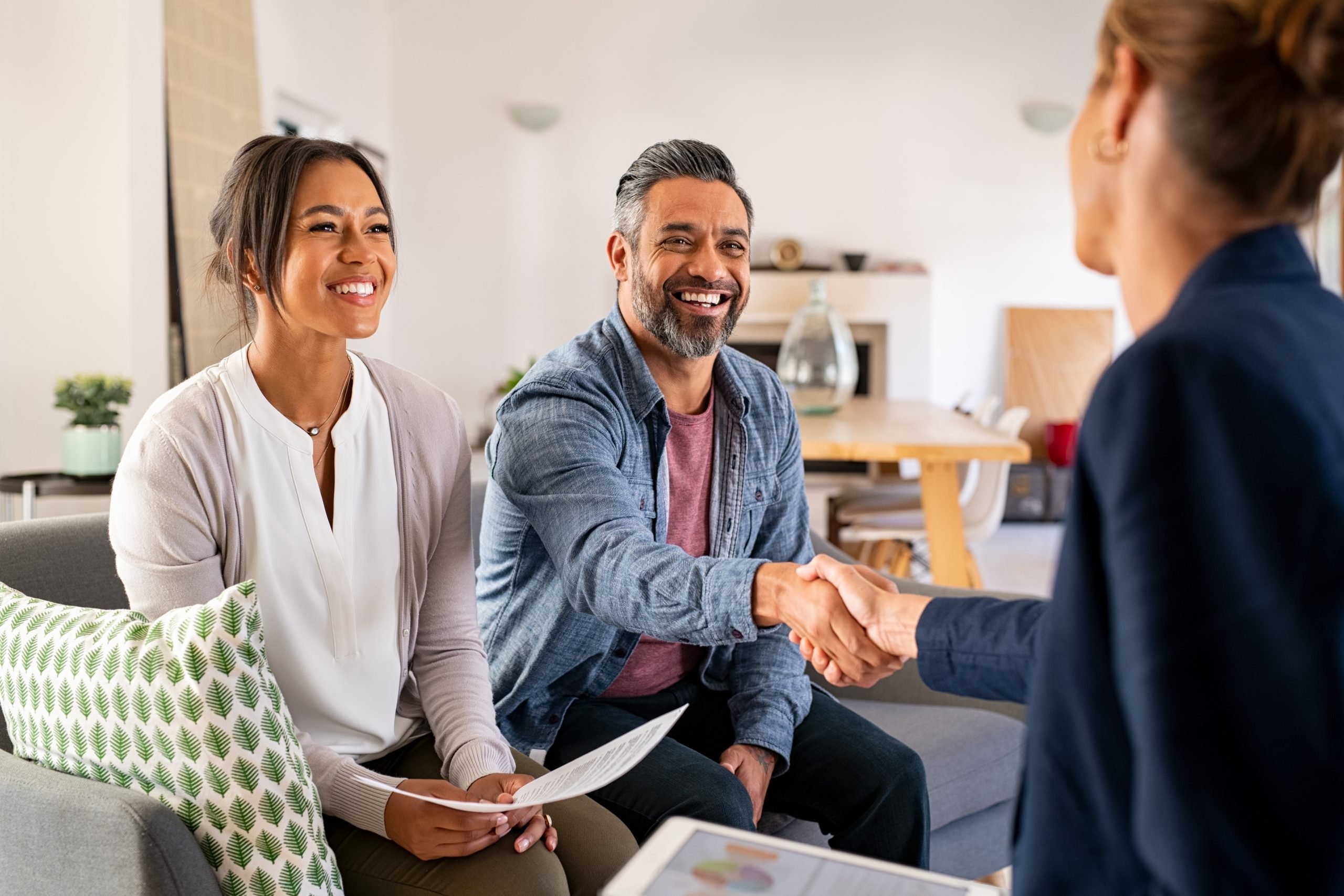 Interested in Selling Annuity or Structured Settlement Payments?
Turn your future payments into cash you can use right now.
Frequently Asked Questions About Court Approvals
Why would a judge deny the sale of my structured settlement?
The judge might deny your structured settlement sale if they believe the agreement is not in your best interest and is likely to result in financial hardship for you or your dependents.
What happens after I appear in court?
If the court approves your transaction, the factoring company finalizes the transfer and sends your lump sum through your preferred delivery method. The company will likely either initiate a direct deposit to your bank or send you a check. 
What is the average fee of a structured settlement attorney?
If your attorney works based on contingency fees, they'll take a percentage of your settlement at the end of your case, which can be 30% of your settlement, according to The Florida Bar. However, attorneys also charge hourly and flat rates, and their rates typically vary depending on the type of work they do for a client.