How Do I Choose the Best Structured Settlement Purchaser?
It's important to be informed when you're shopping around for a purchasing company.
While checks and balances exist within the secondary market, you should still do your homework on every purchasing company you consider.
The best ways to protect yourself against potential scams and predatory practices is to have a firm grasp on your own immediate and future financial goals. If you know exactly how much money you need, you are less likely to be vulnerable to unscrupulous factoring companies.
For example, if you know you need $10,000 to pay off high-interest credit card debt, an ethical purchasing company won't force you to sell $25,000 worth of structured settlement payments. Instead, a good buyer will work with you to get you the best offer possible at a low discount rate.
A company should never leave you feeling pressured or rushed to make a decision.
There are many other variables to consider when assessing structured settlement buyers.
High-quality, trustworthy firms should:
Provide helpful customer service representatives and multiple ways to get in touch
Demonstrate a financial stability with no history of bankruptcy
Make a competitive offer
Be licensed and follow appropriate regulations
Have a positive rating from the Better Business Bureau
Offer a clear timeline for when you will receive money
Demonstrate complete familiarity with state laws
Provide transparent disclosure of discount rates and fees
Recommend you speak with a lawyer or accountant before making a decision
Offer you a certain amount of cash up front
Connect with a Trusted Buyer
It's important to work with a highly rated buyer that will give you a competitive offer.
Ask the Right Questions
Don't be afraid to interview potential factoring companies. It's your money after all. Asking the right questions is essential to ensuring you get a fair deal that benefits you and your family.
These questions will help you identify a company's expertise and capability:
What is your standard discount rate?
With what agencies are you certified and licensed?
When does my free quote expire?
How long have you been in business?
What fees are associated with your purchase of my annuity?
How long will the selling process take?
Will your attorneys take care of the court approval process?
Hiring a broker may also help you through this process. Similar to a realtor who helps you sell a home, a broker will help you sell your structured settlement payments for the best price, recommend buyers they've worked with previously, and explain and complete paperwork on your behalf.
If you decide to hire an annuity broker, make sure to ask about their brokerage fee and confirm that they are certified and licensed.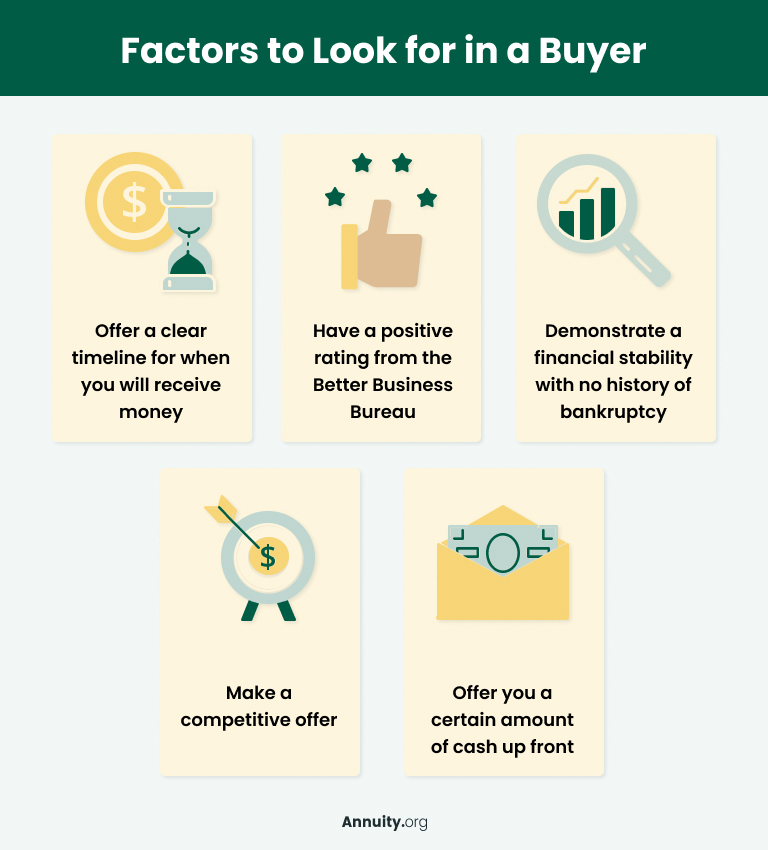 Read More: Reasons for Selling Your Structured Settlement
Who Will Buy My Structured Settlements?
Factoring companies specialize in purchasing structured settlement and annuity payments in exchange for quick cash at a discounted price.
The businesses and individual investors who buy structured settlements form a highly regulated and competitive industry known as the secondary market.
Structured settlements emerged in the 1970s to ensure lifelong, fixed income for plaintiffs in personal injury and wrongful death cases. Usually, these payments are administered through an annuity or other qualified funding asset.
In 1982, Congress amended the Internal Revenue Code to grant tax-exempt status to all structured settlement payments, as long as the settlement represents compensation for physical injury, wrongful death, or workers compensation. Structured settlements for other situations, such as backpay or lottery prizes, are taxable as income.
Once finalized, these structures are rigid, and the settlement holder is barred from accessing his or her funds ahead of schedule. This can be problematic in times of financial emergencies, such as the death of a family member or unexpected medical bills.
Factoring companies first emerged in the 1990s in the lottery industry, where they purchased future payments at a discount rate from lottery winners. Today, these businesses offer settlement recipients a similar service — flexible access to their own money.
You should consider several factors, including the quote offered and customer service record of a company, before proceeding with the payment selling process.
Why are you selling your annuity or structured settlement payment(s)?
Select all that apply
Who owns the annuity or structured settlement?
How Do Structured Settlement Purchasing Companies Work?
When you contact a purchasing company, a representative will gather your information and calculate a quote based on how much cash you need and the number of payments you want to sell.
Purchasing companies take into account several factors when determining your quote, including:
The value of your structured settlement annuity
When your payments are disbursed
The number of payments you want to sell
Current market rates
The rating of the insurance company that issued your annuity
Fees or extra costs the insurance company may charge to initiate a transfer
To be clear, you will never receive the full value of the payments you sell. Your payments will be subject to a discount rate, or the amount of money you are willing to sacrifice in order to get cash now.
That's because the purchasing company has legal and administrative costs to cover. Also, these companies exist to make a profit. High discount rates decrease the cash value of your settlement.
If you accept their quote, the purchasing company will send you a contract detailing the offer. Once the contract is signed, the company files necessary court documents and arranges a hearing.
A judge must review your structured settlement sale before it can be finalized. This federal law, outlined in the Structured Settlement Protection Acts, exists to protect consumers and verify that proposed transactions are in the best interest of settlement holders.
Did You Know?
Most states require a "cooling off period," or an allotted time during which a person can reconsider the decision to sell his or her structured settlement payments.
The purchasing company will assist you through the entire court approval process. They will likely offer you an attorney to represent you at your hearing and handle all the legal documentation.
However, experts encourage sellers to seek independent professional advice, whether from a lawyer or financial advisor, because the factoring company's lawyer is bound to act in its client's best interest — not yours.
The entire court approval process takes anywhere from 45 to 60 days to complete.
Once a judge signs off on the sale, a copy of the transfer order is sent to the insurance company that administers your structured settlement annuity.
Finally, the factoring company will send you a lump-sum payment. This usually happens within three to five business days after the court's approval.
How Do Structured Settlement Purchasing Companies Make Money?
Factoring companies generally take anywhere from 9% to 18% to cover their operating costs and turn a profit. But lower rates are not unheard of, and higher rates should be considered with caution.
In most states, purchasing companies are required to disclose the difference between the present value of your future payments and the amount they offer you.
In addition, if structured settlement purchasing companies fail to comply with state and federal structured settlement protection acts, they will have to pay a 40% excise tax, according to IRC section 5891(a). This section of the tax code exists to deter factoring companies from charging exorbitant rates for increased profits.
Reputable structured settlement buyers make money by charging reasonable rates and fees for the service they provide. In addition to projecting their operating costs and the difference between the present value of the annuity and its aggregate value — that is, the value the seller would eventually receive by sticking to the payment schedule — purchasing companies must factor in the risk that comes with many annuity contracts.
Uncertain economic forecasts and, in the case of life-contingent annuities, the possibility of the annuitant dying prematurely equate to a high-risk transaction for the buyer. This does not, however, justify abusing or exploiting consumers by charging sharp discounts and high fees.
Read More: How to Find the Present Value of an Annuity
How Do I Know if the Quote Is Fair?
A fair quote should offer a low discount rate. This allows you to keep more of your money. Discount rates can be negotiated, but most factoring companies use a standard rate when calculating quotes.
According to the National Association of Settlement Purchasers, average discount rates range between 9% and 18%.
Shopping around can guarantee that you receive a fair quote. Talk to at least two purchasers and compare offers.
Tell each representative you speak with that you are collecting quotes from multiple companies — but don't reveal the dollar amount of their competitors' offers. You may get a better quote if a buyer knows you're a smart shopper looking for the best deal.
Interpreting your quote may be confusing. If you have questions, don't hesitate to speak with a financial planner or ask a loved one with financial experience for advice. Sometimes a second set of eyes is beneficial when evaluating these offers.
States and the federal government have been looking into complaints that mentally impaired people have been talked into selling their structured settlements for less than they are worth. In response, for example, Minnesota enacted a law in 2022 that requires an independent attorney to advise judges approving the sale of structured settlements if a person is believed to be mentally or cognitively impaired.
Other states have their own consumer protection laws.
Frequently Asked Questions About Structured Settlement Buyers
Who buys structured settlements?
There are companies that are in the business of purchasing structured settlements. If you are interested in selling your structured settlement, these companies will provide a one-time payment for a portion or all of your settlement.
What is a structured settlement company?
Structured settlement companies, also known as factoring companies, will buy your structured settlement or annuity payments for a lump sum of cash. You should shop around for a highly-rated company and compare offers.
How much do structured settlement buyers charge?
Depending on how a structured settlement works, buyers typically charge within a range of 9% to 18% of the purchase price when buying your structured settlement. You may find lower rates, but be wary of buyers charging higher rates. If it's more than 10%, shop around and remember, it is acceptable to negotiate for a lower rate.
How Can Annuity.org Help Me Choose a Purchasing Company?
We always recommend you do your own research when investigating structured settlement buyers. But if you're feeling overwhelmed or are looking for credible industry experts, we can recommend our partners. Together, we've helped thousands of people sell their periodic payments to get cash fast.
Our partners are happy to help you evaluate your needs and explain the nuances of the annuity industry in more detail.
If you're looking to get a quote over the phone, our partners can provide that, too.