Key Takeaways
Pre-settlement funding gives a plaintiff access to money from a lawsuit before the court makes its decision.
Before advancing any money, the funding company will decide how likely you are to win your case. If approved, you'll typically receive between 10% and 20% of the amount it expects you to win.
You generally won't have to repay the advance if you lose, but will face expensive fees and high interest rates on your advance if you win.
Regulations on pre-settlement funding vary by state.
It's wise to discuss the option with your lawyer before seeking a pre-settlement advance.
What Is Pre-Settlement Funding?
A lawsuit advance, also called pre-settlement funding, grants plaintiffs advanced access to the money from a court award before the court makes its final decision. These financial products are controversial and should be approached with careful consideration, especially in states where they're not strictly regulated.
The U.S. Chamber Institute for Legal Reform, a prominent critic of the practice, says the arrangement involves hedge funds investing money in lawsuits in exchange for a percentage of the settlement or judgement.
It says litigation funding started in Australia and spread to the United Kingdom, the U.S., Canada, Europe and Asia.
Pro Tip
Traditional banks and credit bureaus do not give loans based on expected settlements. However, a settlement advance company will.
Who Qualifies for Pre-Settlement Funding?
You rarely need a good credit score to qualify for pre-settlement funding. This is because pre-settlement funding is not the same as a loan and pre-settlement funding companies expect no repayment should you lose the case.
Settlement advance companies typically evaluate how much you can receive and how much you might owe in fees based on the strength of your case.
To determine whether to extend funding, companies consider many factors, including any medical records, police reports or court filings related to your case. They may also reach out to the attorney representing you to ask specific questions about the case's details.
Based on this information, the funding company decides how likely you are to ‌win your case. The better your perceived odds, the more likely you are to receive an advance.
Are Lawsuit Advances Loans?
States courts have split on whether to consider litigation advances loans. How they are classified carries legal implications both for the funder and the consumer.
A trade organization representing funders maintains that these products are not loans and shouldn't be regulated like loans. They are different from traditional loans in several ways, including the fact that they are not required to be repaid if the settlement or court award doesn't materialize if the consumer loses his or her legal case.
In addition, credit checks are not required for these advances because they do not involve monthly payments and they do not affect consumer credit ratings.
And in fact, some states consider the arrangements to be investments and not loans. But this can be a problem for consumers. That's because state laws limiting interest rates, also known as usury laws, would not apply if the funds are not considered loans.
Pro Tip
In states where the courts have considered these advances to be loans, usury laws apply.
This was the effect of a 2006 ruling by an appellate court in Texas, which found the lack of an absolute obligation to repay meant that the state's usury law did not apply.
In 2003, the Ohio Supreme Court voided one of these contracts because the court considered it a loan that violated that state's usury laws.
Do I Need My Attorney's Consent To Get Pre-Settlement Funding?
You aren't required to ask permission from your attorney to get pre-settlement funding. Attorneys do not have the authority to stop their plaintiffs from receiving litigation advances.
That being said, it's wise to ask your attorney's advice on anything pertaining to your legal case — including the decision to seek a litigation advance. The settlement funding company will likely contact your attorney before approving you for the advance, so whether or not you discuss it with your attorney, they will know you're seeking pre-settlement funding.
How Does Pre-Settlement Funding Work?
When you apply for pre-settlement funding, the company will determine whether to extend you an advance based on how likely they believe you are to receive a settlement.
If they approve your advance, you'll receive the funds within days of signing the paperwork. Funding companies usually send the advance via secure wire transfer.
Whether you'll have to pay back the advance depends upon how the court decides your case. If you win your case, the amount of the advance (plus agreed-upon interest charges and associated fees) will go back to the company. If the case does not settle in your favor, you typically won't owe anything.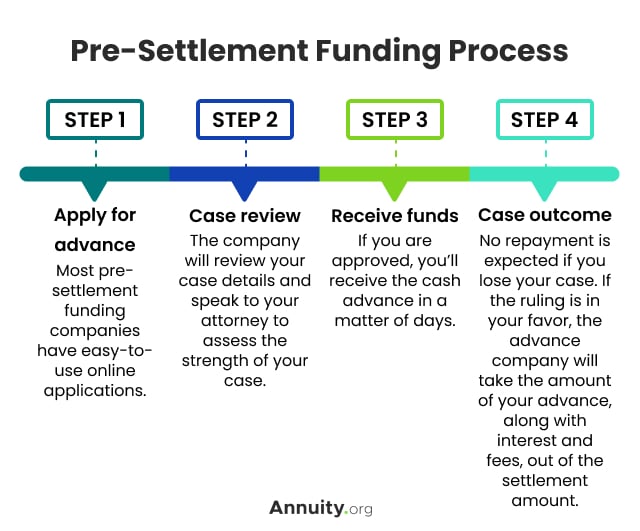 Pros and Cons of Pre-Settlement Funding
Pre-settlement funding can help people who aren't able to make ends meet cover their living expenses while they await the results of a lawsuit. But there are significant drawbacks to litigation advances that may overshadow the benefits for some people.
It's important to fully consider the pros and cons of pre-settlement funding before moving forward.
Pre-Settlement Funding Pros and Cons
Pros
You receive money that can help to cover living expenses
Advanced funding affords you time to negotiate a better settlement
Typically, no repayment is required if the court rules against you
Cons
High interest rates apply to repayment amounts if you win your case
Funding fees can be expensive
You may not qualify based on the strength of your case
What Companies Offer Pre-Settlement Funding?
You can acquire pre-settlement funding from hundreds of litigation advance companies in America.
Before you choose a company, ‌ask for a quote and review the details to understand what the interest rate and terms of the advance will be. A reputable pre-settlement funding company will provide you with an easy-to-understand quote and a simple interest rate between 15% and 20%.
Some popular pre-settlement funding companies include:
Capital Now Funding
Citrus Legal Funding
High Rise Financial
JG Wentworth
Oasis Financial
Prime Case Funding
Consumer Protection Guidelines for Pre-Settlement Funding by State
One law professor described the United States as having a "confusing patchwork of state laws on third-party litigation funding."
Some states have enacted legislation to protect consumers in these transactions. The trade organization, the Alliance for Responsible Consumer Legal Funding (ARC), supports laws that provide specific protections, such as requiring plain English and transparent contracts that clearly show the consumer's rights and obligations.
According to ARC, states with a high level of protection include Maine, Ohio, Nebraska, Oklahoma and Vermont. Indiana has legal protections, but also limitations on the availability of these financial products. ARC is critical of laws enacted in Tennessee and Arkansas.
ARC specifically advocates for laws that contain these provisions:
Requires the contract to reflect all costs and fees, showing how much the consumer will owe every six months and the maximum amount the provider may ever own of a recovery
Requires that the consumer has the right of rescission for five days after receiving funds from the sale
Requires consumer to inform his or her attorney of any contracts with funding providers and requires attorney to acknowledge having been informed
Prohibits funds from being used to forward any part the litigation process, only allowing expenditures for household needs
Prohibits providers from interference or decision making with respect to the pursuit of the legal claim or settlement
Prohibits false and misleading advertising by funding providers
Prohibits the payment of commissions, referral fees, rebates, etc., to attorneys, law firms, medical providers, chiropractors, or physical therapist or any of their employees
Prohibits attorneys from having any financial interest in a funding provider that transacts with their clients
Extends the attorney-client privilege to funding providers to ensure all consumer information is protected
Requires funding providers to include registration fees, the posting of bonds to ensure solvency, and the filing of all forms and contracts with the state authorities
The American Bar Association's Commission on Ethics 20/20 wrote a white paper saying these products fill a need. But the commission warned lawyers to be on the lookout for red flags that point to ethical issues. The paper recommends that attorneys ensure their client's confidential information is protected and that the client understands the terms of entering into an agreement with the loan or advance provider.
Frequently Asked Questions
How can I get a cash advance on a pending lawsuit?
You can apply for pre-settlement funding from a firm that specializes in granting cash advances to plaintiffs in pending lawsuits.
How much money can I get as an advance on a pending lawsuit?
The amount you will receive as an advance is generally a percentage of your settlement's estimated value. Between 10% to 20% of the settlement value is typical for an advance.
Is pre-settlement funding dependent on my credit score?
Most pre-settlement funding companies will not check your credit score when determining if you qualify for an advance.
What do pre-settlement funding companies typically charge as a percentage?
A trusted pre-settlement funding company will generally charge interest rates between 15% and 20% for a litigation advance.