Refinancing a Mortgage
Refinancing your mortgage can offer you several options to better manage your personal finances. Benefits of refinancing include reducing your monthly payments, shortening your loan term and, in some circumstances, the option to take cash from your home's value.

What Is Refinancing and How Does Refinancing a Home's Mortgage Work?
Refinancing a mortgage involves paying off your current mortgage with money from a new mortgage. This allows you to shop around for better terms if the economy or your financial situation changes.
Why Might You Want To Refinance Your Current Mortgage?
Take advantage of lower interest rates
Change your mortgage type — like from an adjustable rate to a fixed rate
Take cash out of the equity in your home
Shorten the term of your mortgage
Reduce monthly mortgage payments
Mortgage refinancing also involves many of the same procedures and costs you experienced in getting your original mortgage. But it can be much less complicated than the whole process of buying a house.
Steps To Refinancing Your Mortgage
Apply For a New Mortgage

Once you've determined the best mortgage option for you, you have to apply for the mortgage. The lender will need a clear idea of your — and, if you're married, your spouse's — financial health. This means providing proof of your salary for the last couple of pay periods and proof of income (usually your recent Form W-2s) for the last two years. You may also be required to produce additional documentation proving your income.

Lock In an Interest Rate

Lower interest rates are a key reason to refinance your mortgage, so you'll want to lock in a low rate as soon as you're approved. Rate lock periods tend to last 15 to 60 days depending on several factors such as your location, the type of loan and the lender itself. Mortgage rates fluctuate quickly, so if you're satisfied with the rates when you apply you'll want to lock them in. If the rate lock period expires before closing, you may be able to extend it for a fee. Otherwise, you will be offered the rate available at closing.

Underwriting and Home Appraisal

Underwriting is the process by which the lender confirms your financial status and makes sure you are a worthy borrower. A home appraisal is part of the underwriting process. The lender will make sure your home is worth what you are asking for in your refinancing request. If you're refinancing to take cash out of the home's value, the appraisal will affect how much cash is available.

Closing on the Loan

Just like when you first purchased the home, you'll have to close on the new mortgage. But it should be a more streamlined process since you're not transferring real estate from the last owner to yourself. You'll still have to pay any closing costs that are not included in the mortgage loan. Note: if you're doing a refinance to cash out some of the home's value, you'll receive payment from the lender after closing.
After you close on refinancing, you have a grace period of three days to opt out of the refinance plan should anything unexpected come up and you need to cancel. This is known as your right of rescission.
What Are the Benefits and Disadvantages of Refinancing Your Mortgage?
You should carefully consider all the pros and cons of refinancing your current mortgage before committing to the idea. The benefits and drawbacks of refinancing depend on several factors that are unique to you and your financial situation.
You should consider why you want to refinance based on your financial goals, then compare the pros and cons of how refinancing will get you to that goal.
Goal 1

Lowering Your Interest Rate and Current Monthly Payments
Refinancing means taking on an entirely new loan with new terms. You should consider the tradeoff and whether any additional years of lower monthly payments actually makes the refinancing more expensive in the long run.
You may be able to negotiate with your lender for a shorter term — maybe 20 or 22 years instead of 30 years — to strike a balance between lower monthly payments and long-term costs.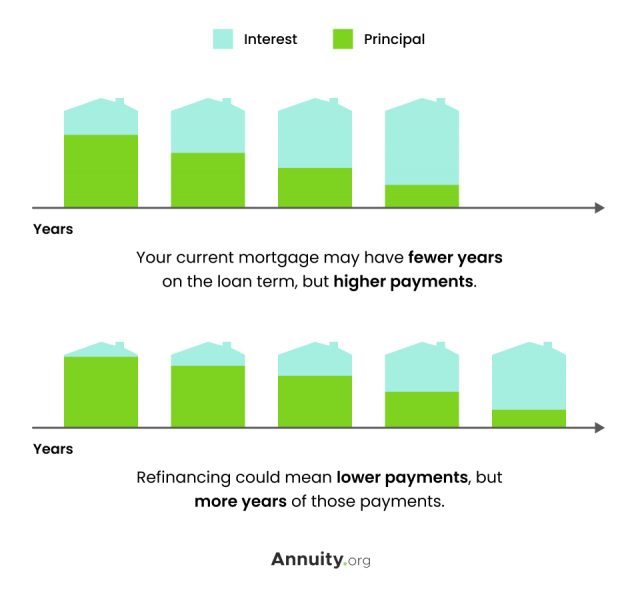 Goal 2

Shortening Your Mortgage's Term
If you shorten the term of your mortgage loan, you can pay it off more quickly. Your monthly payments will be higher, but the interest you pay will be lower, therefore lowering the overall cost.
Your principal and interest payments may change with your refinance, but other costs such as insurance and property taxes will remain the same.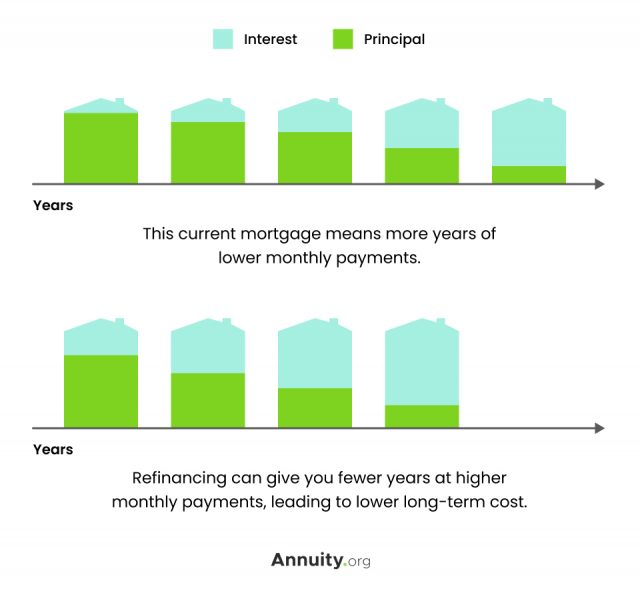 Goal 3

Avoiding a Payment Jump in an Adjustable-Rate Mortgage
You may have a higher monthly payment when you refinance from an adjustable-rate mortgage to a fixed-rate mortgage, but you will have more predictable monthly payments for the future — without having to worry about your interest rate fluctuating every six months to a year.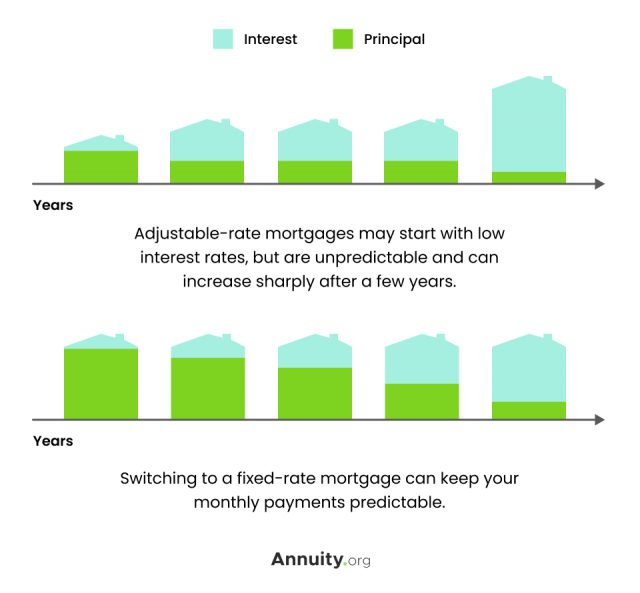 It's important to consider how the benefits and disadvantages of refinancing play out based on the specific financial goals leading you to consider refinancing.
When Is the Best Time To Refinance?
The best time to refinance a mortgage depends on you, your financial situation, your goals and the economy in general. The best time varies from person to person, but generally you should only refinance if it helps you meet an important financial goal.
The Best and Worst Times To Refinance Your Mortgage
| Good Times To Refinance | Bad Times To Refinance |
| --- | --- |
| Interest rates have fallen — and you expected them to start going up again. | You're moving within the next few years and you may not recoup the cost of the refinancing. |
| Your credit score has improved enough to qualify you for a lower rate mortgage. | Your credit score has dropped since taking out your current mortgage. |
| You want to switch from an adjustable-rate mortgage to a fixed-rate mortgage. | Your current mortgage has a prepayment penalty that you'd have to pay before refinancing. |
| Your home's value has significantly appreciated, which could allow you to take cash out of the value. | Your home's value has decreased since you took out the original mortgage, and it could be harder to find a refinancing loan that's more favorable. |
You should always consider the closing costs of refinancing your mortgage: Make sure the cost doesn't defeat the financial advantage you're seeking through refinancing the mortgage.
You should also look at exactly how much you may save based on the new interest rate over time before deciding whether it's a good time for you to refinance.
How Much Does It Cost To Refinance?
Current mortgage rates and your credit score both play a major role in how much it will cost in the long run to refinance your mortgage.
Mortgage interest rates can vary from lender to lender and can depend on your location, so you should shop around for the best rates and ask lenders about any additional fees. It's a good idea to have several potential lenders chosen before applying for a new mortgage.
Your credit score also plays a major role in the interest rate you'll be offered. If your credit score has dropped significantly since you took out your current mortgage, you may not have luck finding a better deal. If it's improved, you could qualify for a lower rate.
Depending on the amount and term of your mortgage, a good credit score can save you thousands of dollars every year in mortgage payments by unlocking a lower interest rate. Ensure that you've been good with your credit and mindful about making moves to bump up your credit score before tackling a mortgage refinance.
Other Costs To Consider When Refinancing a Mortgage
Mortgage refinancing costs vary from person to person and from lender to lender. Typically, you can expect to spend about 2% to 6% of the total cost of the refinanced mortgage in fees.
Fees Associated With Refinancing a Mortgage
Application Fee

Some lenders charge you a fee simply to apply for a mortgage refinance. Be sure to ask your lender if it does, and exactly how much it will cost you. You may be able to find a better deal if you shop around.

Appraisal Fee

Your house will typically have to be appraised before the lender approves a loan. According to Home Advisor, the average cost of a home appraisal is $349, with most ranging between $313 and $420 for single family homes. Appraisals for multi-family homes run from $600 to $1,500. Your location, home size and condition all affect the cost.

Attorney's Fees

Depending on where you live, the law may require a lawyer to review the paperwork for your refinanced mortgage. Fees can vary widely based on location and other factors.

Title Search Fee

A title search confirms that you have the legal right to the home and to refinance the mortgage for it; It makes sure no one else has any claims or liens on the property. Lenders may require a title search before approving your refinanced mortgage.
You won't have to come up with cash for these closing costs if you get a no-closing-cost mortgage refinancing. Instead, you will pay those costs over the course of the mortgage — or lenders may make up the difference by driving up your interest rate.
Finding Your Break-Even Point
The break-even point is the point between a profit and a loss. When you refinance your mortgage, that means it's the point when your savings from refinancing matches the cost of financing.
For a refinance to make sense, your goal is to be well on the savings side of this point.
To calculate you break-even point, you'll use this formula: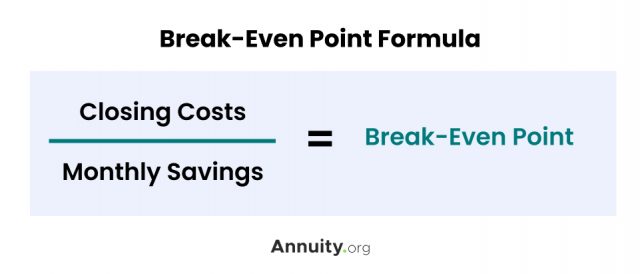 For a mortgage refinance, the break-even point is the number of months it will take you to pay off your closing costs before you start realizing savings. If the term of your refinanced mortgage is longer than your break-even point, you will lose money on the refinancing.
Before you can find your break-even point, you'll need to add up all the closing costs. This means getting into the details of every cost and fee you'll be charged before your mortgage refinance is finalized.
Common Closing Costs Associated with Refinancing
Appraisal fee
Attorney fees
Credit report fee
Discount fees
Flood certification and monitoring fees
Insurance
Mortgage application fees
Origination fees
Tax monitoring fee
Tax status research fee
Title fees
Underwriting fees
Other bank fees
Next, you'll need to calculate your monthly payment savings. You do this by subtracting your new mortgage payment from your current one.
Then, use the formula to calculate your break-even point.
Where Should You Go To Refinance Your Mortgage?
Shopping around for the best refinancing deal can pay off, but it's important not to look solely at the mortgage rates lenders offer. You need to consider all fees the lender charges as well.
Ask potential lenders for a "good faith estimate." This is an amount that estimates your total cost including interest rates, fees and closing costs.
Online lenders may promise instant quotes, but these are typically only very rough estimates. You'll need firm numbers before settling on a lender.
Pro Tip
It's a good idea to approach a wide variety of mortgage lenders — local banks, large regional or national banks and credit unions — to compare rates, fees and other refinancing options. You may find a deal where a slightly higher interest rate is offset by lower costs and fees.
If the job of shopping for the best refinancing deal seems too overwhelming or time-consuming, consider a mortgage broker. They are paid commissions by the mortgage companies and banks with which they work, so you won't typically pay a fee.
To alleviate any concerns about the broker focusing on the highest commission fees, you should research a couple of refinance options on your own and compare them to the broker's offerings.
Please seek the advice of a qualified professional before making financial decisions.
Last Modified: April 7, 2022
Share This Page:
6 Cited Research Articles
Annuity.org writers adhere to strict sourcing guidelines and use only credible sources of information, including authoritative financial publications, academic organizations, peer-reviewed journals, highly regarded nonprofit organizations, government reports, court records and interviews with qualified experts. You can read more about our commitment to accuracy, fairness and transparency in our editorial guidelines.