Renting vs. Buying a House
When pondering a major financial decision such as whether to rent a house or buy a house, it's very important to do your research and weigh all the options. You want to ensure that you are equipped with the knowledge to make the smartest decision for your lifestyle and finances. Both options have associated risks and benefits to be mindful of.

Renting a House
Navigating the real estate market is complex, and your living situation can have long-term effects on your personal financial standing.
Many people find renting a house to be the easier option since they don't have to deal with the many responsibilities and commitments of owning a home. It's typically as simple as finding a house to rent, applying with the landlord or management company, signing a lease and paying the first months' rent and security deposit to secure the house.
Traditionally, though, financial experts think of renting a house as "throwing away money" every month since there is no investment or ownership of the property‌.
Benefits of Renting a House
The major benefits of renting a house are that you will have less responsibility, greater flexibility and predictable costs.
You won't be solely responsible for covering the costs of maintenance and repairs. If something needs repairing in the house, generally the only thing you must do is reach out your landlord who takes care of the repairs.
When renting, there's also no obligation to stay once your lease expires — you will have more flexibility and the option to move to another house if the monthly rent exceeds your budget.
And there is a financial peace of mind associated with having predicable costs, as the costs of renting a house are mainly the set monthly rent, security deposit, and utilities (if not already included).
Risks of Renting a House
As with everything, there are risks involved in renting a home. Although costs are predicable, there is the possibility of your rent increasing once it's time to renew your lease (upon the discretion of your landlord). This means that, financially, you could face an increase that goes beyond your budget.
And, since you do not own the home, there's also a lack of stability and no permanence with a rental. Your landlord can even decide to stop renting and put the house up for sale.
Even if you've been a consistent renter over several years, this would inconvenience you and your wallet — and you may be forced to find other living arrangements.
Buying a House
Owning a home is a huge financial commitment and investment, and it's not one to be taken lightly. From the long process of working with a mortgage lender and realtor to buy a house, down to the maintenance and upkeep of the house after you purchase, one must be fully ready and financially prepared for anything that may arise.
The experience that comes with owning a home does, however, offer a greater sense of responsibility when compared to renting. It is best for those who want to stay in one place for a long period ‌to reap the benefits of their investment.
Benefits of Buying a House
The main financial benefit of buying a house is that, over ‌time, you can build equity. When you sell the house — assuming it's worth more than what you purchased it for — you will make a profit from all the built-up equity.
Having a mortgage is considered good debt — if you keep up with the monthly mortgage payments and make payments on time. This will help you build up your credit.
Another benefit of buying is that you can take advantage of a mortgage interest deduction, real estate tax deduction and other tax benefits on your tax return to help further reduce your tax bill. You may also be entitled to exclusion from capital gains taxes up to a certain amount on your tax return.
Risks of Buying a House
Repairs and maintenance on a home can be costly. An appliance may fail or the roof could leak, and then you may find yourself having to spend more money than you intended to when getting those things fixed. It's wise to be prepared and ensure you have enough cash saved in the bank to cover any emergency repairs and unexpected maintenance costs.
Although monthly mortgage costs are fixed and mostly predictable, property taxes could increase each year. Eventually, this could cause the mortgage payments to be higher than rental payments would be.
Owning a house is a long-term commitment filled with many responsibilities, financial and otherwise.
How Do Renting and Buying Compare?
Homeownership has traditionally been an important way to build wealth and is beneficial in offering financial gains by hedging against inflation, but determining which option makes more sense for your lifestyle and future financial goals is key.
When renting, you must consider the rising costs of inflation. Rents tend to increase over the years, so be prepared to receive an annual rent increase letter from your landlord. The good thing is, as a renter, you'll have the option to move if you don't agree with the increase.
Buying a house offers more financial predictability. There could be a slight change in your monthly mortgage amount depending on if your property taxes, insurance or HOA fees change. This affords you more stability, however — after you sign the contract on the house — you are bound to the terms of the mortgage and bear the responsibility of paying what is owed up to 15 or 30 years (unless you sell the house before then).
As a homeowner, you'll have more freedom to do what you want. For example, you can have as many pets as you would like and are less restricted versus being subject to the landlords' rules when renting.
Which Is Right for You?
Buying a home is more suitable for a person who has enough financial resources and savings in the bank to sustain, that doesn't mind making an investment to live in the same place for several years and is ready for all the responsibilities that come with owning a home.
On the other hand, renting a home is more suitable for a person who feels as though they may need more time to put all their ducks in a row to become financially capable, that prefers the flexibility to move around, and may not feel comfortable with the idea of all the responsibilities of owning a home.
Studies show that buying becomes the smarter choice if you plan to stay in the same place for at least five years. If you are sure about where you want to live for at least the next five to 10 years and you have a stable job, making an investment and building credit would make greater financial sense.
Costs
A major deciding factor that could influence your decision on whether it is best to buy or rent a house is cost. When exploring whether to buy a home, you must factor in all the associated costs.
According to the Consumer Financial Protection Bureau, closing costs alone can range from 2% to 5% of the home purchase price and a down payment can range between 3.5% to 20% depending on the type of loan you choose. Then you'll face other charges including the monthly mortgage payment, utilities costs, incurred repairs and maintenance, tax liabilities, insurance costs, and any mandatory homeowners' association fees.
Buying a house is a major decision. It is very important to ensure that you are 100% financially ready and have enough resources to cover the costs to prevent the risk of foreclosure or default on your mortgage loan. Meanwhile, the major costs associated with renting a house are the monthly rent, security deposit and utilities (if not already included).
The chart below compares costs for a renter and homeowner over a seven-year period based on information from federal lender Ginnie Mae.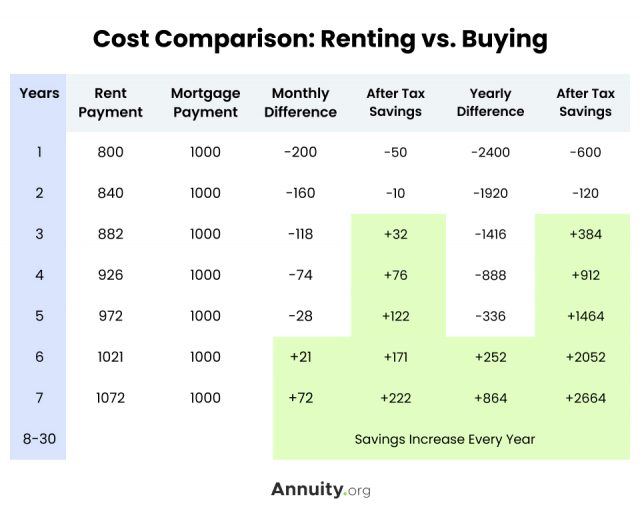 In the first year, the renter starts out paying $800 per month. They have an annual rent increase of 5%. The homeowner (who purchased a home for $110,000) has fixed monthly mortgage payments of $1,000. This is assuming no changes in property taxes or insurance. In this scenario, buying a home results in tax savings after three years and lower monthly payments for the homeowner than the renter after six years.
Timing
With rising inflation and increased rent costs straining the economy, it may seem rather intimidating to even consider giving the idea of buying a house.
But as it pertains to your personal life goals, a cost-effective decision that is going to save you both time and money in the long run and present you with an investment opportunity is a smart one.
If you still need more time to work out your current financial situation and are unsure of where you desire to live long-term, ultimately renting a house may be the better option for now. But once you start practicing healthy financial habits such as building up your savings, creating a spending budget, maintaining a secure job and building strong credit, you are on your way to being able to afford to buy a house.
Please seek the advice of a qualified professional before making financial decisions.
Last Modified: March 18, 2022
Share This Page:
6 Cited Research Articles
Annuity.org writers adhere to strict sourcing guidelines and use only credible sources of information, including authoritative financial publications, academic organizations, peer-reviewed journals, highly regarded nonprofit organizations, government reports, court records and interviews with qualified experts. You can read more about our commitment to accuracy, fairness and transparency in our editorial guidelines.