Real Estate
Real estate — or real property — is immovable property such as land and buildings. The term may also mean the business of buying, selling or investing in homes, land or other real property. Real estate is a driving force of the economy and generates most household wealth in the U.S.

How Is Real Estate Defined?
Real estate includes land, the natural resources on or under it and any buildings attached to it. It can be homes, commercial buildings or undeveloped land.
Real estate is considered immovable from its location and called real property as opposed to personal property — such as cars, jewelry or art — which can be easily moved.
Qualities of Real Estate
There is a finite amount of it
Can be improved or unimproved
Can be bought and sold
Can be owned by individuals, companies or governments
Types of Real Estate
Real estate generally falls into five categories — residential, commercial, industrial, special purpose and land. All types of real estate fall into these categories.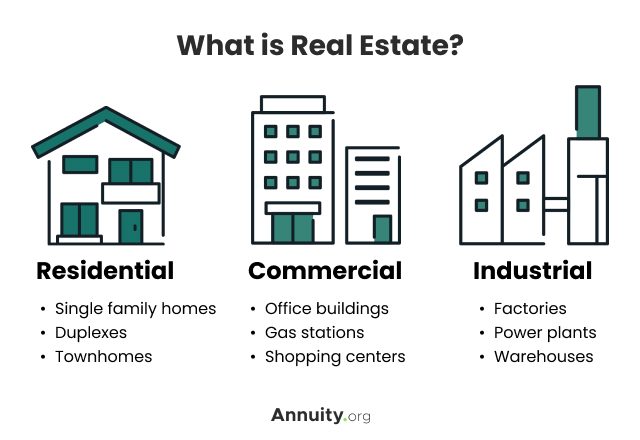 The Five Types of Real Estate
Residential

Residential real estate includes any property which people call home. This includes single family homes, apartments, condos, co-ops or any other type of residence. It also refers to both new construction and the resale of existing homes.

Commercial

Commercial real estate applies to any property used for commercial or business purposes like retail stores, offices, restaurants, shopping centers, hospitals or other for-profit entities. Apartment buildings — as well as being residential — also fall under this category in the sense they produce commercial income for their owners.

Industrial

Industrial real estate includes factories, mines, oil fields, power plants, warehouses or any other property used to research, develop, manufacture, produce, store or distribute goods and services. Storage and distribution property may also be considered commercial real estate for zoning purposes.

Special purpose

Special purpose real estate encompasses property used by the public. In addition to government owned property such as federal or municipal buildings, parks and public schools, it also includes houses of worship, cemeteries and other public spaces.

Land

In terms of real estate, land refers to a broad swath of property including vacant land, timberland or any land used for agricultural purposes — such as farms, pastures, ranches or orchards. Vacant land may be considered either developed or undeveloped property.
Buying Real Estate
Most people's first experience buying real estate begins with buying a house. Federal, state and local governments all encourage home ownership in the U.S. and the financial industry has made it relatively easy for many Americans to purchase homes.
For most real estate purchases, the steps are the same as buying a home.
Steps to Buying Real Estate
Find a property you want to buy — and determine if you can afford it.
Secure financing in the form of savings, mortgage or grants.
Make an offer.
Have the property inspected.
Close on the property.
Real Estate Financing
A mortgage is the most common form of financing for buying real estate, but there are options as well depending on whether you are buying a home or a real estate investment.
Financing Options for Buying Real Estate
Mortgages

Mortgages are the most common means of financing a home purchase in the U.S. and can be used for other real estate purchases. You agree to pay the lender over time and the property you're buying serves as collateral. If you default on the mortgage, the bank or other lender can foreclose on the property and sell it to recoup its losses.

First-time home buyer breaks

Even if you bought a home before, you may still be defined as a first-time home buyer by federal law. If you are, you may be eligible for tax breaks, federally-backed loans and other state and federal programs. These resources are typically only available if you are buying a primary residence and you meet the requirements of the U.S. Department of Housing and Urban Development.

Cash

If you have the resources, this can be the quickest way to purchase real estate. You can guarantee financing and won't have to make interest payments. It may also get you discounts on the purchase price. Depending on your financial situation, it may take you a while to recover your out-of-pocket spending. That's money you won't have to leverage other investment opportunities in the meantime.

Private individual lender

These are lenders who work outside financial institutions. They are more flexible than banks and you may be able to get the money you need a lot faster. You will likely have to pay a higher interest rate to a private lender than a bank — especially if the bank considered your loan too risky. And it may be difficult to convince a private lender to loan you the money unless you already have a proven track record.

Hard-money loans

These are bridge loans – a short-term loan to pay costs until the property sells or you secure some other line of financing. You can get a hard-money loan in as little as a week, making it convenient for house flippers or people making property improvements. But the interest rates can be much higher than those for a conventional mortgage.
Selling Real Estate
Whether you're selling your house or an investment property, it's important to remember it's going to cost you money to sell your real estate.
There are costs associated with most steps you take in selling any piece of real estate.
Steps to Selling Your Real Estate
Set an asking price

You'll need to compare your property to the prices of comparable real estate in the same neighborhood over the last six months. You can do this through a comparative market analysis — a report on local or regional property prices — or through a real estate agent. But also factor in costs associated with other steps.

Decide whether to hire an agent

Hiring a real estate agent will cost you commission fees, but an agent will also bring professional expertise that may get you a better price and quicker sale. However, selling the property on your own may save you the five to six percent commission agents typically charge.

Make repairs

Even minor problems may turn-off a potential buyer. Budget for repairs ranging from leaky faucets to structural upgrades.

Property improvements

Consider improvements that may make the property more attractive to potential buyers. Improving curb appeal may mean an investment of a few thousand dollars, which can pay off in a higher sale price — recouping your investment.

Staging

Staging involves removing your furniture and professionally decorating all or some of the rooms in a neutral way. Most common rooms include the living room, kitchen and master bedroom, according to a survey by the National Association of Realtors (NAR). The NAR survey found staging can increase a sale price by one to five percent.

Closing fees

Closing fees cover certain expenses during the property transaction, such as lawyers' fees, transfer fees, property taxes and other incidentals. Buyers pay most of the closing costs but, as a seller, you may need to cover up to three percent of the sale price. Be sure to budget this into your plans.

Vacating the property

Prepare to move your personal property off the real estate ahead of closing — even earlier if you stage the property for any length of time. You'll need to factor in moving and storage costs. Check with local moving and storage companies to get the best estimate. Also consider moving pod options that allow you to store personal property in shipping containers.
Investing in Real Estate
If you buy or sell a home you live in, you have engaged in real estate investing.
It is a good idea to plan ahead for how you plan to use or invest the money from selling your house or other real estate before you begin the process of selling. This can help with your long-term investment strategies.
There are several other ways you can invest in real estate.
Types of Real Estate Investments
Home ownership

Home ownership provides several benefits including the home's appreciation in value, tax deductions, deductible expenses and home equity.

Rental property

Rental properties can provide a stream of income, but it can require an ongoing investment of time and more money to keep the property in shape.

Airbnb or similar service

Hooking your property into the gig-economy is an alternative to traditional rental property investment. Renting it out via Airbnb, VRBO, HomeAway or similar services can be lucrative if you have a steady stream of tenants. But in some cases, a steady rental income from a steady tenant may be more profitable.

Flipping a property

House flipping involves buying a property, improving it, then selling it for a profit. You will need to do extensive research, understand all the costs involved and not overestimate your knowledge or skills. Timing and location are also key factors to successfully flip a house for a profit.

Investing in homebuilder stocks

There are several companies that focus on building or improving residential properties. These include developers, construction companies and even big box retailers like Lowe's or The Home Depot. These companies' stocks can rise and fall depending on the housing market or general economy. Buying stocks in these companies allows you to invest passively in real estate.

Mortgage-backed securities

Mortgage-backed securities (MBS) are similar to bonds. Banks issue mortgages to their customers. Then the banks sell these loans to MBS funds in the investment industry. You can then buy an MBS through a broker. Your investment is as safe as the mortgage that backs it up. This became a problem at the root of the Great Recession — when the housing market collapsed and people defaulted on their mortgages. New rules are designed to prevent a repeat of the 2008 financial meltdown.

Real estate investment trusts (REITs)

REITs are companies that hold a collection of income-producing real estate. REITs may be publicly traded or non-traded or they may be private trusts. To invest, you simply buy shares in the RIET. These trusts allow you to invest in real estate, but still have the liquidity of easily traded shares — similar to stocks.
Real estate tends to be a solid, long-term investment. But it also has drawbacks. When investing in real estate, it's important to compare it to other investment options and consider carefully how real estate fits into your portfolio and your financial goals.
The Real Estate Industry
More than three million Americans are employed in the real estate industry, according to the U.S. Bureau of Labor Statistics. The BLS predicts four to four and a half percent growth in real estate sales and brokerage jobs between 2020 and 2030.
But those are just two of the many jobs available in the real estate industry.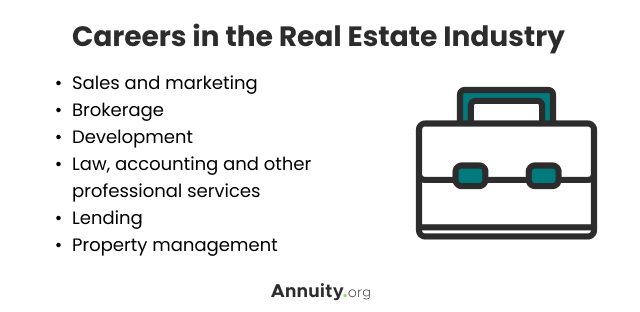 Types of Jobs in the Real Estate Industry
Sales and marketing

Realtors, real estate agents and other people in real estate sales and marketing work with individuals to sell homes or other real estate. They may also work with developers to sell the buildings, offices or units they produce. They are paid a commission on the real estate they sell.

Brokerage

A brokerage employs agents who handle much of the real estate transactions between buyers and sellers.

Development

Real estate development encompasses a wide range of activities that enhances or improves land — securing financing, purchasing land, navigating the rezoning process, construction or renovation and the sale or lease of developed property.

Law, accounting and other professional service

Real estate transactions require a wide range of specialized professional services. In addition to real estate attorneys and accountants, this can include construction workers and contractors, plumbers, electricians, interior designers and other professionals.

Lending

Lending is an essential part of real estate financing — nearly all real estate transactions require some degree of financing. Banks, credit unions, private lenders and all levels of government devote divisions or departments to real estate lending.

Property management

Property management firms oversee the day-to-day business operations for owners of rental properties. They are typically paid a percentage of rent they collect for property owners. Property managers collect rent, manage building repairs and maintenance, bring in new tenants and manage existing tenants.
Economic Impact of Real Estate
Most Americans' experience with buying, selling or investing in real estate involves the housing market and home ownership. Almost two-thirds of housing in the U.S. is occupied by the homeowners, according to the Congressional Research Service (CRS).
Home ownership also accounts for a large proportion of household wealth while housing construction is a major source of jobs.
Real estate and the housing market play an important role in the U.S. economy. The housing market accounted for 17.5 percent of the U.S. gross domestic product (GDP) — or $3.68 trillion — in 2020, according to the CRS.
In addition, commercial real estate contributed another $1.14 trillion to the U.S. gross domestic product in 2018 — supporting 9.2 million jobs with a $396.4 billion payroll, according to the Commercial Real Estate Development Association.
Please seek the advice of a qualified professional before making financial decisions.
Last Modified: May 20, 2022
Share This Page:
12 Cited Research Articles
Annuity.org writers adhere to strict sourcing guidelines and use only credible sources of information, including authoritative financial publications, academic organizations, peer-reviewed journals, highly regarded nonprofit organizations, government reports, court records and interviews with qualified experts. You can read more about our commitment to accuracy, fairness and transparency in our editorial guidelines.