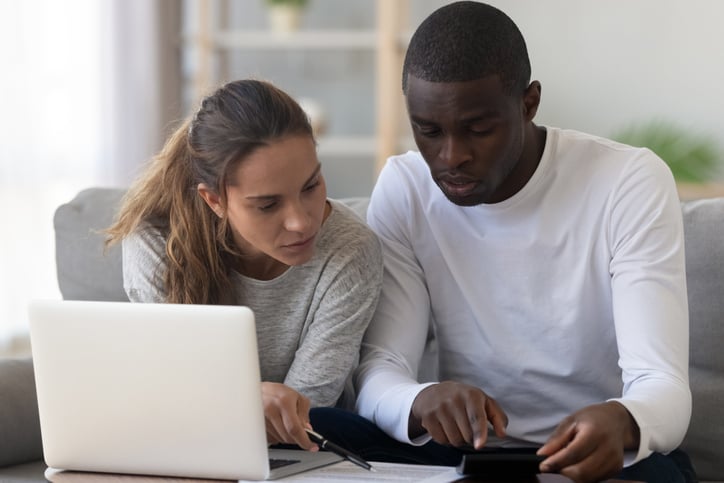 Even though 53 percent of adults are anxious about their finances and 35 percent say they have no retirement savings, about 50 percent Americans still avoid discussing their finances with others. Though difficult, these money conversations are vital throughout different stages of life — from your significant other asking about your saving and spending habits to the difficult conversations with your aging parents about taking over their money management.
Learning what money conversations to have and when to have them can alleviate some of the stress you may feel when talking about finances. Keep reading for more information and to help you prepare.
Money Conversations To Have In a Relationship
Having the "money talk" in a relationship can be a pivotal point — either for better or worse. However, a common misunderstanding is how often to actually discuss finances since the "money talk" shouldn't happen only once.
Understanding your partner's debt, current income and their viewpoints on money will open the door for clear communication and help you avoid potential misunderstandings and arguments in the future. This is particularly important before walking down the aisle, as couples who argue over finances once a week or more are 30 times more likely to get divorced.
Having regular money conversations can help alleviate ambiguity in the financial aspect of your relationship. Look through the various conversations below to see which ones you should have and when.

1. How To Split the Bill(s)
Do I pay for dinner or does she? Do they expect me to pay for the dates because I make more? Being clear and open about who expects whom to pay for different things can eliminate awkwardness and misunderstandings.
When To Talk About It: Early in a relationship. This will help you begin to see how the other person reacts to spending money and how they feel about using it in the relationship.
You should also talk about this before moving in together so you're both clear on your financial responsibilities.
2. Current Income and Expenses
Knowing how your significant other spends their money will give you insight into their attitude about finances. You also may learn other things when talking about their income, such as their work ethic and level of reliance on debt.
When To Talk About It: Before cohabiting or when the relationship gets serious.
3. Debt
Debt can be an especially touchy subject for those who struggle with it. Finding out how much your partner owes should be discussed so you're aware of their financial health and ability to pay for everyday expenses.
Also discussing responsibility towards debt can help eliminate arguments about who's in charge of debt. In a recent survey, 1 in 6 people assume some or all responsibility for a current or ex partner's debt. Talking about this early on can help you stay on the same page.
When To Talk About It: When you reach a point where you feel comfortable making larger purchases together, particularly those that can affect your credit score.
4. What's Mine and What's Yours?
Knowing how to handle shared purchases in case of a breakup can help create a clean split with less drama and hassle. While an unpleasant thought that most people want to avoid discussing, making this clear early on can act as a safety net if the relationship goes south.
When To Talk About It: When you begin getting serious and making purchases together.
5. Merging Finances
Merging finances is a big step in any relationship. It shows that you trust the other individual to use the money you earn wisely, and vice versa. Along with the concept of merging finances, you'll also want to discuss shared goals and ensure your financial expectations are in line with one another.
When To Talk About It: Once you're engaged to be married.
Use the Finance Would You Rather worksheet to get to know your partner's views on money better.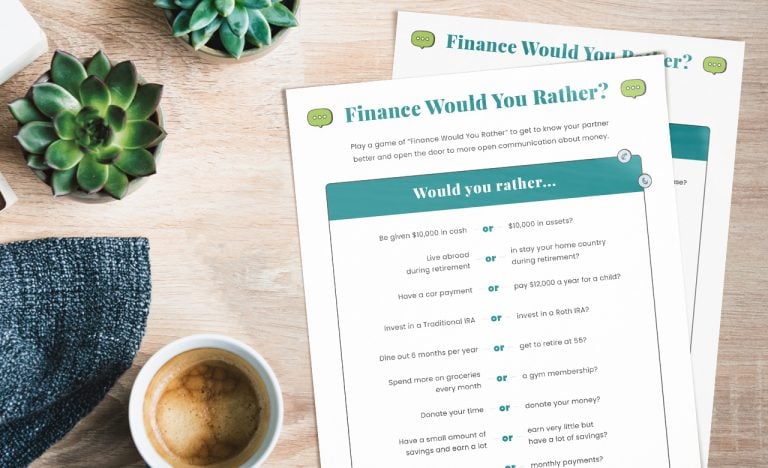 6. Budgeting for Kids
On average, health costs associated with pregnancy, childbirth, and post-partum care can total around $18,865, according to a 2022 study, and this is only representing childbirth. The cost of raising a child until they reach adulthood is significantly greater. Being on the same page with your partner about the cost of having a child can help you make mutual saving and budgeting goals.
It's also important to consider the cost of raising a child and how you'll work together to afford it. The Brookings Institute estimates that a married, middle-income couple spends an average of $18,271 per year to raise a child, spending a total of $310,605 by the time their child turns 18.
When To Talk About It: Before preparing to have kids.
7. Retirement
Talking through retirement can be daunting because there are so many aspects to consider. Here are a few questions you can ask to get to know what your partner's retirement expectations are:
The earlier in life you begin planning for retirement, the better off your retirement years will be.
When To Talk About It: While you can talk about it before marriage, unmarried couples don't have the same retirement benefits that unmarried couples do (such as an equal split of assets in case of a divorce), so it's more beneficial for married partners.
However, unmarried and cohabiting couples also benefit from a clear understanding of how the other person views their life in retirement and how they plan to save for it.
Let's Talk About Your Financial Goals.
Take our free 3-minute quiz to match with a financial advisor instantly. Recommendations tailored to your goals.
Money Conversations To Have With Your Pre-Teen
The pre-teen years can be tough for kids as they begin understanding the world in new ways. However, Chantel Bonneau, a wealth management advisor, told CNBC, "Kids this age are old enough to really understand how money works. They are starting to understand the consumer world. It's a really great opportunity to make money relatable."
By taking the time to teach your pre-teen about money, they'll have a smoother transition into society and will make their money mistakes early on when the stakes aren't as high.
8. How Money Works
When talking with your pre-teen about how money works, specifically outline key concepts such as earning money, using it for things you need and spending it wisely. The older they are, the more you may want to talk about in-depth topics such as inflation and retirement.
When To Talk About It: While you can talk about how money works as early as age six, talking about it with your pre-teen will give them an opportunity to ask you recent questions they've had.
9. Saving, Budgeting and Investing
The earlier your pre-teen learns how to save and make a budget, the stronger this practice will be once they're living on their own. Also talking with them about saving vs. investing can help them get started on a path to financial literacy while they're young.
When To Talk About It: When your pre-teen starts earning money from chores, babysitting or other means.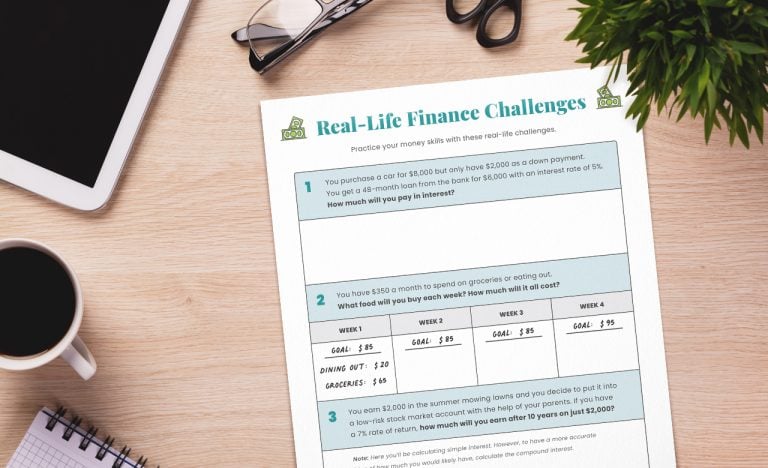 Conversations To Have With Your Teenager
The conversations you have with your pre-teen will slowly start to shift as they enter the teenage years. Now they're at a point where understanding credit, financial goals and future expenses will help prepare them for life once they graduate high school.
10. Setting Financial Goals
Understanding how to create financial goals will give your teenager a head-start when they begin making money. They'll be able to use those goals as motivation to reach other goals in life, such as starting a small business or saving for a vacation.
When To Talk About It: The earlier you talk about financial goals, the better. The sooner your child sets goals, the sooner they can accomplish them and work towards hitting bigger ones.
11. Paying for College
With the average cost of tuition for an in-state student at a public 4-year institution at around $35,551 per year, preparing financially for college has never been more important. While there are some funding options available such as grants and scholarships, many students rely on student loans to get them through if they don't have money saved or financial support from their parents.
Helping your teen understand the cost of college and the kind of support you're willing to give can ensure that you're both aligned on specific responsibilities when it comes to funding higher education goals.
When To Talk About It: This should be a recurring conversation you have when your teen is between 15 and 18.
12. Credit
Teaching your teen about credit before they go off to college or start working full-time will help them understand more about the financial world. Talking with them about the benefits and disadvantages of certain credit cards, how interest works and how debt can impact their credit score can help them make wiser decisions with their money.
When To Talk About It: Before your teen goes off to college.
Money Conversations To Have With an Aging Parent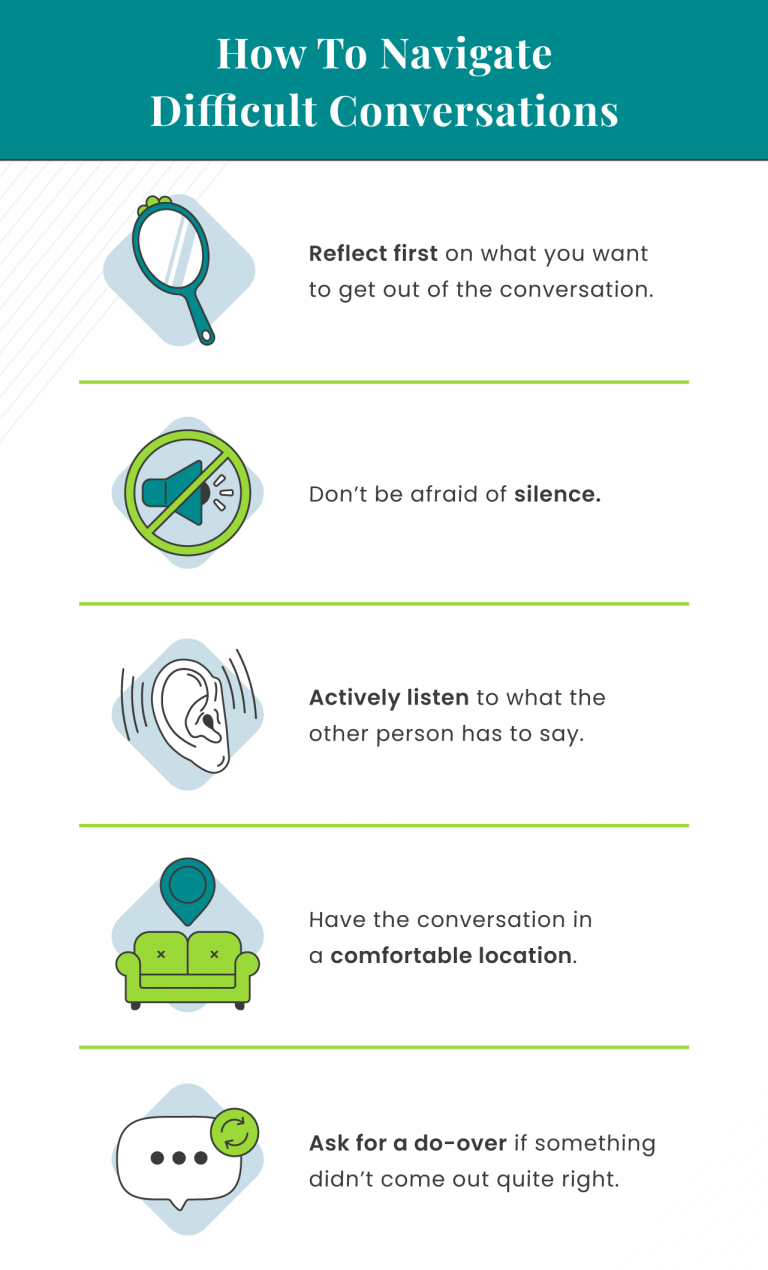 When your parent's health begins to decline, knowing what financial matters to talk about can be tough — for you and them. While it's important to take it slow, you don't want to put these conversations off too long.
13. Health Decline & Money Management
As you age, your ability to retain certain skills begins to decline — this is especially true for older adults who have developed dementia or Alzheimer's disease. However, studies suggest that even older adults who don't suffer from a cognitive impairment have decreased ability to manage their finances.
Be sensitive when talking with your parent about having someone else manage their money. This can be particularly hard as they may feel like they're beginning to lose their independence.
Increasing technology use and the potential for heightened loneliness can also leave your loved one vulnerable to financial scams. Talking with them about fraudulent practices and how to avoid them can help protect their money and confidential information. This can often be avoided by having someone else manage their finances.
When To Talk About It: Before their health begins to decline is the best time to come up with a plan. Once you notice their health worsening, it's a good time to talk about putting that plan into action.
14. Long-Term Care Options and Costs
Different types of care have different price points, so it's important to talk about the type of care your loved one wants and can afford. With assisted living facilities reaching upwards of $55,000 a year and semi-private nursing home rooms close to $98,000 a year, you may also want to talk about the possibility of long-term care insurance.
When To Talk About It: It's best to talk about this early on so you'll have time to purchase a long-term care insurance policy if desired.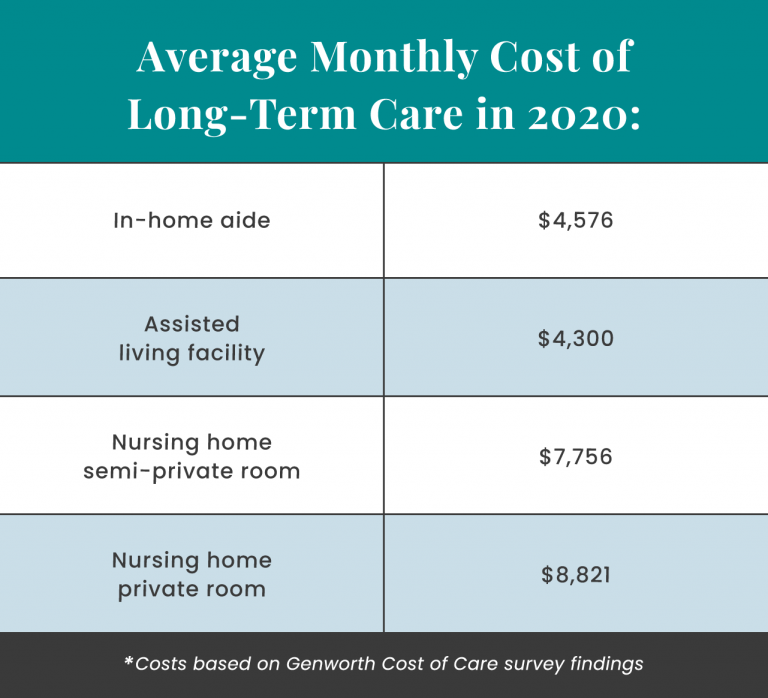 15. The Estate Plan
Creating an estate plan can take a lot of work. It often involves holding an estate sale, creating a will, estimating taxes and more. Talking about this early on can eliminate stress for all those involved in the process.
When To Talk About It: When downsizing during retirement or health begins to decline.
16. Choosing and Paying for a Final Resting Place
Many people have a place they would like to be buried for personal reasons, such as next to a loved one's burial spot. Having this conversation can be emotional and difficult to bring up, but knowing if your loved one has such a place in mind will help you make final preparations easier when the time comes.
If your loved one doesn't have a location chosen, this is a good time to talk through what the options are and how to pay for it.
When To Talk About It: When your loved one is in good health.
Whether you're discussing how to annuitize retirement funds with a partner or you're talking with your teenager about paying for college, money conversations are important at every stage of life. Though difficult, talking about your finances can improve your relationships and reduce stress in many different situations.