VantageScore
The nation's largest credit bureaus created VantageScore as an alternative to the FICO score. The VantageScore model calculates credit scores using its own independent formula that can be applied to credit reports from any of the three major credit bureaus.

What Are VantageScores?
VantageScore is a popular credit score provider. Thousands of lenders use VantageScore each year, including nine of the ten largest banks and 29 of the 100 largest credit unions in the nation.
The three largest credit reporting agencies in the country — Equifax, Experian and TransUnion — founded VantageScore in 2006 as an alternative to the industry-leading FICO scoring model.
Purpose of VantageScores
Like a FICO score, the purpose of a VantageScore is to help lenders predict how risky it might be to lend someone money. Specifically, the VantageScore model aims to predict the likelihood of a person falling at least 90 days behind on a bill within the next two years.
Scoring Models
Over time, VantageScore has updated its credit scoring models with the goal of leveraging data analytics technology to drive financial inclusion and equitable access to credit. The most recent model is VantageScore 4.0, which is used by banks, lenders and credit card companies to evaluate a borrower's creditworthiness.
VantageScore identifies two factors setting its 4.0 scoring model apart. The first is machine learning technology, which uses computers to identify patterns and generate credit scores automatically. The second is trended credit data, which looks at consumer credit behavior over a time period, rather than from a simple snapshot.
What Are the VantageScore Ranges?
The first two versions of VantageScore, 1.0 and 2.0, produced credit scores within a range of 501 to 990. VantageScore models 3.0 and 4.0 — the models most used today — now use the same range as FICO scores, from 300 to 850.
What Is a Good VantageScore?
Despite having the same ranges, the threshold for a "good" VantageScore differs slightly from a "good" FICO score. Bureaus consider a VantageScore between 661 as "good," while the range for a "good" FICO score is between 670-739. An "excellent" VantageScore is anything above 780, while a FICO score must be above 800 to be "excellent".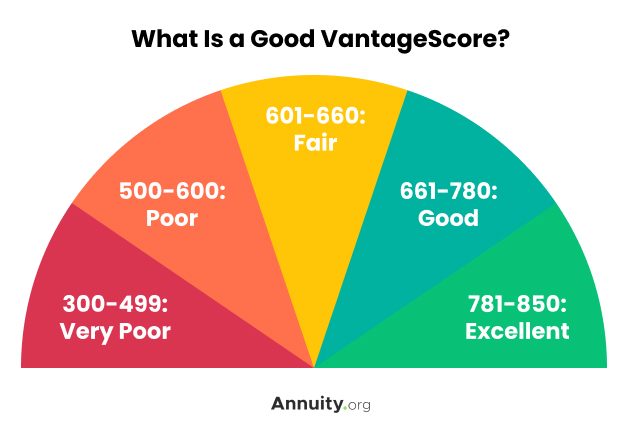 How Are VantageScores Calculated?
Like other types of credit scores, VantageScores are calculated based on information in your credit report. Your credit report contains details of your personal financial history, including how much of your available credit you use and your history of making payments on time.
VantageScore uses six categories of information to calculate credit scores. Each category is ranked in order of how influential it is to the overall score.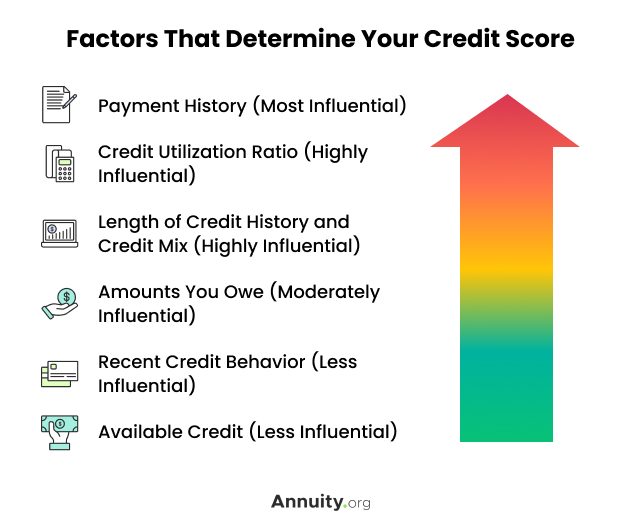 How Do You Find Your VantageScore?
Checking your VantageScore won't affect your credit‌, and there are several ways you can find your score. You can get your score for free from one of VantageScore's many partners, including organizations like Capital One, JP Morgan Chase and LendingTree. You'll find a full list of VantageScore's free credit score partners on the company's website.
VantageScores vs. FICO Scores
VantageScores and FICO scores have many similarities, and both are scores within a 300-850 range that are calculated based on information from your credit report. But there are some key differences between these two credit scoring models.
VantageScores vs. FICO Scores
Tri-Bureau vs. Bureau-Specific Models

Because the three major credit bureaus developed the VantageScore model, the scoring model is applied equally to information from any credit bureau. FICO scores, on the other hand, apply a different scoring model to produce credit reports from each bureau.

Length of Credit History

FICO scores require a consumer to have at least one credit account that has been open for at least six months in order to calculate a score. To produce a VantageScore, a consumer only needs to have an account open for at least one month and one account reported within the past two years.

Collections Accounts

Though having unpaid collections accounts hurts your credit no matter the scoring model, FICO and VantageScore ‌assign different weights to these accounts. The most recent FICO scoring model ignores collection accounts if the original account's unpaid balance was under $100. VantageScore does not exempt accounts with low unpaid balances.

Credit Inquiries

Applying for multiple credit accounts in a short period can negatively affect your credit because lenders consider this a sign of financial instability. Both FICO and VantageScore use a deduplication process to avoid penalizing consumers for situations where one application might be sent to multiple lenders. FICO's deduplication looks at mortgage, auto loan and student loan applications within a 45-day window. VantageScore deduplicates applications within a 14-day range. This applies to all types of credit inquiries, including credit cards.
Please seek the advice of a qualified professional before making financial decisions.
Last Modified: July 18, 2022
Share This Page:
8 Cited Research Articles
Annuity.org writers adhere to strict sourcing guidelines and use only credible sources of information, including authoritative financial publications, academic organizations, peer-reviewed journals, highly regarded nonprofit organizations, government reports, court records and interviews with qualified experts. You can read more about our commitment to accuracy, fairness and transparency in our editorial guidelines.