How To Start an Emergency Fund
To start an emergency fund, you first must understand your monthly budget and make a savings goal. Then you can look for ways to save, and move your money into a separate account dedicated to emergency savings, ideally one with a high interest rate.

What Is an Emergency Fund?
An emergency fund is a dedicated amount of cash set aside for unexpected expenses, such as unplanned repairs, medical emergencies or loss of income. Developing and maintaining an emergency fund is a core component of financial wellness, as it helps safeguard your financial security against future events.
Emergency funds can be used for a variety of unexpected financial circumstances. These might include your car needing costly repairs, or being in an accident resulting in medical bills or suddenly losing your job. An emergency fund can help offset the costs of the unplanned expenses or loss of income.
Why Do You Need an Emergency Fund?
If you're not putting savings into an emergency fund, unplanned expenses can have a drastic impact on your personal finance. Research shows that people who struggle to recover from financial setbacks have a harder time saving money to protect themselves for future emergencies.
With money to cover potential expenses like hospital bills or home repairs, you can avoid going into debt, which could cost you even more with interest. An emergency fund also prevents you from having to dip into other forms of savings, such as a retirement account, to cover costs.
How Much Should You Save?
How much you need in an emergency fund will vary depending on your individual financial situation. Conventional wisdom suggests that households should save three to six months of expenses to build a robust emergency fund.
It's worth noting that while saving half a year's worth of expenses is a good goal to have, saving that much money can take years or be completely unattainable for some households. But that doesn't mean lower-income families shouldn't try to have emergency savings.
A study from the Financial Industry Regulatory Authority found that even savings of $100 to $250 increased the likelihood of financial stability in low-income households. Households who could maintain a savings balance of at least $100 reported feeling more financially satisfied than those who could not.
How to Build an Emergency Fund
Now that we've discussed the importance of an emergency fund, let's review how you can create and maintain your own. Here are six simple steps to building a robust emergency fund.
Six Steps to Build an Emergency Fund
Step One: Make a Budget

The first step is to take stock of your monthly expenses. Keep a diary for one month, and write down everything you spend money on. It might be helpful to group expenses into categories, such as food, rent or mortgage, utilities and personal expenses.

Step Two: Set a Savings Goal

As previously mentioned, the standard goal for an emergency fund is three to six months of expenses. But you should choose a goal that feels attainable, so that you'll be more motivated to save and eventually reach it. Even $1,000 or $2,000 in savings is better than none.

Step Three: Pay Yourself First

"Pay yourself first" is a popular adage in the personal finance community that refers to allocating money to a savings account before you spend on discretionary expenses. If you don't already have a savings account, set one up for the purpose of holding your emergency fund. You should transfer some money over to this account every time you get paid, as soon as you get paid, even if it's only a few dollars.

Step Four: Look for Ways to Save More

Now comes the hard part — finding ways to save even more money each month. Take another look at that money diary you made in the first step. Are you spending money on things that aren't a priority for you? Maybe it's buying lunch at work instead of bringing food from home or paying for a streaming service you never watch. Making small changes to your budget can have a big impact on your savings over time.

Step Five: Maximize Your Savings with a High-Yield Account

Once you have a decent amount of money saved, you may be able to make that money stretch even further by putting it in a high-yield savings account. These accounts sometimes have a higher minimum balance than a traditional savings account, but they offer much better interest rates. This is a great way to continue to grow your savings.

Step Six: Save Unexpected Income

Many people look at unexpected windfalls like a large tax refund or work bonus as an opportunity to splurge on fun purchases. It's fine to use unexpected income to treat yourself, but by putting some or all of that bonus cash into your savings account, you can help yourself out in the future when you really need it.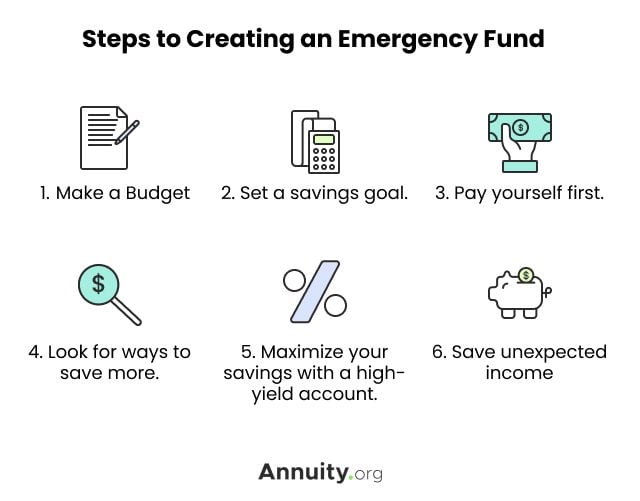 Where Should You Keep It?
Your emergency fund should be kept in an account that's easy for you to access if you need the money fast. That means that bank products like bonds or certificates of deposit are better used for long-term savings goals rather than an emergency fund.
You can put your emergency fund in a traditional savings account that's linked to your checking account, so you can easily move money from your checking account into savings. If your bank offers a high-yield savings account, that's likely the best option. These accounts earn much higher interest rates, so your money will continue to grow even if you can't contribute to it for a time.
When Should You Use It?
Deciding when to spend your emergency savings depends on your definition of an emergency. Typically, experts recommend leaning on the conservative side when it comes to dipping into your emergency fund.
If you can afford to budget for variable but not urgent expenses, such as car repairs or home maintenance, then those circumstances probably aren't worth cashing out your emergency fund savings. You want to save that money for true emergencies, such as losing a job or unexpected medical issues.
Advertisement
Connect With a Financial Advisor Instantly
Our free tool can help you find an advisor who serves your needs. Get matched with a financial advisor who fits your unique criteria. Once you've been matched, consult for free with no obligation.
Please seek the advice of a qualified professional before making financial decisions.
Last Modified: July 21, 2022
Share This Page:
4 Cited Research Articles
Annuity.org writers adhere to strict sourcing guidelines and use only credible sources of information, including authoritative financial publications, academic organizations, peer-reviewed journals, highly regarded nonprofit organizations, government reports, court records and interviews with qualified experts. You can read more about our commitment to accuracy, fairness and transparency in our editorial guidelines.