Generation-Skipping Trust
Fact-Checked
Annuity.org partners with outside experts to ensure we are providing accurate financial content.
These reviewers are industry leaders and professional writers who regularly contribute to reputable publications such as the Wall Street Journal and The New York Times.
Our expert reviewers review our articles and recommend changes to ensure we are upholding our high standards for accuracy and professionalism.
Our expert reviewers hold advanced degrees and certifications and have years of experience with personal finances, retirement planning and investments.
How to Cite Annuity.org's Article
APA Borwick, K. (2021, July 12). Generation-Skipping Trust. Annuity.org. Retrieved January 24, 2022, from https://www.annuity.org/retirement/estate-planning/generation-skipping-trust/
MLA Borwick, Kim. "Generation-Skipping Trust." Annuity.org, 12 Jul 2021, https://www.annuity.org/retirement/estate-planning/generation-skipping-trust/.
Chicago Borwick, Kim. "Generation-Skipping Trust." Annuity.org. Last modified July 12, 2021. https://www.annuity.org/retirement/estate-planning/generation-skipping-trust/.
A generation-skipping trust is a type of trust that designates a grandchild, great-niece or great-nephew or any person who is at least 37 ½ years younger than the settlor as the beneficiary of the trust. The goal of a generation-skipping trust is to eliminate one round of estate tax.
Why You Can Trust Annuity.org
Annuity.org has been providing reliable, accurate financial information to consumers since 2013. We adhere to ethical journalism practices, including presenting honest, unbiased information that follows Associated Press style guidelines and reporting facts from reliable, attributed sources. Our objective is to deliver the most comprehensive explanation of annuities and financial literacy topics using plain, straightforward language.


Our Partnerships, Vision and Goals

We partner with Senior Market Sales (SMS), a market leader with over 30 years of experience in the insurance industry, to offer personalized retirement solutions for consumers across the country. Our relationship with SMS (and Insuractive, the company's consumer-facing branch) allows us to facilitate the sale of annuities and other retirement-oriented financial products to consumers who are looking to purchase a safe, reliable solution to fill gaps in their retirement income. When we produce legitimate inquiries, we get compensated, in turn, making Annuity.org stronger for our audience. Readers are in no way obligated to use our partners' services to access Annuity.org resources for free.

SMS and Annuity.org share a common goal of educating consumers and helping them select the most appropriate product for their unique financial and lifestyle goals. Our network of advisors will never recommend products that are not right for the consumer nor will Annuity.org. Additionally, Annuity.org operates independently of its partners and has complete editorial control over the information we publish.

Our vision is to provide users with the highest quality information possible about their financial options and empower them to make informed decisions based on their unique needs.
Generation-skipping trusts offer tax advantages through the ability to bypass a generation when leaving assets to heirs. For example, a settlor may leave an inheritance to his or her grandchild without ever transferring ownership of the assets to the child's parents. Upon the death of the skipped generation, the assets pass tax-free to the beneficiary.
Generation-skipping trusts are not exclusive to grandparent-grandchild relationships. They can be set up for a variety of relationships, with the exception of spouses and ex-spouses.
What Is a Generation-Skipping Trust?
An irrevocable trust that assigns a beneficiary who is younger than the settlor by at least 37 ½ years is called a generation-skipping trust. A settlor, also referred to as a trustor or grantor, can establish a generation-skipping trust as part of a comprehensive estate plan that aims to minimize tax liability.
Because a generation-skipping trust is a complicated legal entity, it's a good idea to consider this financial instrument as early as possible — ideally when you begin planning your retirement.
Looking for guaranteed income in retirement?
Annuities can provide you with income for life, ensuring you won't run out of money in retirement. Find out if an annuity is right for you.
How a Generation-Skipping Trust Works
According to the United States Code, generation-skipping trust rules include specific parameters regarding who can be appointed the "skip person." These rules state that the skip person, or beneficiary, must be "a natural person assigned to a generation which is 2 or more generations below the generation assignment of the transferor."
Generation-skipping trusts allow the settlor to avoid estate taxes that would be applied if the children, i.e., the next generation, took ownership of the assets.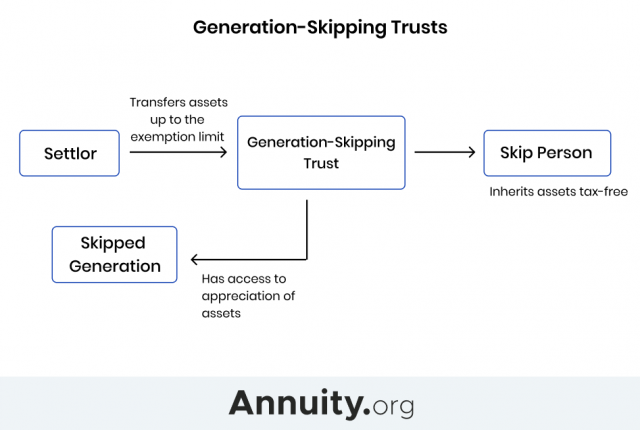 If you're thinking about creating a generation-skipping trust, you need to consider a few points.
First, the federal generation-skipping tax (GST) exemption amount, indexed for inflation, increased to $11.4 million in 2019 and $11.58 million in 2020. This means that you are allowed a lifetime generation-skipping tax exemption up to that amount against property you transfer.
Second, there is no rule that prohibits the next generation from accessing earnings on assets as long as the original assets remain in the trust for the skip person.
Lastly, the beneficiary does not have to be a blood relative. You can designate anyone who is at least 37 ½ years younger than you as the beneficiary of a generation-skipping trust.
Generation-Skipping Trust and Taxes
According to the Tax Policy Center, "Congress enacted the generation-skipping transfer (GST) tax and linked all three taxes [estate, gift and generation-skipping transfer taxes] into a unified estate and gift tax" with the goal of closing the loophole that allowed families to avoid estate taxes.
Pro Tip
The 40 percent GST tax is in addition to the 40 percent gift and estate tax.
As a result, generation-skipping trust distributions above the exemption threshold are subject to the 40 percent GST tax as defined by the federal tax code, as well as to any state inheritance or estate taxes that may apply.
If, however, the value of the assets in the trust falls below the exemption amount, no taxes are owed. This is true for any appreciation of the assets as well because all gains go directly to the beneficiaries. This means that even if the value of the assets in the trust increases beyond the exemption limit, you will not have to pay the generation-skipping transfer tax.
The Tax Cuts and Jobs Act, signed into law in 2017, doubled the estate tax exemption until 2026. The high threshold means that most people will not have to pay the generation-skipping transfer tax, but for beneficiaries who receive assets that exceed the $11.58 million inflation-indexed exemption, the 40 percent top tax rate will be assessed on the taxable amount.
Gift Tax
The 2019 gift tax was $11.4 million per individual. Therefore, you and your spouse would be able to gift $11.4 million each over your lifetime. The Tax Cuts and Jobs Act of 2017 has increased the annual lifetime gift tax exemption through 2025. In 2020, the gift tax increased to $11.58 million per individual. Consult a tax professional to determine the most tax-efficient way to gift your possessions.
Please seek the advice of a qualified professional before making financial decisions.
Last Modified: July 12, 2021
Share This Page:
7 Cited Research Articles
Annuity.org writers adhere to strict sourcing guidelines and use only credible sources of information, including authoritative financial publications, academic organizations, peer-reviewed journals, highly regarded nonprofit organizations, government reports, court records and interviews with qualified experts. You can read more about our commitment to accuracy, fairness and transparency in our editorial guidelines.