Generation-Skipping Trust
A generation-skipping trust is a type of trust that designates a grandchild, great-niece or great-nephew or any person who is at least 37½ years younger than the settlor as the beneficiary of the trust. The goal of a generation-skipping trust is to eliminate one round of estate tax.

Written By

Kim Borwick

Kim Borwick

Financial Editor

Kim Borwick is a writer and editor who studies financial literacy and retirement annuities. She has extensive experience with editing educational content and financial topics for Annuity.org.

Read More

Edited By

Emily Miller

Emily Miller

Managing Editor

Managing editor Emily Miller is an award-winning journalist with more than 10 years of experience as a researcher, writer and editor. Throughout her professional career, Emily has covered education, government, health care, crime and breaking news for media organizations in Florida, Washington, D.C. and Texas. She joined the Annuity.org team in 2016.

Read More

Financially Reviewed By

Michael J. Boyle, M.S.

Michael J. Boyle, M.S.

Former Compliance Professional

Michael J. Boyle began his career in the securities business in 2011 as a registered financial professional. Over his tenure, he's worked with asset classes including equities, fixed income, CDs, mutual funds, futures, options and foreign currency.

Read More

Updated: December 22, 2022
7 min read time
This page features 8 Cited Research Articles
Generation-skipping trusts offer tax advantages through the ability to bypass a generation when leaving assets to heirs. For example, a settlor may leave an inheritance to his or her grandchild without ever transferring ownership of the assets to the child's parents. Upon the death of the skipped generation, the assets pass tax-free to the beneficiary.
Generation-skipping trusts are not exclusive to grandparent-grandchild relationships. They can be set up for a variety of relationships, with the exception of spouses and ex-spouses.
What Is a Generation-Skipping Trust?
An irrevocable trust that assigns a beneficiary who is younger than the settlor by at least 37 ½ years is called a generation-skipping trust. A settlor, also referred to as a trustor or grantor, can establish a generation-skipping trust as part of a comprehensive estate plan that aims to minimize tax liability.
Because a generation-skipping trust is a complicated legal entity, it's a good idea to consider this financial instrument as early as possible — ideally when you begin planning your retirement.
How a Generation-Skipping Trust Works
According to the United States Code, generation-skipping trust rules include specific parameters regarding who can be appointed the "skip person." These rules state that the skip person, or beneficiary, must be "a natural person assigned to a generation which is 2 or more generations below the generation assignment of the transferor."
Generation-skipping trusts allow the settlor to avoid estate taxes that would be applied if the children, i.e., the next generation, took ownership of the assets.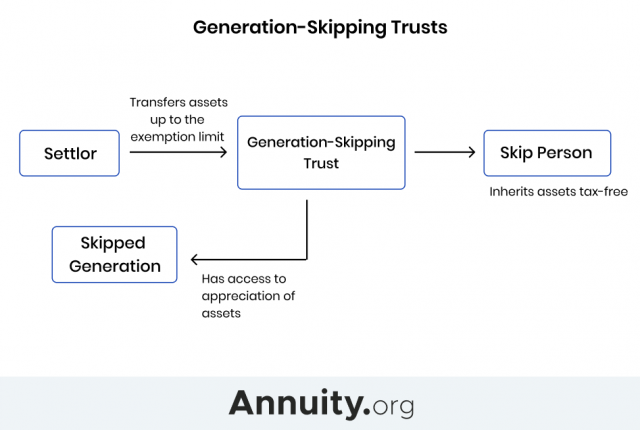 If you're thinking about creating a generation-skipping trust, you need to consider a few points.
First, the federal generation-skipping tax (GST) exemption amount, indexed for inflation, increased to $11.7 million in 2021 and $12.06 million in 2022 for individuals. For couples, the exemption increased to $24.12 million in 2022. This means that you are allowed a lifetime generation-skipping tax exemption up to that amount against the property you transfer.
Second, there is no rule that prohibits the next generation from accessing earnings on assets as long as the original assets remain in the trust for the skip person.
Lastly, the beneficiary does not have to be a blood relative. You can designate anyone who is at least 37 ½ years younger than you as the beneficiary of a generation-skipping trust.
Generation-Skipping Trust and Taxes
According to the Tax Policy Center, "Congress enacted the generation-skipping transfer (GST) tax and linked all three taxes [estate, gift and generation-skipping transfer taxes] into a unified estate and gift tax" with the goal of closing the loophole that allowed families to avoid estate taxes.
Pro Tip
The 40 percent GST tax is in addition to the 40 percent gift and estate tax.
As a result, generation-skipping trust distributions above the exemption threshold are subject to the 40 percent GST tax as defined by the federal tax code, as well as to any state inheritance or estate taxes that may apply.
If, however, the value of the assets in the trust falls below the exemption amount, no taxes are owed. This is true for any appreciation of the assets as well because all gains go directly to the beneficiaries. This means that even if the value of the assets in the trust increases beyond the exemption limit, you will not have to pay the generation-skipping transfer tax.
The Tax Cuts and Jobs Act, signed into law in 2017, doubled the estate tax exemption until 2026. The high threshold means that most people will not have to pay the generation-skipping transfer tax, but for beneficiaries who receive assets that exceed the $11.58 million inflation-indexed exemption, the 40 percent top tax rate will be assessed on the taxable amount.
Looking for guaranteed income in retirement?
Annuities can provide you with income for life, ensuring you won't run out of money in retirement. Find out if an annuity is right for you.
Gift Tax
The 2022 gift tax was $12.06 million per individual. Therefore, you and your spouse would be able to gift $12.06 million each over your lifetime. The Tax Cuts and Jobs Act of 2017 has increased the annual lifetime gift tax exemption through 2025.
Advertisement
Connect With a Financial Advisor Instantly
Our free tool can help you find an advisor who serves your needs. Get matched with a financial advisor who fits your unique criteria. Once you've been matched, consult for free with no obligation.
Please seek the advice of a qualified professional before making financial decisions.
Last Modified: December 22, 2022
Share This Page:
8 Cited Research Articles
Annuity.org writers adhere to strict sourcing guidelines and use only credible sources of information, including authoritative financial publications, academic organizations, peer-reviewed journals, highly regarded nonprofit organizations, government reports, court records and interviews with qualified experts. You can read more about our commitment to accuracy, fairness and transparency in our editorial guidelines.
Your web browser is no longer supported by Microsoft. Update your browser for more security, speed and compatibility.
If you are interested in learning more about buying or selling annuities, call us at 855-995-1277