How to Hold an Estate Sale in 8 Steps
Estate sales happen for many reasons. Whether it's for you or a loved one, knowing how to have an estate sale can make the process smoother while eliminating any potential hiccups. If you're holding a sale in order to downsize, this is also a good opportunity to get rid of unnecessary items and earn extra money that can go towards retirement.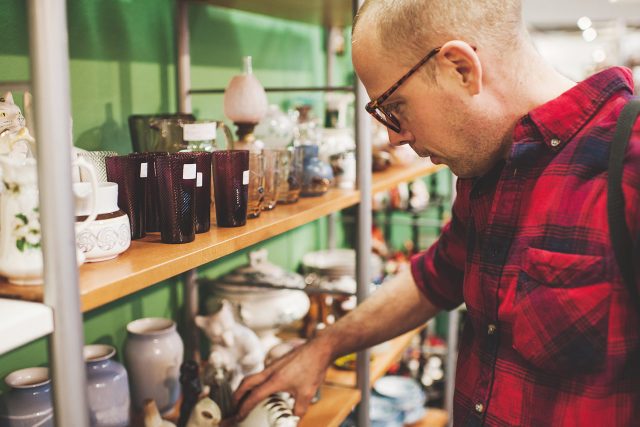 What Is an Estate Sale?
It's first important to understand what an estate entails. An estate is a collection of assets that make up your net worth. This includes furniture, real estate, bank accounts, cars, etc. You may have heard the term "estate planning," which is a way to organize what will happen to each of these assets upon your passing.
An estate sale is a way to liquidate many of these assets by selling them. This can happen when deciding to downsize, after a loved one has passed on, prior to a divorce or if your parents are getting older and moving to a retirement home. They are similar to a yard or garage sale but typically much larger in scale.
How Do Estate Sales Work?
Every estate sale is run differently — usually according to seller preference. They are most often held at the seller's home or the home of the person whose items are being sold. The items for sale will be marked with a price tag and shoppers can browse at their leisure and gather the items they want. When ready to purchase, they'll find the person holding the estate sale and pay for the items.
While some people choose to hold estate sales on their own, many people pay to have a company do it for them. While this can alleviate some of the work, a recent article by True Legacy Homes stated that professional estate sale companies typically charge a commission of 30% to 40% of the sale. While holding one on your own can be laborious, you tend to have more control and can keep a greater portion of the profit, if not all of it.
How to Hold an Estate Sale by Yourself
No matter your reason for holding an estate sale, the key to its success is to stay organized. Preparations can take anywhere from three weeks to two or three months depending on the situation. By inviting others to help out, you can lighten your load and make the process less stressful. It also helps to keep track of when you need to do certain things to prepare and what you can have others do. To stay organized and ensure you don't miss anything in the weeks preceding the sale, review the checklist below.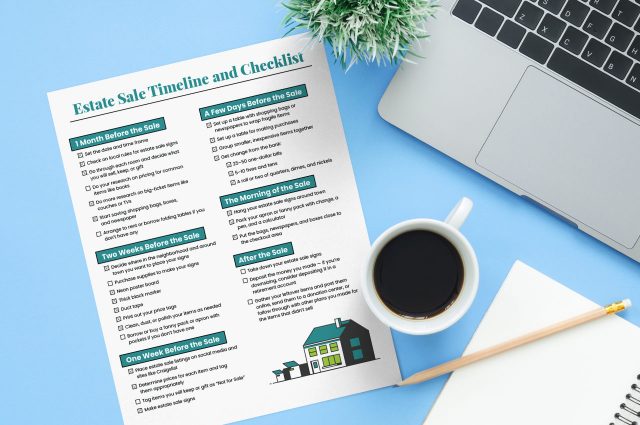 1. Create and Sort Your Inventory
Before determining the date and time of your sale, decide on your inventory. Make a list of items in every room and categorize them appropriately. These categories can be "sell," "keep," "gift" or any other grouping necessary for your situation.
Make a plan for the items you won't be selling. How soon can you get them out of the house? Will you need to mark them as "not for sale" during the sale? Whatever you decide, have a plan in place so you know what will happen to each item. From here you'll have a better idea of how much time you'll need to prepare and when would be a realistic date to hold the sale.
2. Prepare Your Estate Sale Inventory
Not everything you own will be able to sell for a high price, but giving your lesser value items a touch-up could boost their value. Even items you sell for $2 or $3 can make an impact. A group of 50 or so small items only worth a few dollars can still earn you close to $100 or more. Items that are worth $15 or $20 each can bring in a more substantial amount of money, especially if they are prepared beforehand and displayed well.
Dusting items off, adding polish or making reasonable repairs are a few ways to prepare these items to sell. Items such as fine china or personal valuables that are cracked, broken or missing pieces may not be worth fixing. Inspect your items with a critical eye before putting in effort or money for repairs. Only the pieces of inventory that will earn you more money than the cost of fixing them are worth your attention.
3. Price Your Items
One tough question you may ask yourself is how to price items for an estate sale. There are a few things you'll want to keep in mind. The most important one is to do your research.

Pricing too high can prevent items from selling while pricing too low will mean you lose out on the amount you could have received. Look online at Craigslist, Facebook Marketplace or eBay to see what similar items are selling for. For valuables, consider hiring a professional appraiser to get the correct price.
Before the day of the sale, ensure all the items you plan to sell are marked with their designated price. You'll also want to make sure the items that aren't for sale are marked as such. Doing this will eliminate questions on what is and isn't for sale — freeing your time to help buyers in the purchasing process. If you're unsure what to use for marking prices, you can download our printable price tags below.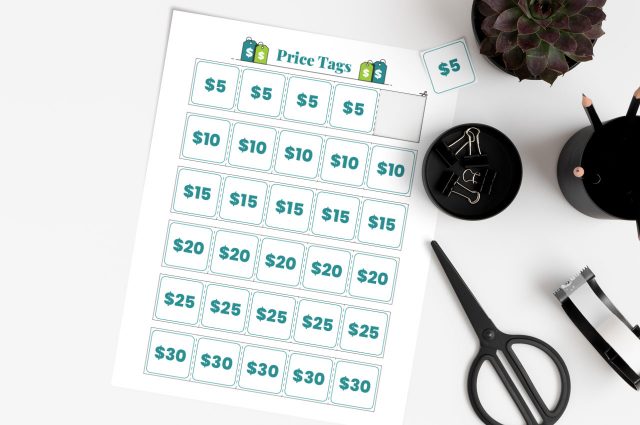 4. Display Your Items for Sale
The way you display the items you're selling can make a difference in whether or not they sell. Items like dressers, chairs, or desks left in the garage may be overlooked. Instead, consider giving them a proper dusting and stage them as you would find in a home so potential buyers can better visualize its value for their own home. Display bedroom furniture in a bedroom, kitchen dishes in the kitchen and any electronics in the living room or other appropriate place such as the den or TV room.
You may also consider grouping similar items together for potential buyers to see all at once. This allows you to group these items at the same price to eliminate the need for excess price tags or having to remember their price if adding the tag was overlooked. This could be DVDs, plates, fabric, or any other items you view to be around the same value.
5. Set Yourself Up for Purchases
Before the day of the sale, be sure you're prepared for potential buyers to make purchases. Consider the layout of your items. Will potential buyers be more crowded in certain areas than others? If so, create a better layout where people can comfortably walk around and browse without feeling cramped.
You will also want to make sure a cash table is set up or ensure people will know where they can make purchases. If there will be multiple people helping with the sale that can assist with transactions, have them all wear the same color shirt or vest so they are easy to identify. Be sure to go to the bank before the sale to have change ready as well.
Another thing to prepare for is how you will handle checks, credit cards, Venmo or CashApp payments. Many people rely on these forms of payment, so it's important to have a plan. If you don't have a Venmo or CashApp account, consider setting one up or asking someone you trust if you can use their account. You may also want to consider purchasing a mobile credit card reader if it makes sense to do so.

6. Take Security Measures
In any type of yard, garage or estate sale, it can be easy for potential buyers to walk off with items they haven't paid for. While you never want to expect this from others, it doesn't hurt to take added security precautions. You can do this by rounding up a few people to help around the entrances and exits. You can also have people walking around, but be cautious of making shoppers feel uncomfortable.
You will also want to make sure the doors remain locked and closed before the sale begins. This will keep people out of the house and protect your items from being stolen or damaged.
7. Check Local Restrictions
Some cities or homeowners associations will require you to have a permit or have filled out an application before hosting your sale. They may also have specific restrictions or guidelines on what you can and can't do, so be sure to check your city website and HOA site if you do live in one. Before hosting your estate sale, you will also want to be aware of social distancing measures that should be taken — either in light of certain regulations or as a precaution.
Some cities or HOAs will restrict you from putting up signs or handing out fliers. If they don't, be sure to post signs of where to park. If there are restrictions on where potential buyers can park, be sure you follow these guidelines and make a plan accordingly.
8. Advertise
Without advertising, you're likely to have few people show up the day of your sale. Advertising is a way to let people know when and where your sale will take place and what types of items will be available.
Here are a few cost-effective ways to advertise for your sale:
List your estate sale on Craigslist or social media sites.
Take photos of more valuable items and put them online with your posting to attract more potential buyers.
Put up signs around the neighborhood with directions on how to get there.
Word of mouth (talk to the neighbors).
Pass out fliers.
Have a Plan for Items That Don't Sell
While the goal is to sell everything you put a price tag on, there is a good chance that won't happen. After your estate sale, categorize the items left over to organize where they will go. There can be a category for local donations to Goodwill or other second-hand stores, donations to a local charity, or even one for items that can be put out in the recycle bin.
Before categorizing anything as "toss," "recycle" or "donate," consider what else can be done with it. Items like clothing could be used at a local charity rather than just putting them in the recycle bin. Likewise, be aware of what types of items can be recycled and what can't. According to the Waste Management website, household items like clothes or furniture shouldn't be recycled, but glass and plastic containers can once cleaned and dried.
Also consider what you will do with electronics. While donating them to charities can be beneficial, more outdated and not as useful electronics can be recycled. The Environmental Protection Agency has outlined on their website a variety of companies that take old electronics and recycle them, like Best Buy and HP.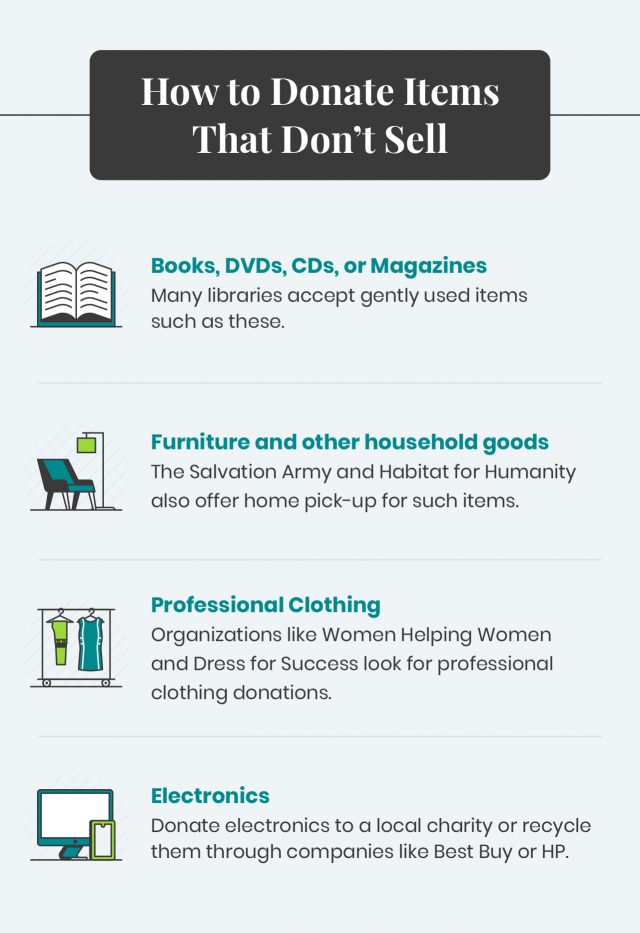 How to Handle an Estate Sale In Different Situations
Estate sales are sometimes more than simply selling things for money. They can often signify the departure of a loved one or the progression from one phase of life to another. It can be difficult knowing how to handle it all while dealing with personal grief or having to let go of so many lifetime possessions. Below are some tips for how to handle these different situations.
It's for a Loved One Who's Passed On
After losing a loved one there often isn't a lot of time to grieve when you need to take care of specific end-of-life duties. To make this easier, consider having family members and friends help to make the process faster and provide the moral support needed.
If you do bring in family members to help, be aware that they may also be grieving. Going through a loved one's personal belongings can bring back painful memories and can cause disputes. Research done by EstateExec found that over 44% of their survey respondents experienced or were aware of a family conflict during the settlement of an estate. Be understanding of others' grief. You can also try to make the process as peaceful as possible by taking breaks when arguments begin and focusing on positive memories with the loved one.
Go through your loved one's items and sort out what you or other family members will keep and what instructions have been left in a will. No matter how little value certain belongings may have, it can be difficult to throw them away. If this is the case, ask a friend to go through the home and throw away personal items such as toothbrushes, slippers or medications. This will give you a better idea of what can be sold in an estate sale.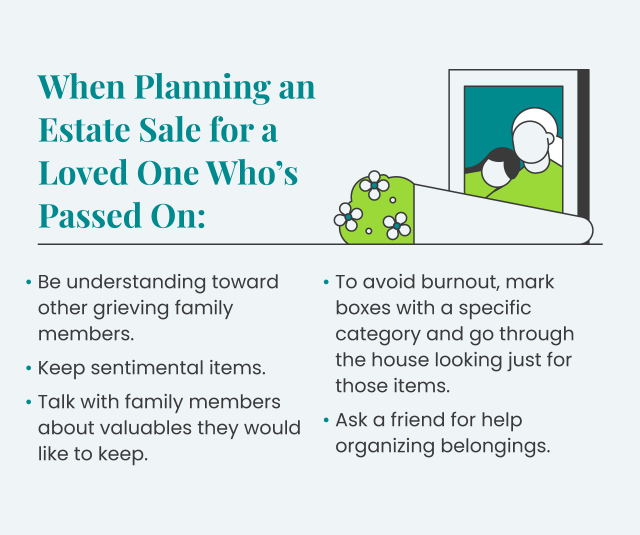 You're an Empty Nester Downsizing
If it's time to downsize, you may be tempted to hold onto too many belongings. Eliminating items from a lifetime is sometimes just as difficult as losing a loved one, as it signifies an end to a certain phase of your life. If you do struggle with this, consider asking a friend to help you sort through your things to determine what you need and what you'll have space for in the next phase of your life. It can also help to make a list of reasons you've decided to downsize and refer back to that often.
Another thing to consider as you prepare to downsize and hold an estate sale is what you will do with your earnings. If you're behind on your retirement planning, holding an estate sale can be a fairly quick way to earn money to put towards retirement. Be aware of the different ways you can put this money towards retirement, such as investing in an IRA or putting the money towards purchasing an annuity.
While it can be hard work, knowing how to have an estate sale can help you earn a decent amount of money and move forward with your life, whether heading into retirement or working your way through the grieving process. Being organized will make the process simpler and will help you avoid many unnecessary hiccups.

Please seek the advice of a qualified professional before making financial decisions.
Last Modified: May 20, 2022
Share This Page:
4 Cited Research Articles
Annuity.org writers adhere to strict sourcing guidelines and use only credible sources of information, including authoritative financial publications, academic organizations, peer-reviewed journals, highly regarded nonprofit organizations, government reports, court records and interviews with qualified experts. You can read more about our commitment to accuracy, fairness and transparency in our editorial guidelines.