What Should You Do with the Proceeds From Selling Your House?
With up to $500,000 available tax-free, the proceeds from a home sale can not only go in a savings account or toward the down payment of your next home, but also they can help you establish a more secure financial future, including paying down debt, increasing your stock portfolio and planning for your retirement.

Written By

Emily Miller

Emily Miller

Managing Editor

Managing editor Emily Miller is an award-winning journalist with more than 10 years of experience as a researcher, writer and editor. Throughout her professional career, Emily has covered education, government, health care, crime and breaking news for media organizations in Florida, Washington, D.C. and Texas. She joined the Annuity.org team in 2016.

Read More

Financially Reviewed By

Chip Stapleton

Chip Stapleton

Expert Contributor

Chip Stapleton is a financial advisor who has spent the past several years of his career working primarily in financial planning and wealth management. He is a FINRA Series 7 and Series 66 license holder and CFA Level II candidate.

Read More

Updated: December 22, 2022
11 min read time
This page features 12 Cited Research Articles
People will often use the money they make from selling their house to make a down payment on a new house. But several scenarios may arise where you may not be looking to purchase a new house, you would rather save the proceeds and take out a low-interest loan, or you don't want to spend all of it up front. This includes downsizing or moving into temporary housing, resulting in an influx of cash.
Should you put that money into savings, leave it in your checking account, use it to pay down debts or invest it? The answer largely depends on where you are in life, how much access you want to the money and how long you plan not to need it.
"Optimal investment strategies depend critically upon both individual risk tolerances and financial flexibility," said David Harrison, the Howard Phillips Eminent Scholar in Real Estate at the University of Central Florida. "While the market is highly likely to return more than 3% — the average mortgage interest rate — per year over the next 30 years, it does expose investors to increased risk."
How Much Can You Expect to Pay in Taxes When You Sell Your House?
A common question most homeowners have when selling a home is: How much of the proceeds should I plan to lose to taxes? Thanks to favorable tax laws, the answer is a lot less than you may think.
According to 2022 data from the Internal Revenue Service, you are tax-exempt for up to $250,000 if you file your taxes separately (i.e., you're not married or don't file with your spouse) or up to $500,000 if you file jointly. This is known as a capital gain exclusion for homeowners. For example, if you purchased your home for $200,000 and sold it for $300,000, you would not have to pay taxes on the $100,000 profit.
To qualify, you must have owned your house for two years and have used it as your main residence for at least two of the five years prior to your date of sale. If you owned and lived in the home for less than a year, you will likely owe taxes known as short-term capital gains.
Capital Gains Exclusions
If you qualify, you will not need to pay taxes on up to:
$250,000
(single homeowner)
$500,000
(married homeowners)
Take the IRS's eligibility test to see if you qualify.
Regardless of how much you profit, you'll want to determine how and where you want to use your money.
Join Thousands of Other Personal Finance Enthusiasts
Because missing out on important news and updates could cost you.
Where Is the Best Place to Put Your Money After Selling a House?
Do you want to use the proceeds to lower your monthly mortgage payment? To pay down or off debt? To invest it for your retirement? Deciding how best to use the profits from the sale of your house ultimately depends on your goals — and how far you are away from retirement.
Put It in a Savings Account
The benefit of parking your money in a savings account is that it's a low-risk option that provides you with access to the cash without fees or penalties. The drawback is having that cash sitting in a savings account for too long risks losing overall value by not keeping pace with inflation. Ultimately, you have access to your cash, but you aren't accumulating purchase power over time.
"Traditional savings accounts offer safety and security, essentially guaranteeing the proceeds will be available when desired or necessary by the investor," Harrison said. "However, in exchange, such investments offer very low expected returns."
Pay Down Debt
Another option is to use the proceeds to pay off debts, such as credit cards and student loans. According to an article from CNBC, the average American has $155,622 of debt in 2022, including mortgage, home equity, credit card, and auto, student and personal loans. It may make sense to pay down your debt for greater peace of mind and to help you reach your financial goals. But you should compare the interest rate you're paying versus how much you could be earning. Depending on your interest rate — if, for example, you have the potential to earn a greater rate of return than what you're paying in interest rates — it may make more sense to invest your money.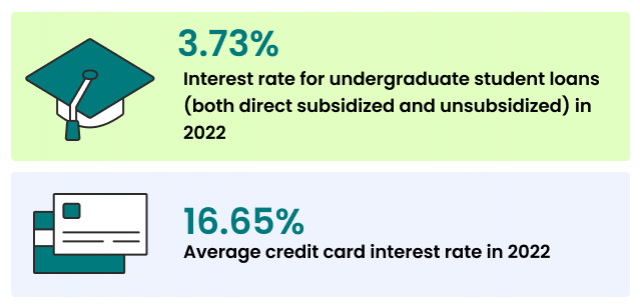 "Using the proceeds to pay down debts often makes sense, as the costs associated with many types of consumer credit exceed the expected risk-adjusted returns on financial investments," Harrison says. "Paying off debt also increases financial flexibility and allows borrowers to potentially increase the amount of future mortgage financing they may be able to qualify for."
Increase Your Investment Portfolio
Putting money in an investment portfolio has benefits now and in the future, by offering a higher potential return on investment. The S&P 500, for example, has provided an average annual return of 10% for the last century. Compare this to the FDIC's reported .24% annual returns for the average savings account in November 2022. The drawback is you risk bigger losses, such as if the stock market plummets or crashes. If you choose this route, a financial advisor or stockbroker can recommend the best options for you.
Invest in Real Estate
If you're looking to invest in another property that won't be your primary home, purchasing a house as a rental property is another way to generate income. The benefits of this are twofold: You can make a monthly income from renters, and sell it in a few years for a profit, as long as the housing trend continues.
As Ebony J. Howard, CPA, explains, "One could build wealth by investing in multiple properties. They could start out by investing in one property and over time use the built-up equity from that property to invest in several other properties or multi-family units. Once the individual has a portfolio of properties and can effectively manage them, their wealth will reach peaks."
The drawbacks are if the housing market shifts, the amount you earn from both could dip below what you spent for the house and spend on the cost of maintenance.
Supplement Your Retirement with Annuities
As the cost of retirement continues to increase, more people are worried about what the future may hold. Annuities are a great option for those who don't want to worry about outliving their savings during retirement. They're also great for people wanting to take a bigger risk than parking money in a savings account but not assume as much risk as purchasing stocks.
The benefits of annuities are guaranteed income for life, tax-deferred growth and no contribution limits. The drawbacks are commissions and fees, policy complexity and conservative returns compared to other investment products, such as stocks.
Acquire Permanent Life Insurance
Permanent life insurance can be a valuable way to supplement your retirement planning. Combining a death benefit with a savings option that can be used for you and your dependents, permanent life insurance provides tax-free growth, savings you can draw from when your returns are low, and estate planning benefits. It is, however, more expensive and complex than term life insurance.
Purchase Long-Term Care Insurance
The U.S. Department of Health and Human Services predicts that 70% of retirees will require some type of long-term care, and that on average, women will need it longer than men. That has partly to do with the average life expectancy increasing but also the increase of care trends. In 2022, the average annual cost of a private room in a nursing home is $111,657, and the cost of a home caretaker is $63,629, according to a survey by Genworth.
As a result, long-term care insurance is one option people are considering as part of their retirement planning. That's because long-term care insurance covers a range of services that Medicare and regular health insurance won't, including assistance with everyday activities such as bathing, dressing, eating, going to the bathroom, and getting in and out of bed. The benefits to purchasing it are to avoid depleting your retirement savings and to have more choices when it comes to the type of care you receive and where you will receive it. And while long-term care insurance can provide peace of mind, the drawback is that it's still a relatively new service, so there's currently no certainty in pricing. It's challenging to know how much coverage you may need, and you may not qualify, depending on the results of a physical. Additionally, half of purchasers won't ever need their policy, according to the American Association for Long-Term Care Insurance.
Advertisement
Connect With a Financial Advisor Instantly
Our free tool can help you find an advisor who serves your needs. Get matched with a financial advisor who fits your unique criteria. Once you've been matched, consult for free with no obligation.
Please seek the advice of a qualified professional before making financial decisions.
Last Modified: December 22, 2022
Share This Page:
12 Cited Research Articles
Annuity.org writers adhere to strict sourcing guidelines and use only credible sources of information, including authoritative financial publications, academic organizations, peer-reviewed journals, highly regarded nonprofit organizations, government reports, court records and interviews with qualified experts. You can read more about our commitment to accuracy, fairness and transparency in our editorial guidelines.
Your web browser is no longer supported by Microsoft. Update your browser for more security, speed and compatibility.
If you are interested in learning more about buying or selling annuities, call us at 855-995-1277