Fact-Checked
Annuity.org content is meticulously reviewed to ensure it meets our high standards for readability, accuracy, fairness and transparency.
Annuity.org articles are spellchecked, grammatically correct and typo-free. Annuity.org editors may revise content for clarity, logic, flow and meaning. Annuity.org only uses credible sources of information.
This includes reputable industry sources, select financial publications, credible nonprofits, official government reports, court records and interviews with qualified experts.
How to Cite Annuity.org's Article
APA Zimmermann, S. (2021, August 6). Reliance Standard. Annuity.org. Retrieved January 16, 2022, from https://www.annuity.org/annuities/providers/reliance-standard/
MLA Zimmermann, Sheena. "Reliance Standard." Annuity.org, 6 Aug 2021, https://www.annuity.org/annuities/providers/reliance-standard/.
Chicago Zimmermann, Sheena. "Reliance Standard." Annuity.org. Last modified August 6, 2021. https://www.annuity.org/annuities/providers/reliance-standard/.
Reliance Standard is an insurance company that provides traditional fixed and fixed index annuities with guaranteed returns. The company also specializes in financial protection, absence management and health benefits to employer groups.
Why You Can Trust Annuity.org
Annuity.org has been providing reliable, accurate financial information to consumers since 2013. We adhere to ethical journalism practices, including presenting honest, unbiased information that follows Associated Press style guidelines and reporting facts from reliable, attributed sources. Our objective is to deliver the most comprehensive explanation of annuities and financial literacy topics using plain, straightforward language.


Our Partnerships, Vision and Goals

We partner with Senior Market Sales (SMS), a market leader with over 30 years of experience in the insurance industry, to offer personalized retirement solutions for consumers across the country. Our relationship with SMS (and Insuractive, the company's consumer-facing branch) allows us to facilitate the sale of annuities and other retirement-oriented financial products to consumers who are looking to purchase a safe, reliable solution to fill gaps in their retirement income. When we produce legitimate inquiries, we get compensated, in turn, making Annuity.org stronger for our audience. Readers are in no way obligated to use our partners' services to access Annuity.org resources for free.

SMS and Annuity.org share a common goal of educating consumers and helping them select the most appropriate product for their unique financial and lifestyle goals. Our network of advisors will never recommend products that are not right for the consumer nor will Annuity.org. Additionally, Annuity.org operates independently of its partners and has complete editorial control over the information we publish.

Our vision is to provide users with the highest quality information possible about their financial options and empower them to make informed decisions based on their unique needs.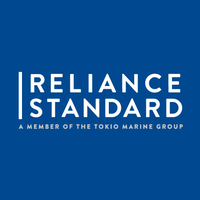 Reliance Standard issues annuities and insurance products in the District of Columbia, Puerto Rico, the U.S. Virgin Islands, Guam and 49 out of 50 U.S. states. In the state of New York, products and services are provided by the First Reliance Standard Life Insurance Company.
According to Reliance Standard, they "earn clients' trust by maintaining a strong balance sheet, a sound, diversified investment strategy and the partnership of a nationwide network of institutions and advisors skilled in helping individuals achieve their retirement savings goals."
About Reliance Standard
Reliance Standard Life Insurance Company, referred to as Reliance Standard, was founded in 1907.
It is a member of the Tokio Marine Group which has Tokio Marine Holdings Inc., as its holding company. These groups are listed on the Tokyo Stock Exchange and incorporated in Japan.
In 2021, Reliance Standard received the Novarica Impact Award for its business and policy administration platform. This new technology was recognized for its contributions to retirement services, as it supported expansion and improved service for 40,000 new applications in its first two years.
"We have traditionally written our success story through a commitment to delivering superior customer service," said Kyle Ryan, vice president of Retirement Services Operations at Reliance Standard. "Through collaboration with our vendor partner, FAST Technology, and our IT & Operations leadership, we have been able to deliver on our goals and build a strong foundation for continued growth."
Credit Ratings
Exhibiting financial strength is one way annuity companies can build consumers' trust. Credit agencies evaluate the providers and assign credit ratings as a means of scoring the companies' ability to cover their financial obligations.
Reliance Standard Credit Ratings
Credit Rating
AM Best:
A++
Superior
S&P Global Ratings:
A+
Strong
Moody's:
A2
Stable
Annuity Products Offered by Reliance Standard
Reliance Standard offers annuity products with guaranteed return rates to help annuity owners preserve capital and retirement income. Keep in mind that annuity product availability may vary by state.
Fixed Annuities
Traditional fixed annuities provide guaranteed growth with tax-deferred earnings. This annuity type appeals to those who wish to protect their retirement savings.
Reliance Standard's products include:
Apollo-MVA:

Single Premium Deferred Annuity with Market Value Adjustment Provisions

Apollo-SP:

Single Premium Deferred Annuity

Eleos-MVA:

Single Premium Deferred Annuity with Market Value Adjustment Provisions

Eleos-SP:

Single Premium Deferred Annuity
Fixed Index Annuities
Fixed index annuities earn interest linked to a certain market index, like the Standard & Poor's 500 (S&P 500). These products also offer premium protection, so the money you use to buy the annuity is protected if the market experiences a downturn.
Reliance Standard issues the Keystone Index annuity, which allows you to choose from one of the Index Interest Strategies or Fixed Interest Strategy. According to Reliance Standard, "the annuity also provides a guarantee that your premium, less withdrawals, will earn interest at a guaranteed minimum rate over the length of the contract."
Interested in Buying an Annuity?
Learn about the different types of annuities and find out which one is right for you.
Client Resources
Clients can use Reliance Standard's secure online self-service platform to check insurance coverage approvals, claims status and annuity value.
Annuity owners can access important Reliance Standard forms online, including:
Financial Change Form
Non-Financial Charge Form
Request for Scheduled Annuity Payments
Lost Policy Affidavit
Annuity Death Claim Forms
For consumers who prefer one-on-one customer service, the company also has a Customer Care Center and regional service offices.
Reliance Standard funds the Delphi Project Foundation, which the Pennsylvania Department of Community and Economic Development recognizes as an Educational Improvement Organization. The Foundation's programs bring arts education and career training programs to underserved youth in Philadelphia during and after school hours.
Please seek the advice of a qualified professional before making financial decisions.
Last Modified: August 6, 2021
Share This Page:
7 Cited Research Articles
Annuity.org writers adhere to strict sourcing guidelines and use only credible sources of information, including authoritative financial publications, academic organizations, peer-reviewed journals, highly regarded nonprofit organizations, government reports, court records and interviews with qualified experts. You can read more about our commitment to accuracy, fairness and transparency in our editorial guidelines.