What Types of Tax Debt Are There?
Most working Americans have a tax liability, which refers to the amount of taxes you owe to the government. If the amount you've paid in taxes is less than the total amount you owe, that means you have tax debt.
You can have debt related to federal income taxes or state taxes. Of the two, state tax debt is considered a more serious risk for the average taxpayer because it tends to last longer than federal tax debt. The IRS has a 10-year statute of limitations on collecting liability, but each state sets its own statute of limitations for tax collections – for some states, it can be up to 20 years.
According to LendEDU, the average tax debt was $16,849 in 2019. This tax debt can be caused by a few factors.
Common Causes of Tax Debt

Owing More Than Expected

When taxpayers file their return, they may find that they owe more in taxes than they budgeted for. This can be a result of many factors, including changes in tax law. For example, Americans who received Advance Child Tax Credit payments in 2021 may find that they must pay back a portion of the credits due to differences in how the eligibility for the credit is calculated.

Back Tax Penalties

As tax debt accumulates over time, it becomes more and more difficult to pay off due to back tax penalties and accrued interest from the IRS. If you can't pay the entire tax debt, you should try to pay as much as you can to reduce the penalty and interest amounts.

Unfiled Taxes

When taxpayers are not able to pay their tax bills, they may avoid filing their tax return altogether. But avoiding the IRS and postponing resolution of your tax debt only makes the problem worse because of the back tax penalties.
Can You Get a Mortgage with a Tax Lien?
"It is possible to buy a house if you owe taxes," says Ebony J. Howard, a certified public accountant. "However, if the tax debt transitions into a tax lien, this may hinder your chances of being approved by a lender for a loan."
A tax lien is a legal claim to your property the government can place when you fail to pay your tax debt. If you do not pay your taxes in time after the IRS has assessed your tax liability and sent you a notice and demand for payment, the lien is placed on your property.
Having a tax lien on your home can complicate the selling process. If there is a federal tax lien on your home, you must satisfy the lien before you can sell or refinance your home, according to the IRS. If you have equity on your home, you can satisfy the lien with funds from the sales proceeds at the time of closing. Or, if the selling price of your house is less than the value of the lien, you can request a discharge of the lien from the IRS so you can complete the sale.
When it comes to buying a house, tax liens can make mortgage lenders hesitate to approve your home loan. "Mortgage lenders regard tax debt as a serious matter that takes precedence over other types of debts," Howard says. Paying back money to the IRS is generally a higher priority for the borrower than paying their mortgage debt to the lender.
"Lenders want full confidence that you will repay the loan," says Howard, "[so] most will not even consider a mortgage application if the applicant owes the IRS." If you owe tax debt but want to be considered for a mortgage, you must either pay the debt in full or be able to prove that you have an agreement with the IRS and are in the process of paying back the debt.
How Do Lenders Know You Owe Taxes?
Most lenders will request that you provide one to two years of tax returns when you apply for a home loan. Howard says lenders also check credit information, which can show if the borrower owes federal tax debt. Tax liens do not show up on credit reports, but lenders will usually perform a public record search to verify that the borrower does not have a tax lien placed on them.
Let's Talk About Your Financial Goals.
Take our free 3-minute quiz to match with a financial advisor instantly. Recommendations tailored to your goals.
Can You Get an FHA Loan if You Owe Taxes?
If you're having trouble getting a conventional home loan due to tax debt, you might apply for an FHA loan. FHA loans are mortgages distributed by private lenders but are regulated and insured by the Federal Housing Administration. These loans are designed for low- to moderate-income prospective homeowners and are typically easier to qualify for than conventional loans. FHA loans allow for lower down payments and approve applicants with lower credit scores than conventional loans.
| | FHA Loans | Conventional Loans |
| --- | --- | --- |
| Minimum Down Payment | 3.5% to 10% depending on credit score | Typically between 5% and 20% |
| Minimum FICO Credit Score | As low as 500 or 580 | Typically no lower than 620 |
| Debt-to-Income Ratio | 50% | Between 36% and 45%, no more than 43% for most lenders |
| Loan Limit | From $420,680 to $970,680 for a one-unit property, depending on location | From $647,200 to $970,800 for a one-unit property, depending on location |
| Mortgage Insurance | Borrower pays a premium of 1.75% of the loan amount upfront and makes monthly payments of 0.45% to 1.05% of the loan | Borrower pays private mortgage insurance (PMI) if the down payment is less than 20%, but insurance can be canceled when the loan-to-value ratio reaches 80%. |
Source: US News & World Report
If you owe debt to the IRS, getting an FHA loan may be more difficult, but it's not impossible. You'll have to go through a manual underwriting process in which a human underwriter looks at your application instead of an automated underwriting computer program. This way, you may be able to get approved if you can show your lender that you have a repayment agreement with the IRS and have made the payments for this plan on time for at least three months.
What Is Debt-to-Income Ratio?
The debt-to-income (DTI) ratio gives lenders an overall view of your personal finances and helps them anticipate how much you can afford to pay each month. Mortgage lenders consider this one of the most important factors in approving home loans.
Most lenders require an applicant's DTI ratio to be at or below 43% to qualify for a conventional mortgage.
Here is an example of what a DTI ratio may look like.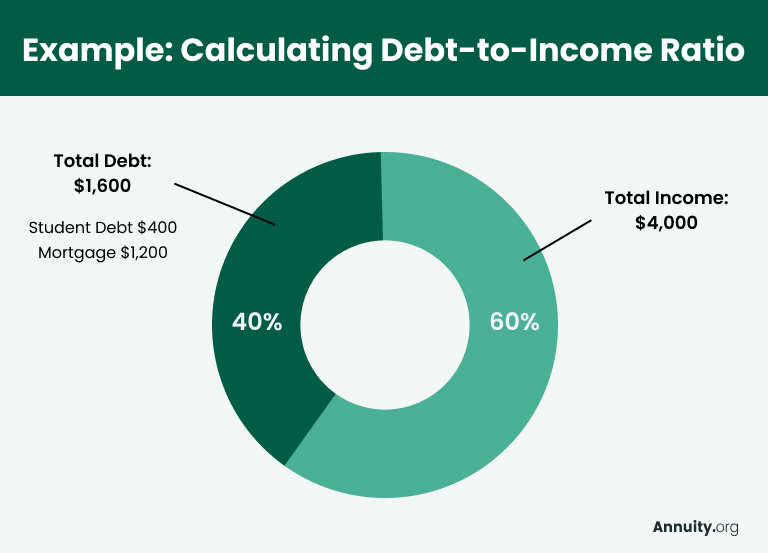 If you make payments of $400 a month towards student loans and you are applying for a mortgage that would have a $1,200 monthly payment, your total monthly debt would be $1,600 a month. With a gross monthly income of $4,000, your debt-to-income ratio would be 40%.
You can also calculate your DTI ratio manually by adding up all your monthly debt payments and dividing the sum by your monthly gross income. Monthly debt payments may include car loans, student loans, tax debt and the prospective monthly payment of the home loan.