Key Takeaways
Structured settlement payment streams offer a wide range of flexible payout terms. However, they are rigid once the contract is set.
In total, a structured settlement contract often yields more than a lump-sum payout would because of the interest earned over time.
A structured settlement payout differs from cashing out an existing payment stream.
Some personal injury claims never make it to trial. Instead, plaintiffs and defendants negotiate compensation as a lump sum or a structured settlement, in which the plaintiff receives monthly payments for a specified period of time. Before you agree to a structured settlement, discuss your payout options and the full terms of the contract with an attorney or financial advisor.
Lump-Sum Settlement Considerations
If you are given the option to take your compensation as either a lump sum or a structured settlement, consider the key differences and how each form of payment will impact your financial goals.
Advantages of a Lump-Sum Payout
A lump-sum payout comes with the advantage of liquidity and the ability to choose how you want to invest the money. Regardless of whether you choose a lump sum or a structured settlement, your payout will be tax-free, but any earnings on your investments will be taxed.
The Flexibility of Structured Settlements
Structured settlements don't offer the benefit of having your entire settlement amount available to you, and you won't have the opportunity to invest the money at your own discretion, but a qualified structured settlement broker can structure the qualified funding asset — in most cases, an annuity — to meet your present and future needs, as well as the needs of your family.
You may also want to consider your money-management skills and your long-term goals. If you're concerned about mismanaging a lump sum or would prefer the security of regular, long-term payments, you can opt for a structured settlement and set the terms to offer these benefits and the flexibility to achieve your financial goals.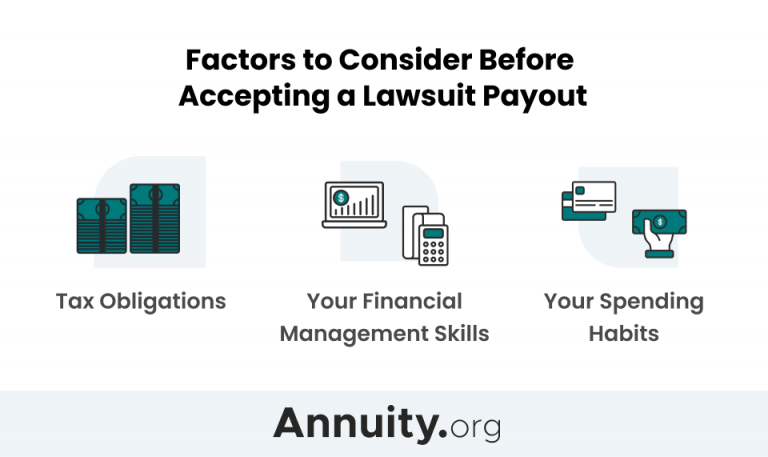 Start and End Dates
Your payments can begin immediately, or you may delay your payments to allow for a longer accumulation period. The longer the accumulation period, the greater the value of your settlement will be when you begin taking distributions.
PRO TIP
The duration of your payments depends on the terms of your contract, including whether it is a life-only or period-certain annuity.
A life-only annuity will continue to pay out for the rest of your life, whereas a period-certain annuity will pay you only for the length of time specified in the contract.
In addition to the contract start and end dates, you can negotiate:
Payment frequency
Distribution amounts
Death benefits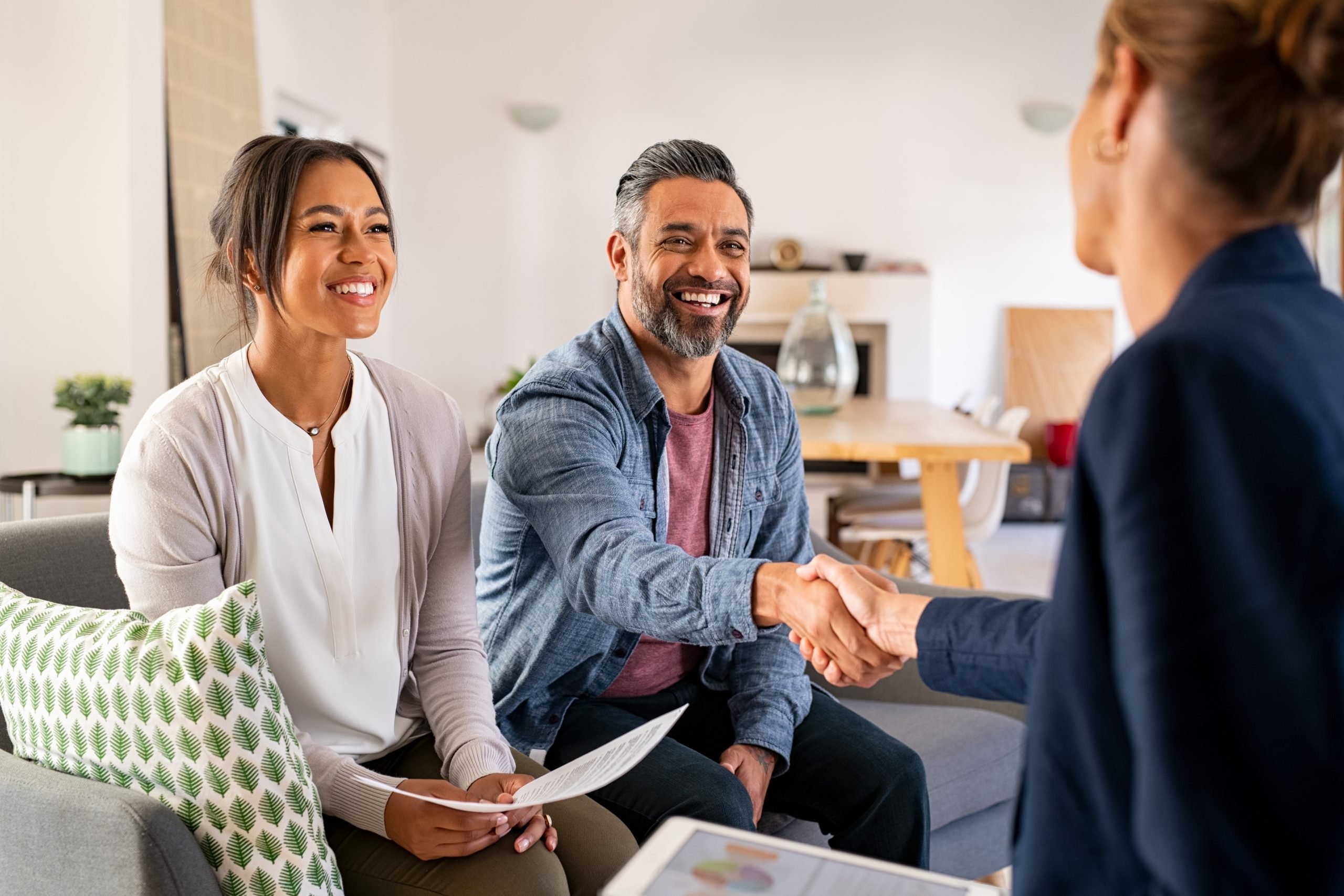 Interested in Selling Structured Settlement Payments?
Turn your future payments into cash you can use right now.
Payment Frequency and Amount
Terms to know

Payment Schedule

A structured settlement recipient can receive payments at any reasonable regular interval, such as monthly, quarterly, annually or even some combination of schedules.

Increasing Payments

One of the greatest strengths of a structured settlement is its ability to earn interest, which can allow the payments to be adjusted upward over time to keep up with inflation. In addition, payments can be set to rise according to a schedule. This may be necessary if the costs of the recipient's health care are expected to increase over time.

Decreasing Payments

If health care costs are expected to decrease over time, the payments can be structured to start high and then decrease. There are certain other cases in which decreasing payments can make sense. For example, if a minor receives a structured settlement in a wrongful death lawsuit, the payments may be structured to decrease when the child reaches the age of majority.

Initial Lump Sum

In many structured settlements, the periodic payments are supplemented by a larger lump-sum payment that comes immediately after the settlement is finalized. This is often necessary to cover attorney's fees and any medical bills that have accumulated during negotiations.

Final Lump Sum

A structured settlement can include a large lump-sum payment upon termination of the contract. A child recipient may receive regular payments while they are a minor and then one large lump sum to pay for their college tuition when they graduate from high school.

Periodic Lump Sums

Extra payments that occur in the form of periodic lump sums may be included in the terms of a structured settlement contract. For example, a structured settlement holder on a monthly payment schedule may receive an additional payment every five years to pay for the cost of replacing and upgrading medical devices.
Why are you selling your annuity or structured settlement payment(s)?
Select all that apply
Who owns the annuity or structured settlement?
FAQs About Settlement Payouts
Although you may have an understanding of how structured settlements work from a practical standpoint, you may not be clear about whether a structured settlement is right for you.
It's true that once you agree to the terms of a structured settlement, you won't be able to change them, but if you decide later that they don't suit your needs, you can sell your structured settlement payments to a reputable purchasing company.
Other common questions revolve around concerns about taxes and how long it takes to start receiving payments.
How is money distributed when resolving a claim with a structured settlement?
Depending on the terms of your contract, your payments may be distributed on a monthly, yearly or quarterly schedule. Payouts may be in fixed amounts or may increase or decrease, according to your needs.
How much will I pay in taxes on my settlement money?
Section 104(a)(2) of the federal Internal Revenue Code excludes damages paid for physical injuries or wrongful death. Punitive damages, however, are not excluded. Therefore, the IRS collects taxes on structured settlement money that was negotiated as part of punitive damages or distress that was not caused by a physical illness or injury. Always consult an attorney or tax professional before making financial decisions with potential tax consequences.
How do I sell my structured settlement?
The process for selling your structured settlement involves researching structured settlement purchasing companies, shopping around for the best quote and obtaining court approval. As with any financial transaction, develop a sound plan and consult a trusted advisor if you have questions about any stage of the selling process.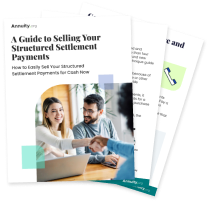 Get Your Free Guide to Selling Your Structured Settlement
A step-by-step guide that outlines everything you need to know to easily sell your structured settlement payments. Delivered straight to your inbox for free.