What Are Wrongful Death Claims?
Wrongful death claims occur when a person is killed due to another party's negligence or intentional harm. Wrongful death suits seek to help the victim's surviving loved ones with compensation to cover funeral expenses, medical expenses, damages from lost finances, pain and suffering. Repayment from a wrongful death lawsuit is commonly disbursed as a structured settlement.
Structured settlements are often distributed as repayment for personal and financial loss from personal injury lawsuits, including wrongful death and medical malpractice claims. A structured settlement is a secure financial tool that distributes a steady income stream to alleviate financial debt and provide financial stability to plaintiffs and their families.
Pro Tip
More than 190,000 people die each year as a result of wrongful death circumstances.
Wrongful death suits include a number of fatal circumstances such as:
Fatal car accidents
Elder abuse
Workplace injuries leading to death
Accidental or intentional poisoning
Deaths from slips and falls
Medical malpractice
Product liability cases
Who Can File for Wrongful Death?
To be eligible to file a wrongful death claim, a person must have suffered damages as a result of the victim's death. Those who file for wrongful death are also referred to as "real parties in interest." Typically the claimant would be the person in charge of the victim's assets and estate, but allowable circumstances vary from one state to the next.
"Real parties in interest" can include:

Immediate Family Members

Immediate family members include spouses and children of the deceased, including adopted children. Parents of unmarried children are also eligible to benefit from a wrongful death claim.

Financial Dependents

Some states allow direct financial dependents or domestic partners to file wrongful death claims. They would then have a right to receive benefits from a wrongful death settlement.

Parents of a Deceased Fetus

The death of a fetus can sometimes qualify as a wrongful death suit, allowing for parents to receive compensation for pain and suffering and financial losses. In other cases, parents are only able to file a wrongful death claim if the fetus was born alive and then died. Check with your state to see if your claim qualifies.

Distant Family Members

Some states allow siblings and grandparents to file a wrongful death claim, especially if they were considered guardians to the victim.
Filing a Wrongful Death Claim
Prior to filing a wrongful death suit, the real parties in interest must follow the necessary steps to prove the claim is valid and to ensure they receive full repayment for their losses. Skipping steps can ultimately affect the success of the case.
Claimants filing a wrongful death lawsuit must:

Prove Negligence

The claimant must prove their loved one died as a result of negligence, recklessness or intentional harm. They must prove the death was not caused by the victim's actions. For example, a car accident caused by texting while driving would be a case of negligence.

Breach of Duty

The claimant must prove the defendant in the wrongful death case owed a duty of safety or responsibility to the victim. If the wrongful death case involved a car accident leading to the plaintiff's death, for example, the plaintiff must prove the defendant breached the duty of safety through negligent actions, reckless driving or disobeying traffic laws and, therefore, caused the accident.

Causation

Other than proving breach of duty, it must be shown the defendant's negligence actually caused the plaintiff's death. For example, if the defendant was involved in reckless driving, it must be shown that running a red light caused the defendant to hit the plaintiff's car, inflicting fatal bodily injuries.

Prove Suffering and Damages

The victim's death must cause emotional damage and financial strain, which may include medical expenses, loss of income, funeral costs and pain and suffering to the victim and their family.
Outside of proving these four elements, experts recommend hiring a lawyer to guide you in your case. While there are some lawsuits you can handle alone, wrongful death claims can become complex. Take the time to find the right legal representation to support you through this journey and to ensure you receive the most positive outcome from such an unfortunate circumstance.
It is also important to know your state's statute of limitations. Wrongful death claims typically need to be filed within two years from the date of death, but states vary. Pursuing a case after the statute of limitations has passed could prevent you from taking any legal action and could cause you to forfeit any right to compensation.
Read More: How Does a Structured Settlement Work?
Wrongful Death Settlements
Many wrongful death cases settle before reaching a trial. Defendants may choose to negotiate terms outside of court to avoid negative publicity and media coverage, or the claimants may want to avoid unnecessary emotional strain from an ongoing trial.
Settlement options

Mediation

Both parties discuss the case with a professional mediator to determine fair compensation. The mediator listens to both sides and provides recommendations on how they should settle their case.

Arbitration

A judge or authority listens to both parties in a series of meetings to determine the best course of action. The arbiter then makes a ruling in favor of either the plaintiff or the defendant. If the arbitration is binding, the verdict is final. There are also cases of non-binding arbitration, where the verdict can be appealed if neither party agrees to the ruling. In this case, both parties can choose to go to trial if they do not agree with the arbiter's recommendations.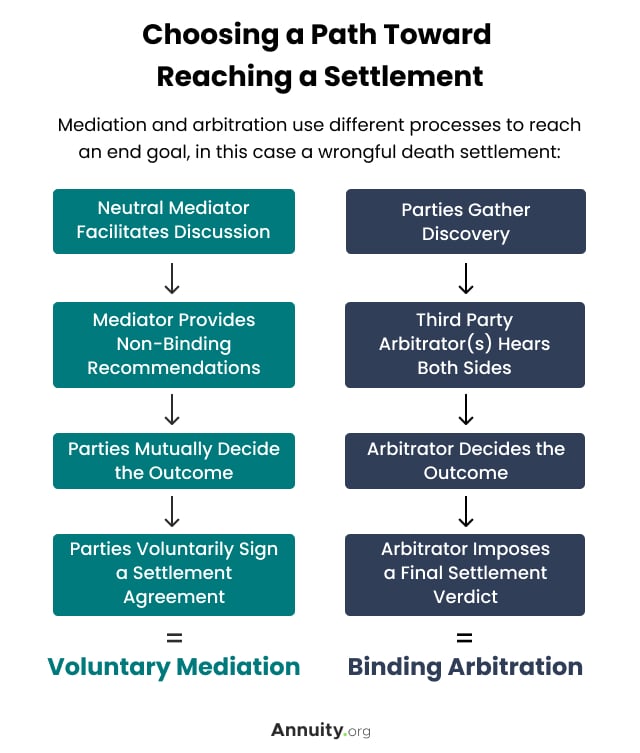 Payout Options
When settling outside of court, it is common for the plaintiff to receive a lump-sum payment. With a lump sum, the victim's family receives a full payout for emotional and financial losses. A full payout allows families to pay larger medical bills and legal fees up front, in addition to eliminating financial debt. This option guarantees full freedom and flexibility with the payment received.
Pro Tip
Structured settlement payments can replace lost income streams, providing more reliable financial support over time than lump-sum payments.
Alternatively, some settlements instead result in a structured settlement agreement. Receiving structured settlement payments may help to pay for ongoing medical fees, mortgage payments and larger financial debt. A structured settlement guarantees a consistent income stream of monthly or yearly payments.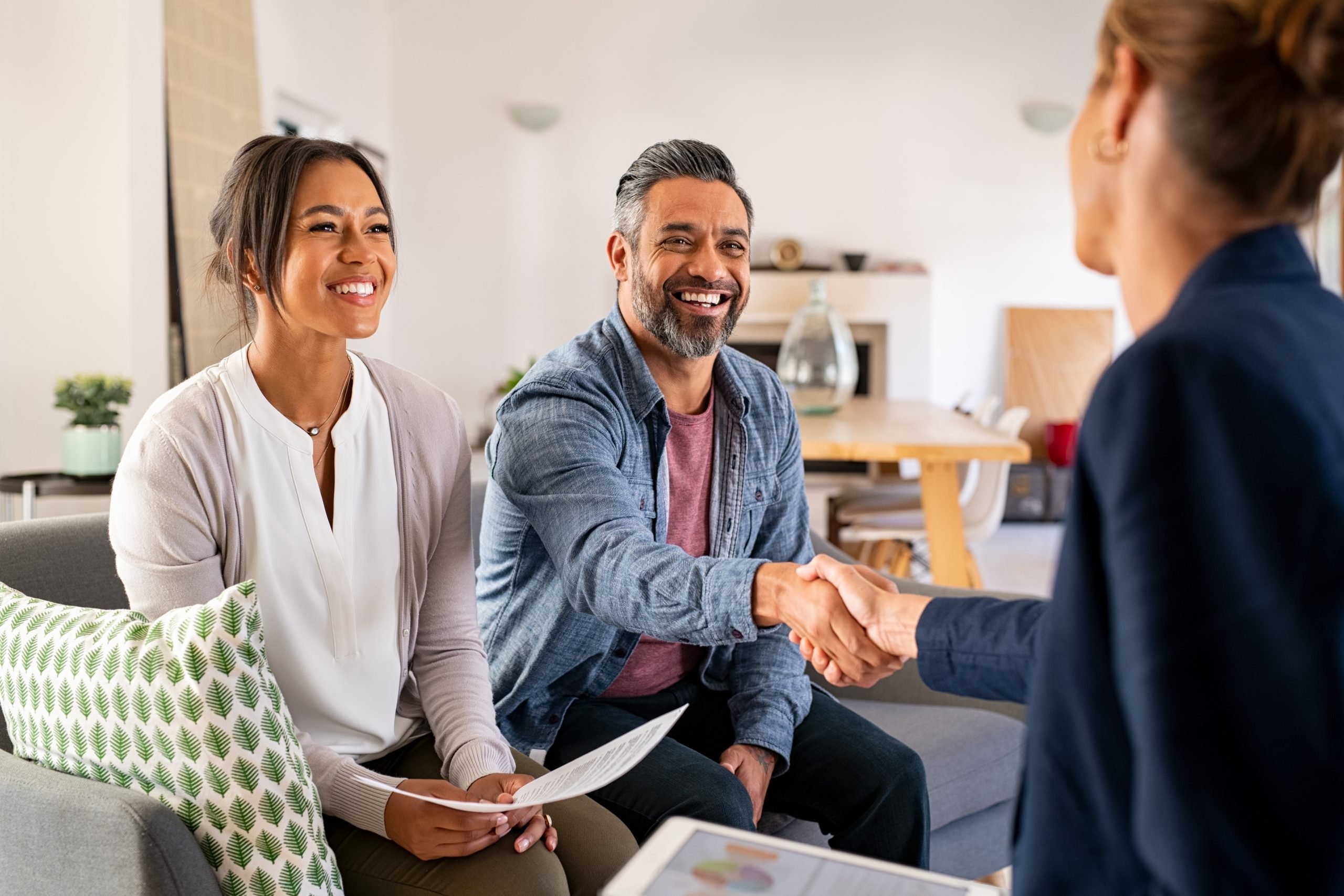 Interested in Selling Structured Settlement Payments?
Turn your future payments into cash you can use right now.
Although a structured settlement disburses ongoing payments, it lacks the flexibility of a lump-sum payout. Once you agree to the terms of the structured settlement contract, it can be difficult, if possible at all, to change it. If financial needs ever change, you will be unable to alter the payment schedule, the amount disbursed, the frequency of payments or any other details.