Social Security COLA
Social Security COLAs are cost-of-living adjustments, or increases in benefit amounts, that the Social Security Administration makes to help recipients keep up with inflation. Some research has shown, however, that benefits continue to lose their buying power.

Written By

Elaine Silvestrini

Elaine Silvestrini

Financial Writer

Elaine Silvestrini is an advocate for financial literacy who worked for more than 25 years in journalism before joining Annuity.org as a financial writer.

Read More

Edited By

Kim Borwick

Kim Borwick

Financial Editor

Kim Borwick is a writer and editor who studies financial literacy and retirement annuities. She has extensive experience with editing educational content and financial topics for Annuity.org.

Read More

Financially Reviewed By

Rubina K. Hossain, CFP®

Rubina K. Hossain, CFP®

Certified Financial Planner™ Professional

Certified Financial Planner Rubina K. Hossain is chair of the CFP Board's Council of Examinations and past president of the Financial Planning Association. She specializes in preparing and presenting sound holistic financial plans to ensure her clients achieve their goals.

Read More

Updated: December 22, 2022
10 min read time
This page features 15 Cited Research Articles
The COLA that began in 2022 came in at 5.9%, and the average Social Security monthly benefit for retired workers in mid-2022 was $1,670.95. The COLA, which applied to about 70 million beneficiaries, is drawn from the Bureau of Labor Statistic's consumer price index for urban wage earners and clerical workers, referred to as the CPI-W.
While the CPI-W has led to COLAs most years, in some years, the index has calculated inflation as nonexistent, meaning there were no increase. Most recently, there were no benefit increases in 2010, 2011 or 2016.
COLAs are controversial for several reasons. Advocates for seniors say they are inadequate to keep up with the increasing costs of real expenses faced by retirees. At the other end, some want to reduce COLAs to cut Social Security expenses, arguing that beneficiaries can adjust by purchasing less expensive items.
COLA History
COLAs are automatic in the law and have been, in some form, since 1975.
But when Social Security was first enacted in 1940, there was no provision in the law for adjustments based on inflation.
In fact, the first Social Security payee, retired legal secretary Ida May Fuller of Ludlow, Vermont, received $22.54 a month for ten years.
At the time it was created, Social Security's benefit was expected to remain constant. But in 1950, Congress added amendments, including an increase of 77 percent in Social Security benefits, to the law.
Ida May Fuller's monthly benefit jumped to $41.40 in October 1950. That hike was followed by another raise in September 1952 after another action by Congress.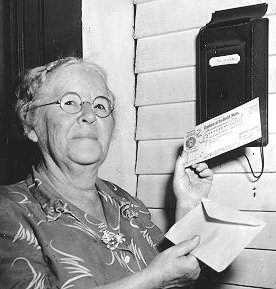 Then, in 1972, Congress passed new legislation that instituted automatic benefit increases, based on the increase in consumer prices, beginning in 1975. Coincidentally, Ida May Fuller died in 1975 at the age of 100.
However, the 1972 law provided for automatic increases only if the consumer price index rose by at least 3 percent. Then inflation rates began to slow, raising the possibility that there would be no COLA.
So, in 1986, Congress eliminated the 3 percent trigger, allowing for automatic COLAs tied to the consumer price index, no matter how low.
How Is COLA Calculated?
The government calculates the Social Security COLA by comparing the average CPI-W for the third quarter of the year in which the most recent COLA became effective to the average CPI-W for the third quarter of the current year.
The percentage increase is the COLA, or the increase in Social Security benefits beginning in December. The 2021 cost-of-living adjustment, which began paying in January 2022, was 5.9%
According to the Social Security Administration, since 1982, "COLAs have been effective with benefits payable for December (received by beneficiaries in January)."
COLA Calculation Controversy: CPI-W vs Chained CPI vs CPI-E
When Social Security implemented automatic COLAs in 1975, the CPI-W was the only national consumer price index produced by the Bureau of Labor Statistics. Today, the CPI-W represents expenditures made by just 29 percent of the U.S. population.
The use of the CPI-W to calculate COLAs has been the subject of controversy for years. There are critics on both sides of the issue — some saying the CPI-W overestimates the effects of inflation on seniors and others saying it underestimates the costs.
Those who think the CPI-W overestimates real-life increases in the cost of living want to rein in spending by using an index called the chained CPI. This index considers adjustments consumers make when prices rise. They might switch brands or stop using certain products. If the price of steak went up significantly, for example, consumers might buy more chicken instead.
Other critics argue that the CPI-W applies to the general population and doesn't consider the expenses shouldered more by seniors, such as medical costs and shelter, two expenses that rise at a faster rate. They urge the adoption of an index like the CPI-E, which is an experimental index designed to consider seniors' costs.
For example, the CPI-W gives food and beverages a weight of 16.4 percent, compared with 12.4 percent for the CPI-E. For housing, those weights are 39.2 percent versus 46.6 percent, and for medical care, the CPI-W weight is 5.4 percent and the CPI-E weight is 11.3 percent.
Impact of Changing the COLA Index
A January 2019 report by the U. S. Government Accountability Office found that changing to one of these alternative indexes would have a relatively small impact on benefits in a given year but could become significant over time.
A change would have the most profound impact on low-income retirees who are on Social Security for an extended period. The report said that using a chained CPI over 30 years would result in a decrease in benefits of about 6 percent for a low-income household. Switching to the CPI-E would increase income for that household by about 4 percent. That's because low-income households rely more heavily on Social Security, which makes up about 81 percent of their retirement income.
In contrast, for high-income households, the chained CPI would decrease total retirement income by about 1 percent, and using the CPI-E would increase it by about 1 percent over that same 30 years. High-income households rely on Social Security for only about 15 percent of their overall retirement income, according to the report. These households are more likely to have other sources of income, such as pensions, investments and retirement annuities.
The Social Security Administration has estimated that changing to the chained CPI would push about 456,000 people into poverty by 2050 and changing to the CPI-E would lift about 238,000 people out of poverty by 2050.
Join Thousands of Other Personal Finance Enthusiasts
Because missing out on important news and updates could cost you.
Social Security COLAs vs. Inflation
Whether or not a change is implemented, researchers and advocates for seniors say the way COLAs are calculated is inadequate, causing Social Security to lose its buying power despite the increases.
The Senior Citizens League, a nonpartisan seniors' group, says program benefits have lost 40 percent of buying power since 2000. Between 2000 and 2022, COLAs increased benefits by 64%, according to the league. But the costs of goods and services purchased by typical retirees rose by 130% in that same time.
The COLA that began paying in 2022 was the biggest increase since 1982, but 25% of respondents to a survey by The Senior Citizens League said, when factoring in Medicare expenses, the 2022 COLA increased their benefit by less than $25 a month.
Inflation and Senior Purchases
The league says the costs that are growing the most quickly are for home heating oil, which cost 348% more in 2022 than in 2000.
Other quickly increasing costs cited by the league:
Prescription drugs: 285% increase
Medicare Part B premiums: 274% increase
Gasoline: 231% increase
Propane: 195% increase
Veterinarian services: 185% increase
Homeowner's insurance: 163% increase
Bacon: 162% increase
Ground Chuck: 156% increase
Group Says Seniors Lose Because of CPI Manipulation
In 2015, the league issued a white paper arguing that the government had raided the Social Security trust fund and offset some of the effects by having the Bureau of Labor Statistics manipulate its calculation of the CPI.
The authors argued that the bureau's changes in CPI do not improve its accuracy. Rather, the white paper states, "No longer a measurement of the money necessary to purchase the same 'market basket' of goods and services, CPI is now based on an ever-changing 'market basket,' which assumes that when prices increase, Social Security recipients faced with price inflation will change their purchasing patterns."
According to the authors, had the government not changed how it calculated the CPI, the COLA for 2014 would have been 5.2 percent, rather than 1.7 percent, but it had been manipulated to the extent that adjustments were only enough to allow recipients to meet "a lower standard of living."
Switching to a chained CPI would reduce the adjustments even further, they said.
Medicare's Effect on COLAs
Health care financing analyst Kristanna H. Peris reported in 2018 that Medicare and Social Security adjustments are measured by different indexes, which results in a faster rate of increase for Medicare premiums than for COLAs.
Congress added the hold-harmless provision to protect some beneficiaries' monthly benefits from decreases linked to rising Medicare premiums. But the provision doesn't cover everyone and, depending on the number of people held harmless in a given year, those who are not held harmless could, according to Peris, "bear the burden of meeting any resulting increase in premiums disproportionately."
Medicare premiums and out-of-pocket costs are expected to continue to use up a growing portion of retirees' benefits.
Advertisement
Connect With a Financial Advisor Instantly
Our free tool can help you find an advisor who serves your needs. Get matched with a financial advisor who fits your unique criteria. Once you've been matched, consult for free with no obligation.
Please seek the advice of a qualified professional before making financial decisions.
Last Modified: December 22, 2022
Share This Page:
15 Cited Research Articles
Annuity.org writers adhere to strict sourcing guidelines and use only credible sources of information, including authoritative financial publications, academic organizations, peer-reviewed journals, highly regarded nonprofit organizations, government reports, court records and interviews with qualified experts. You can read more about our commitment to accuracy, fairness and transparency in our editorial guidelines.
Your web browser is no longer supported by Microsoft. Update your browser for more security, speed and compatibility.
If you are interested in learning more about buying or selling annuities, call us at 855-995-1277