Fact-Checked
Annuity.org partners with outside experts to ensure we are providing accurate financial content.
These reviewers are industry leaders and professional writers who regularly contribute to reputable publications such as the Wall Street Journal and The New York Times.
Our expert reviewers review our articles and recommend changes to ensure we are upholding our high standards for accuracy and professionalism.
Our expert reviewers hold advanced degrees and certifications and have years of experience with personal finances, retirement planning and investments.
Most retiring Americans are facing an uncertain financial future because pensions are increasingly becoming relics of a bygone time. With a need to supplement their Social Security with a reliable revenue stream, some retirees are turning to annuities, which provide the security of a steady income in retirement.
A source of guaranteed income in retirement, annuities are an option for Americans who need the security as they age. That's largely because pensions are becoming a thing of the past, leaving a large number of retirees without reliable income aside from Social Security.
Researchers and analysts have documented the growing need for reliable retirement income.
Pro Tip:
Pension plans and other defined benefits plans base payments on a formula that includes salary, years of service and the age of the employee.
According to the Bureau of Labor Statistics, only 17 percent of private-industry workers had access to any kind of employer-provided pension, known as a defined benefit plan, as of March 2018.
That was slightly down from 2011, when 18 percent of private industry employees had access to pension plans that ensured period payments for the life of the retiree and spouse. In the 1990s, 35 percent of private industry workers had access to pension plans, according to government statistics.
At the same time, workers are being provided options to save for their own retirement.
In 2018, 51 percent of workers had access to only defined contribution plans, such as 401(k)s. In most cases, the only payout option for defined contribution plans is a lump sum. This leaves retirees without a steady income and unsure how to make their savings last for the rest of their lives.
Looking to Avoid Stock Market Volatility?
An annuity can provide you with a safe, reliable income stream in retirement.
Paying for Retirement
The decimation of pensions has left most of a huge generation facing retirement feeling unequipped and unprepared.
Research by the Insured Retirement Institute showed that just 25 percent of boomers believe they will have enough money in retirement.
According to that study, just 28 percent of boomers believe they've done a good job of preparing for their financial needs during retirement. In contrast, a whopping 42 percent of baby boomers reported having no retirement savings at all.
Other researchers estimate that about 63 million households in the United States do not have the protection of income in the form of a pension or annuity for retirement years. Using their available tools, workers focus on accumulating assets for retirement without determining how those assets translate into reliable income. The Alliance for Lifetime Income calls this a crisis.
The Bureau of Labor Statistics reports that employees commonly receive their benefits from their defined contribution plans in lump sums, and they have no guaranteed stream of money to last them through the rest of their lives.
In fact, only 38 percent of households have an annuity or pension to provide steady retirement income, according to research sponsored by the alliance. Consequently, as they near retirement, most Americans don't know what they can spend from their savings without running out of money.
Need for Guaranteed Monthly Income Beyond Life Expectancy
"Americans are living longer and face a variety of risks in retirement," said Dr. Michael Finke, a research fellow and dean and chief academic officer of the American College of Financial Services, in a 2018 news release announcing the research initiative Protected Lifetime Income Index. The study will track the lifetime retirement planning of American households with the goal of spreading awareness about the need for retirement income to Americans who are still in the workforce.
"Today, most retirees rely on withdrawals from their defined contribution savings to pay for expenses in retirement," Finke continued. "If they had an annuity to accompany their savings and investments, they could always count on a source of guaranteed monthly income, which would reduce the risk of running out of money. And annuities are a solution that can provide that protected income for life."
In fact, various studies have found that retirees with guaranteed income in addition to Social Security are more likely to report being happy.
"Annuities are a solution that can provide that protected income for life."
A 2018 study found that 73 percent of survey respondents reported viewing guaranteed income a highly valuable addition to Social Security. The survey by Greenwald & Associates and CANNEX queried 1,003 people aged 55 to 75 with more than $100,000 in household assets. Greenwald is a market research firm, while CANNEX supports the exchange of pricing information for annuity and bank products.
More than half those interviewed worried about being able to afford long-term health care or nursing-home expenses or losing some of their retirement savings in a market downturn. And 46 percent feared outliving their retirement savings.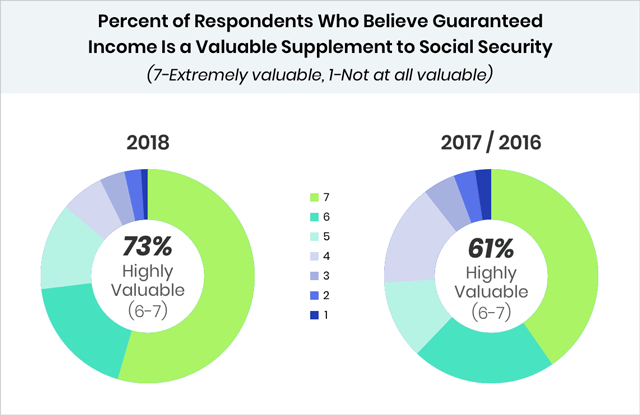 "The perceived need for guaranteed lifetime income products continues to rise with fewer retirees being able to count on pension plans," wrote study director Doug Kincaid.
"In this year's data we found many respondents confident they'll be able to maintain their lifestyle through their own projection of their life expectancy, but the less affluent and women, in particular, are concerned about their ability to meet their needs if they live beyond this. Other research has shown that more than half will wind up living longer than they expect."
Options for Retirement Income
There are a few ways to create retirement income when a pension is not available. These include acquiring and managing rental properties and obtaining a part-time job. Purchasing a qualified longevity annuity contract, with some of your retirement savings would also serve this purpose.
Annuities are designed to provide a reliable stream of income in retirement. They are the mirror image of life insurance policies, which provide protection to your loved ones in the event of your premature death. Annuities provide income for you, insuring you against living longer than your retirement savings can support.
Ready to Secure Your Financial Future?
Get guaranteed income for retirement by purchasing an annuity today. Speak with a financial expert to learn more.
Downsides
While retirement annuities have a lot of pros, you must take the cons into consideration. For example, once an annuity is purchased, the principal of the annuity is locked down. It is extremely difficult to access the majority of the fund. You will have access only to the stream of payments when they begin.
Also, if your annuity doesn't have provisions for beneficiaries, such as a refund option, or is not set to pay out for a minimum period of time, you may wind up losing your money. For example, if you purchase a life annuity for $100,000 and you die before you collect the principal — the original $100,000 you invested — the remainder of that $100,000 is lost. This is counter to what the annuity is designed to protect against: outliving your savings.
On the other hand, if you outlive your life expectancy, the estimate upon which your annuity payout is calculated, you may ultimately receive more than the calculated principal and interest.
Annuities also carry fees and commissions, which can add up. And the interest they pay may be significantly less than other investments, such as stocks. On the other hand, fixed annuities don't carry the risks of a poor stock market performance.
If you want an annuity and are comfortable with stock market ups and downs, you could consider variable annuities or indexed annuities, which offer returns tied to the performances of investment portfolios (in the case of variable annuities) or financial indexes (in the case of index annuities). Note that variable and index annuities include fees and costs that fixed annuities don't. So you should weigh the various factors before choosing which annuity is right for you.
Annuity Options
Annuities are contracts between you and the annuity provider, which is usually an insurance company. Like most contracts, annuity contracts can be designed to meet the specific needs of the parties. You will be presented with an array of options to assure that your annuity best fits your requirements and comfort level. Keep in mind, though, that adding provisions may increase your cost and, consequently, lower your annuity payments.
In addition to determining how the annuity interest is calculated, as mentioned regarding fixed, variable and index options, you will have a number of choices to make. For example, you can choose an immediate annuity, which begins paying you right after you've purchased it. You could also opt for a deferred annuity, which pays at a later time. No annuity can begin payments to you before you reach the age of 59 ½.
You can also design your annuity to make a minimum number of payments to you or your heirs — a minimum of ten years, for example — and name a beneficiary who will inherit your annuity in the event of your death. This option is referred to as "period certain".
A joint annuity that pays out until you and your spouse have both died is another option that may be appropriate for your needs and those of your family.
Please seek the advice of a qualified professional before making financial decisions.
Last Modified: July 12, 2021
Share This Page:
8 Cited Research Articles
Annuity.org writers adhere to strict sourcing guidelines and use only credible sources of information, including authoritative financial publications, academic organizations, peer-reviewed journals, highly regarded nonprofit organizations, government reports, court records and interviews with qualified experts. You can read more about our commitment to accuracy, fairness and transparency in our editorial guidelines.