Types of CDs
Certificates of deposit — or CDs — let you save a fixed amount of money over a fixed period of time. When you cash in your CD at the end of the term, you receive the money you invested plus interest. A CD can be insured for up to $250,000, making it one of the safest savings options available.

Written By

Terry Turner

Terry Turner

Senior Financial Writer and Financial Wellness Facilitator

Terry Turner is a senior financial writer for Annuity.org. He holds a financial wellness facilitator certificate from the Financial Wellness Foundation and the National Wellness Institute, and he is an active member of the Association for Financial Counseling & Planning Education (AFCPE®).

Read More

Edited By

Lee Williams

Lee Williams

Senior Financial Editor

Lee Wiliams is a financial editor for Annuity.org. As a professional writer, editor and content strategist, Lee has strengthened the brand storytelling for global and nationally recognized brands in the higher education, advertising and marketing fields.

Read More

Financially Reviewed By

Thomas J. Brock, CFA®, CPA

Thomas J. Brock, CFA®, CPA

Investment Management and Finance Professional

Thomas Brock, CFA®, CPA, is a financial professional with over 20 years of experience in investments, corporate finance and accounting. He currently oversees the investment operation for a $4 billion super-regional insurance carrier.

Read More

Updated: September 20, 2022
This page features 9 Cited Research Articles
Certificates of deposit (CDs) are a type of savings account available through banks and credit unions.
You invest a fixed amount of money into a CD over a fixed period of time — typically six months, one year or five years. The issuing bank or credit union is required to periodically credit interest to your account during this time frame.
If you buy your CD through a federally insured bank, the FDIC will insure it for up to $250,000. But the $250,000 insurance covers all accounts in your name at the same bank. It does not cover each CD you have at the bank for that amount.
What to Know About Certificates of Deposit (CDs)
Like all investments, you should be aware of both the risks and benefits of CDs. The biggest risk with CDs is that inflation will increase faster than the interest on your investment.
The chief benefit is that CDs feature some of the highest returns of bank savings options and can be federally insured.
Investing for Beginners
Check the Fine Print When Buying a CD
When buying a CD, you should receive a disclosure statement from the issuing bank. This statement should tell you whether the interest rate you will receive is fixed or variable. Fixed means it will stay at the same rate for the term of the CD; variable means it can fluctuate.
What Are the Different Types of CDs Available?
There are several types of CDs, but they all essentially work the same way: You invest money for a period of time and receive interest. But the difference is how the terms, deposits, interest rates and other features work.
Understanding the differences between various types of CDs can help you choose the right CD option for you — not to mention it can add volumes to your financial literacy.

What Is the Best Type of CD for You?
The best type of CD is whichever type fits your budget, your goals and how comfortable you are with different levels of risk.
There are several questions you should ask yourself and qualities to consider when comparing CD options.
What to Consider Before Buying a CD
Minimum deposit

How much are you willing to invest? Minimum deposits start at $500 for a traditional CD, but high-yield CDs can be in the six-figure range. You'll need to consider how much you can afford.

The CD term

This is how long you will have to leave your money in the CD. You'll need to consider how long you can leave your money in the CD and plan accordingly. Find the right length of time for you – a few months or several years.

Early withdrawal penalty

Are you going to need the money before your term is up? If you take the money out before the CD matures, you may have to pay early withdrawal penalties. Make sure you know what these will cost you before you buy.

Interest rate

Shop for the highest interest rates. This is your best hedge against inflation. The highest rates may be through brokers or online banks instead of through traditional banks. The higher the interest rate, the better the return on your investment.

FDIC insurance

Not all CDs are insured. Before buying a CD, make sure it's FDIC-insured. If the seller suddenly collapses – though this is rare – you'll get your money back. This federal insurance covers up to $250,000 – but if you and your spouse open a joint CD, it doubles.
Ranking these considerations in order of importance to you can let you compare the qualities of each different type of CDs to find the one that fits best for you.
What Is a Dividend?
What to Consider When Evaluating CD Rates
CD rates are just one thing to consider when comparing certificates of deposit. The risk-free nature of CDs and the length of the term play important roles in determining which CD may be right for you.
Keep in mind that online banks typically offer much higher CD rates than most traditional national banks.
If you want your money to be more liquid than a CD traditionally allows, you may want to compare the CD's rates to online savings or money market accounts to see if that's a better fit for you.
Certificates of deposit allow you to save money and — typically through early-withdrawal penalties — discourage you from tapping into those savings. They can be a commitment and can tie up your money when you may need it for another expense — or when a better investment opportunity comes along.
Does It Make Sense to Buy Several Different Types of CDs?
An investment strategy called CD laddering involves buying multiple CDs at the same time, but staggering when they mature.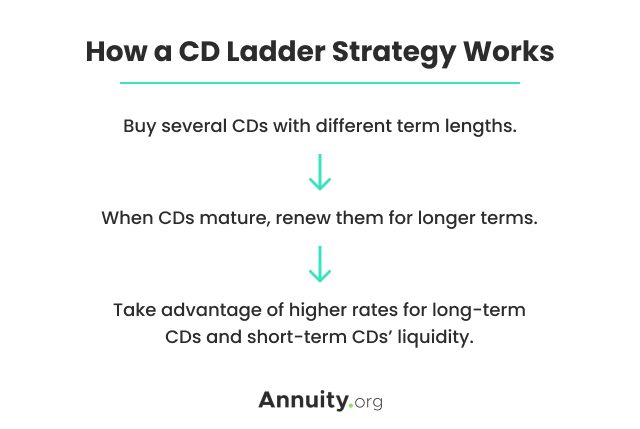 A laddering strategy helps you get around problems with trying to time your purchases to the rise and fall of interest rates. It can reduce your risk of missing a bump in rates or of locking in a low interest rate.
Advertisement
Connect With a Financial Advisor Instantly
Our free tool can help you find an advisor who serves your needs. Get matched with a financial advisor who fits your unique criteria. Once you've been matched, consult for free with no obligation.
Please seek the advice of a qualified professional before making financial decisions.
Last Modified: September 20, 2022
Share This Page:
9 Cited Research Articles
Annuity.org writers adhere to strict sourcing guidelines and use only credible sources of information, including authoritative financial publications, academic organizations, peer-reviewed journals, highly regarded nonprofit organizations, government reports, court records and interviews with qualified experts. You can read more about our commitment to accuracy, fairness and transparency in our editorial guidelines.
Your web browser is no longer supported by Microsoft. Update your browser for more security, speed and compatibility.
If you are interested in learning more about buying or selling annuities, call us at 855-995-1277