Key Takeaways:
In 2023, the average cost for a funeral service and burial is $8,665, while a funeral service with cremation is $7,498 on average.
Funeral costs vary widely between states and regions.
The Federal Trade Commission's Funeral Rule ensures you can choose only the goods and services you want, rather than being restricted to packages and plans.
You can make funeral expenses part of your financial plan and even pre-pay for your own funeral costs.
Understanding Funeral Expenses
In 2021, the National Funeral Directors Association (NFDA) reported that the median cost of a funeral with a service and burial was $7,848. Meanwhile, the cost of a similar service with cremation was $6,971. Adjusted for inflation, these amounts would be approximately $8,665 and $7,498, respectively, in 2023.
The cost of a funeral can vary widely depending on the type and size of services and goods chosen. Other factors, like the choice of casket and the funeral service staff, can also impact the final fee. Geographic location is also a key factor in determining funeral costs, with some areas and states having higher fees than others.
Planning ahead can spare loved ones the stress of having to cover unexpected expenses during an already difficult time.
Basic Service Fees
The Federal Trade Commission (FTC) outlines the common fees funeral providers may charge for services. The basic service fee includes the administrative services and activities common to all funerals, like funeral planning, acquiring any necessary permits and death certificates, preparing death notices, sheltering the remains and coordinating with the cemetery or crematorium.
Other Service and Merchandise Fees
Beyond the basic fees are the costs of many other optional goods or services. These include fees for transportation, preparation of the remains (whether or not you choose to embalm, for instance), use of the space for a viewing or memorial service, the cost of equipment and staff for a graveside service, the rental of a hearse or limousine, the casket or container and the cremation or internment itself.
Additional Fees
There are other fees associated with funerals that cash advances from the funeral provider often cover. Some providers will charge you only the costs incurred, while others add a service fee. Regardless, all funeral providers must present you with a list itemizing the cost of all the goods and services you selected.
Extra fees for goods and services coordinated by the funeral provider might include:

Casket or Urn

Manufacturers make wood and metal caskets that can cost from $2,000 to $10,000 or more. You also have the option to purchase a casket or urn from a third party and have it delivered to the funeral provider.

Vault

Although state laws do not demand it, some burial grounds also require the installation of a burial vault or liner to keep the ground from sinking. Vaults, which are more expensive than liners, cost more than $1,700 on average.

Headstone

The size and type of headstone you choose, along with any inscription, will influence the cost. Prices can range from several hundred to several thousand dollars.

Flowers and Wreaths

Customers can usually order flowers and wreaths directly from the funeral provider or purchase them from local florists. The exact cost will depend on the arrangements chosen.

Burial Plot

Plots vary in size, from those for individuals to plots for whole families. The price will range widely depending on the size and location of the plot.

Fee for Clergy or Musicians

Most services conducted by a member of the clergy require some sort of honorarium, usually in the range of several hundred dollars. The same is true of any musicians supplied by the funeral provider. The funeral provider will outline honorariums in advance.

Memorial Materials

Printed agendas or memorial materials generally start at around $200. You might choose to source and print them yourself to reduce costs.

Obituary Notice

Your funeral provider will obtain multiple copies of the death certificate for you, but if you wish to publish an obituary notice, you will typically have to do that yourself for an additional fee. The New York Times, for instance, offers an obituary package starting at $263, but every news source will set its own price.
The FTC also oversees the Funeral Rule, which ensures you the right to choose and pay for only the funeral goods and services you select.
Final expense insurance is popular way many seniors opt to pay for their funeral expenses and ensure their loved ones are not saddled with any death-related financial burdens. It's a type of whole life insurance that does not expire – as long as you continue to make the premium payments.
Average Costs of a Funeral
Besides the fees for required goods and necessary activities, other factors affect the overall cost of a funeral. The size and scope of the memorial ceremony, for instance, as well as the type of service all have an effect on price because burial costs more than cremation.
The location of the funeral will also make a difference, as costs are generally higher in urban areas than in rural areas.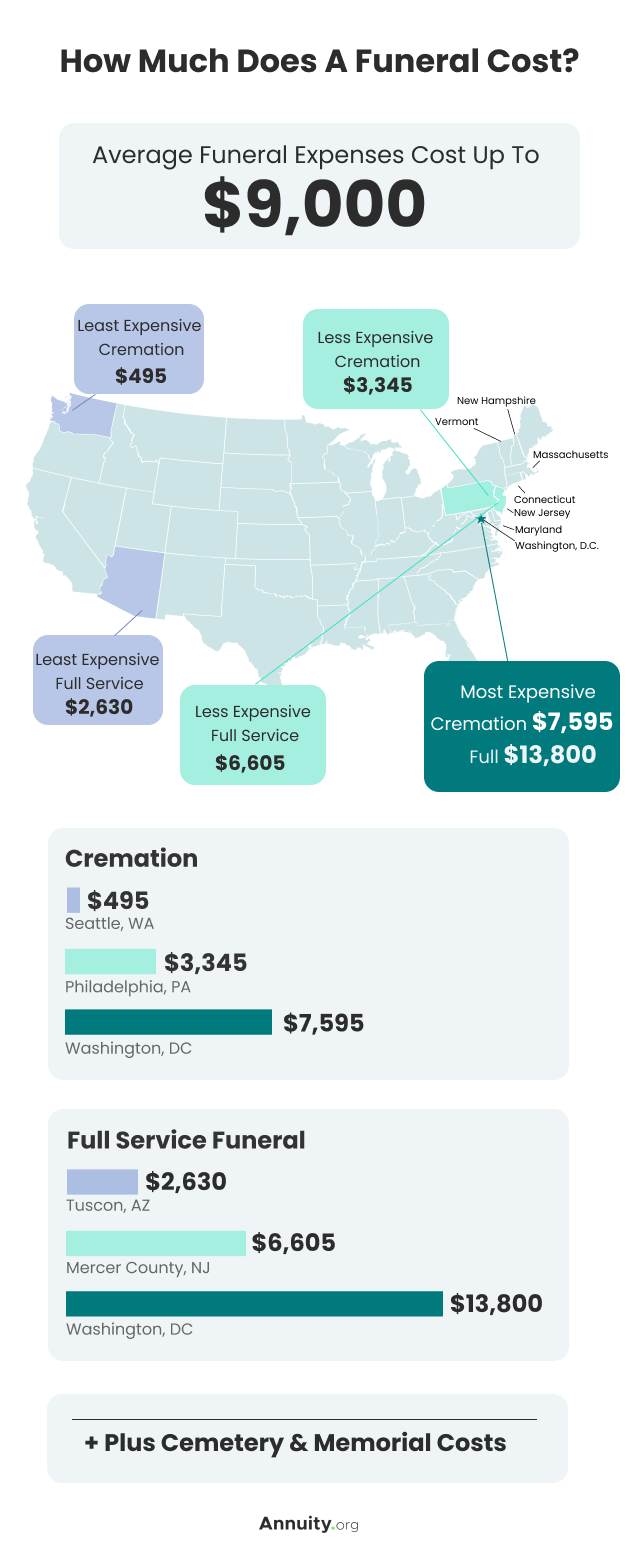 Your state also has an effect on the total cost of a funeral. The cost of living is higher in some states than in others and so is the cost of funerals. Below is a table outlining the average funeral costs by state, separated by region. The states in the West North Central region have the highest average costs for funerals and states in the Mountain region have the lowest.
Average Cost of a Funeral By Region
Region
Average Cost of Viewing, Ceremony and Burial
Average Cost of Ceremony and Cremation
New England Region (Connecticut, Maine, Massachusetts, New Hampshire, Rhode Island, Vermont)
$7,881
($8,701 adjusted for 2023)
$7,069
($7,804)
Middle Atlantic Region (New Jersey, New York, Pennsylvania)
$8,093
($8,935)
$7,463
($8,239)
South Atlantic Region (Delaware, Florida, Georgia, Maryland, North Carolina, South Carolina, Virginia, West Virginia)
$7,800
($8,611)
$7,070
($7,805)
East South Central Region (Alabama, Kentucky, Mississippi, Tennessee)
$7,271
($8,027)
$6,314
($6,971)
West South Central Region
(Arkansas, Louisiana, Oklahoma, Texas)
$7,334
($8,097)
$6,405
($7,071)
East North Central Region includes:
Illinois, Indiana, Michigan, Ohio, Wisconsin
$7,868
($8,686)
$6,953
($7,676)
West North Central Region (Iowa, Minnesota, Kansas, Missouri, North Dakota, South Dakota, Nebraska)
$8,500
($9,384)
$7,560
($8,346)
Mountain Region (Arizona, Colorado, Idaho, Montana, Nevada, New Mexico, Utah, Wyoming)
$6,888
($7,604)
$5,694
($6,286)
Pacific Region (Alaska, California, Hawaii, Oregon, Washington)
$7,225
($7,976)
$6,028
($6,655)
Data distributed by the NFDA in 2021. Costs in brackets have been adjusted for 2023.
How To Plan Ahead for Funeral Costs
Planning for funeral costs and having a solid financial strategy can help ease the financial burden on loved ones after you pass away. To get started, determine your funeral preferences — such as the type of service, casket and flowers — you would like. This will provide an initial estimate of the costs associated with your funeral.
Next, you can research funeral costs in your area and compare prices. Calling local funeral providers and using online resources can be helpful for comparing prices and reading reviews.
Finally, communicate your funeral plans with loved ones. Let them know what type of funeral you want and where the funds to cover it will come from. This will reduce stress and confusion for your loved ones during a difficult time.
Can Life Insurance Cover Funeral Expenses?
Life insurance can be an effective way to cover funeral expenses. When you purchase a life insurance policy, you are essentially entering into a contract with the insurance company to pay a death benefit to your beneficiaries upon your passing. Your beneficiaries can then use this money to cover your funeral expenses.
It's important to note that not all life insurance policies are created equal. Some policies may have restrictions on how the death benefit can be used. For example, some policies may require that the death benefit be used to pay off outstanding debts or cover other expenses first before any remaining funds can be used for funeral expenses.
And the amount of the death benefit may not always be enough to cover all funeral expenses. This is especially true if you have specific preferences for your funeral, such as an elaborate ceremony or an expensive casket.
Another option to consider when it comes to using insurance to cover funeral costs is final expense insurance. This type of insurance is specifically designed to cover end-of-life expenses, including funeral costs. Unlike traditional life insurance, which can have high coverage limits and more extensive underwriting requirements, final expense insurance typically has lower coverage limits and simpler application processes.
If you are considering using insurance to cover your funeral expenses, it's important to review your policy and speak with your insurance provider to ensure that you have adequate coverage.
Alternative Ways To Pay for a Funeral
There are various ways to cover funeral costs beyond traditional life insurance policies. For example, regularly contributing to a special savings account can help you fund funeral expenses.
Alternatively, you could pre-pay for your funeral while you are still alive. Many funeral providers offer this service, giving you some input into the form you'd like the service or ceremony to take. Be sure to read the terms carefully and ask questions before committing to a prepaid funeral plan.
If you are a veteran, you are entitled to free burial and a grave marker in a national cemetery. Spouses and dependent children of veterans are also allowed a lot and markers when buried in a national cemetery. For details, contact the Department of Veterans Affairs online or by phone at 1-800-827-1000.
The Social Security Administration also offers some benefits to survivors, including a one-time payment of $255 to a qualifying surviving spouse to help with funeral expenses. Contact the SSA online or by phone at 1-800-772-1213 for more details.
Finally, some workplaces, professional organizations and unions offer one-time death benefits that can help cover funeral costs. Crowdfunding may also be a viable option, depending on the circumstances.
How To Reduce Funeral Expenses
The simplest way to reduce funeral expenses is to choose cremation over burial. In every state and region, cremation costs less.
A funeral is often an emotionally significant ceremony, which can be a milestone in the grieving process. Receiving estimates from funeral providers so you can make informed comparisons and choices means that the ceremony will be what you need at the most reasonable price. The FTC created a helpful funeral pricing checklist to help you make the best decisions for your circumstances.
Frequently Asked Questions About Funeral Costs
Are funeral expenses tax deductible?
No. Individuals cannot deduct funeral expenses from their taxes, although a few estates can. Only estates that pay federal taxes, those worth $11.58 million or more which file federal tax returns, can claim deductions.
What is the FTC Funeral Rule?
The Funeral Rule is enforced by the Federal Trade Commission to ensure you have agency when it comes to arranging funerals. You may purchase only the specific goods and services you want, instead of being forced to buy a package, and you have the right to compare the prices and services offered by different funeral providers. The Funeral Rule also requires funeral providers to write itemized lists for your consideration and to provide price and service information by phone, rather than only in person.
How much does a military funeral cost?
Military veterans are granted both burial and a grave marker in a national cemetery at no cost. There may be other costs associated with the service, depending on the size and location. Veteran Affairs can help you with the details online or by phone at 1-800-827-1000.