Coronavirus Court Closures Impact Structured Settlement Selling Process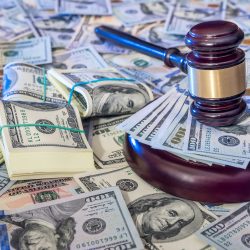 Written By

Anthony Termini

Anthony Termini

Expert Contributor

Anthony Termini is a financial writer, investment analyst and stock market commentator. He has held Series 3, Series 7, Series 8, Series 63 and Series 65 licenses. A subject matter expert in multiple asset classes, Anthony has a comprehensive understanding of portfolio construction, asset allocation, diversification, portfolio management, retirement planning, investment taxes, size-and-style allocation, efficient frontier and total-return strategy — among other topics.

Read More

Edited By

Kim Borwick

Kim Borwick

Financial Editor

Kim Borwick is a writer and editor who studies financial literacy and retirement annuities. She has extensive experience with editing educational content and financial topics for Annuity.org.

Read More

Published: March 25, 2020
2 min read time
This page features 1 Cited Research Article
Annuitants currently in the process of selling a structured settlement, and those considering a sale in the near term, are likely to experience longer than normal delays in the process.
Since the middle of March, courts around the country have taken measures to prevent the spread of the coronavirus.  Some of those steps have been disruptive to various proceedings.  
There has been no uniformity in what a court can do in its effort to protect public and employee safety. Neither the federal government nor the U.S. Department of Justice has issued any guidelines to the nation's courts — federal, state or local — on how to handle cases during the coronavirus pandemic.
So courts in separate jurisdictions are handling the situation differently. Some are suspending certain types of proceedings.  Others are conducting hearings via videoconferencing. And still others are continuing or rescheduling trials.
In Vermont, for example, all nonemergency superior court hearings are postponed until at least April 15, according to Law360.com. 
Getting Court Approval During COVID-19 Pandemic
The sale of a structured settlement is completed after a process that can typically take 45 days to 60 days. The final step in the process is for a judge in a court of general competence (typically superior court) to approve the selling agreement between the annuitant and the buyer.  
Court approval does not have to occur in an open hearing. But before a judge will approve any agreement, he or she will require oral pleadings from the seller. How a given court will address these types of hearings will vary across the country.
While disruptions in court proceedings are likely to create delays in some cases, it isn't clear how this will affect the sale of structured settlements in different states. Still the possibility of a delay is not likely to discourage annuitants.  
Those with a genuine need for the liquidity typically have no other choice. The likelihood is that the economic necessity will remain regardless of whether the selling process is prolonged as courts respond to the current coronavirus outbreak.
Advertisement
Connect With a Financial Advisor Instantly
Our free tool can help you find an advisor who serves your needs. Get matched with a financial advisor who fits your unique criteria. Once you've been matched, consult for free with no obligation.
Please seek the advice of a qualified professional before making financial decisions.
Last Modified: November 21, 2022
Share This Post:
1 Cited Research Article
Annuity.org writers adhere to strict sourcing guidelines and use only credible sources of information, including authoritative financial publications, academic organizations, peer-reviewed journals, highly regarded nonprofit organizations, government reports, court records and interviews with qualified experts. You can read more about our commitment to accuracy, fairness and transparency in our editorial guidelines.
Jarvis, S. (2020, March 23). Coronavirus: The Latest Court Closures And Restrictions. Retrieved from https://www.law360.com/articles/1252836/coronavirus-the-latest-court-closures-and-restrictions
Who Am I Calling?
Calling this number connects you to CBC Settlement Funding or another trusted partner.
If you're interested in selling your annuity or structured settlement payments, a representative will provide you with a free, no-obligation quote.
Our partners are committed to excellent customer service. They can help you navigate the legal process of selling.
866-528-4784
Your web browser is no longer supported by Microsoft. Update your browser for more security, speed and compatibility.
If you are interested in selling your payments, call us at 866-528-4784