How Is the COVID-19 Pandemic Affecting Social Security Benefits?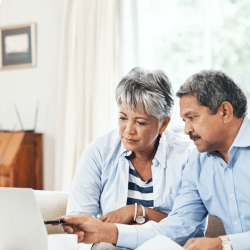 Written By

Anthony Termini

Anthony Termini

Expert Contributor

Anthony Termini is a financial writer, investment analyst and stock market commentator. He has held Series 3, Series 7, Series 8, Series 63 and Series 65 licenses. A subject matter expert in multiple asset classes, Anthony has a comprehensive understanding of portfolio construction, asset allocation, diversification, portfolio management, retirement planning, investment taxes, size-and-style allocation, efficient frontier and total-return strategy — among other topics.

Read More

Edited By

Kim Borwick

Kim Borwick

Financial Editor

Kim Borwick is a writer and editor who studies financial literacy and retirement annuities. She has extensive experience with editing educational content and financial topics for Annuity.org.

Read More

Published: July 8, 2020
3 min read time
This page features 4 Cited Research Articles
The COVID-19 outbreak has created uncertainty among investors regarding the future of the U.S. economy. A continued increase in cases could cause local and state governments to impose further restrictions on behavior, which could have a dampening effect on the national economy. A prolonged pandemic might push the country deeper into recession. For investors at or near retirement, this poses a special concern: How safe is Social Security?
Funding the Two Components of Social Security
Social Security, officially titled the Old-Age, Survivors, and Disability Insurance (OASDI) program, pays benefits to workers and their families at retirement, death or disability and is made up of two trust funds. There is a pension fund and a disability fund. The pension fund is called the Old-Age & Survivors Insurance (OASI) Trust Fund. The disability fund is called the Disability Insurance (DI) Trust Fund.
The OASI program pays benefits to retired workers, their families, and their survivors. The DI program pays benefits to disabled workers and their families. Both trusts are funded by payroll taxes, which are paid at the same rate by both employers and employees.
The Connection Between Payroll Taxes, the Pandemic & Social Security Benefits
The reason some investors are concerned about the duration of the pandemic is that, to a certain extent, their Social Security benefits are dependent upon payroll taxes. A prolonged outbreak could affect future contributions to the OASI and DI trust funds.
If large numbers of workers are once again furloughed or fired, payrolls will decline. Those declines will lower the deposits to the Social Security trust funds. The issue for investors at or near retirement is that if payrolls decline significantly, then the trust funds will be depleted more quickly as outflow exceeds inflow.
According to the 2020 Social Security Trustees Report, projections indicate positive trust fund reserves through 2034 but predict that "the combined OASI and DI trust funds have a net unfunded obligation through each year after 2034. Through the end of 2094, the combined funds have a present-value unfunded obligation of $16.8 trillion."
The report goes on to say that as reserves become depleted, the trust funds become unable to pay recipients their full benefits. After 2034 the combined trust funds will be sufficient to pay just 79 percent of scheduled benefits.
More troubling for retirement-aged investors is that the estimated depletion date has moved closer each time the U.S. economy has slipped into recession. Every economic downturn between now and 2035 will bring the depletion date closer.
How Investors Can Augment Social Security Income During Retirement
Investors concerned about the reliability of their Social Security benefits beyond 2034 should consider augmenting those payments with annuitized income from other sources.
Those sources can include high-yielding dividend stocks, real estate investment trusts (REITs), fixed-income securities such as government, corporate, or municipal bonds, and annuities.
Annuities offer investors the ability to convert a lump sum of cash into a guaranteed stream of income — often for the remainder of their lives. They can provide supplemental income over and above Social Security benefits. The cash flow from an annuity is guaranteed by the issuing insurance company and is only partially taxable.
Investors looking for a secure source of income to augment Social Security benefits should ask their financial advisors if annuities make sense for them.
Advertisement
Connect With a Financial Advisor Instantly
Our free tool can help you find an advisor who serves your needs. Get matched with a financial advisor who fits your unique criteria. Once you've been matched, consult for free with no obligation.
Please seek the advice of a qualified professional before making financial decisions.
Last Modified: November 21, 2022
Share This Post:
4 Cited Research Articles
Annuity.org writers adhere to strict sourcing guidelines and use only credible sources of information, including authoritative financial publications, academic organizations, peer-reviewed journals, highly regarded nonprofit organizations, government reports, court records and interviews with qualified experts. You can read more about our commitment to accuracy, fairness and transparency in our editorial guidelines.
Who Am I Calling?
Calling this number connects you to Senior Market Sales (SMS), a trusted partner of Annuity.org.
If you're interested in buying an annuity, a representative will provide you with a free, no-obligation quote.
SMS is committed to excellent customer service. The company can help you find the right insurance agent for your unique financial objectives.
877-918-7024
Your web browser is no longer supported by Microsoft. Update your browser for more security, speed and compatibility.
If you are interested in learning more about buying or selling annuities, call us at 877-918-7024