How to Make a Budget for Retirement
Typical retirement expenses include housing, health care, food and transportation. Creating a budget for retirement is a simple matter of gathering and analyzing your essential and nonessential expenses and comparing your spending with your income. A little critical thinking and a healthy dose of discipline can alleviate stress and allow you to reach your retirement goals.
Fact-Checked
Annuity.org partners with outside experts to ensure we are providing accurate financial content.
These reviewers are industry leaders and professional writers who regularly contribute to reputable publications such as the Wall Street Journal and The New York Times.
Our expert reviewers review our articles and recommend changes to ensure we are upholding our high standards for accuracy and professionalism.
Our expert reviewers hold advanced degrees and certifications and have years of experience with personal finances, retirement planning and investments.
How to Cite Annuity.org's Article
APA Borwick, K. (2021, July 12). How to Make a Budget for Retirement. Annuity.org. Retrieved January 20, 2022, from https://www.annuity.org/retirement/planning/retirement-budget/
MLA Borwick, Kim. "How to Make a Budget for Retirement." Annuity.org, 12 Jul 2021, https://www.annuity.org/retirement/planning/retirement-budget/.
Chicago Borwick, Kim. "How to Make a Budget for Retirement." Annuity.org. Last modified July 12, 2021. https://www.annuity.org/retirement/planning/retirement-budget/.
Why You Can Trust Annuity.org
Annuity.org has been providing reliable, accurate financial information to consumers since 2013. We adhere to ethical journalism practices, including presenting honest, unbiased information that follows Associated Press style guidelines and reporting facts from reliable, attributed sources. Our objective is to deliver the most comprehensive explanation of annuities and financial literacy topics using plain, straightforward language.


Our Partnerships, Vision and Goals

We partner with Senior Market Sales (SMS), a market leader with over 30 years of experience in the insurance industry, to offer personalized retirement solutions for consumers across the country. Our relationship with SMS (and Insuractive, the company's consumer-facing branch) allows us to facilitate the sale of annuities and other retirement-oriented financial products to consumers who are looking to purchase a safe, reliable solution to fill gaps in their retirement income. When we produce legitimate inquiries, we get compensated, in turn, making Annuity.org stronger for our audience. Readers are in no way obligated to use our partners' services to access Annuity.org resources for free.

SMS and Annuity.org share a common goal of educating consumers and helping them select the most appropriate product for their unique financial and lifestyle goals. Our network of advisors will never recommend products that are not right for the consumer nor will Annuity.org. Additionally, Annuity.org operates independently of its partners and has complete editorial control over the information we publish.

Our vision is to provide users with the highest quality information possible about their financial options and empower them to make informed decisions based on their unique needs.
What to Consider When Budgeting for Retirement
Factors that Affect Retirement Income
Retirement Expenses
Taxes & RMDs
Shocks and Other Considerations
Higher Health Care Costs
Long-Term Care
Providing Financial Support for Adult Children or Other Family Members
The Nuts & Bolts of Creating a Retirement Budget
Identify All Fixed and Variable Expenses
Categorize Each of Your Expenses as Essential or Nonessential
Anticipate One-Time Expenses
Calculate the Ratio of Essential to Nonessential Expenses
Identify All Sources of Retirement Income
Compare Expenses to Income
Align Adjustments with Your Personal Retirement Goals
How & Where to Adjust Spending
Mortgages and Car Payments
Behavioral Economics and Your Retirement Budget
Using a Retirement Budget Worksheet to Adjust Spending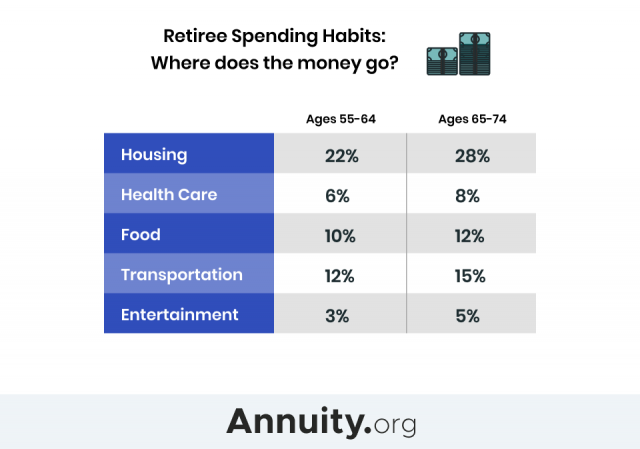 Please seek the advice of a qualified professional before making financial decisions.
Last Modified: July 12, 2021
Share This Page:
16 Cited Research Articles
Annuity.org writers adhere to strict sourcing guidelines and use only credible sources of information, including authoritative financial publications, academic organizations, peer-reviewed journals, highly regarded nonprofit organizations, government reports, court records and interviews with qualified experts. You can read more about our commitment to accuracy, fairness and transparency in our editorial guidelines.