Living Will
A living will is an estate planning tool designed to give you control over medical decisions if you become severely incapacitated or are nearing the end-of-life stage. It tells others if you want to use treatments like breathing machines and feeding tubes to prolong your life. Living wills are often paired with a durable medical power of attorney to create what's known as an advance directive. Living will forms are available in many places, including at hospitals and online.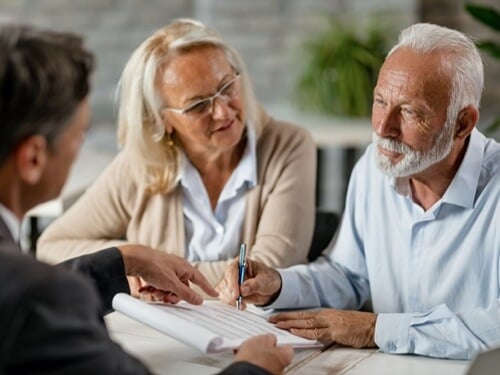 Written By

Rachel Christian

Rachel Christian

Financial Writer and Certified Educator in Personal Finance

Rachel Christian is a writer and researcher focusing on important, complex topics surrounding finance and investments. She is a Certified Educator in Personal Finance with FinCert, a division of the Institute for Financial Literacy, and a member of the Association for Financial Counseling & Planning Education (AFCPE).

Read More

Edited By

Kim Borwick

Kim Borwick

Financial Editor

Kim Borwick is a writer and editor who studies financial literacy and retirement annuities. She has extensive experience with editing educational content and financial topics for Annuity.org.

Read More

Legally Reviewed By

Brett E. Halperin, Esq.

Brett E. Halperin, Esq.

Estate Planning Attorney and Managing Partner of Halperin Law Group

Brett Halperin, Esq., managing partner of Halperin Law Group, specializes in estate planning, probate and trust administration, elder law and asset protection. He is a graduate of the Levin College of Law at the University of Florida. 

Read More

Updated: December 19, 2022
11 min read time
This page features 9 Cited Research Articles

No one likes to think about death. It's unpleasant, depressing and often frightening. Honoring a person's final wishes — especially those unable to speak for themselves — has led to widespread legislation in the United States over the last 50 years.

Living wills emerged in the 1960s as a way to ensure appropriate treatment was provided when a patient was incapacitated. An attorney named Luis Kutner was the first to suggest a living will in 1967 to enable "the rights of dying people to control decisions about their own medical care."

Bills at the state level followed throughout the 1970s and 1980s. By 1992, all 50 states had passed some kind of legislation on living wills and advance directives.

According to Caring.com's Wills and Estate Planning Study, about two thirds of Americans have no will or living trust in 2022.

A living will can make the right decision easier for loved ones and help families avoid disputes. It can also remove the burden of having to make an end-of-life choice from your loved ones, especially if they are not fully aware of your wishes.

Living wills act like roadmaps with guiding principles, but they can't predict every scenario. That's why communication is key. Family members and caregivers should be aware of your preferences whether you have a living will or not.

What Is a Living Will?

A living will explains what end-of-life care you want — or don't want.

Even though the term "will" is in the name, a living will is very different from a last will and testament, which determines what happens to your estate after you pass away. A living will, on the other hand, specifies what you want done if an accident or illness renders you incapacitated and unable to make important medical decisions. It is only used if someone is terminally ill, unconscious or close to death. It does nothing to transfer assets, which is the main purpose of a last will and testament.

Common Situations When Living Wills Are Used

Coma
Persistent vegetative state
Stroke
Severe brain injury
Advanced dementia
Other end-stage conditions

Living wills are usually partnered with a medical power of attorney to create what's known as an advance directive.

An advance directive can include any of the following:

A living will
A "do not resuscitate" form, or DNR
Medical power of attorney
Physician orders for life-sustaining treatment (POLST)

Living wills can be beneficial at any age. Even young people can be severely injured in accidents and left in vegetative states for years if they do not communicate care preferences. At the very least, experts recommend everyone appoint a trusted person to make important medical decisions on their behalf.

Choosing a Medical Power of Attorney

It can be difficult to make choices about future care when you don't know what the future holds. That's why a medical power of attorney is important.

A medical power of attorney appoints a person to make critical health care decisions on your behalf if you are unable to do so. This person is called an agent or health care proxy. Your proxy can be a spouse, adult child, relative, friend, religious figure or legal professional.

The person you pick should know how you feel about life-saving treatments and medical care. He or she should be willing to ask questions and advocate on your behalf to your health care team. You should talk with this person before making a final selection to ensure he or she is comfortable with the responsibility. It's also advisable to designate an alternative health care proxy should your primary choice be unable to act.

You should list a power of attorney as "durable." Otherwise, your appointed agent won't be able to make decisions if you become incapacitated.

Power of attorney authority is broad but not absolute. For example, your proxy can no longer make decisions on your behalf If you recover and regain your faculties. While you are still competent, you can always change your proxy or revoke the directive.

A medical power of attorney may not be a good idea if there is no one in your life that you trust to make these decisions for you.

POLSTs & DNRs

A Do-Not-Resuscitate (DNR) form is a medical order that lets health care professionals know if you want life-saving measures performed if you stop breathing. This can include mouth-to-mouth and pressing on the chest, electric shock to restart the heart, breathing tubes and medication.

Physician Orders for Life-Sustaining Treatment (POLST) is a set of medical orders generally used near the end of life or when a person is critically ill. It is like a DNR, but it also includes preferences on other end-of-life care.

While a living will is a legal document, a POLST is a medical order signed by your doctor.

A POLST form does not replace a living will but instead is sometimes added after a person is diagnosed with a serious illness or frailty.

Without a POLST, emergency personnel are required to provide every possible life-saving treatment option. For example, if you are a terminal cancer patient who collapses at home, you may not want paramedics to take you to the hospital, but instead make you comfortable where you are. A POLST can address this.

Your doctor can help you fill out DNR or POLST forms and put them in your medical chart. Doctors and hospitals in all states accept DNRs. Most, but not all, accept POLSTs.

You can always change your mind and request CPR, even if you have a DNR or POLST form on file.

Considerations for Creating a Living Will

Thinking about death is never pleasant, but it's necessary as you construct a living will. You will ask yourself many questions during this process, but an especially important one to consider is: What makes life worth living to you?

Your answer may be governed by your religious or moral beliefs. It may be influenced by past personal experience.

You need to consider whether you want certain treatments, and if so, under what circumstances. Would you want to be on a ventilator if there were a chance for recovery? What if it kept you alive but unable to communicate with others? How long would you want it to last? Are there only certain situations under which you would consider it?

Devices such as ventilators and feeding tubes can be used to save lives by allowing a body time to heal. At the end of life, however, these measures may do little more than prolong death and raise even more questions about quantity versus quality of life.

Below is a list of potential life-prolonging measures.

End-Of-Life Decisions

Artificial respiration (ventilators)
Feeding tubes
Dialysis
Relief for pain, nausea, or other symptoms (also known as comfort care)
Organ donation
Resuscitation if breathing or heartbeat stops

Your views on these treatments may change throughout your life. Your perspective may shift, depending on your health. For example, views on end-of-life care may be radically different for a healthy 30-year-old than for an 80-year-old person with stage-four cancer. Most documents can later be revoked or amended, provided you still are capable of executing legal documents and not incapacitated.

Talk About Your Decisions and Beliefs

Living will decisions can be emotional, even painful. Talk to your physician about the medical aspect of your wishes. They can give you pros and cons of each option along with insight on how treatments may affect your current medical conditions.

It's also vital to talk about end-of-life care with your proxy and loved ones. They should be familiar with your beliefs, morals and attitudes.

If you're unsure how to broach the subject or what to say, a nonprofit group may be able to help.

An organization called the Conversation Project launched in 2010 to help families initiate these important talks. The nonprofit was created by Ellen Goodman, a Pulitzer Prize-winning writer who served as caretaker to her mother with Alzheimer's disease for many years.

The Conversation Project offers a starter kit on its website to help people think about the best time, place and way to discuss end-of-life plans with family. It suggests trying icebreakers such as: "I need to think about the future. Will you help me?"

After that, it's important to communicate early and often. The organization notes that It's best to have your first conversation about end-of-life care at the kitchen table, not the intensive care unit.

How to Create a Living Will

You can create a living will and advance directive in many ways.

Where to Find Forms

Your doctor's office or hospital
Your health department or Council on Aging
A lawyer
Online through an estate planning website

The National Institute on Aging notes that most communities in the United States have a Council on Aging or similar senior citizen resource center. Staff at these agencies can help you gather forms and answer questions about your advance directive.

You can find the phone number for your local agency by calling the Eldercare Locator at 800-677-1116 or by visiting the Eldercare Locator website.

Each state's Bar Association website also usually makes these forms available.

Do I Need a Lawyer?

Many people create a living will as part of retirement planning, but you don't need a lawyer to create a living will. Most states require at least one witness on an advance directive form, and some also require a notarized signature. State laws and courts determine the validity of these documents.

You can find living will forms online. These templates are usually comprehensive and allow you to list the names of your physicians along with emergency contact numbers. State laws change often, so make sure the living will form online is current.

According to the American Bar Association, a living will is legally effective but not legally binding. This means medical staff and family members can reinterpret them.

"The question of what is 'legally effective' is misleading because even a legally effective document does not automatically carry out your wishes," the association's website notes. "The best strategy is to combine talking and documenting."

If you decide to write your own living will, it will be beneficial for a doctor or legal professional to review it. They can ensure that directives comply with state laws and your intentions are clearly understood. Not all documents are created equal. An attorney can help make sure that your documents are thorough and encompass a wide range of possibilities, with the most current legal verbiage

Make Copies and Update Your Living Will

Once you have completed your living will, give copies of your advance directive to your doctor and health care proxy. There is no guarantee that papers will follow you if you are transferred to a different health care facility. You or your proxy need to double-check and make sure medical staff knows your wishes and have copies of your directive.

You may want to make a list of how many copies are distributed in case your preferences change over time and you revoke your old documents in favor of new forms. It can create a potential problem if a loved one presents an old form to a medical professional that has later been revoked without their knowledge.

Organizations like the National Institute of Health even suggest making a card to carry in your wallet so others know you have an advance directive and where it is located.

It's beneficial to review your documents every 10 years or if your current medical condition changes.

Terminology You Should Know

Advance Directive

A legal document that goes into effect only if you are incapacitated and unable to speak for yourself. This could be the result of disease or severe injury. It combines a living will and medical power of attorney.

Health Care Proxy

A person who is given authority through a power of attorney to make medical decisions on another person's behalf. Also called an agent. The agent's choices will likely not overrule the choices of the individual, provided the individual is mentally capable of making their own decision. You can also nominate more than one agent at a time.

Living Will

A document detailing a person's wishes for medical care if they become incapacitated or reach an end-of-life situation in which life support is needed.

POLST

Physician Orders for Life-Sustaining Treatment. A set of medical orders that addresses key critical care decisions that reflect a patient's goals of care.

Advertisement

Connect With a Financial Advisor Instantly

Our free tool can help you find an advisor who serves your needs. Get matched with a financial advisor who fits your unique criteria. Once you've been matched, consult for free with no obligation.

Please seek the advice of a qualified professional before making financial decisions.

Last Modified: December 19, 2022

Share This Page:

9 Cited Research Articles

Annuity.org writers adhere to strict sourcing guidelines and use only credible sources of information, including authoritative financial publications, academic organizations, peer-reviewed journals, highly regarded nonprofit organizations, government reports, court records and interviews with qualified experts. You can read more about our commitment to accuracy, fairness and transparency in our editorial guidelines.
Who Am I Calling?
Calling this number connects you to Senior Market Sales (SMS), a trusted partner of Annuity.org.
If you're interested in buying an annuity, a representative will provide you with a free, no-obligation quote.
SMS is committed to excellent customer service. The company can help you find the right insurance agent for your unique financial objectives.
877-918-7024
Your web browser is no longer supported by Microsoft. Update your browser for more security, speed and compatibility.
If you are interested in learning more about buying or selling annuities, call us at 877-918-7024