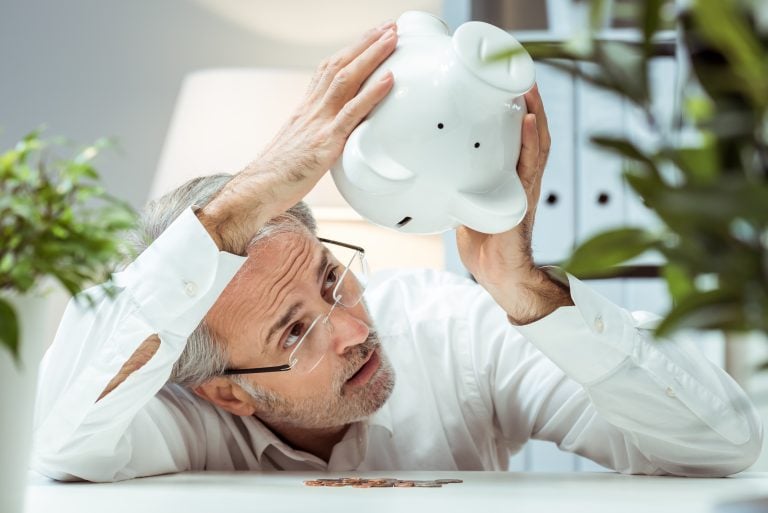 It's no secret that money has the ability to control our lives. It often rules our long-term decisions as well as those we make on a daily basis. In fact, one study conducted by the University of Pennsylvania shows that the association between our income and well-being accounts for 74 percent of the control we feel.
But is money the most important aspect of our lives? We surveyed roughly 3,000 Americans ages 55+ to learn about Baby Boomers' greatest money mistakes and what they wish they had more of in their life.
Top Money Mistakes:
Nearly 40 percent of seniors would choose to have better health rather than more money, and 26 percent would choose greater love over increased financial security.
Younger Baby Boomers (those 55-64 years old) are twice as likely to choose to have more money if they could do it all over again, compared to Baby Boomers 65 and older.
Over 60 percent of retirees regret accumulating too much debt and not investing sooner.
Less Than One-Fourth of Baby Boomers Would Choose To Have More Money
When it comes to priorities, money isn't the sole focus for those 55 and older. Among those who said they wished they had more of something in their life, only 22 percent said they would choose to have more money.
Aspects of life they would focus on more if they could have a do-over:
Better health: 38 percent
Love: 26 percent
Money: 22 percent
Career accomplishments: 12 percent
Recognition: 2 percent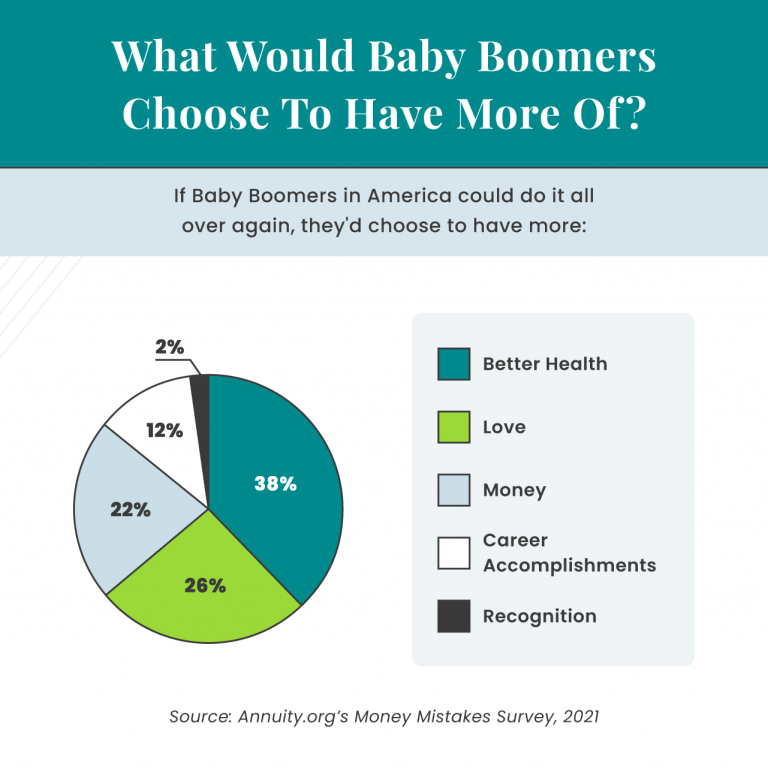 Nearly 65 Percent of Retirees Would Give Up Money For Better Health or Greater Love in Their Life
Of those who would go back and choose to have more of something, 38 percent said better health was more valuable than having more money. Similarly, 26 percent said they would choose to have greater love in their life as opposed to greater financial security.

When breaking down the data further, we found that those who would choose money are more likely to be younger Baby Boomers between the ages of 55-64. Our survey found that:
Of those 55-64: 30 percent would choose greater financial security
Of those 65+: only 16 percent would choose to have more money
The Financial Benefits Baby Boomers Would Give Up for Greater Love
When asked what financial benefit seniors would give up to have experienced greater love in their life, we found that 1 in 2 Baby Boomers would give up a fancy car. Survey takers' responses include:
Fancy cars: 48 percent
A large house: 17 percent
Excess retirement savings: 11 percent
Career promotions: 11 percent
A college degree: 8 percent
An inheritance: 5 percent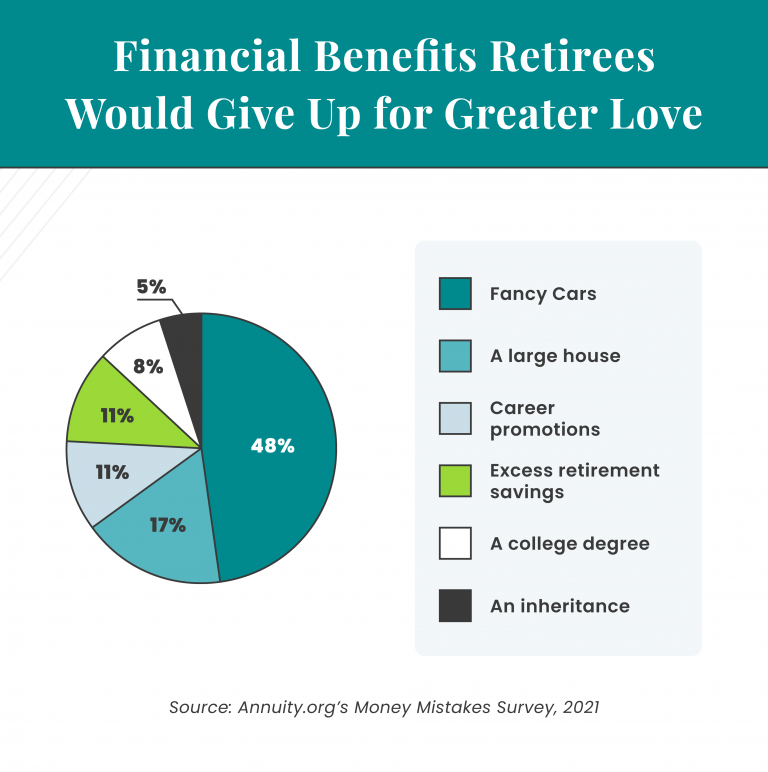 The Most Indispensable Financial Benefits
To have experienced greater love in life, almost 50 percent of Baby Boomers would forgo fancy cars, and 17 percent said they would give up a large house.
Alternatively, only 5 percent of seniors would give up an inheritance for greater love, making this the most indispensable benefit, close to a college degree at 8 percent.
Boomers' Greatest Financial Regrets To Learn From
Learning how to manage your finances takes time, and it's easy to make a few money mistakes along the way. No one is exempt from this, seniors included.
While you can't always avoid these mistakes altogether, you can learn from others' experiences to mitigate the risk of making your own costly errors.
Of the retirees with money mistakes, these are the most common:
Not investing sooner: 44 percent
Accumulating too much debt: 20 percent
Staying at a job that left them underpaid: 13 percent
Not saving for financial emergencies: 9 percent
Not asking for raises: 7 percent
Not contributing to a 401(k): 7 percent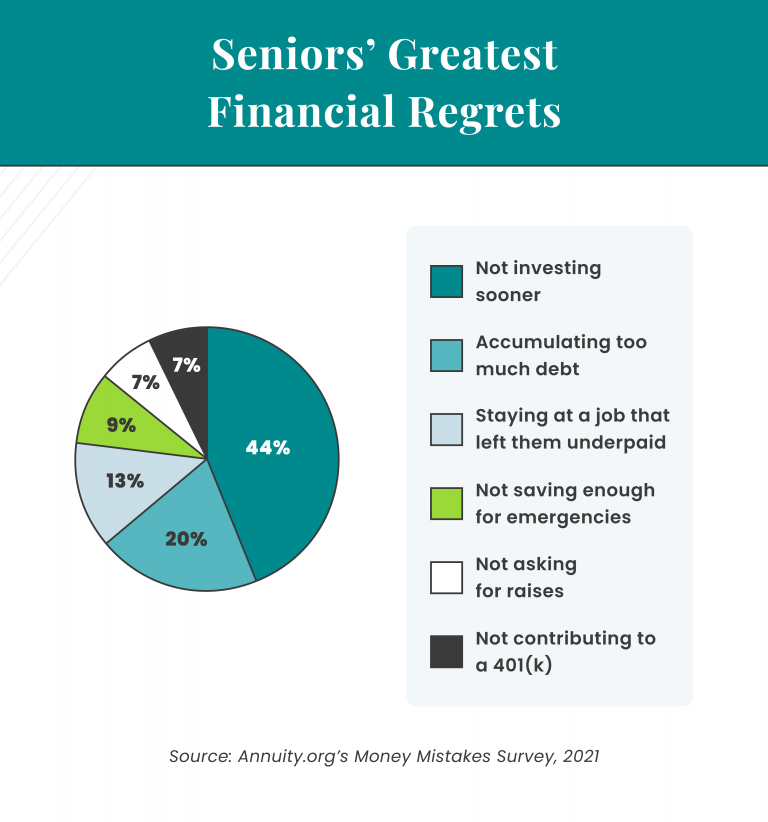 After taking a closer look at the data, we also found that almost 1-in-5 people (18 percent) between the ages of 55-64 regret staying at a job that left them underpaid. This means that those in the 55-64 age bracket are twice as likely to have this regret when compared to the 9 percent of those 65 and older who also specified this as their biggest financial mistake.
Age breakdown of those who regret staying at a job:
55-64: 18 percent
65+: 9 percent
3 Steps for Avoiding Money Mistakes
By securing your money — through an annuity product, investment account or other means — and having a plan for what will happen with it, you'll likely make fewer money mistakes.
Scott Nelson, CEO of MoneyNerd, shared with Annuity.org in an email: "In order to avoid making financial mistakes, the most beneficial thing you can do is plan ahead, get organized and do your research."
However, this usually doesn't happen overnight. There are many considerations to make and different options available, so it's important you take the time to thoroughly research and make sure you're in the right mindset.
Below are three tips to help get you started on the path to securing your finances and avoiding money mistakes you may regret for years to come.
1. List Your Priorities
Knowing your intentions for life can help you avoid potential financial mistakes. For example, if your primary goal is to live comfortably and make a difference, you shouldn't spend money on high-risk venture capital-type investments.
Instead, it would be wise to talk with a financial advisor or another expert who can help you make a risk-managed plan for your finances. Since their job is to study market trends and financial options, you can spend your time focused on other priorities.
If, however, your primary goal is to build substantial wealth quickly, you'll probably want to spend time learning on your own about financial practices and potentially make higher-risk financial decisions.
For those who aren't seeking to gain millions within a few years, time and money spent on learning in-depth financial principles might be a mistake.
When listing your priorities, consider what you want your life to look like in 20, 30 or 40 years. Then write down what you want to accomplish and the kind of person you want to be. Some of your priorities may include:
Making a difference in your community
Having a family
Succeeding in your career
Building wealth
Living sustainably
Developing certain hobbies
Keeping your body healthy
Everyone has different priorities. Identifying yours early on can give your life purpose and help you avoid financial and other life regrets.
2. Educate Yourself and Get Expert Advice
According to the data found from our Annuity.org Money Mistakes survey, almost 50 percent of retirees wish they had started investing sooner. Data from a Gallup survey also shows that most people don't begin saving for retirement until ages 30 to 39.
You can avoid making this money mistake by doing your own research and talking with financial experts to learn about different investment options. Daniel Carter, a debt advisor at IVA Advice, told Annuity.org in an email:
"There have never been so many free resources for becoming a financial wiz! Educating oneself is the best approach to prevent making financial blunders, whether you want to read blogs, watch videos or listen to podcasts."
When turning to online sources for information, it's also important to verify the person or company's credibility. Kaitlyn Ranze, a senior manager at Nav.it Money, reiterated the importance of finding good sources of information in an email to Annuity.org:
"Instead of turning to the same platforms that give you dance trends, cooking tips and are rife with misinformation, try a financial coach. Financial coaches tend to be more affordable and accessible than financial planners and will personalize their work based on your financial needs, not what's trending."
Aside from a financial coach, you can also consider talking about your assets with the following types of professionals:
Financial advisors
Financial planners
Wealth managers
Investment advisors
The sooner you do your own research and talk with an expert, the sooner you'll be on your way to securing your finances.
3. Make a Plan
After talking with a few experts, use the advice you've been given and the knowledge you've gained to make a financial plan. Drew Parket, creator of The Complete Retirement Planner, explained the relationship between learning from your mistakes and making a financial plan in an email to Annuity.org. He said:
"You can't eliminate the possibility of making mistakes. [However}, understanding why they occurred, being aware of how to minimize their severity and learning from them so you don't make the same mistake twice, is essential to making fewer and less severe mistakes in the future.
When it comes to your finances, the best way to do this is to create a comprehensive financial plan."
Aside from your financial goals and ideal retirement lifestyle, you should also include the following in your financial plan:
Debt management plan
Estate plan
Budget
Cash flow projections
Net worth statement
Emergency money
Evaluation of potential financial risks
It's easy to stress over money, but if you sit down with an expert, make a plan and stick to it, you'll be able to better focus on your goals and life purpose. You may also find that you make fewer money mistakes since you understand how you want to save, spend and invest your hard-earned money.
The Bigger Picture of Money Mistakes
No one is immune from making mistakes. The more you learn from the regrets of others and get advice from experts, the less likely you are to make costly errors. You may also find that learning from others' mistakes gives you a greater perspective.
So, is money the most important aspect of your life? If not, it may be time to readjust your mindset and talk with an expert about purchasing an annuity, automate your investments or make a better plan so you can use your time to focus more on what matters most in your life.
Survey Methodology
An online survey of 3,000 Americans was conducted for Annuity.org using Google Surveys in September 2021. Post-stratification weighting was used to ensure an accurate and reliable representation of the complete population.
The survey results in this article are not a complete representation of survey responses.