Large-Cap Stocks
A large-cap stock is a financial security representing an ownership interest in a publicly traded firm. It's referred to as large-cap, because the firm's market capitalization (share price times number of shares outstanding) is larger than that of firms categorized as small-cap and mid-cap. Read on to learn more about this potentially lucrative class of stocks.
Written By

Thomas J. Brock, CFA®, CPA

Thomas J. Brock, CFA®, CPA

Expert Contributor

Thomas Brock, CFA®, CPA, is a financial professional with over 20 years of experience in investments, corporate finance and accounting. He currently oversees the investment operation for a $4 billion super-regional insurance carrier.

Read More

Edited By

Savannah Hanson

Savannah Hanson

Senior Financial Editor

Savannah Hanson is an accomplished writer, editor and content marketer. She joined Annuity.org as a financial editor in 2021 and uses her passion for educating readers on complex topics to guide visitors toward the path of financial literacy.

Read More

Financially Reviewed By

Timothy Li, MBA

Timothy Li, MBA

Business Finance Manager

Timothy Li, MBA, has dedicated his career to increasing profitability for his clients, including Fortune 500 companies. Timothy currently serves as a business finance manager where he researches ways to increase profitability within the supply chain, logistics and sales departments.

Read More

Updated: March 22, 2023
7 min read time
This page features 5 Cited Research Articles
What Is Market Capitalization?
Market capitalization is a concept used to measure the total market value of a publicly traded stock. The larger the market capitalization, the larger the footprint of the company in question – and the more money it would take to acquire all of its shares. Market capitalization is computed as follows:

So, a firm with stock trading at $100 per share and 500 million shares outstanding would have a market capitalization of $50 billion ($100 × 500,000,000 = $50,000,000,000).
How Is Market Capitalization Used?
In tandem with serving as a way to gauge and compare the market values of companies, market capitalization is a prominent metric used for index-linked investing, which is regularly referred to as passive investing. It is a widely popular and low-cost way to replicate the returns of an index rather than trying to outperform it.
Index-linked investing works when an investment fund or strategy is established with positions that mirror an index, using a metric such as market capitalization or stock price. For example, the S&P 500 Index, which tracks the performance of approximately 500 of the largest publicly traded companies in the U.S., is replicated by buying proportionate positions in the constituent companies and maintaining the appropriate proportions over time – based on market capitalization. Essentially, this means buying more of the stock of outperforming companies and selling the stock of the underperforming companies.
What Is a Large-Cap Stock?
Large-cap is short for large market capitalization. The phrase refers to a company that has a relatively large total market value in the universe of publicly traded companies. At a high-level, this universe consists of small-cap, mid-cap and large-cap companies. From a monetary perspective, the distinction is generally broken down as follows:
Small-cap stocks have a market capitalization of $2 billion or less. Based on market capitalization, they are estimated to comprise about 10% of the total U.S. stock market.
Mid-cap stocks reflect market capitalizations between $2 billion and $10 billion. They are estimated to comprise about 20% of the total U.S. stock market.
Large-cap stocks have market capitalizations in excess of $10 billion. They are estimated to comprise about 70% of the total U.S. stock market.
While these market capitalization breakpoints are widely accepted, some analysts embrace a more granular view, adding micro-cap stocks below the $300 million mark and mega-cap stocks above the $200 billion mark.
Incidentally, market capitalization is not indicative of financial success. Large-caps are not inherently better than small-caps and mid-caps. Companies of all sizes can operate successfully over long periods of time. Examples of well-known large-cap companies include Amazon, Apple, Coca Cola, General Electric, Google and Microsoft.
Small-Cap vs. Mid-Cap vs. Large-Cap Stocks
Beyond the aforementioned market value differences, large-caps tend be very different than small-caps and mid-caps when it comes to maturity level, growth potential and price volatility. Generally, the following characteristics hold true in publicly traded stock markets:
The larger the market capitalization, the more mature the company and the lower its growth potential. However, this comes with more stable cash flows, higher dividend payouts and less stock price volatility.
The smaller the market capitalization, the less mature the company and the higher its growth potential. However, this comes with more erratic cash flows, lower dividend payouts and more stock price volatility.
Over long periods, smaller stocks (as represented by the Russell 2000 Index) have demonstrated a propensity to outperform their larger counterparts (as represented by the S&P 500 Index). This is illustrated below for the 20-year period ended June 17, 2022.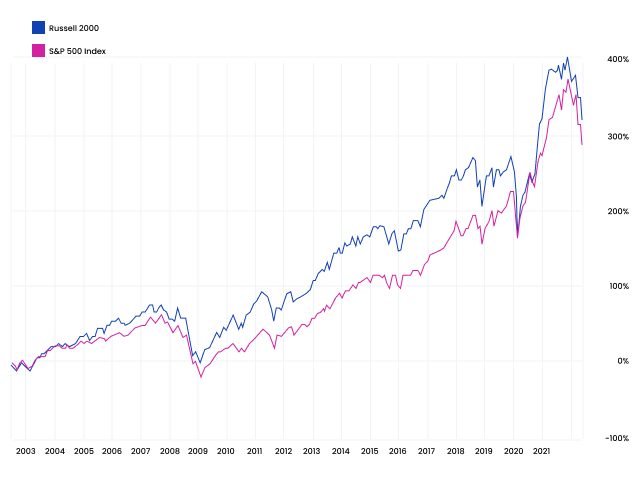 While small-cap performance has been superior for much of the 20-year period, the margin of outperformance disappears during volatile times. In 2022, we are currently experiencing such a development, largely due to anxiety regarding persistently high inflation and aggressive Fed rate hikes implemented to blunt the trend. During times like this, small-caps are hit much harder than larger companies, mainly due to their relatively erratic cash flows and smaller financial reserves – both of which translate to greater risk for investors.
Until the economic uncertainty subsides, large-caps are likely to outperform smaller stocks. Nevertheless, over the long-term, small-caps and mid-caps hold a lot of promise and should be part of any diversified portfolio. Excluding them can have a drag on your long-term return on investment.
All things considered, large-cap stocks tend to outperform smaller stocks in bear markets (bad times), but underperform during bull markets (good times).
Let's Talk About Your Financial Goals.
Take our free 3-minute quiz to match with a Financial Advisor instantly. Recommendations Tailored to your Goals.
Investment Considerations
Risk is inherent with any investment opportunity, but volatility is amplified with stocks. The risk can be mitigated via portfolio diversification, but only to a certain extent. At the end of the day, stocks expose investors to a much higher degree of volatility than most other asset classes, including annuities, bonds and cash.
The growth prospects of stocks can overshadow their risk, but a thoughtful investor is cognizant of the heightened level of volatility. A thoughtful investor is also aware of his or her investment horizon and knows that stocks, regardless of their market capitalization, are only sensible if you can let them grow and appreciate for at least 5 years, ideally, much longer.
Holistically evaluating these portfolio management concepts entails assessing your tolerance for risk, which consists of both your ability and your willingness to assume risk. A financial advisor can guide you through a robust assessment. Alternatively, you can find a lot of great content, including informative risk tolerance quizzes, via reputable sources on the web.
How to Invest in Large-Cap Stocks
If you decide large-cap stocks make sense for you, you can purchase them through your brokerage firm or financial advisor. These days, an increasingly common way to make these purchases is via an online brokerage firm, such as Charles Schwab, E-Trade and Fidelity, all of which can facilitate your trades, maintain pertinent records and safeguard your investments in a low-cost manner.
That said, unless you're an experienced securities analyst that has plenty of free time, buying individual stocks is not recommended. There's way too much risk in doing so. For most people, especially novice investors, a fund-style investment, such as an exchange traded fund (ETF), is the way to go.
These pooled investment vehicles offer hassle-free, low-cost and diversified access to an array of markets and market segments. When it comes to the domestic large-cap space, the S&P 500 Index is widely considered to be the best index in existence. Other widely followed large-cap indices include the Dow Jones Industrial Average, the NASDAQ Composite Index and the Russell 1000 Index.
Best ETFs for Exposure to Large-Cap Stocks
If you're interested in investing in a large-cap ETF, take a look at the funds below. They are among the largest and most diversified ETFs in the market. All are relatively low-cost and sensible for anyone seeking passive, large-cap exposure.
Vanguard S&P 500 ETF (VOO) – Launched in 2010, this $700+ billion fund seeks to track the investment results of the S&P 500 Index. It has an annual expense ratio of 0.03%.
State Street SPDR S&P 500 ETF (SDY) – Launched in 1993, this $370+ billion ETF seeks to track the total return of the S&P 500 Index. It has an annual expense ratio of 0.09%.
iShares Core S&P 500 ETF (IVV): Launched in 2000, this $300+ billion ETF seeks to track the investment results of the S&P 500 Index. It has an annual expense ratio of 0.03%.
Invesco QQQ ETF (QQQ) – Launched in 1999, this $170+ billion fund seeks to replicate the investment results of the NASDAQ 100 Index, which tracks the performance of approximately 100 of the largest companies listed on the Nasdaq Stock Market. It has an annual expense ratio of 0.20%.
Advertisement
Connect With a Financial Advisor Instantly
Our free tool can help you find an advisor who serves your needs. Get matched with a financial advisor who fits your unique criteria. Once you've been matched, consult for free with no obligation.
Please seek the advice of a qualified professional before making financial decisions.
Last Modified: March 22, 2023
Share This Page:
5 Cited Research Articles
Annuity.org writers adhere to strict sourcing guidelines and use only credible sources of information, including authoritative financial publications, academic organizations, peer-reviewed journals, highly regarded nonprofit organizations, government reports, court records and interviews with qualified experts. You can read more about our commitment to accuracy, fairness and transparency in our editorial guidelines.
Your web browser is no longer supported by Microsoft. Update your browser for more security, speed and compatibility.
If you are interested in learning more about buying or selling annuities, call us at 866-528-4784