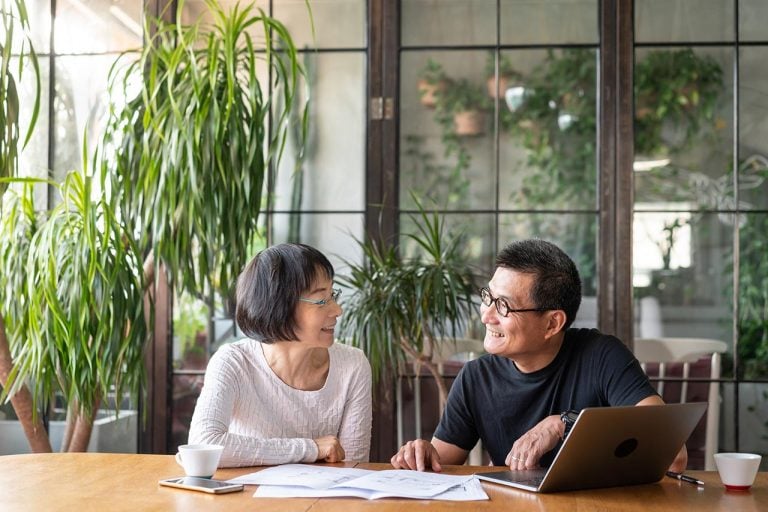 Stocks, bonds, real estate — there are many options for investors. How do you decide where to place your money? Start by analyzing your values, as these can be key to determining which investments are right for you. Your commitment to environmental or social improvements may lead you to impact investing, where you can make a difference as well as a profit.
What Is Impact Investing?
Impact investing is much like investing in the stock market or another enterprise. However, the focus of impact investing skews toward investments that leave a positive impact on the world. These investments can impact certain localities, business and production processes, the planet or a specific product.
Impact investing allows investors to straddle the line between philanthropy and investing. Philanthropists focus solely on the greater good, with no expectation of personal gain, whereas investors seek financial return from their investments.
Impact investors, on the other hand, search for opportunities to merge the two goals. They look for opportunities to make a difference while simultaneously earning a return.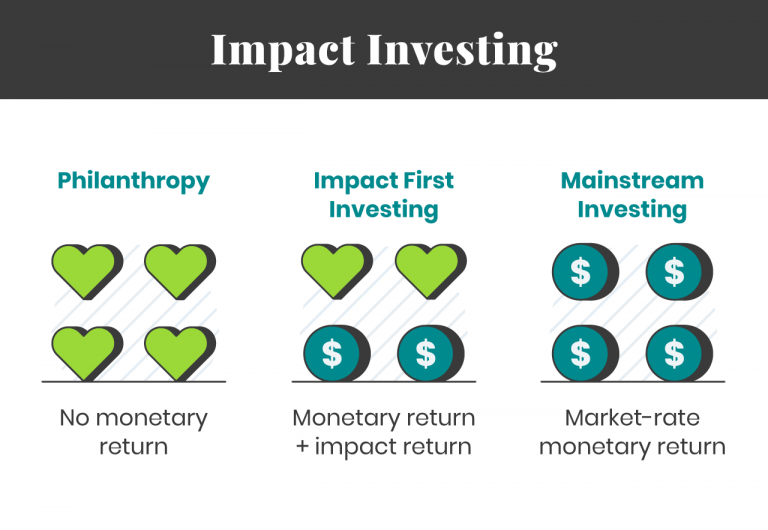 How Does Impact Investing Work?
When you impact invest, your investment goes to a business or organization that is actively working to make a significant difference through a project or initiative. Areas investors tend to concentrate on are poverty, social responsibility, sustainable trade, clean energy or drinking water. These are just a few of the world's needs, and there are many others to consider.
Impact investing is effective because your capital goes to local entrepreneurs or businesses who are more familiar with the problems that need to be solved. For example, Rekha Unnithan, a $1 billion impact investor with Nuveen, told Business Insider in a recent video that low-income housing is a popular impact investment.
According to Unnithan, one in four households in the United States are paying more than 30 percent of their income on housing, which leaves them with less money for education, health care, and other quality-of-life expenses.
By investing in this asset class, impact investors are able to contribute to maintaining affordable housing stock.
How Do Impact Investments Perform?
Because each investment is unique, you can expect varied results. An underlying question for many investors is whether or not impact investments perform financially well at all. Despite impact investments being immature in the financial market, according to the Global Impact Investing Network Annual Impact Investor Survey, 67 percent of impact investors pursue at or above market-rate returns.
Not only do they pursue them, but this same survey showed that 88 percent of respondents' financial returns were either in line with or exceeded their expectations. Likewise, 99 percent of respondents claimed that the impact made through their investments equaled or outperformed their expectations.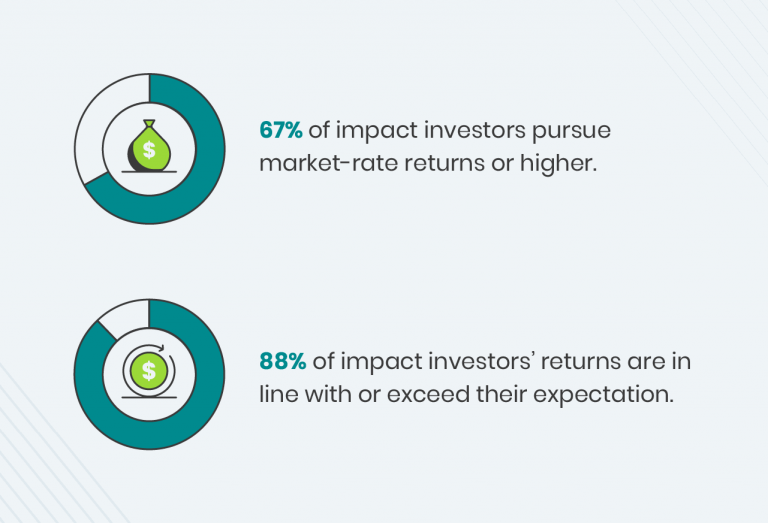 When looking for an impact investment that will yield a high financial return, you should always do your research on the past and current financial performance of the organization. Much like any other investment, impact investments are not guaranteed to perform well. Therefore, it's important to consult a financial advisor for guidance.
Let's Talk About Your Financial Goals.
Take our free 3-minute quiz to match with a financial advisor instantly. Recommendations tailored to your goals.
What to Look for in Impact Investments
To make sure your investment is financially sound, research the same variables you would for any other type of investment. Consider the company's stability in the market, its debt-to-equity ratio, potential dividends and other key metrics that verify its financial success.
However, for these types of investments, you'll also want to look for more than the possibility of a financial return.
Impact investing expert Rachael Browning told Forbes, "It is stuck in both the old way of perceiving 'returns' and the hope for doing things better in the future, in a world that desperately needs ambitious impact-driven capital."
Although there is the potential financial return, you should determine what alternative type of return you would like to realize to achieve your goals.
There are typically three distinct categories of impact investments that may align with your values — environmental goals, social responsibility and governance factors.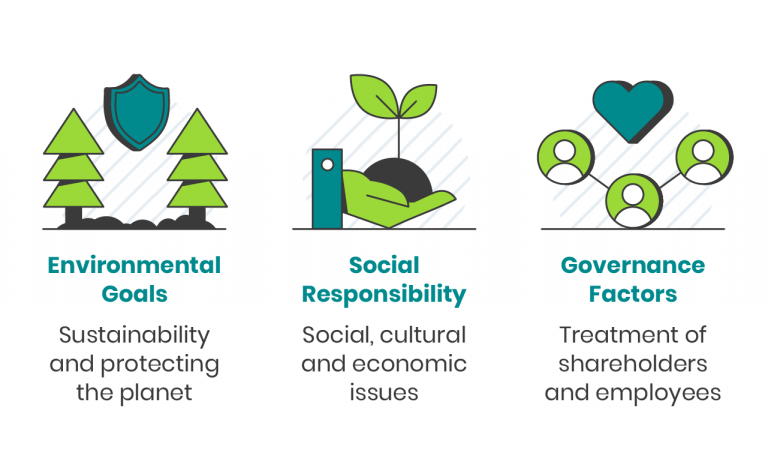 Environmental Goals
When diving deeper into how a company makes an environmental difference, consider what the company itself is doing to promote a healthy, sustainable environment. This can be the use of renewable energy, recycling efforts, safe disposal of goods or enacting policies on climate change.
Likewise, seek companies whose sole mission as an organization is to protect the environment and make the earth a better place to inhabit. Whether looking for a nonprofit that focuses on sustainability or another type of business that implements environmentally conscious practices, always ask yourself what impact your investment will leave on the planet.
To determine if investing in a certain organization is a good choice, look at the Global Reporting Initiative website. Here you'll find the company's progress toward its environment goals and can judge for yourself whether it is worth investing in.
Social Responsibility
Socially responsible organizations are committed to ethical business practices and cultural, social and economic sensitivity. Fairtrade International is an example of a socially responsible organization. Fairtrade advocates for farmers and workers in developing countries, promoting fair pay for disadvantages producers and establishing long-term trade partnerships.
While there are many companies whose sole purpose is to encourage social responsibility, there are other types of organizations that make social responsibility a priority but not the central purpose.
When looking for a socially responsible business or organization to invest in, observe the firm's treatment of its employees, its turnover, and whether it has taken a public stance on social justice issues.
Often you'll be able to find employee reviews about the company on sites such as Glassdoor. You can also check out Fortune's Best Companies to Work For list for a summary of the firm's perks as well as statistics for the firm's recent hires and the representation of women and minorities among its employees.
Governance
Essentially, governance refers to the company oversight and board of directors. Investigate the executives' compensation and benefits, transparency for shareholders and the nature and outcome of any lawsuits filed by shareholders. These will reflect the company's operations and values.
To find this type of information, review the company's annual reports, specifically the annual proxy statement or the sustainability report. Annual proxy statements are required by the U.S. Securities and Exchange Commission (SEC) and contain information regarding the experience and qualifications of upper management as well as information about their compensation.
Sustainability reports, on the other hand, highlight environmental and social performance and reveal the company's progress toward its impact-focused goals — environmental, social and governance.
How to Start Impact Investing
Becoming an impact investor will take time and work to get started. Set clear goals and objectives so you know what types of investments to make and where to focus your research. Talk with others — particularly a financial advisor — to help you make the best decision for your situation, and start small, building as you go.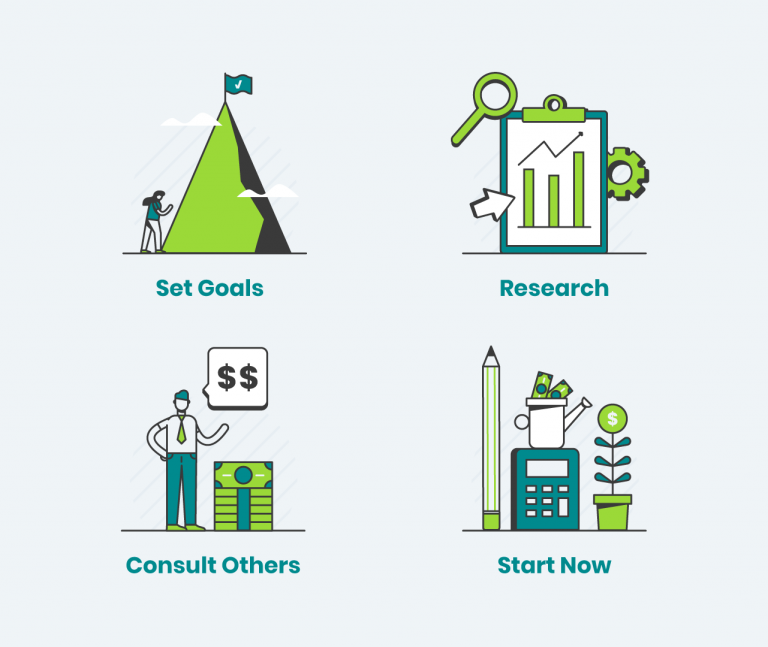 Set Your Goals
Without clear goals, you won't recognize the red flags when doing your research. Whether you decide to focus on making a positive impact on the environment or finding a company that cares about social responsibility, your goals will dictate the type of reports you need and the key points to research. Without a clear objective, you'll find yourself swimming in a sea of information, unsure of how to use any of it to achieve your goals.
Do Your Research
Once you've set your goals, it's time to do some digging to find companies or organizations that will help you reach them. Review the reports and data that support your investment and impact goals. At this stage, you'll also want to study the company's financial status and your potential return on investment.
Talk About It
The role of a financial advisor is to talk you through your investment opportunities and other financial decisions that will align with your values and help you progress toward your goals.
Your advisor can walk you through the modern portfolio theory — a way to maximize a conservative investor's returns despite a low risk tolerance — and show you how to improve your investment portfolio.
In addition to discussing your financial plans with a financial advisor, make sure you include anyone who will be affected by your decisions. Talk it over with your spouse or partner, and together can make a plan based on the advice you receive from a trusted professional.
Start Small, but Start Now
Like any investment, impact investments need time to yield higher, more impactful returns. For this reason, start your impact investing now rather than later. Even if you have only a small amount of money to invest, it can go a long way. It may even be in your best interest to start small so you can begin to understand your risk tolerance toward impact investments.
By investing in companies and organizations that leave an impact, you'll not only be making a difference but also earning a return in the process. This return can be seen as a decrease in pollution, third-world countries getting clean water or perhaps a personal financial gain. Ideally, you'll see returns in multiple areas.
The beauty of impact investing is that you can customize it to fit your goals and what you value. By diversifying your investment portfolio, you'll be able to maximize your returns, which will provide you with money to put toward retirement or the purchase of an annuity, as well as the ability to say you made a difference in the world.