Women and Money: Challenges, Successes and Strategies
Women overcome multiple challenges when it comes to money matters, including the gender wage gap and a lack of financial education opportunities. The list of 40+ statistics below examines the dynamic intersection of women and money.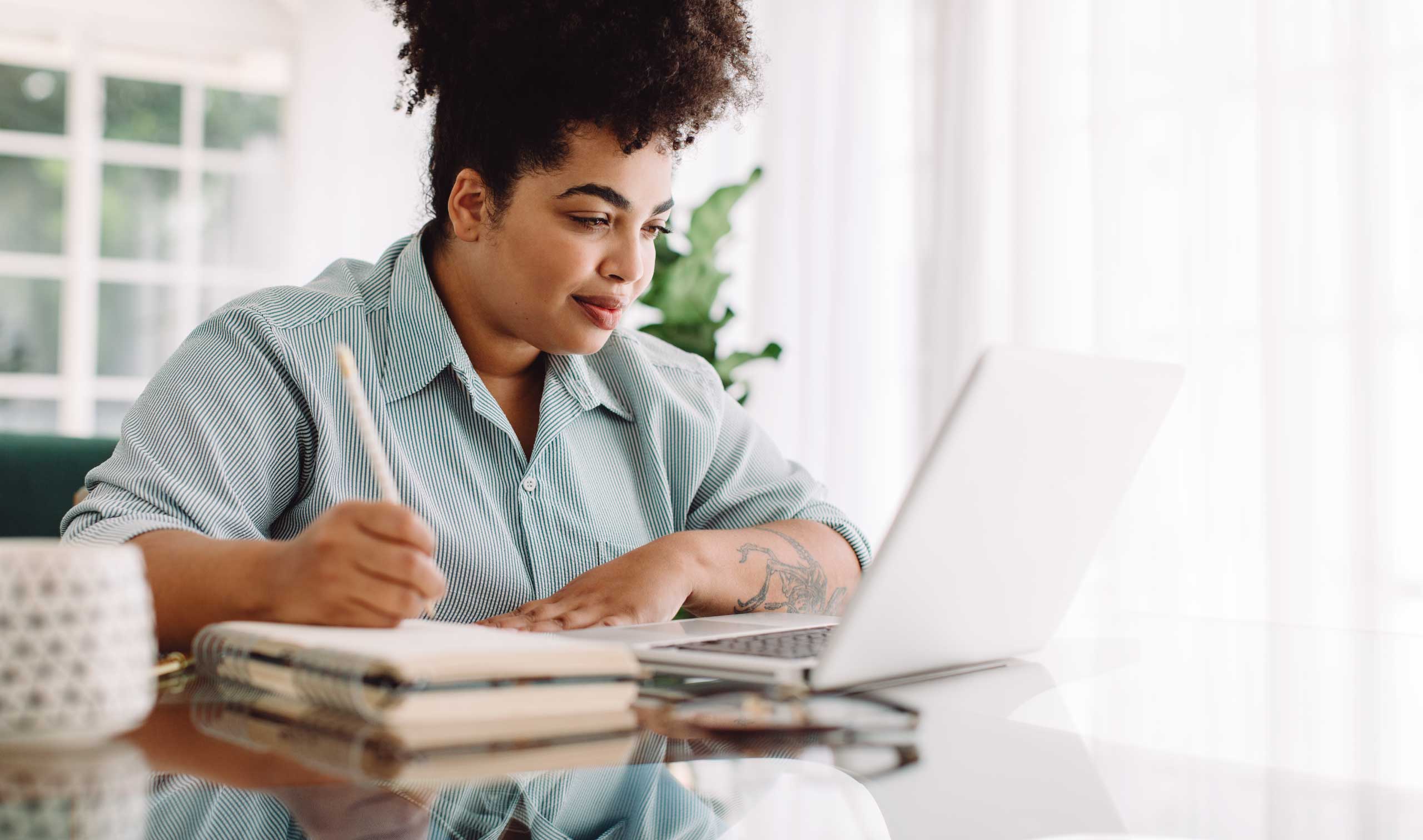 Edited By

Savannah Hanson

Savannah Hanson

Senior Financial Editor

Savannah Hanson is an accomplished writer, editor and content marketer. She joined Annuity.org as a financial editor in 2021 and uses her passion for educating readers on complex topics to guide visitors toward the path of financial literacy.

Read More

Updated: January 30, 2023
10 min read time
This page features 31 Cited Research Articles
Sixty-one percent of American women would prefer to discuss their own death than talk about money, according to research from Age Wave. With the female population outnumbering the male population two to one by the age of 85, having conversations about women and money is an important element in growing women's financial independence and success.
Improving women's financial circumstances through higher salaries, workplace leadership positions, trusted investment advice and financial literacy education are just some of the steps necessary to improve the lives of women overall.
The 40+ statistics detailed below provide an entry point to understanding the realities of the modern woman's relationship with money and finances.
Key Highlights
The current gender wage gap shows that women earn $0.82 for every $1 that a man makes.
42% of women are scared they'll run out of money by the age of 80.
For every dollar of VC funding received, women-founded startups generate $0.78, while male-founded startups generate only $0.31.
61% of women in the workforce would prefer getting a pay increase over additional time off.
Women and Money: Pay Gap Statistics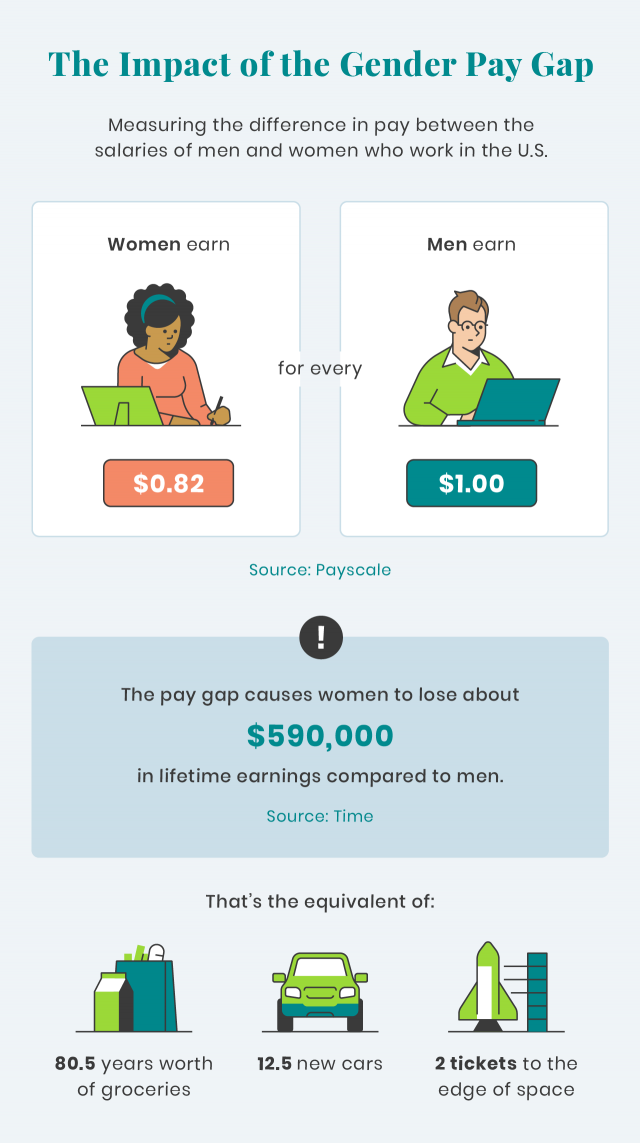 Wage inequality in the workplace is a global challenge that consistently negatively impacts women, reflected through gender pay gap statistics.
1. The current gender pay gap shows that women earn $0.82 for every dollar that a man makes.
2. 42% of mothers have lost out on wages due to their need to reduce work hours to care for a child or family member, while only 28% of fathers faced the same issue.
3. Women who are a parent or primary caregiver experience a pay gap of $0.74 for every dollar earned by a male parent.
4. The average retirement costs $738,000, but only 9% of American women have saved at least $300,000 toward retirement.
5. Women would need to work an additional 42 days annually to earn what men do each year.
6. On average, women achieve their peak earning capacity at the age of 44, with average earnings of $66,700. In comparison, men reach their peak earning capacity at the age of 55, taking home an average of $101,200.
7. American women lose approximately $590,000 in lifetime earnings over a 54-year period due to the gender wage gap.
The damaging ripple effect of unequal pay stretches across families, generations and global economies. Research has shown that the pay gap is a contributing factor in higher poverty rates for women and their children and less savings and government assistance for women in retirement.
Women and Financial Empowerment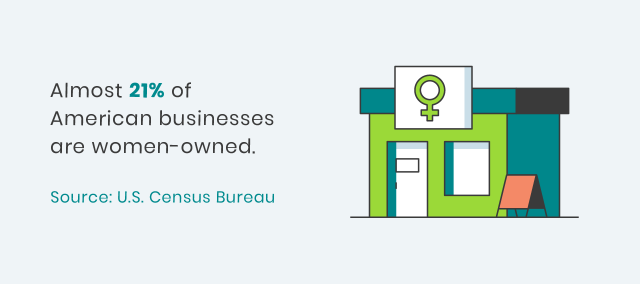 Recent decades have seen women's role in managing finances grow across many households and industries. This empowering shift in financial responsibilities continues to evolve, nudging more and more women to learn financial literacy earlier.
8. Women currently control more than $10 trillion (about 33%) of total U.S. household financial assets, with that number expected to reach $30 trillion by 2030.
9. 65% of women say they want to invest in causes that matter to them.
10. 84% of women agree that understanding their finances creates opportunities for increased career flexibility.
11. Approximately 20.9% (1.2 million) of American businesses are women-owned.
12. Over 10.6 million women-owned businesses recorded over $286.1 billion in annual sales, shipments or revenue.
13. 43% of American women have already calculated how much money they'll need for retirement.
14. On average, younger adult women aged 22-39 are more comfortable having financial conversations than women over 40 years of age.
With new generations of young women developing confidence in discussing financial topics and questions more easily than ever before, there is growing potential for women's presence in the finance field to grow, too.
How Confident Are Women About Money?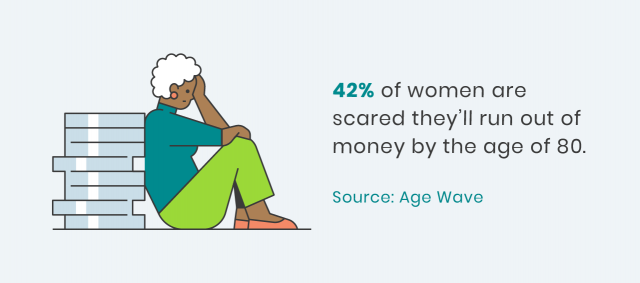 A study titled Women, Money and Confidence revealed that 48% of women feel confident in managing their finances. That confidence is a valuable asset in improving women's wealth in America.
15. 75% of women under the age of 45 manage their own finances, compared to just over 50% of women over the age of 45 doing the same.
16. 87% of married/partnered women state they are involved in managing their household's "spending and investing" decisions, over double the rate from 2012 (42%).
17. One in three American women don't believe they have enough knowledge to be more involved in financial investing.
18. 73% of women feel that women are more likely to tell the truth about their finances than men.
19. 42% of women are scared they'll run out of money by the age of 80.
20. Women cite financial literacy as a major barrier to greater financial success, with 87% believing a high school curriculum should include basic financial education.
Increased educational opportunities around financial learning is the key to creating new generations of confident and successful women.
Women and Money Leadership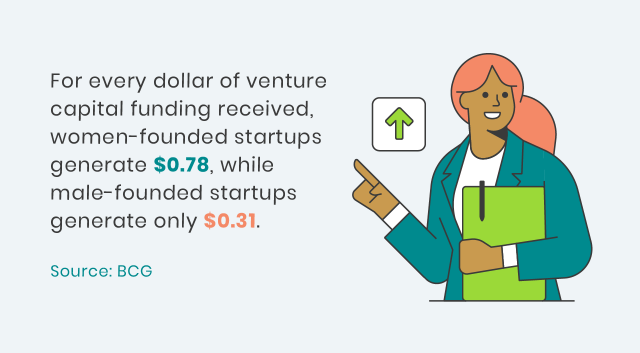 Gender equity in the business world is evolving, but there are improvements to be made to the presence and visibility of women in decision-making leadership roles.
21. Female CEOs lead 32 (6.4%) of the 2022 S&P 500 companies.
22. In 2022, 74 (14.8%) women held the title of CEO among Fortune 500 companies, almost a tenfold increase from only 7 in 2002.
23. CVS Health — the fourth biggest public business in the U.S. — is the biggest Fortune 500 company in history to ever be led by a woman, CEO Karen Lynch.
24. Only 6% of U.S. companies are led by a female CEO, while 15% have a woman in the CFO role and 5% have a female chair of their board of directors.
25. For every dollar of venture capital funding received, women-founded startups generate $0.78, while male-founded startups generate only $0.31.
26. Female employees make up 25%-35% of the executive- and senior-level leadership at America's largest banks.
27. With over 58% of their board of directors made up of women, Citigroup has the highest share of female directors on the board among the largest U.S. banks and is the only bank where the proportion of female directors exceeds 50%.
28. Appointed to the role at Citigroup in March of 2021, Jane Fraser became the first female CEO of a major U.S. bank.
Having female role models in positions of financial power is an important element in creating a sense of achievable success for women. Encouraging women to consider careers in male-dominated fields like finance, these professions can diversify and expand their talent pools.
Women in the Workplace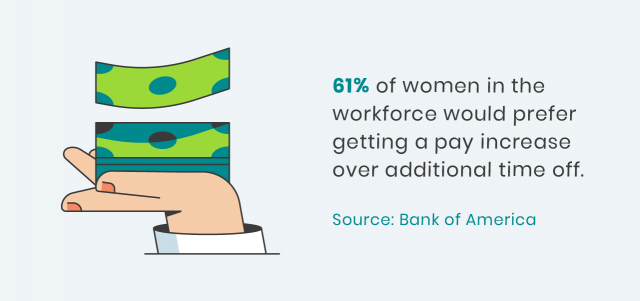 The Bureau of Labor Statistics reports that 57.4% of all American women participate in the labor force. Recent years have seen some improvements in gender equality in the workplace, but there remains a lot of work to be done.
29. 90% of global companies have at least one woman in a senior management role as of 2021.
30. 19 companies around the world have successfully closed their gender pay gap, including the U.S.-based companies Dow and National Instruments.
31. In 2021, women of color received management promotions at the same rate as all women total for the first time in recorded history.
32. Nielsen Holdings is the highest-ranked American company on the list of world's leading companies for gender equality, coming in fifth globally.
33. 61% of women in the workforce would prefer getting a pay increase over additional time off.
34. Only 6.5% of American women work full-time in male-dominated occupations.
Achieving equity in the workplace will lead to increased opportunities for leadership positions, decision-making power and financial freedom for women.
Obstacles to Closing the Confidence Gap
A variety of factors play a role in the challenges of eliminating both the gender wage gap and the confidence gap, the concept of women lacking confidence in comparison to men. Women are distributed among the American workforce across a broad scope of occupations and industries, but jobs done mostly by women tend to pay less on average than jobs done predominately by men. Adding to this, persistent gaps in pipelines to leadership roles and inequitable racial disparities impact the earning potential of women.
35. For every 100 men promoted to a manager position, only 86 women are promoted to the same level, resulting in fewer women available for promotion at even higher levels.
36. Making only $0.73 compared to every $1 men earn, women over the age of 45 experience a wider gender pay gap than any other age group.
37. American Indian and Native Alaskan women experience the widest gender pay gap in America, making only $0.71 to every $1 white men make.
38. The representation of women of color in the workplace declines by more than 75% between the entry level and the C-suite positions, resulting in women of color accounting for only 4% of America's C-suite leaders.
39. In 2021, only 14.2% of the decision-makers at U.S. venture capital firms were women, up from 5.7% in 2016.
40. 92% of U.S. companies don't publish their gender pay data, while 92% of Spanish companies do.
With one in three women recently admitting they have considered downshifting their careers or leaving the workforce entirely (partially attributed to burnout), these factors continue to play a part in the hurdles toward financial success for women.
The Impact of Money on Women's Health
Studies continually show correlations between personal wealth and health, as individuals with higher incomes are healthier than people with lower incomes. Pair that with the fact that most women will find themselves serving as the sole decision-maker in household financial matters at some point in their lifetime. When we take a closer look at the impact of women managing their finances, a woman's physical and mental health are often tied to her financial health.
Women's confidence levels are rising in terms of their handling of financial tasks. There is a rising comfort level with everyday financial responsibilities. But anxieties and stress seep in when the conversations shift to longer-term financial planning, such as investing and retirement.
Strategies to Achieve Financial Independence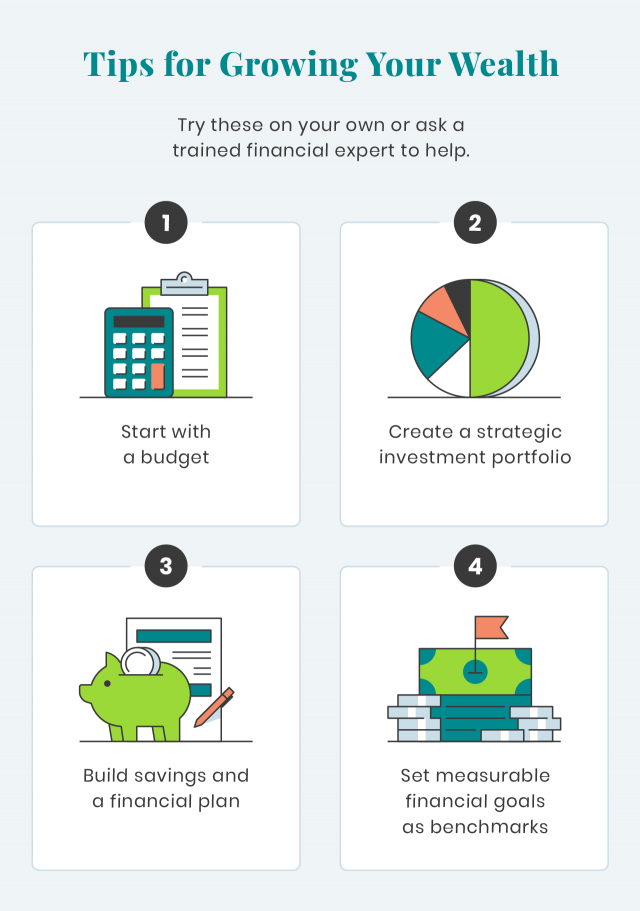 It's never too late to begin understanding your own finances and planning for the future. Following the strategies below will lead you on a path toward empowerment and financial independence.
Consult a trusted financial expert for assistance with this process to achieve the best results.
1. Create a Budget
Women can get their finances in order by creating a budget to better track and plan their spending. Start by writing down your fixed expenses, such as mortgage or rent, car payments and other consistent monthly expenses. Then list out your variable expenses, which are also regular payments but with a value that changes each time, like grocery bills.
Tracking your expenses provides a better sense of the income needed to both cover your current costs and save for your financial future. The expenses overview can also reveal opportunities for cutting your costs to bolster your savings efforts.
2. Invest
Investing early can help build financial resources for the future. Multiple factors like age, income and risk tolerance play a role in identifying the best way to invest your money. Opportunities for investments include stocks, bonds and mutual funds. Each one offers different benefits and risks.
3. Plan for the Future
Statistics show that women typically live longer than men, so it's smart for women to plan ahead for retirement. Contributing a portion of your current salary to a 401(k) retirement account is a smart savings strategy to start building wealth. Many companies match contributions, so check with your employer to find their policy.
Speak with a financial planner to strategize your future financial needs. They can help you identify the best timing to access your Social Security and Medicare benefits. You should also consider purchasing an annuity as a low-risk option for a steady stream of income later in life.
4. Set Realistic Goals
Setting realistic financial goals is the foundation for a solid financial plan. Selecting specific and measurable targets to aim for, such as raising your credit score to a certain value in a set time frame or saving an exact dollar amount for a set purpose or event, will help you achieve your goals in a timely manner.
When considering financial strategies, goals should be broken up into three time-based concepts:
Long-term goals = more than 10 years
Mid-term goals = between three to 10 years
Short-term goals = less than three years
Setting these explicit goals now will position your financial planning for success.
There is no denying that women face more hurdles in achieving financial independence and building wealth through personal finances. But, as this collection of statistics reveals, progress is being made to improve their odds of success.
To learn more about the evolution of women and money, check out our infographic below.

Advertisement
Connect With a Financial Advisor Instantly
Our free tool can help you find an advisor who serves your needs. Get matched with a financial advisor who fits your unique criteria. Once you've been matched, consult for free with no obligation.
Please seek the advice of a qualified professional before making financial decisions.
Last Modified: January 30, 2023
Share This Page:
31 Cited Research Articles
Annuity.org writers adhere to strict sourcing guidelines and use only credible sources of information, including authoritative financial publications, academic organizations, peer-reviewed journals, highly regarded nonprofit organizations, government reports, court records and interviews with qualified experts. You can read more about our commitment to accuracy, fairness and transparency in our editorial guidelines.
AAUW. (n.d.). Pay Gap FAQs: Why does the gender pay gap matter? Retrieved from https://www.aauw.org/resources/article/pay-gap-faqs/
Abouzahr, K. et. al. (2018, June 6). Why Women-Owned Startups Are a Better Bet. Retrieved from https://www.bcg.com/publications/2018/why-women-owned-startups-are-better-bet
Age Wave. (2018). Women and Financial Wellness: Beyond the Bottom Line. Retrieved from https://agewave.com/what-we-do/landmark-research-and-consulting/research-studies/women-and-financial-wellness/
Bank of America. (2022). Women, Money and Confidence. Retrieved from https://business.bofa.com/content/dam/flagship/workplace-benefits/id20_0905/documents/women-money-confidence.pdf
Barroso, A. and Brown, A. (2021, May 25). Gender pay gap in U.S. held steady in 2020. Retrieved from https://www.pewresearch.org/fact-tank/2021/05/25/gender-pay-gap-facts/
Buccholz, K. (2022, March 8). Only 15 Percent of CEOs At Fortune 500 Companies Are Female. Retrieved from https://www.statista.com/chart/13995/female-ceos-in-fortune-500-companies/
Bureau of Labor Statistics. (2021, April). Women in the labor force: a databook. Retrieved from https://www.bls.gov/opub/reports/womens-databook/2020/home.htm
Catalyst. (2022, July 12). Women CEOs of the S&P 500. Retrieved from https://www.catalyst.org/research/women-ceos-of-the-sp-500/
Equileap. (2022). Gender Equality Global Report & Ranking. Retrieved from https://equileap.com/wp-content/uploads/2022/03/Equileap_Global_Report_2022.pdf
Grant Thornton. (2021). Women in business 2021. Retrieved from https://www.grantthornton.global/en/insights/women-in-business-2021//
Hait, A. (2021, March 29). Number of Women-Owned Employer Firms Increased 0.6% From 2017 to 2018. Retrieved from https://www.census.gov/library/stories/2021/03/women-business-ownership-in-america-on-rise.html
Hearts and Wallets. (2020, June 9). He Said, She Said: One Third of Coupled Women Say They're in Charge of Financial Decisions; Only 5% of Male Partners Agree. Retrieved from https://www.heartsandwallets.com/docs/press/press_release_2020-06-09_He_Said_She_Said-Sizing_the_Market.pdf
Hegewisch, A. and Mefferd, E. (2021, March). The Gender Wage Gap by Occupation, Race, and Ethnicity 2020. Retrieved from https://iwpr.org/wp-content/uploads/2021/03/2021-Occupational-Wage-Gap-Brief-v2.pdf
Institute for Women's Policy Research. (2016). Undervalued and Underpaid
in America. Retrieved from https://iwpr.org/wp-content/uploads/2020/09/D508-Undervalued-and-Underpaid.pdf
Jenkin, T. (2022, May 3). Women are gaining power when it comes to money – here's why that's a big deal. Retrieved from https://www.cnbc.com/2022/05/03/money-decisions-by-women-will-shape-the-future-for-the-united-states.html
Kay, K. and Shipman, C. (2014, May). The Confidence Gap. Retrieved from https://www.theatlantic.com/magazine/archive/2014/05/the-confidence-gap/359815/
Khatri, N. (2022, March 1). Understanding the connection between money and mental health for single women. Retrieved from https://stories.td.com/ca/en/article/single-women-mental-health-financial-planning
McKinsey & Company and Lean In. (2021). Women in the Workplace 2021. Retrieved from https://wiw-report.s3.amazonaws.com/Women_in_the_Workplace_2021.pdf
Merrill. (2021). Seeing the Unseen: The role gender plays in wealth management. Retrieved from https://mlaem.fs.ml.com/content/dam/ML/Registration/seeing-the-unseen-whitepaper.pdf
Patel, K. (2018). Can Role Models Encourage More Women to Consider a Career in Finance? Retrieved from https://www.cfainstitute.org/en/research/financial-analysts-journal/2018/ip-v3-n1-6-can-role-models-encourage-more-women-in-finance
Payscale. (2022). 2022 State of the Gender Pay Gap Report. Retrieved from https://www.payscale.com/research-and-insights/gender-pay-gap/
Perez, T. (2019, June 4). Earnings Peak at Different Ages for Different Demographic Groups. Retrieved from https://www.payscale.com/research-and-insights/peak-earnings/
Primack, D. (2021, March 16). Venture capital is still a boys' club. Retrieved from https://www.axios.com/2021/03/16/vc-venture-capital-women-jobs-equality-board
Shaw, E. et. al. (2016). Undervalued and Underpaid in America: Women in Low-Wage, Female-Dominated Jobs. Retrieved from https://iwpr.org/wp-content/uploads/2020/09/D508-Undervalued-and-Underpaid.pdf
Statista. (2022, August 9). Gender diversity on executive and senior level at leading banks in the United States in 2021, by share of female employees. Retrieved from https://www.statista.com/statistics/1318626/gender-diversity-senior-level-us-banks/
Statista. (2022, August 11). Gender diversity on the board of directors of leading banks in the United States as of July 2022, by share of female directors. Retrieved from https://www.statista.com/statistics/1318675/board-diversity-leading-us-banks-by-gender/
U.N. Women. (2018, July). Facts and Figures: Economic Empowerment. Retrieved from https://www.unwomen.org/en/what-we-do/economic-empowerment/facts-and-figures
U.S. Census Bureau. (2021, October 28). Census Bureau Releases New Data on Minority-Owned, Veteran-Owned and Women-Owned Businesses. Retrieved from https://www.census.gov/newsroom/press-releases/2021/characteristics-of-employer-businesses.html
Wilson, C. (2019, April 2). Just How Bad Is the Gender Pay Gap? Brutal, When You Look at a Lifetime of Work. Retrieved from https://time.com/5562269/equal-pay-day-women-men-lifetime-wages/
Woolf, S. et. al. (2015, April). How Are Income and Wealth Linked to Health and Longevity? Retrieved from https://www.urban.org/sites/default/files/publication/49116/2000178-How-are-Income-and-Wealth-Linked-to-Health-and-Longevity.pdf