Unless you've been living off-the-grid, it should come as no surprise that interest rates are on the rise — quite dramatically so. Since the beginning of 2022, the U.S. Federal Reserve has aggressively hiked the federal funds rate, the overnight lending rate for depository institutions, from a target range of 0.00–0.25% to 3.75–4.00%.
The sharp increase has reverberated throughout the economy, pushing up rates for all types of loans, including revolving credit facilities, auto loans, mortgages and small business loans. This is bad news for borrowers, but it presents income-oriented investors with the most attractive opportunities seen in 15 years. 
This blog is designed to help you identify and understand the asset-specific metrics used to indicate the amount of income offered by various investments. The asset classes of focus include cash, bonds, stocks, commercial real estate and fixed annuities. 
Learn about the metrics, all of which are forward-looking, percentage-based and readily comparable. The higher the percentage, the more income offered per dollar invested.
Cash Savings Accounts — Annual Percentage Yield
For savings accounts, the most competitive being certificates of deposit (CDs) and high-yield savings accounts, the metric of focus is the annual percentage yield (APY). Synonymous with the effective annual rate (EAR), APY is a measure of the compound interest you can expect to receive over a one-year period on your deposit.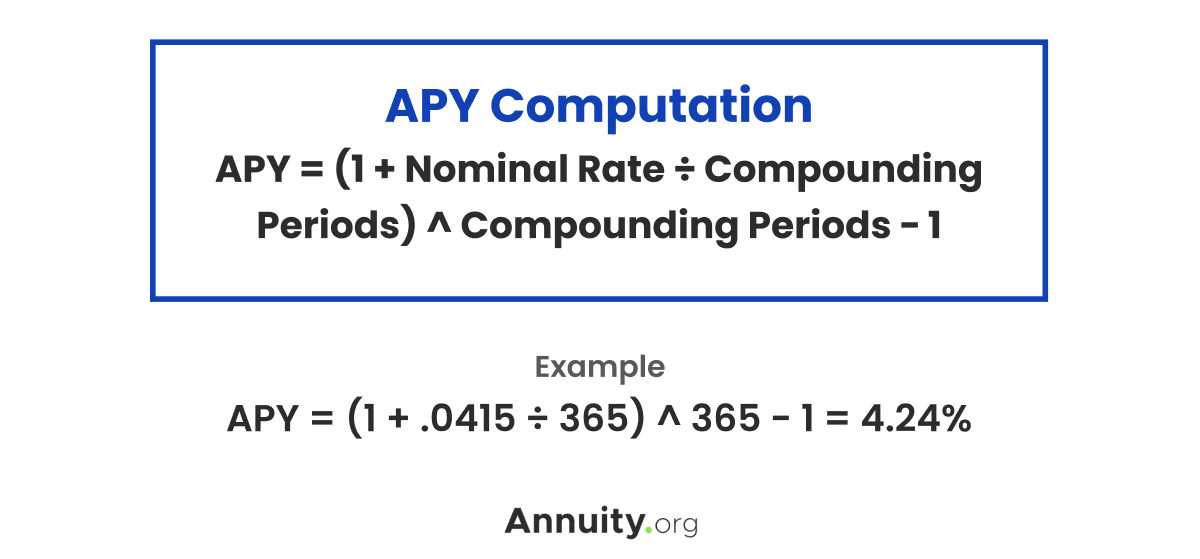 The example above reflects the APY of a two-year CD, offering a nominal rate of 4.15%, compounded daily.
Bonds — Current Yield
For bonds, the metric of focus is the current yield. It is a measure of the annual coupon payments made by a bond relative to its current market price. The ratio indicates the amount of annual income you can expect to receive for every dollar invested.
Did you know?
The current yield reflects the fundamental relationship between interest rates and bond prices. Generally, as interest rates rise, bond prices decline. Conversely, as interest rates fall, bond prices rise.
The example above reflects the current yield for a $1,000 par value bond that pays a 5.00% semiannual coupon and is currently trading at $875.
Note:
Another commonly used metric for bonds is the yield-to-maturity (YTM). It is the annualized rate of return that can be achieved by holding a bond until maturity. The YTM computation is more complex than the current yield computation, but its result is largely comparable.
Stocks — Dividend Yield
For stocks and stock funds, the metric of focus is the dividend yield. It is a measure of the annual dividends paid by a company/fund relative to its current market price per share. The ratio provides an estimate of the amount of income you can expect to receive each year for every dollar invested in the stock.
Generally, a company/fund pays dividends once per quarter, but the frequency can vary. Some pay a monthly dividend, some pay a semiannual dividend and some pay an annual dividend. Others pay no regular dividend at all. Regardless of frequency, the dividend payment is stated on a per share basis — dividends per share (DPS).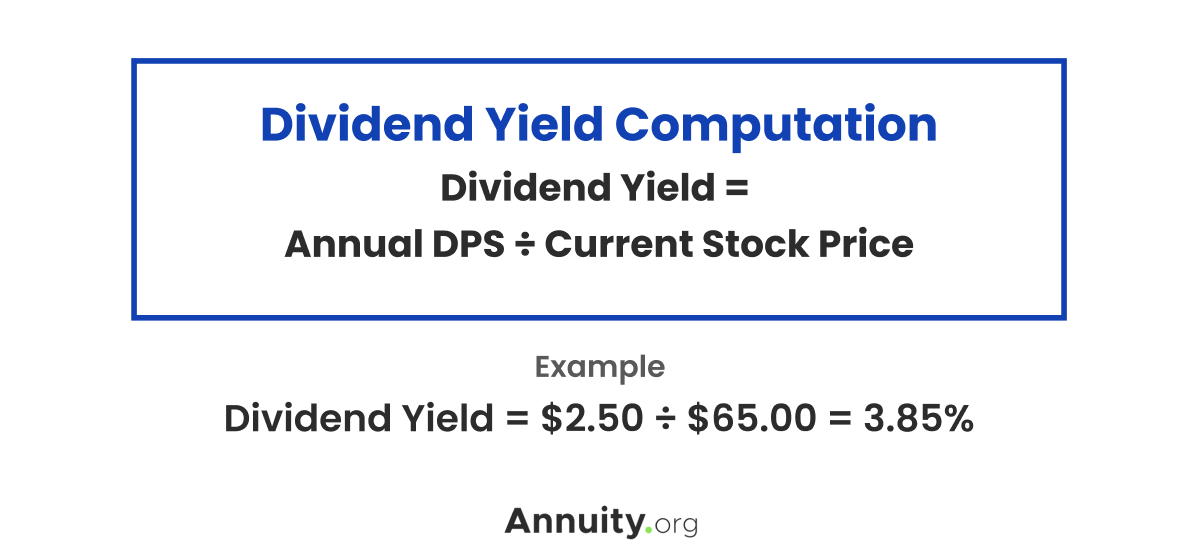 The example above reflects the dividend yield for a company that pays annual DPS of $2.50 and trades at a price of $65.00 per share.
Commercial Real Estate — Capitalization Rate
For commercial real estate investments, such as residential rental properties, storage units, parking lots and industrial facilities, the metric of focus is the capitalization rate. It is a measure of the net operating income generated by a property (rent revenue minus operating expenses) relative to its current market value.
The ratio provides an estimate of the amount of income you can expect to receive each year for every dollar invested in the property.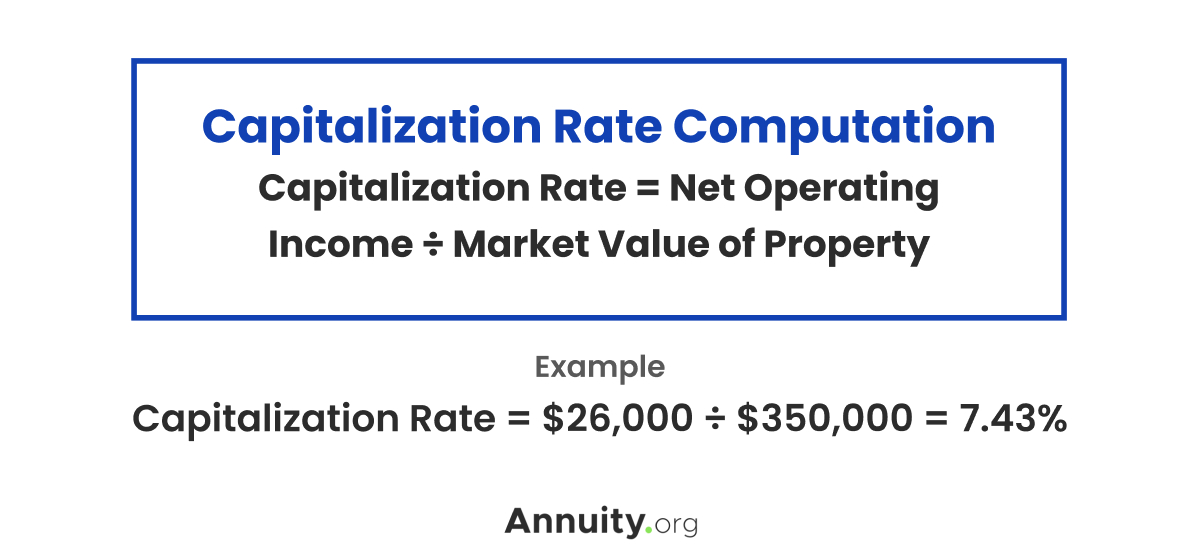 The example above reflects the capitalization rate for a $350,0000 vacation rental that generates $26,000 of net operating income.
Note:
Most people do not invest in distinct properties. Most people invest in commercial real estate via diversified, publicly traded real estate investment trusts (REITS). These securities trade on stock exchanges and distribute income just like stocks. As a result, for REITS, the optimal measure of income is the dividend yield.
Fixed Annuities — Annuity Rate
In addition to the assets noted above, fixed annuities warrant a hard look for income-oriented investors. These vehicles are comparable to CDs, but they entail a much higher degree of complexity and optionality. 
Given the complexity, I've opted to refrain from providing an income-focused computation. Rather, I direct you to the following webpage: annuity rates. It contains comprehensive information explaining how annuity rates are established and where you can obtain the most competitive rates currently available.
Closing Thoughts
Investment decisions should not be based solely on the results of the income-focused metrics described above. The assets noted are exposed to distinct risks that should be carefully considered prior to investment. 
If you need help doing this, consult with a fiduciary financial advisor. He or she can help you weigh the benefits and risks of a prospective investment and determine whether it makes sense for you. If you have a tight budget, you may want to leverage a robo-advisor.
Editor Samantha Connell contributed to this article.