Your retirement savings and investments are facing a perfect storm of global financial upheaval. The economic effects of the pandemic, supply chain issues and inflation are a chain reaction leading up to higher interest rates.
Their combined effects are all reasons to reassess your savings and investment strategy for your future. For instance, historically, stocks have suffered from high interest rates while other vehicles like bonds, savings accounts and certain annuities have benefited from higher interest rates.
The U.S. Federal Reserve — or the Fed — attempts to control inflation by raising interest rates. Higher interest rates make credit harder to get, which reduces demand and ultimately lowers inflation. Economists expect the Fed to announce several interest-rate hikes in 2022 to bring down inflation.
The Fed raised interest rates — for the first time in three years — by a quarter percentage point on March 16. And it projected equal rate hikes at each of its six remaining policy meetings in 2022. That would push the benchmark interest rate to somewhere around 1.75% to 2% by year's end.
A hike was expected since inflation made a return in late 2021.
"With inflation well above 2% and a strong labor market, we expect it will be appropriate to raise the target range for the federal funds rate at our meeting later this month," Fed Chairman Jerome Powell told Congress earlier this year.
What Inflation Is Doing to Your Retirement Savings and Investments
Inflation — the increase in the price of goods and services over time — plays a major role in the types of investments that people should make in their 401(k) plans, IRAs and other retirement savings accounts.
Americans have enjoyed little to no inflation for most of the 21st century. A whole generation has grown up without having to face rapidly rising inflation or factor it into their investments and retirement savings. That's changed quickly.
The Federal Reserve tries to keep inflation under 2% per year, but inflation rose 5.8% in 2021 — up from just 1.3% in 2020 — according to the Fed. While rising gas prices have been most notable, inflation appears to be growing across all parts of the economy.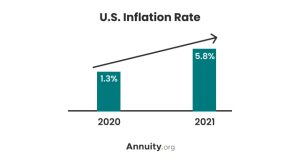 Source: U.S. Federal Reserve
"In the first half of [2020], the increase in inflation was driven by a fairly small number of categories," the Fed reported in February. "In contrast, over the second half of the year, relatively high price increases became more widespread, suggesting that broader-based inflationary pressures had taken hold."
Economists blame higher gas prices, increased demand for goods after the economy recovered in 2021 and the breakdown in the global supply chain for fueling inflation.
Where to Put Your Money in Times of High Interest Rates
Most American retirement accounts are invested in stocks, which love low interest rates. Low rates since the beginning of the Great Recession in 2008 were part of the stock market boom of the last decade.
As the Fed raises rates, the stock market is going to have to adjust. This means market volatility and more competition from other investment vehicles such as annuities, bonds, CDs and other savings accounts.
Traditional savings accounts

Savings accounts at national banks have languished as the Fed kept interest rates at or near zero. If rates rise, these could see renewed interest.

Certificates of deposit

Rates for certificates of deposits (CDs) are expected to rise with any rate increase from the Fed, meaning a higher return than they currently produce. CDs have had lower returns than other investments over the last decade, but they have a higher return than traditional savings accounts. To get the best rates, you must lock in your money for a longer period of time — which may not be ideal if the Fed continues to raise rates after your money is committed.

Online savings accounts

Online savings accounts typically offer higher interest rates than traditional brick-and-mortar banks. But make sure your money is FDIC insured. If they offer variable rates, you could benefit from future Fed interest rate hikes.

Savings bonds

The rate on Series I savings bonds was 7.12% through April 2022. That was slightly lower than the 7.5% rate of consumer price inflation for January 2022. But it's considerably higher than other short-term savings options. It could beat inflation if the strategy to control inflation works.

Annuities

Typically, fixed-rate annuities do better if you buy them when interest rates are higher. Insurance carriers can pay better rates in times of higher interest rates — meaning, you can get a better return on your investment.
The key is finding the best interest rate for your money. And to weigh which investment or account is best suited for how long you want to leave your money invested. You'll also need to pay attention to shifts in interest rates in the coming months.
This is something that hasn't played as big of a role in personal finances for quite some time, but it's taking center stage now.
At the same time, loans — mortgages, car loans, student loans — could become more expensive. Decreased demand could also negatively affect the job market and wages in certain parts of the economy.
What the Ukraine Invasion Means to Inflation, Your Investments and Savings
The Russian invasion of Ukraine is already having an indirect impact on retirement investments and savings in the U.S. Oil prices have more than tripled since Russia first started massing troops on Ukraine's borders.
That's not just higher prices at the pump. Those costs are passed along for producing and delivering just about everything you buy.
Rising gas prices and higher grocery costs due to inflation may also mean you have less money to invest in your retirement savings. A Yardeni Research analysis estimates inflation in those two areas alone could eat up an additional $3,000 a year per household, according to CBS News.
Source: Yardeni Research
This could mean that the Fed will move more aggressively on raising interest rates than it had planned before the invasion. Fed Chairman Powell told the U.S. House Financial Services Committee on Mar. 2, 2022 that the future of interest rate hikes was still uncertain.
"The near-term effects on the U.S. economy of the invasion of Ukraine, the ongoing war, the sanctions, and of events to come, remain highly uncertain," Powell said. "Making appropriate monetary policy in this environment requires a recognition that the economy evolves in unexpected ways."
The U.S. has since banned the importation of Russian oil — adding another "unexpected way" to the economy's evolution.
Only about 8% of oil in the U.S. was imported from Russia in 2021. But as more countries ban Russian petroleum imports, it could mean even higher prices — further fueling inflation and triggering higher interest rates. That could cause stock prices to fall — reducing their value and making competing investments more attractive.
Is Inflation Here to Stay?
Russia's invasion of Ukraine has complicated economists' views of whether we were experiencing a post-COVID blip in the economy or whether inflation is here to stay for a while.
Even as late as February 2022, the Fed had suggested that inflation was largely fueled by short-term supply chain bottlenecks.
"Demand for goods has been notably boosted, as ongoing concerns about COVID-19 have led consumers and businesses to shift spending away from services, such as travel, in favor of goods, such as those related to increased time at home," the Fed said in its February report.
The Fed had blamed the increased demand for goods to have fueled rising prices during the pandemic. This prompted some market watchers to argue that once the bottlenecks disappeared, inflation would ease.
Russia's invasion threw that line of thinking for a loop. Changes to inflation and interest rates may continue to happen quickly in the months ahead.
"We will need to be nimble in responding to incoming data and the evolving outlook," Powell testified.