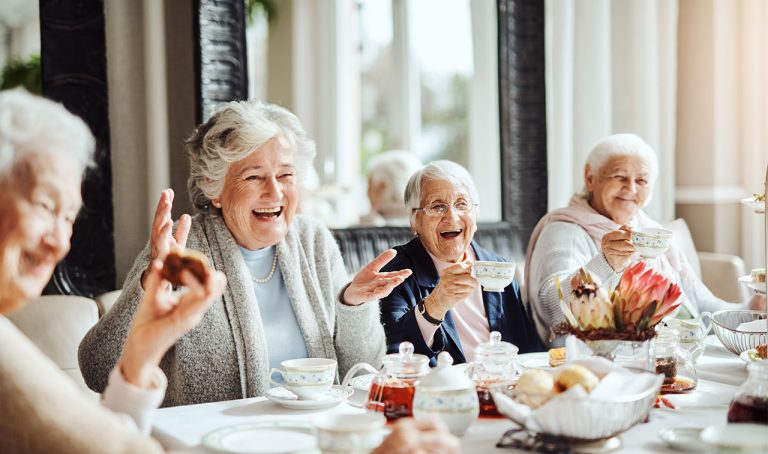 One problem many older adults and retirees now face is whether or not to follow through with previously laid plans to move to a retirement or senior living facility, nursing home or similar community now that living in close proximity to others may put them at significant risk.
To find out how plans have changed due to COVID-19, we surveyed 350 Americans ages 55 and older who had previously intended to move to a community-style living facility.
Here are our key takeaways:
34 percent are still planning to move to a communal facility despite COVID-19 risks
26 percent are delaying their move, with plans to relocate when the pandemic ends
40 percent are no longer sure they want to move to a senior facility at all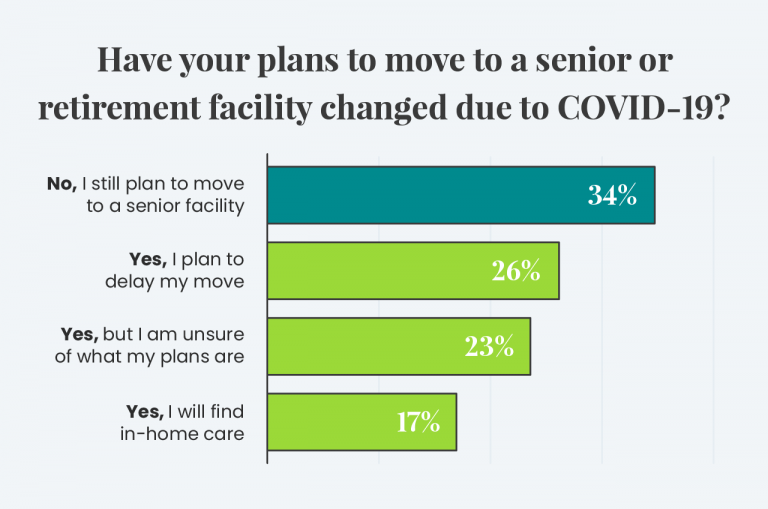 More Than a Third of Respondents Plan to Move Despite Risks
Just over 1 in 3 respondents (34 percent) said that COVID-19 had not impacted their plans to move, reporting that they were still planning to move to a communal living facility without delay. This may come as a surprise as The New York Times reports more than 42 percent of total coronavirus deaths have been linked to nursing homes and other long-term care facilities for older adults.
According to the same New York Times report, the risk is even higher in the 21 states where more than half of COVID-19 deaths have been linked to nursing homes. Additionally, congregate facility residents who are infected with the coronavirus die approximately 17 percent of the time — nearly four times the fatality rate of the overall population.

For many, though, these factors still don't change the fact that full-time residential care remains the best option. For Jordan Gary, a Chicagoland resident whose mother, grandmother and great grandmother are all in full-time care facilities around the country, there simply aren't any safe alternatives.
"We are not considering moving any of my relatives out of their facilities," he says. His paternal grandmother is in hospice, so moving her is likely to do more harm than good. "For my maternal great grandmother, there isn't anyone in the family left to house her anywhere near where she lives and bringing her to Chicagoland is not an option." At 98, a trip from her facility in New Jersey to Gary's home in Illinois would likely be just as dangerous as remaining in place.
In fact, Gary is currently looking to enroll a fourth family member, his maternal grandmother, in a facility to care for her advanced Alzheimer's disease because, once again, the alternative carries more risk.
"She's a frequent visitor to the hospital across the street from her development," Gary says. "I fight with the facility to keep her as long as they can but because she usually ends up there for her COPD … she's typically released and sent back home to repeat the process."
1 in 4 Respondents Are Banking on Pandemic's End
About a quarter (26 percent) of respondents said they are delaying their move into a senior community but aren't ready to cancel plans completely just yet.
Unfortunately, an end to the pandemic may not arrive as quickly as some might hope. According to the Institute for Health Metrics and Evaluation, the pandemic can be considered "under control" when the daily death rate falls below 0.31 per million citizens, or about 98 new deaths per day in the U.S.
The institute's most optimistic projections, which assume a scenario where masks are worn universally, still place new daily deaths at nearly 350, or approximately 1.06 deaths per million, by November 2020.

In a worst-case scenario in which restrictions are eased while the pandemic continues to spread, the institute predicts that November's COVID-19 death rate will reach nearly 1,500 per day, or 4.57 daily deaths per million — more than 15 times the rate needed for the pandemic to be considered under control.
What some may not realize is that many facilities have stopped accepting new residents, so even those who do decide to move in spite of COVID-19 may not be able to do so.
"For my maternal grandmother, COVID has made it rather difficult to get her into a facility," says Gary. "Most facilities in southern Florida are overwhelmed and not accepting new patients because they have no place to quarantine them for 14 days to make sure they don't introduce COVID into the facility."
40 Percent of Respondents Are Reconsidering Congregant Living Entirely
Remaining respondents said they were either abandoning plans to move in favor of finding in-home care (17 percent) or that they knew they wanted to change their original moving plans but weren't sure what to do instead (23 percent).
For those who remain undecided, in-home care may be a compelling choice. It's a common misconception that private nursing is prohibitively expensive, especially as compared to the cost of congregant living. According to the U.S. Department of Health and Human Services, the annual cost of nursing home residency in the U.S. averages more than $80,000 — more if the resident prefers a private room. In-home care, on the other hand, averages $20.50 per hour. Even at 40 to 44 hours of in-home care per week, that comes out to just over $59,000 per year.

If you or your family member is reconsidering previous plans to enter communal living, here are a few tips for finding an affordable alternative:
Consider downsizing instead. If you feel comfortable living independently and are moving to save money or relocate, consider moving to a cheaper rented property or buying a smaller home in your desired location.
Move in with family. Many retirees move in with adult children in order to save money. If your child has a bedroom to spare, consider offering child care services or help around the house in exchange for your board. In addition to agreeing on division of household labor, be sure to also discuss household quarantine rules and ensure your family is taking the necessary steps to prevent exposing you to disease.
Calculate how much care you need. If your family member does need professional care, sit down and figure out exactly what those needs are in hours per week. If your family member needs only a few hours of care per day, that can cost as little as $15,000 per year.
As the pandemic endures, Americans will face a number of difficult health and safety challenges in the coming months. Having a plan — and one you can comfortably afford — will help both you and your loved ones feel confident about your shared future.