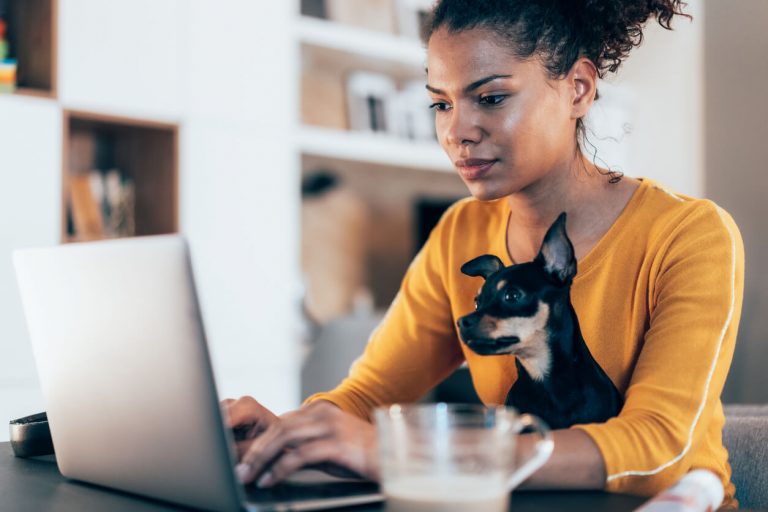 It's no secret that at some point, most of us will cut ties with our working life and retire. And according to our survey results, many Americans even plan to retire a few years early — before the age of 65 — by making sacrifices to get there. These sacrifices come in a variety of forms, from living a minimalist lifestyle to giving up expensive cars (or vehicles in general).
One movement, coined the "FIRE Movement," inspires Americans to live financially independent and retire early — what the FIRE acronym stands for. We surveyed over 3,000 Americans to find out what they would be willing to give up to retire before the age of 65. Read on to see the results or skip to the infographic to learn how to be part of the FIRE movement.
Key Findings:
One-third of Americans would give up eating out to retire early.
Most Americans would rather give up having pets or children than give up a large living space to save more aggressively for retirement.
More than two-thirds of Americans plan to retire at or a few years before the age of 65.
Most Americans Would Give These Things Up to Retire Before 65
When it comes to retiring early, many Americans are willing to give something up to make that happen. Of those surveyed, we were surprised to find that one-third of Americans would be willing to give up eating out, while just under one-third would be willing to forego having a pet.
Americans said they'd be willing to give up:
Dining out: 28%
Having pets: 27%
Having children: 20%
Living space (living < 700 sq ft): 17%
Vehicle: 8%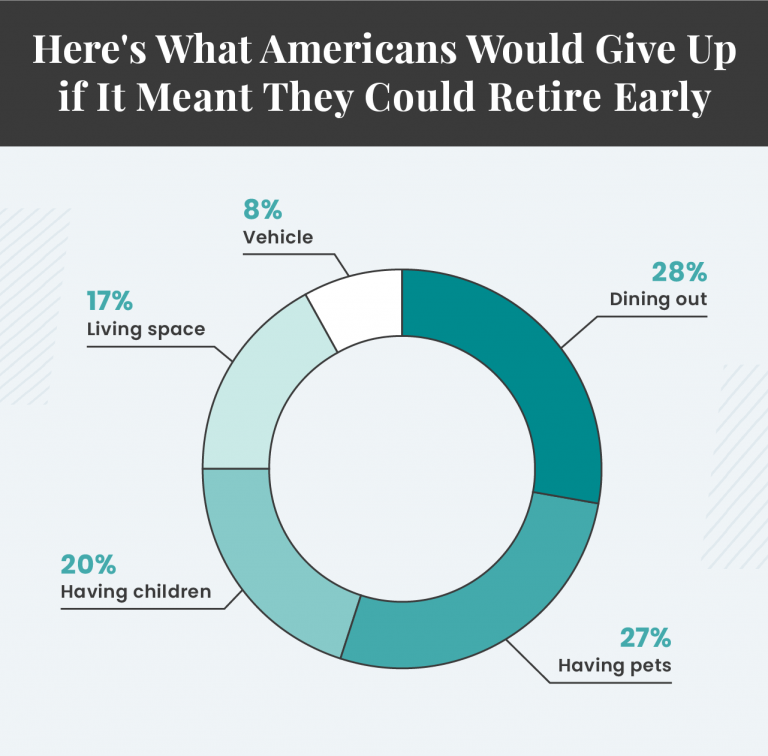 Americans Are Most Willing to Give Up Eating Out
Of those who would be willing to give something up to retire early, the first thing to go was eating out at 28%. However, despite Americans being willing to stop eating out, one study done by Insider shows that they may not be all that great at implementing this, as the average person spends around $2,000 or more per year on eating out.
Additionally, we found that men are 2 times less likely to give up dining out than women are, but 2 times more likely to give up having children.
47% of Americans Would Forgo Having Children and Pets
We were surprised to find that 47% of Americans would go without having children or pets in order to leave the workforce a few years early. When breaking down the data even further, we found that men are more willing to give up having pets than eating out, while women are almost two times more likely to give up having pets than give up having children — all despite the fact that 70% of U.S. households had a pet in 2021.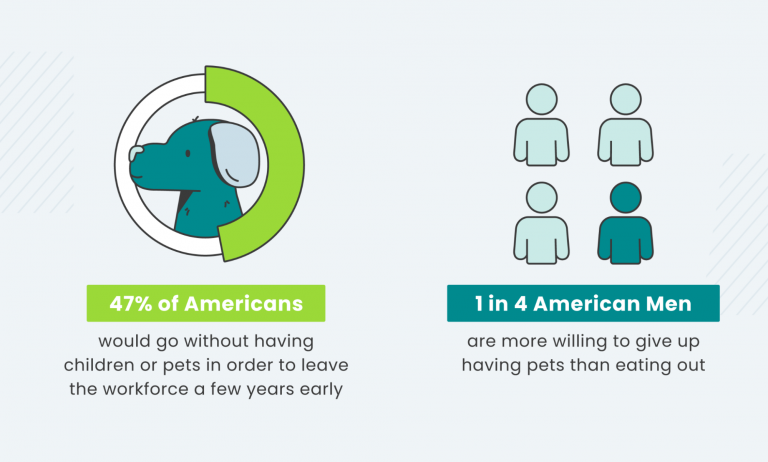 92% of Americans Wouldn't Part With Their Vehicle to Retire Early
While digging through our research, we found that Americans value their vehicles more than any other possession and are the least likely to give up their vehicle for early retirement. Only 8% of respondents said they would let their vehicle go if it meant retiring before 65.
Next to their vehicle, respondents wouldn't be willing to downsize their living space. A whopping 83% of respondents said they couldn't live in a space smaller than 700 square feet, even if it meant retiring early.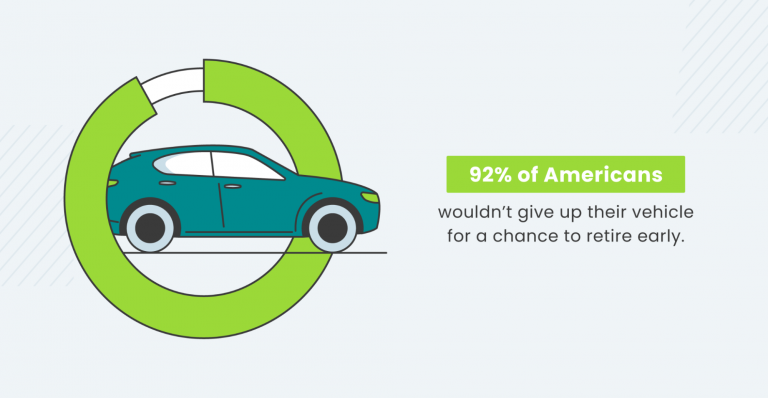 When Do Most Americans Plan to Retire?
While the typical retirement age is 65, many Americans plan to retire before then. Our survey results found that just over one-third of Americans plan to retire between the ages of 61 and 65, while three in 10 respondents said they plan to retire between the ages of 45 and 60.
Our survey findings didn't show whether most of these early retirees plan an abrupt stop to working or a phased transition. However, one study by Transamerica Center for Retirement Studies found that 44% of workers envision their retirement will be a phased transition, rather than an abrupt stop to working. For those wanting to retire early, it's important to have a plan to get there — something that the FIRE method helps provide.
How to Adopt the FIRE Method to Become Financially Independent and Retire Early
The point of the FIRE method is to give up some things and place a stronger focus on others in order to retire early and live financially independent. While a large focus is on living minimally to do this, a recent study found that 47% of FIRE participants adopted a minimalist lifestyle focused on purposeful consumption, while the other 53% chose to live frugally rather than minimally. Those who live frugally chose to focus their efforts on spending little in order to save more.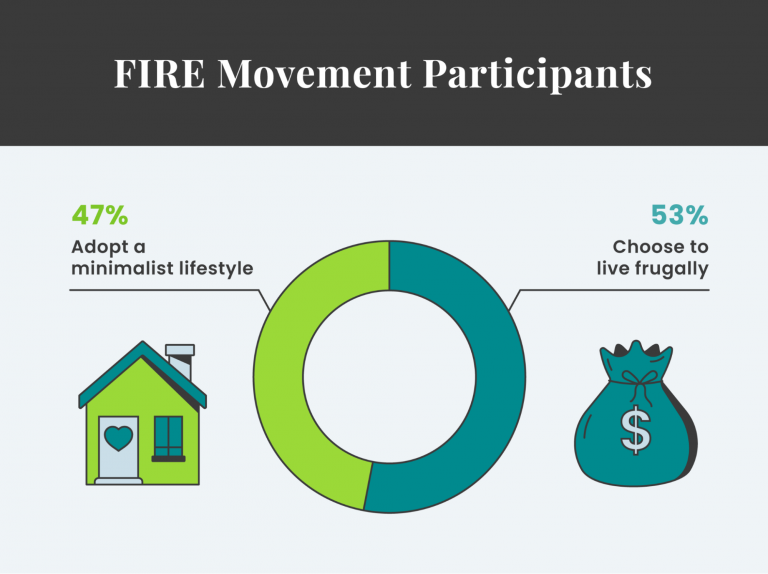 As you can see, not all FIRE participants are created equal. To account for the different types of people participating in the movement, there are various branches, such as LeanFIRE, FatFIRE and BaristaFIRE. No matter which branch appeals to you, the goal is the same — become financially independent so you have the freedom to cross things off your bucket list and create the lifestyle you want during those post-working years.
Choose Your Type of FIRE
LeanFIRE: Focuses on achieving financial independence through a minimalist lifestyle. The goal is to live as "lean" as possible, whether that be through moving to a more affordable location or greatly minimizing expenses. A person living this lifestyle typically spends less per year than the average American.
FatFIRE: As its name suggests, FatFIRE is quite the opposite of LeanFIRE. While the overlying principles are still the same, the main goal of FatFIRE is to live life with fewer financial sacrifices. Because this often takes more money, it's usually necessary to have a greater income and more years to save and invest before you reach this goal.
BaristaFIRE: BaristaFIRE differs from LeanFIRE and FatFIRE in that the goal is to retire early, but continue working part-time or doing side hustles for additional income and health insurance.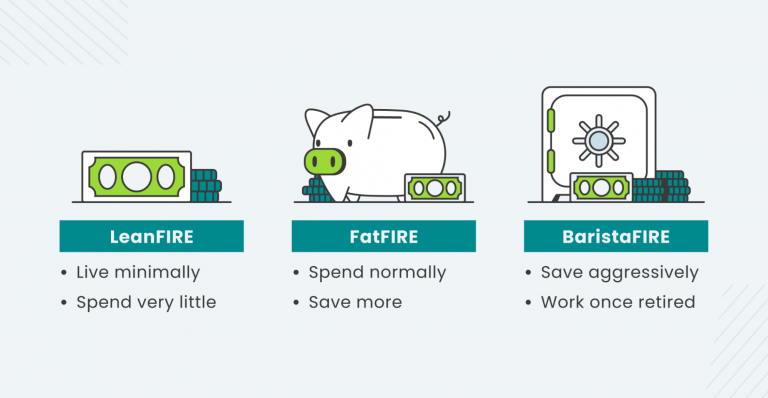 Make a Plan
Creating a plan can give you direction when making lifestyle changes and a better chance to accomplish what you set out to do. In this plan, you'll want to determine your goals, how you'll achieve them, and what rules you'll set for yourself. Determine which FIRE method is best for you and what steps you can take to reach financial independence.
Not only should you make a plan for how to achieve financial independence, but you should also prepare for how you will distribute your funds once you retire. There are many different methods and options — purchasing an annuity for guaranteed income being one of them.
Questions to ask yourself:
What goals have I set in order to retire early?
What can I do now, in five years, in 10 years and beyond to achieve these goals?
Increase Your Income
Either passive income, side hustles or asking for a raise to increase your income will help you achieve your financial independence faster, which will allow you to retire earlier. There are many ways to earn a little extra money each month, like donating plasma or selling things online.
Questions to ask yourself:
Do I have extra space to rent out or skills I can monetize?
Do I have the time to pick up a second job or should I stick to side hustles and passive income opportunities?
Save and Invest More Money
Saving and investing more are obvious next steps once you've increased your income. You can do this by eliminating things from your life like eating out or owning an expensive vehicle. Creating a habit of investing and saving your money is one of the best ways to invest in yourself and get you one step closer to reaching your goal of financial independence.
Questions to ask yourself:
How can I decrease my expenses?
What retirement accounts and other investments can I regularly put more money into?
Eliminate Excess Spending
It can be easy to dish out a few dollars here and there, but that won't help you achieve financial independence. By creating a budget to review consistently and regularly, you'll be able to identify areas where you spend too much money. This will give you some direction when figuring out what goals to set and how to decrease your spending.
Questions to ask yourself:
Aside from normal bills and expenses, what do I spend the most money on each month?
What goals can I set for myself to eliminate this excess spending?
Live Below Your Means
Living below your means implies that you spend less than you make. If you're not already doing this, it can be done by decreasing your expenses, moving somewhere more affordable and eliminating excess purchases.
Questions to ask yourself:
Am I living paycheck to paycheck?
What can I do to increase my income or eliminate excess spending to live below my means?
Downsize or Use Excess Space to Your Benefit
One way to start living below your means is by moving to a location that fits within your budget. If moving isn't an option, you can rent out your extra space. This can mean renting out your bedrooms and having roommates or renting out space in your garage or shed for storage.
Questions to ask yourself:
Am I in a position to move to a smaller place with a lower monthly payment/rent? If not:
Do I have extra space to monetize that isn't being utilized?
The Future of Retirement
For most people, retirement is an inevitable part of life. There are many things you can do to set yourself up for success in those years, and becoming part of the FIRE movement is one of them. If you're one of the many Americans willing to give something up to retire early, look through the rest of our retirement resources to learn how to better prepare for your retirement years.
Methodology
An online survey of 3,000 Americans was conducted for Annuity.org using Google Surveys in May 2021.
Post-stratification weighting has been applied to ensure an accurate and reliable representation of the total population.